Rolling Stone's 200 Greatest Australian Albums of All Time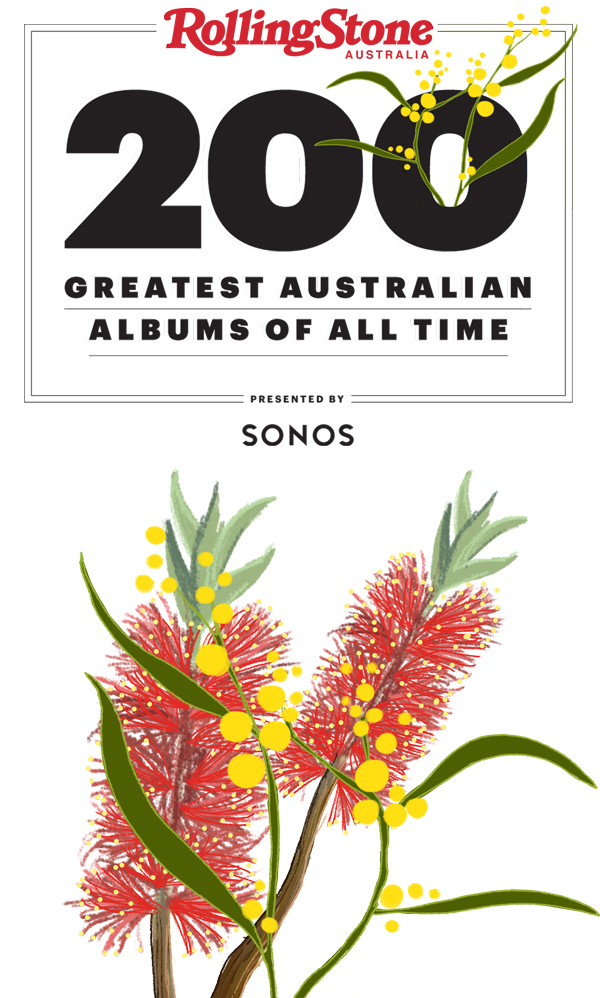 100
Sampa the Great, 'The Return'
Ninja Tune, 2019
It must have been very special to be in one of the many recording studios for Sampa Tembo's debut album The Return. The middle child of an arts-loving family from Zambia, Tembo was born with something to say. Part performance poetry, part defiant protest, part ritualistic celebration, The Return invites the listener inside her psyche and all the way back to her homeland. Building on a backdrop of ancestral pride and bombastic rhythm, the listener traverses the streets of Botswana where Tempo was raised. We're welcomed into the community and empowered to sing and dance along with her ancestors. The journey from the Melbourne-based artist defies classification, swirling from solid funk-soul to towering hip-hop, with nods to Mos Def and Lauryn Hill. The award-winning single "Final Form" calls it: "We've been here, reincarnated / Trying to finish what they started and we made it." With its propulsive sample of The Sylvers' 1973 track "Stay Away from Me" and a rallying-cry chorus, the song's energy oozes across all 19 tracks. Opening track "Mwana", performed almost entirely in Tembo's mother's mother tongue Bemba, sets the tone of welcoming inclusion. Meanwhile "OMG" whips you with its rhythmic force, and "Freedom" delves into the relationship between art and commerce as Tembo's sublime rap flow is on high display. One killer song after another, spiked with three intriguing interludes peppered throughout, The Return embodies the true essence of Sampa the Great, a woman who envisions a better world for every single one of us.
99
The Kid LAROI, 'F*CK LOVE'
Columbia 2020
The enormity of its influence is yet to be felt, but I predict that in ten years we will look back at the release of The Kid LAROI's debut mixtape and consider it not only a turning point for the Kamilaroi rapper, but for Australian hip-hop entirely.
F*CK LOVE is the first release to put Australian hip-hop on the global map. We've had our hometown heroes, though historically the genre has failed to resonate with international audiences. F*CK LOVE changed everything.
Upon its initial release, the mixtape debuted at number eight on the Billboard Chart. It then received a savvy, 35-track reissue, which took out the number one spot a full year and two weeks after its release. The feat marked the first time an Australian-born male solo artist has topped the Hot 100 since Rick Springfield took it out with "Jessie's Girl" 40 years prior.
The Kid LAROI is carrying the torch for the most thrilling era of Australian hip-hop in history. Never before has the genre been so fertile; with drillers like OneFour and Hooligan Hefs, to the swaggering, genre-melding prowess of Sampa the Great and Tkay Maidza. 
His rap game raison d'être has always been clear, to thrust his local Sydney rap scene into the spotlight, "the way Drake did with Toronto".
F*CK LOVE is a confident record, there are no rules and The Kid LAROI wants to try everything. He is equally adept at breezing through languid, melodic emo-rap as he is delivering dazzling pop hooks. It's a mixtape that sounds like it was written on the knife-edge of glory.
98
Augie March, 'Moo, You Bloody Choir'
Ra Records/Sony BMG 2006
"For one crowded hour, you were the only one in the room." It's impossible to discuss the beauty and lyrical richness of Augie March's magnum opus Moo, You Bloody Choir without frontman Glenn Richards' now-iconic refrain springing to mind. Twisting, romantic wordplay that is at turns both clever and earnest—it was upon penning this chorus Augie March would create a timeless pop song. The kind that hangs around like ether in our collective consciousness; somehow we know the words without trying—as if they were planted in a dream. 
While the runaway success of "One Crowded Hour" may be the record's defining moment, Moo, You Bloody Choir is a gorgeous, ambitious album layered with storytelling and poetry. "Victoria's Secrets" and "The Cold Acre" comprise two parts of a perfect opening trilogy, Augie March setting the scene carefully as if they were directors of a play. In a sense, they are. Moo, You Bloody Choir is filled with character studies and surreal imagery—of bandits and hangings, of rivers with eyes, of those in search of something larger than themselves. 
The lilting "Stranger Strange" reveals itself like slow-rolling fog, Richards' tender crooning atop the darkness bubbling beneath the surface. The sweeping "The Cold Acre" plays out in broad brush strokes—the band expertly rising and falling in a way that can pull on the firmest of heartstrings. "Mt Wellington Reverie" conjures the Derwent vividly enough to swim in it. Like the classic literature in which it was deeply inspired by, Moo, You Bloody Choir connects even deeper today through the passage of time.
97
Nick Cave & The Bad Seeds, 'Ghosteen'
Ghosteen Ltd 2017
In July 2015, Nick Cave's 15-year-old son Arthur tragically died after falling from a cliff near the family's home in Brighton, England. Ghosteen, the final episode of The Bad Seeds' trilogy of ambient albums, following 2013's Push the Sky Away, and 2016's Skeleton Tree, is the first album conceived after the tragedy. 
Nick Cave has never cowered from death. His catalogue is a mass grave, piled with bodies he has gruesomely murdered; floods, overdoses, executions. Death imagery to rival the Renaissance. 
Skeleton Tree, his most sepulchral, necromantic work to date, unflinchingly hurled towards the blackest abysses of mortality. So how does Cave, the musical seance, deal with real death? The unspeakable, unnavigable grief of losing a child? By turning towards the light. 
"We wanted each song to feel as if it were climbing toward an exultant and euphoric state," said Cave of the album. "For the record to be a vessel that transported the listener far away from the world and its troubles, and that it lived in the jubilant and hopeful beyond."
The lyrical iconography of Ghosteen is spiritual, faelike, and filled with wonderment. Cave meditates on what is incomprehensible through the preternatural, "Baby Bear, he has gone / Gone to the moon in a boat," he sings on "Ghosteen".
The 14-minute album closer, "Hollywood", contains the Buddhist story Kisa Gotami, a mother who, on the advice of Buddha, tries to save her child by asking for mustard seeds from houses where there had been no death. She can't find one. No one is untouched by loss.
96
Died Pretty, 'Doughboy Hollow'
Festival Records/Blue Mosque 1991
Just weeks before the double whammy of Ten and Nevermind minted grunge as the dominant sound in rock, Died Pretty quietly released their fourth album. More closely aligned with the overcast melodies of bands like REM and The Dream Syndicate, the Sydney ensemble were almost anti-grunge in their love of crystalline adornment and poetic melodrama. And most damning of all, singer Ron Peno rendered his tortured emotions through subtle delicacy rather than angsty outbursts.
Flanked by guitarist and co-songwriter Brett Myers and sumptuous keyboardist John Hoey, Peno sang even the most mournful lyrics with an expansive majesty. "I have drifted, I've been lost," he admits on "Turn Your Head", after declaring "This loneliness is killing me inside" on the tender breakup ballad "Satisfied". One of three songs featuring Go-Betweens violinist Amanda Brown, the poppy single "DC" finds the bright side of saying goodbye just as Hoey's churchy organ enters the frame.
Working with Echo & The Bunnymen producer Hugh Jones, Died Pretty gilded Doughboy Hollow with a glistening sheen at every opportunity. Even when shouting out their Sydney forebears Sunnyboys on "Godbless", Peno and company don't ape that band's anxious energy but simply quote some of their best-known lyrics and then bless them by name. Such serene gestures were never going to compete with grunge for attention or airplay, but this record lives on, rightly, as their most cherished moment.
95
Ben Lee, 'Awake Is the New Sleep'
Inertia Recordings/Ten Fingers 2005
Ben Lee already had four albums under his belt when he released Awake Is the New Sleep in 2005. In the ten years prior, he'd become known for his distinct power-pop style, but after an inspiring trip to India, he emerged a matured, more emotional version of himself, delivering a more acoustic, indie-pop flavouring. Intent on communicating the message of joy through music, this fifth album was a turning point for the Sydney singer-songwriter. 
While Lee was adamant it isn't a breakup album, the record is undoubtedly themed on love and connection. Whether it's the lullaby-esque "Whatever It Is", the more sombre "Get Gotten" and low-tempo "Apple Candy", or the uplifting "Into the Dark" or "Close I've Come", right across the 14 tracks, in all the differing tempos, there's a resounding message of togetherness.
Most recognisable are commercial hits "Catch My Disease" and "We're All in This Together" (both of which have aptly seen a resurgence in this pandemic era), the former thanks to inclusions in Hollywood films and TV shows, the latter thanks to TV commercials. 
Lee would go on to produce a multitude of albums, but Awake Is the New Sleep has maintained its place on the podium thanks to the uplifting (for the most part) messaging, easygoing melodies, and infectious choruses.
94
Custard, 'Loverama'
BMG/Ra Records 1999
When Custard received some long-overdue success with "Apartment" back in 1995, one could have forgiven the group for packing it in, content with having made a name for themselves with album number three.
Of course, the Custard story was far from over, with 1997's We Have the Technology giving them their first-ever chart placing, and 1999's Loverama turning them into household names. Working with renowned producer Magoo, Loverama not only threw Custard all the way into the Top 20 of the ARIA charts, but with singles such as "The New Matthew", "Ringo (I Feel Like…)", and the perennial favourite, "Girls Like That (Don't Go for Guys Like Us)", the Brisbane rockers had cracked the code to local success.
Ever-beloved by the alt-rock scene for their quirky style, eccentric compositions, and endearing personalities, Loverama gave the wider public an insight into what had made Custard firm favourites for a decade by that point. Fittingly though, Loverama would end up serving as the group's swansong, with Custard announcing their initial split the following year, and leaving fans to wonder just where the story could have gone next.
Thankfully, the story would continue a decade later, leaving the group's fifth album to burn brightly as their biggest brush with the big time. For a bit of extra fun, be sure to track down their Custaro Musico bonus disc which proves the late Nineties were Custard at their finest.
93
Empire Of The Sun, 'Walking on A Dream'
Capitol Music 2008
Originally a side project of one member of dance outfit PNAU, Empire of The Sun hit the ground running with their debut album, 2008's Walking on A Dream. The ten flamboyantly fun dance-pop tracks raked in the accolades for the duo, winning seven of the 11 ARIA Awards it was nominated for.
Dubbed Australia's answer to MGMT, the electronic duo (The Sleepy Jackson's Luke Steele and PNAU's Nick Littlemore) had collaborated on songs throughout their respective careers, but it was during the recording of PNAU's self-titled album in 2007 they decided to work on something completely new. With Steele in Perth and Littlemore in Sydney, the majority of tracks were written separately by one or the other, coming together to record the album once they'd amassed enough material. With Steele bringing his psychedelia influences and Littlemore adding the dance, what we'd end up with is an eclectic collection of catchy electro-pop, wrapped in a blanket of eccentric, trippy flourishes. 
Infectious, sing-along synth-pop gems like "Standing on The Shore", "We Are the People", and title track "Walking on A Dream", lead the pack. Propelled by Steele's distinctly unique vocals, along with synth-heavy dance beats, well-placed guitar lines, and a sprinkling of Eighties-style keys, Empire of The Sun took us on a blissful, futuristic journey. As though you're travelling in outer space, Walking on A Dream is just that, the soundtrack of a dream.
92
Australian Crawl, 'The Boys Light Up'
EMI 1980
Storming onto the Australian charts with their debut album The Boys Light Up, Aussie rockers Australian Crawl immediately brought us pub rock classics like "Indisposed", "Downhearted", and their previously-released single "Beautiful People". 
But it was the album's title track that quickly established itself as the bonafide rock anthem of 1980, with the single almost banned from radio play and some TV shows over its explicit references to infidelity and smoking marijuana (though singer James Reyes insists he was talking about cigarettes).
Asked decades later on ABC's Talking Heads what exactly the song was about, Reyes replied: "Well, really? It's about fellatio, but it was also about the sort of burgeoning, you know, kind of... new middle class, the new money and the new money aspirational... uh... class."
Even forty years after its release, it remains a fixture of Australian music and culture, with Reyes continuing to tour as a solo artist while acknowledging the impact of his former band—though he believes his singing left much to be desired.
"Those first few Australian Crawl albums, if you listen to the singing, it's awful," Reyne told The West Australian in 2020.
"It's barely controlled yelling. Really, I was just yelling because I didn't know what I was doing. It was just get through the song in tune and that'll do. I was young and full of piss and vinegar, and shouting."
91
Gotye, 'Making Mirrors'
Eleven: A Music Company 2011
For an artist who deliberately avoids fame, Wouter 'Wally' De Backer sure knows how to make abstract commercial hits. For his third studio album under the Gotye epithet, De Backer operated on a level which finessed both the art of self-psychoanalysis and self-imposed seclusion. Renowned as an artist who takes his time with his craft, Making Mirrors was written and recorded over four years in a makeshift barn-turned-studio on his parents' farm.
Its title was inspired by an artwork made by De Backer's father. When he found the kaleidoscopic image of experimental colour and mathematics in the barn he was recording in, De Backer thought it could easily be the record's visual parallel. Making Mirrors is a thematic wonderland thanks in part to samples spun from De Backer's op shop crate-digging escapades. The opening title track (which runs at under two minutes long) leads into global phenomenon "Somebody that I Used to Know", a lyrical patchwork of De Backer's past relationships. As was his plan after the six months it took to perfect it, the two-time Grammy-winning song only feels complete when Kimbra's melismatic pop vocals are brought into the fold. 
Elsewhere, the album glistens with moments of pure joy. "I Feel Better", complete with nods to Spencer Davis Group, washes over you with early soul exuberance. "In Your Light'' is the oughts' "Walking on Sunshine" for all its catchy hooks. The vocal manipulation in "State of The Art"—inspired by Godley & Creme's "I Pity Inanimate Objects"—reminds us that the deeper we dig with Gotye the more treasure we'll find.
Incredibly, following the global success of the album, culminating in three 2013 Grammy wins, Gotye returned to Australia for what fans expected to be a press tour. Instead, he took one interview on his return, with Brisbane community radio station 2SER. Making Mirrors is an ambitious effort, and rumour has it he's been working on the follow-up ever since.
90
Hilltop Hoods, 'The Calling'
Obese Records 2003
By the start of the Noughties, Australian hip-hop was still fighting for recognition in the mainstream. While the genre had made in-roads throughout the Eighties and Nineties thanks to the likes of Def Wish Cast, 1200 Techniques, and Koolism, it wasn't until Adelaide trio the Hilltop Hoods released their 2003 track "The Nosebleed Section" that the public began to truly listen.
Struck by the classic use of sampling against hip-hop beats and fronted by an Aussie accent, the public—and especially listeners on radio stations such as triple j—began to realise the potential the genre had. Before long, these same fans found themselves looking towards the Hoods' third album, 2003's The Calling, for more of what they had been loving. Tracks like "Testimonial Year", "Dumb Enough", and Australia's answer to "Hotel California", "The Sentinel", showed this marriage of slick production and turntablism of DJ Debris.
Meanwhile, MCs Suffa and Pressure spat lyrical brilliance with the endearing Australian approach that showed they could go toe-to-toe with the US heavyweights, but still stay true to their humble beginnings. While the record originally peaked outside the Top 50 on the ARIA charts, in 2006, it managed to become the first Aussie hip-hop release to go Platinum, proving that while Hilltop Hoods weren't the first artists to bring the genre to the public, they were able to help turn it into the juggernaut it is today.
89
Gang of Youths, 'The Positions'
Sony Music/Mosy Recordings 2015
An album that captured a myriad of emotions stretching from love to regret; grief through to anger and acceptance, The Positions propelled Sydney's Gang of Youths onto radars everywhere in what felt like rapid time. 
Sonically, The Positions is defined by the weight of David Le'aupepe's lyricism and emotional delivery. Buoyed by music that could sit comfortably in lanes populated by arena-rock luminaries like Bruce Springsteen and Kings of Leon, Le'aupepe's music—written about a four-year relationship with a partner who suffered terminal cancer—was utterly captivating. The Positions took this devastation and inner turmoil, and layered it with levels of optimism; light always accompanies the dark.
The Positions set the bar high for Gang of Youths, marking the band out early as Australia's next rock success story. Subsequent years would see the band's trajectory lead them to global success but there's still something special about this record that sets it apart. Le'aupepe's songwriting during this era mirrors a young person working through personal trauma; the tight dynamic of the band reflecting perfectly on the brotherhood that existed behind the scenes. 
And for the listener, the intensity and honesty threaded throughout The Positions made it an album that struck a nerve with many who had endured similar life experiences. Moreover, it was an album that allowed the listener to access and purge their own feelings as well. Pure catharsis.
88
Paul Dempsey, 'Everything Is True'
EMI/Capitol Music 2009
Any fan of Something for Kate could attest to the fact that frontman Paul Dempsey is one of Australia's most unique and accomplished performers. Armed with the sort of charisma and humility that makes him an endearing staple of the scene, his musical talents have long been admirable to all and sundry, with his inimitable mix of songwriting, musicianship, and vocal ability surpassing many of his contemporaries. 
Needless to say, when he announced that his debut solo record would arrive in the midst of a brief hiatus from Something for Kate, diehard fans were ecstatic. Not technically his solo debut due to a 1998 record as Scared of Horses, 2009's Everything Is True was exactly what was expected of one of Australia's finest artists, featuring some of his most accomplished songs to date. Bolstered by lead single "Ramona Was a Waitress", the 11-track record felt like the very definition of "all killer, no filler", with almost every song worthy of being issued as a single.
Beloved cuts like "Bats", "Fast Friends", and "Out the Airlock" served as a strong start, the likes of "Bird in A Basement" and "Man of The Moment" showcased his versatility as a composer whose emotive songwriting cuts straight to the heart, while "Theme From Nice Guy" still serves as one of his finest sing-alongs to date. It's easy to give solo records a wide berth given the legacy of an artist's main outfit, but with Everything Is True, you'd be hard-pressed to find a better solo debut.
87
Vance Joy, 'Dream Your Life Away'
Liberation Music 2014
Catapulting into the world with breakthrough single "Riptide", Melbourne's James Keogh, known under his moniker Vance Joy, wowed listeners with his charming voice and sweet ukulele. As the track propelled him into the limelight and into the top spot of triple j's Hottest 100 in 2013, his debut album was highly anticipated, to say the least. 
From singing in school choir with Nick Murphy (aka Chet Faker), to winning ARIA Awards, it's safe to say our first proper introduction to Joy was a success. Dream Your Life Away was released in 2014 and expectedly packed full of uplifting, easy-listening, country-tinged indie-pop. Unexpected, however, was the revealing of an introspective, sensitive side of the singer-songwriter.
Smooth, endearing vocals are a winning note for Joy across the 12 tracks, as is his laidback, acoustic style. Earlier hit "Riptide" is an obvious standout, but singles like "Mess is Mine" and "Georgia" overshadow the viral hit. An emotion-filled love song, stunning guitar finger-picking sets "Georgia" apart, showing the storyteller at his most vulnerable. The authenticity is carried through to "Wasted Time", with catchy, heartful lyrics and soothing acoustics, while twangy guitar riffs in "All I Ever Wanted" surely helped cement his place on tour with country-come-pop queen Taylor Swift not long after. 
Dream Your Life Away delivered exactly what a debut should: enthusiasm for what was to come.
86
Kasey Chambers, 'The Captain'
EMI 1999
Having cut her teeth as a young performer/songwriter in her family's long standing Dead Ringer Band, Kasey Chambers went into her debut solo album more than well-equipped.
The family values continued with brother Nash in the producer's chair and father Bill on guitar, whilst Chambers herself was clearly ready to step forth fully into the spotlight, with songs ("Southern Kind of Life", "The Hard Way", "Last Hard Bible") echoing beloved US country influences that lay somewhere between Dolly Parton, Lucinda Williams and… Nashville. Chambers' voice sounded almost child-like at times, but a decade or more on the road seemed to have imbued her songs with a world-weariness that belied her 24 years.
As such, the likes of "Mr Baylis" and "Cry Like a Baby" reflect a more serious young woman, while "We're All Gonna Die Someday" is a chirpy ponderance on mortality designed to get everyone on their feet in the barn. The title track was released as a single and took Australia by storm, crossing from country charts to the mainstream and introducing Chambers as a new household name as a result of its triple Platinum success.
A US release followed a year later by which time Chambers was already well on the way to recording her second album, Barricades & Brickwalls, which would bring her even bigger success and a number one single with "Not Pretty Enough". 
85
Parkway Drive, 'Horizons'
Resist Records 2007
Parkway Drive don't make any sense. You're telling me these ripped, tanned, surfer dudes from Byron Bay make metalcore that sounds predetermined to soundtrack the apocalypse? 
Viva la Underdogs! Parkway hold a special place in the hearts of kids that grew up in suburban cultural wastelands. Those that spent their formative years sticking their neck out at PCYC and Masonic Hall mosh pits. For them, witnessing Parkway transcend from local scene heroes to international monoliths was something to believe in.
Horizons, released in October 2007 through Resist Records (and internationally through ​​historic indie label, Epitaph Records), exists in that sweet spot where the band were on the precipice. Already established as scene heroes, Horizons shot Parkway to meteoritic fame. 
With each release, the band dreamt bigger and delivered more bombast. That's the beauty of metalcore, man. At the risk of sounding reductive, it's one of the few genres that actively cheer on bands that dare to put on a spectacle, an antidote to Australia's tall poppy mentality. Pyrotechnics, spinning drum devices, cloaked figures wielding bamboo torches making their way through the festival crowd. Madness.
Over a decade has passed since the release of Horizons, and Parkway Drive remain the flag bearers of Australian heavy music.
84
Crowded House, 'Temple of Low Men'
Capitol Records 1988
While the international success of Crowded House's 1986 eponymous debut album saw the three amigos—Neil Finn, Paul Hester, and Nick Seymour—tour the world charming all and sundry in interviews and live appearances, tracks such as "Hole in The River" (about a relative of Finn's who had drowned in mysterious circumstances) and "Can't Carry On" revealed a darker side to the songwriting.
The trio's 1998 sophomore LP, Temple of Low Men, explored these moods even more, and in many ways provided quite a counterbalance to the mirth of its predecessor. From the opening gambit of the tellingly titled but immediately alluring "I Feel Possessed" songwriter Finn seemed to stalk a feeling of menace, effectively, if only gently so, on the likes of "Into Temptation" and the standout single, "Better Be Home Soon", while "Mansion in The Slums" suggests the social commentary that would later drip right through the 1991 single "Chocolate Cake".
Of course, Finn is no single-tone songwriter. "When You Come" is all poetic uplift and acoustic psychedelia, and if "Sister Madly" seems to evoke a little of the debut LP's breezy climes, the character described within is beset with all sorts of emotional struggles, helped along by Richard Thompson's animated guest guitar solo. Temple of Low Men performed well in Australia, New Zealand, and Canada, but the US market seemed to baulk at the darker, more intense nature of the songs and it stalled at number 40 on the Billboard 200. Neil Finn (and brother, Tim), meanwhile, had further surprises in store.
83
The Beasts of Bourbon, 'The Low Road'
Red Eye Records/Polydor 1991
Could there be a better album opener than "Chase the Dragon"? The thundering guitarwork of Spencer P. Jones and Kim Salmon, the menacing low end of Brian Henry Hooper, the crashing drums of Tony Pola, and the bitter vocals of Tex Perkins as he belts out the almost visceral effects of heroin addiction. It's almost evil in its construction, luring the listener closer before the remainder of the album overcomes you and leaves you in a dirty, distorted, bluesy haze. It's far from elegant, but when have the Beasts of Bourbon ever been given such a title? 
Having formed as something of a supergroup almost a decade earlier, the Beasts had become legend among the Aussie music scene, with their blistering, frightening live shows quickly becoming a vital part of indulging in local music. Having split briefly in the mid-Eighties, the group quickly hit upon a veritable purple patch, with Sour Mash, Black Milk, and The Low Road all arriving in relatively quick succession. However, it was the latter that would serve as a vital document of what they were capable of.
The dissonant notes of the title track or "There's a Virus Goin' Round" would mesh perfectly with the threateningly-haunting nature of "Cocksucker Blues", or even the heartfelt closer of "Goodbye Friends" to craft a stellar example of the Beasts of Bourbon experience.
Even if you never had a chance to see them live back in the day, The Low Road might be the closest thing you'll get to the experience.
82
The Missing Links, 'The Missing Links'
Philips 1965
"Yeah, you're wild / And I'm wild about you," goes the iconic rambling from The Missing Links vocalist Andy James. The Missing Links' self-titled album is a tumultuous portal into a world of beat music; a mixed concoction of garage, R&B, and proto-punk that took its inspirations from off-shore and yet was unapologetically bred on the mean streets of early Sixties Sydney.
The trio once faced trial for obscenity. The legendary Missing Link record label, of The Birthday Party and The Go-Betweens fame, was named after the band. In write-ups, they were described as wild, frenzied, and manic. "I'm having a n-nervous b-breakdown," utters James.
Unhinged melodies strut around a rhythm that celebrates the unpredictable. The record feels like clinically crafted madness. The Missing Links were the first Australian band to deliberately employ feedback as an aesthetic, and use reverse tape effects on record. Their instruments wrestled with the sound of psychosis.
Rock historian Glenn A. Baker once said: "They were the first group to implement destruction into a stage act," predating the likes of The Who, Nirvana, and countless others. And then come tracks like "Hobo Man": "I don't work for nobody / I just get what I can." The song masquerades as blues, with jovial finesse.
Daniel Stewart, better known as DX from Total Control, downs a double vodka on the rocks, before telling me: "It's common to read in lists like this the first Australian punk album is (I'm) Stranded by The Saints, which features a cover of The Missing Links' 'Wild About You'.
"The Saints knew what the true believers know: The Missing Links beat punk to the punch by over a decade and made raw belligerent cave beat as wild as it comes."
81
Sunnyboys, 'Sunnyboys'
Mushroom 1981
Despite a bright band name lifted from orange-flavoured ice blocks, Sydney quartet Sunnyboys loaded their taut power pop with as much anxiety as melody. That's on full display across their debut album, captured with bracing spontaneity by Australian rock legend Lobby Loyde at the equally iconic Alberts Studio.
"Sitting here in my room / The whole damn thing is coming down on me," laments singer/guitarist Jeremy Oxley to open the ironically titled "Happy Man", while "Trouble in My Brain" depicts his struggles with schizophrenia, as explored in the 2013 documentary The Sunnyboy.
Oxley's mental health would eventually derail the band, but it's an animating force on this record. Even the signature Sunnyboys anthem "Alone With You", which at first pass seems like purely a postcard of adolescent longing, spikes its lean guitar interplay and tearaway solo with truly dark sentiments: "All I have is alcohol, so let me go." The easy chorus may be the stuff of sing-alongs, but you don't come out unscathed.
Armed with a propulsive rhythm section in Oxley's bassist brother Peter and drummer Bil Bilson, Sunnyboys deliver bristling hooks and group harmonies with concussive force. Hopelessness is always hovering just at the edges, with Oxley's brooding voice evoking Jim Morrison on the keyboard-shaded "Gone". As a raw-nerved artefact of youthful sincerity, this record rivals The Modern Lovers' 1976 debut while looking ahead to Eddy Current Suppression Ring's jumpy snapshots of everyday worries.