Rolling Stone's 200 Greatest Australian Albums of All Time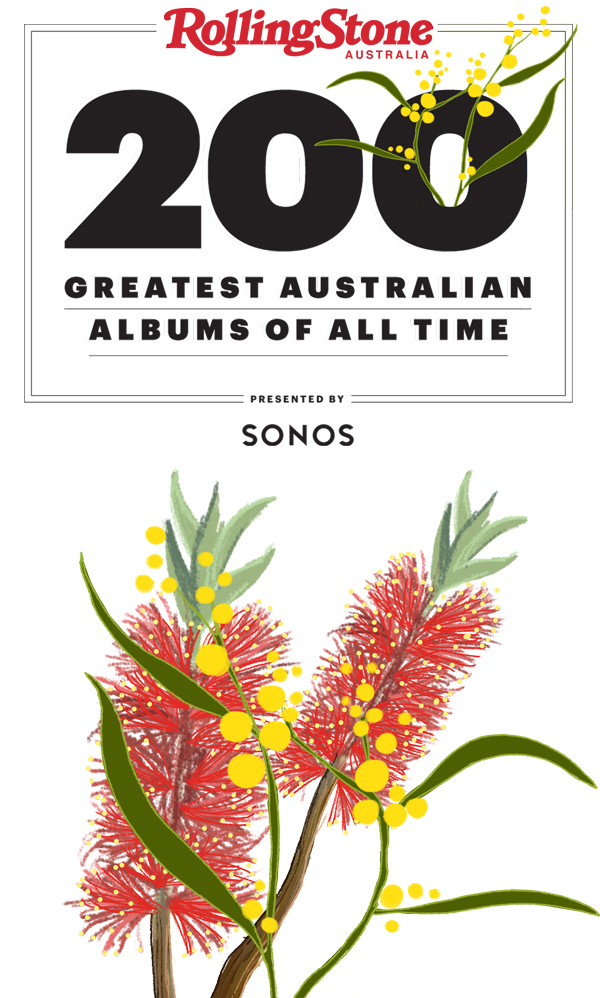 40
Wolfmother, 'Wolfmother'
Modular Recordings 2005
In the latter half of the last decade, the music world seemed a little up in arms over the arrival of Greta Van Fleet, a young, US psych-rock band who were seen as a little too faithfully paying tribute to their musical heroes, with most comparisons being made to the likes of Led Zeppelin. But just over a decade earlier, it was Australia's own Wolfmother who were the target of similar comments, thanks to their debut album.
But let's back up just a moment. The Wolfmother story officially begins in early 2004, with the founding trio—comprising guitarist/vocalist Andrew Stockdale, bassist/keyboardist Chris Ross, and drummer Myles Heskett—having come together to loosely jam a few years earlier. Making their live debut in April of 2004, Wolfmother were signed to Modular Recordings by August, released their first EP by September, and by May of 2005, they were recording their debut album in the same studio where acts like Nirvana, Fleetwood Mac, and Neil Young had all recorded landmark albums. For a group of musically-minded mates who came together out of a shared love of hard, psychedelic, and classic rock, it was a dizzying rise to the top.
When they released their self-titled record in October of 2005, everything changed. Almost immediately, Wolfmother were household names, with their blistering tracks quickly becoming a staple of local radio. The album felt like a teenager's guitar-rock dream: distortion-laden riffs that exuded the sort of confidence and charisma that the rock gods of the Seventies had in spades, mixed with the sort of swagger that can turn you into a stadium headliner, performing to legions of adoring fans. Tracks like "Dimension", "Colossal", and "Joker & The Thief" showed just how effortlessly Wolfmother were able to craft tried-and-true rock anthems, while the likes of "Woman" (with its Doors-esque riff) and "Apple Tree" felt like they were undiscovered gems from the era of rock gods. And of course, how can anyone overlook "Mind's Eye", which itself provided proof that prog-rock was far from extinct within the realm of Aussie music. Wolfmother—both band and album—felt like the missing piece that Australian rock'n'roll had been lacking for some time. It had the fun, the energy, and the skills of a classic rock outfit, albeit without the far-too-serious nature that often befell these groups.
And of course, the success came fast for the group. Spawning six singles (including one Top Ten placing), Wolfmother hit number three on the ARIA chart, won Best Breakthrough Album, Best Rock Album, and Best Group at the ARIA Awards, and nabbed Best Australian Album at the J Awards, before placing a record six times in the triple j Hottest 100 of 2005. For a moment in time, Wolfmother were absolutely inescapable, and Aussie music felt proud to have another export we could send out into the world and say: "That's how we do it down under."
39
Paul Kelly and The Messengers, 'Gossip'
Mushroom 1986
It's 1986. In the same year Australian music fans would be gifted with classics including John Farnham's Whispering Jack, The Saints' All Fools Day, and Crowded House's seminal self-titled debut, Paul Kelly would also be gearing up to release a landmark record of his own.
Gossip, Kelly's fourth album (but first with The Messengers, fka The Coloured Girls), is the sort of album that, when asked to define the 'Paul Kelly sound', instantly comes to mind. An album forged during a particularly tumultuous time in Kelly's life and career, Gossip produced a sound that would become highly influential in how contemporaries would develop their own contributions to Australian rock music. 
The double album is rich with material—irresistible pop music delivered with a directness of tone that only a songwriter and performer like Paul Kelly can harness. His voice, so distinctly Australian, set the album apart from the ones mentioned above (not to mention other releases of the year by artists like Hunters and Collectors, Australian Crawl, or even AC/DC). Kelly was continuing to emerge as a songwriter unafraid to wear his Australian-ness openly: from the twangs and cadence in his accent, through to each reference to an uncompromising reality many Australians lived through at the time.
Songs like "Incident on South Dowling" or "Darling It Hurts"—gritty and unashamed explorations of drug use, tragedy, and prostitution, providing a look at an underbelly of metropolitan Australiana not really explored in rock/pop music at the time. 
Then on the other side of the spectrum, there's a song like "Maralinga (Rainy Land)"; a song that focused on the Maralinga Tjarutja peoples in South Australia, and the damaging effects British nuclear testing left on their community. 
For an album like Gossip to feature pointed music like this alongside the commercial sheen of singles "Before Too Long" and "Leaps and Bounds", Kelly was striking out hard. The mid-Eighties weren't necessarily that different to the current climate when it comes to national levels of discomfort and delusion surrounding Australia's history of colonisation. Paul Kelly stood out early as a champion for pulling back the curtain and touching a nerve of consciousness: he could write songs for an afternoon sing-along, but he could also write songs to make a nation think.
Gossip—musically—saw Paul Kelly and The Messengers broaden their scope; elements of rockabilly sit along hints of dub/reggae influences. A song like "Randwick Bells" has the Eighties all over it (minimal keys, prominent saxophone and all), but doesn't sound out of place alongside the Lou Reed-ish album closer "After the Shot". 
To listen to Gossip with the knowledge of how Paul Kelly's catalogue would diversify in style and sound in years to come, this album can most certainly be considered a breakthrough effort. Distinguished songs from one of Australia's best songwriters who—at this point—hadn't even reached his creative peak yet, the music of Gossip has retained its landmark appeal even now, over three decades later.
38
Crowded House, 'Woodface'
Capitol Records 1991
Following their multi-Platinum debut album and a follow up that failed to connect globally (despite it featuring the now lionised "Better Be Home Soon"), Crowded House were under pressure in 1989. Neil Finn, Paul Hester, and Nick Seymour entered the path to their third record with a label breathing down their necks for another hit. Sessions at A&M Studios in Los Angeles resulted in 12 tracks that were delivered to Capitol Records, but only six were considered worthy. 
Despite having won over Americans on the tour circuit with their unique Australasian brand of dry, subtle wit and quirky onstage banter, their music was complex, and anachronistic when compared to the glittery pop and hair metal dominating the charts at the time.
"Capitol wanted those wacky guys from the first album back, but that caricature was never the full story," wrote the authors of the 100 Best Australian Albums book.
Crowded House linchpin Neil Finn unwittingly took the band on a sharp left turn after he returned home to Melbourne in '89. He set up a home studio in St Kilda and, with his brother Tim, began writing with leisurely indulgence for no particular project. The first song the pair wrote together in that studio on Murchison Street was "Weather With You", the timeless classic that brims with a sing-along chorus and a mischievous sitar line.
Neil and Tim Finn were on a roll, writing three, sometimes four songs a day; riffing off of one another's energy in a beautiful game of 'Yes, and!' improvisation. The pair eventually wrote a dozen songs, including "Four Seasons In One Day", another song tipping its hat to the weather and the oft-used phrase in its inception city of Melbourne. The song also described the emotional rollercoaster the Finn brothers had been on since Neil, then a teenager in awe of his older brother, joined Tim's band Split Enz in New Zealand back in 1977. Neil went on to not only write the band's biggest hit, "I Got You", but also eclipse his brother's musical success when he formed Crowded House in 1985. 
Many of the songs were written in one go. "All I Ask" was locked away in the time it takes to sing it, while the sepia-toned "It's Only Natural" was signed and sealed in one sitting, the verses penned by Neil and the chorus by Tim.
Writing songs for all the right reasons, Neil and Tim were oblivious to the industry expectation that loomed over Crowded House. The pair weren't writing for the band at all, or for Tim Finn's solo project; they even toyed with the idea of starting a collaborative project for the songs. Understandably then, this made Hester and Seymour nervous, and when Capitol called with heavy-handed constructive criticism for the A&M-recorded tracks, the brothers found themselves at a crossroad. 
"It was almost like our little private secret world and we both felt really good about it, but then there was this other drama playing out," Tim Finn told the authors of the 100 Best Australian Albums, "and eventually I said, 'Why don't we just merge it?'"
Tim joined the band as a full member for one year but just a few hours before they were set to take the stage in Glasgow in '91, a backstage meeting climaxed with the decision that Tim would leave the band.                  
Woodface fell flat in America, partly due to first single, "Chocolate Cake", the sharp-witted dig at American glut. The song sticks out like a portobello mushroom compared to the accompanying 14 tracks. However, it was the album that broke Crowded House in Europe, a territory the band still tour extensively.
Energetically, Woodface is a thistle; beautiful to surround yourself with, but look closely, and underneath its blossoming top layer you'll see tiny prickly spears, the product of pain and the need for protection.
37
The Living End, 'The Living End'
Modular Recordings 1998
Upon their arrival into the world of Australian music in the Nineties, The Living End felt like something of an anachronism. 
A trio fronted by founding mainstays vocalist/guitarist Chris Cheney and bassist Scott Owen, the group had the youthful energy and rebellion of their peers, albeit with the sort of musical integrity and sound reminiscent of rockabilly acts such as the Stray Cats (noteworthy is the fact that the band had indeed covered Stray Cats when they performed as The Runaway Boys, a name taken from the US outfit's debut single). After nabbing a support slot for pop-punk giants Green Day, The Living End issued their Hellbound and It's for Your Own Good EPs in 1995 and 1996, respectively, before receiving their big break. Channelling that youthful energy, the trio unleashed their double A-side EP, "Second Solution" and "Prisoner of Society", hitting number four on the local charts, going double Platinum, and becoming the best-selling local single of the Nineties. Even before they had recorded their debut album, The Living End were household names, and rising fast. "We thought it'd just sell 500 copies at the most," Cheney told Herald Sun in 1999. "Even on the EP it's the second track. There was no plan of attack. I guess it's just the timeless rock'n'roll message to rebellious teenagers in the song that seems to click."
Working with Lindsay Gravina, the group retreated to Sing Sing Studios in their hometown of Melbourne to craft their debut album. Re-recording the tracks that led their breakthrough EP, along with 12 others, their 1998 self-titled record would eventually spawn five singles, top the charts, win two ARIAs, and just weeks after its first anniversary, go four-times Platinum. 
But the success of the record wasn't solely based upon its clean production, their rockabilly instrumentation or the forward momentum that the group had on their side. Rather, it was the fact that they had made an album that spoke to its fanbase. While re-recorded opener "Prisoner of Society" (which lacked a little bit of the energy which made it click the first time around) saw the group standing up and speaking to their young fanbase, they weren't just rebellious young punks. "Second Solution" spoke of street violence, "All Torn Down" described their hometown's rapid development at the expense of history, "West End Riot" focused on class divide, and non-single "Monday" referred to Scotland's 1996 Dunblane massacre. This wasn't an album that, like many of their peers, was focused on relatively superficial topics, this was one that meant something: music with a message.
While it's true that The Living End had delivered a powerful, resonating record for their debut effort, it was hardly any surprise for dedicated fans of the band. After all, for these relatively young artists who felt wiser beyond their years, it made sense that fame was coming their way at some point, but the chances are good that no one knew it would be so soon.
36
Rowland S. Howard, 'Teenage Snuff Film'
Reliant Records 1999
Upon his untimely death in late 2009, Rowland S. Howard's former bandmate Nick Cave remembered the musician as the country's "most unique, gifted and uncompromising guitarist". With a resumé that boasted acts such as The Birthday Party, Nick Cave & The Bad Seeds, Crime & The City Solution, These Immortal Souls, and collaborations with countless other names who would receive the level of fame that Howard deserved, it's not hard to prove Cave's statement true.
However, if ever one wanted to see Howard at his most pure, his most raw, and most direct, one need look no further than his solo debut, 1999's Teenage Snuff Film. Equal parts angular, haunting, and enveloping, Teenage Snuff Film is an album that can be difficult to listen to at times, but ultimately a rewarding experience. Speaking to Rolling Stone of Howard's legacy, frequent collaborator Lydia Lunch likened the colour of his music to a "deep-purple bruise", while Against Me! frontwoman Laura Jane Grace (who cites the record as her all-time favourite) recalled how "his guitar playing was like the stab of a switchblade". Howard's music was undoubtedly unforgiving, but for an artist whose career was spent in the shadows, surviving addiction, overcoming the odds, and all the while serving as an undeniably underrated hero of the post-punk genre, he wasn't in the game to make friends—he was simply there to let his work be heard.
He approached everything with the attitude of the dedicated performer who would leave their pint of blood onstage every single time, and while this would become a sadly fitting metaphor in regard to his final shows just one decade later, Teenage Snuff Film showcased an artist who had overcome so much to make one of the best records of his career.
"You're bad for me like cigarettes / But I haven't sucked enough of you yet," Howard moans on album opener "Dead Radio", lulling the listener into a false sense of security with the beautifully-honest lyric, before the droning guitars and haunting strings switch between moments of downtempo haze on the likes of "Silver Chain", the caustic poetry of "Autoluminescent", and the piercing distorted wall of noise that makes up album closer "Sleep Alone". Teenage Snuff Film isn't a joyous listen, nor is it a welcoming one, but it's the sort of record that should be required listening for any music fan who wants to experience the full gamut of pain and raw emotion distilled into sound.
As Grace so succinctly explained in 2020, "[Teenage Snuff Film] is a perfect album from such an underdog; like the ultimate underdog fuck-up," she says. "He is realising and admitting to how much he regrets the ruin of his life through these songs.
"I've just never heard a more honest recording of walking death. He knows he's dying, there's no getting out of it, but it's not resignation or fear that he's feeling yet. It's not sadness or self-pity; it's ice-cold rage channeled into every chord and every word. It's so vivid and eternal. You can close your eyes and feel it all."
35
Archie Roach, 'Charcoal Lane'
Aurora/Mushroom 1990
He is regarded as one of Australia's most revered and beloved songwriters, a leader in a storytelling tradition that only few can claim to be part of. 
For Archie Roach, his stories spotlight an individual's intensely unique history: Archie has lived many different lives and the way he channels those experiences—no matter how painful—into song, is unlike any other. 
His debut album, the iconic Charcoal Lane, was released in 1990 and has since become a groundbreaking record in Australian music, period. Ten tracks strong, the songs were all written by Archie, except for one—"Down City Streets", written by his late wife and fellow artist, Ruby Hunter. 
The way Archie tells stories on Charcoal Lane is inviting. Inviting in the way that the listener is given a unique insight into a wide range of experiences, but only if they're willing to let their guard down and properly listen. As much as it stands the test of time as an educational record for non-Indigenous listeners, for his community, a record like Charcoal Lane is a gift and testament of strength from Archie.
Musically, influences from some blues and country greats flow throughout: Merle Haggard, Sam Cooke, Charlie Pride. What rings out stronger however, are the messages. Archie sings of the continued oppression of Indigenous Australians, yet also uplifts his community and speaks of their spirit and resilience in the face of it all. 
Charcoal Lane was a brave album of its time, and in its wake Australia saw societal change. The impact of a song like "Took the Children Away" can't be denied, especially when we look at the eventual National Inquiry into the Separation of Aboriginal and Torres Strait Islander Children that would happen not too many years later.
Because of Archie's music, specifically with the release of Charcoal Lane, a lot of the injustices and issues facing Indigenous Australians could no longer be ignored as they had been. And yet, though some of the album's most powerful messages focused on the political and social imbalances within Australia, Charcoal Lane's music is wrapped up in a constant state of warmth and depth. Archie sings from his heart, with each song landing as a dedication. Whether it be to family, mob, or country, Archie sings with a strong sense of love and respect; balancing the political messages woven throughout with ease.
The music of Charcoal Lane has endured even now, three decades on, because of its ability to captivate, move, and provoke. To sum the album up in a few words, it's easy to say Charcoal Lane is one of the realest releases in the Australian songwriting canon. Archie's relationship with words and his impassioned delivery of them is strong enough to rattle even the most hardened of listeners. 
Charcoal Lane is an album of survival, reflection and ultimately, hope. It is a defining moment for Australian music and the heralding moment for a national treasure. It's an introduction to Archie Roach, and certainly showed us what he was made of. 
34
Dirty Three, 'Ocean Songs'
Anchor & Hope 1998
When it comes to instrumental music, it often seems as though the criticism that artists receive is far harsher than that of its "vocal" counterparts. But why is that? Why should instrumental music be forced to prove itself more just because these collectives are lacking a singer up the front? The vast majority of the time, instrumental artists can be far more arresting, immersive, and overall enjoyable than a "traditional" band. 
For proof of this, one only needs to look towards Melbourne's Dirty Three, who after forming as something of a supergroup in 1992, quickly took the world by storm. With Jim White on drums, Mick Turner on guitar, and Warren Ellis on violin (complete with guitar pickup attached via rubber band), the trio—whose work could be previously heard within Nick Cave & The Bad Seeds, The Moodists, Venom P. Stinger, et al—crafted soundscapes as crashing and cacophonous as they were beautiful and touching. 
Turner's distorted guitars would blend with White's powerful percussion, while Ellis' frenzied violin virtuosity was enough to bring tears to the eyes of even the most stone-hearted of critics. But at a time when pub-rock was still all the rage, and grunge was giving way to alt-rock, Dirty Three's rise to fame saw them on the outer, as those going against the grain due to their instrumental offerings. But this is what made them into one of the most dangerous and exciting bands going around. Live shows were ravenous affairs attended by their voracious fans, and quickly became "can't-miss" affairs that complemented their studio output.
With a growing collection of albums to their name as the years went on, and with widespread acclaim increasing with each release, 1998 brought with it the unveiling of the band's fourth major album, Ocean Songs. Working with producer Steve Albini, many would assume that a collaborative effort such as this would be laced with the fierce distortion associated with their veteran punk producer of choice. However, the end result was one of the most moving, reflective, and above all, blissful entries within the Dirty Three's catalogue. Resounding instrumental crescendos and breakdowns were eschewed in favour of atmosphere and melody, allowing each and every member to share equal ground as—like the record's title implied—music ebbed and flowed, allowing these instrumental waves to crash over the listener, soaking them with instrumental bliss.
Comparatively short tracks such as opener "Sirena" or "Black Tide" sat effortlessly alongside the likes of the epic "Deep Waters" or the earth-shattering "Authentic Celestial Music", proving that the Dirty Three weren't just one of the most dangerous and exciting bands out there, they were also one of the most poignant.
In theory, couldn't this make Ocean Songs one of the great punk albums? With this musical pivot of sorts subverting expectations and turning opinion of the band on its head? Well, not by any traditional metric, of course, but with the Dirty Three eager to showcase their sound at its most raw and heartfelt, allowing intensity to be brought to the forefront with their contradictorily loose yet precise compositional style, the listener is brought into an all-encompassing world of pure sound and ethereal emotion. What could be more dangerous and exciting than that?
33
Paul Kelly, 'Post'
White Label Records 1985
America has Springsteen, Dylan, and Cohen. But Australia? We have Paul Kelly. And we wouldn't trade him for the world. 
While Kelly's discography is vast, Post is perhaps the most restrained incarnation of his artistry. Kelly is a storyteller, first and foremost. Music is the medium he uses to translate his tales; a song his tool to spin a first-class yarn. He is a poet of the streets and champion of the people, in the truest sense of the world. 
Case in point: the gorgeous "From St Kilda to Kings Cross". It's a quintessential Kelly track that reveals his magic trick—the way he is able to recontextualise distinctly Australian experiences into something universal. Through his masterful lyricism, vividly rendered details of St Kilda's struggling palm trees and Kings Cross in the rain become potent metaphors for redemption and addiction. For as long as his music is listened to, Kelly's magic trick will never cease to be captivating. 
Post came in the wake of significant life changes for Kelly. He'd broken up with his original band and gone out on his own. His marriage had dissolved. The result? The record's barren, sparse sound—an album that lives and dies by the immense quality of the songwriting, no more and no less. The fact that Kelly captured some of his finest performances with nothing but the melancholic jangle of a 12-string guitar as a bedrock tells you everything you need to know about him as a songwriter. 
"You Can Put Your Shoes Under My Bed" may be one of the most beautiful Australian songs of all time; the sound of the love and compassion we extend to the friends who need us most. When you're in danger of falling through the cracks, the simple offer of shelter for the night can be immeasurable. Paul Kelly—who saw firsthand the devastating effects of heroin sweep through creative communities in the late Eighties—understands this more than most. Chris Coyne's tenor saxophone fills the space left by Kelly, filling the silence like an answered prayer. 
"Incident on South Dowling" uses rockabilly to tell the cautionary tale of a man who couldn't save his partner from an overdose—paralysed by his own usage, trapped in "the vegetable zone". "Look So Fine, Feels So Low" tells the story of a character who finds love, only to feel guilt at escaping the grim fate of his friends. The gorgeous "Adelaide" finds the protagonist running from grief. His father has died, and while his red-eyed aunts spill tears, Kelly's character gets tanked under the statue of Colonel Light vowing never to return to the city. 
While the characters in Post are fictional, they're imbued with an honesty that can only come from real lived experiences. This, of course, is what makes Kelly one of the greats. He understands the power of storytelling—a mechanism for divining deep truths from imagination.  
32
INXS, 'The Swing'
WEA 1984
INXS could never be accused of wastefulness. With origins in Sydney and Perth, the band had ambitions that were greater than either coast could offer. Michael Hutchence and co. were road-hogs, regularly playing upward of 200 shows each year. Australia was a springboard to the rest of the world, where stadiums and number ones would await.
By the time INXS released The Swing in 1984, the new-wave band was already four albums deep into a recording career that only began proper at the dawn of the decade.
Their previous album, Shabooh Shoobah, was confident and classy, it cracked the US charts and it yielded the classic "Don't Change", a song regarded by some as among the greatest not just by INXS, but by any Australian band.
For their next release, INXS were going to swing, and swing from the rafters. The rockers tapped Nile Rodgers, the co-founder of Chic and a cornerstone of the disco movement, to produce the first single, "Original Sin". Recorded in New York City, featuring backing vocals from Daryl Hall, and accompanied with a slick music video that demanded airplay on MTV, "Original Sin" was a screaming hit.
"Michael and I put together 'Original Sin'," recounted keyboardist Andrew Farriss in 2017. "Nile liked it and we went to Power Station to record. Back then, coming out of the Seventies, the Chic funk era, you had Talking Heads and Blondie who were real trailblazers who stayed true to their belief—and we thought we wanted to do that, too."
When other bands heard "Original Sin", they wanted to do it.
Duran Duran, then the most popular band on the planet, was introduced to the song when Ian "Molly" Meldrum played it on repeat at a party. Molly's tactic worked, the members of Duran Duran asked the right questions, and they were hooked up with Rodgers. That connection led to Duran Duran's megahit from 1984, "The Reflex". They have INXS to thank for that.
It could have been so different. The lyrics "Dream on white boy / Dream on black girl", had created a "whole drama" by "freaking out the American company," the band's late manager Chris Murphy told this reporter in 2010. Fortunately, cool heads prevailed.
The Swing was completed with producer Nick Launay at The Manor Studio in Oxfordshire, England, who, one can only imagine, might have been handed a brief to make an album for the biggest band on the planet.
This is no ordinary rock record. The attention to detail is outstanding. Everyone plays their part.
From the brassy notes and creeping synths in the single "I Send a Message", the cacophony that introduces "Dancing on The Jetty".  "Watch the world argue / Argue with itself / Who's going to teach me / Peace and happiness," sings Michael Hutchence. 
Garry Gary Beers' bass playing is never relegated, Jon Farriss' drums are treated in a way that every drummer hopes for, but rarely gets. They're beefier than a Four'N Twenty factory.
"Love Is (What I Say)" could be a daydream caught on tape, and "Burn for You", another standout from the album, captures the past, and the future. Its music video is a snapshot of INXS' career, visiting sleepy towns in north Queensland, and finishing up in central London.  
The Swing is band democracy in motion. There are no bystanders, no spare wheels on this machine.
31
Flume, 'Flume'
Future Classic 2012
The first of Harley Streten's multi-award-winning studio albums, Flume, took us inside the mind of Australia's own electronica wunderkind. Having famously cut his teeth with a music-mixing program dubbed "Andrew G's Music Maker" from a Nutri-Grain cereal box, Streten's debut album was always going to be a beautiful patchwork of beats and samples. Much of Flume was conceived at home where Streten self-produced bedroom beats and morphed samples until they were almost unrecognisable from their original form. The final cuts deliver a glitchy, R&B-schooled production which plays out more like a live set than a journey of introspection. 
Predominantly instrumental and exploring territory walked by J Dilla, Hudson Mohawke, and Flying Lotus, Flume is Streten in full bloom. Created with iPods in mind, the album captures the essence of this Sydney Northern Beaches native, whose instrumental moments and, in parts, almost-inaudible vocals offer a dramatic commute soundtrack. 
A producer who is not a producer in the traditional sense, and a songwriter who samples more than he invents, Streten "plays the Mac" better than anyone. At the time of Flume's creation, Streten spent much of his time trawling through sample pack databases of Ableton Live to find the perfect sound for the perfect feeling. Whether he was at home in his bedroom or traipsing around Europe, drawing inspiration from his surroundings (opener "Sintra" was named after his favourite place in Portugal), Streten thrived in an abnormal routine. It's almost incredible to think that climactic festival highlights were conceptualised in hostel rooms and at cafes on a beat-up laptop with headphones and a USB mouse.
Album singles "Holdin' On" and "Sleepless" soon climbed charts and were added on rotation at commercial radio—in the age of One Direction and Justin Bieber, no less. And when the album overtook Bieber on the ARIA chart to take the number one spot, it sent a message to beatmakers nation-wide that they could take on the mainstream with their experimental electronica.
Dizzying glitch-pop tracks like "Bring You Down" and hypnotic digressions into trance with tracks like "Ezra" and "Warm Thoughts" punctuate a bricolage second half, instantly futuristic and progressive and still entirely inherited. His second half polarises against a more radio-ready first act. Tracks like "Left Alone" with the hallmark drawl of Chet Faker, and "On Top" featuring New York rapper T.Shirt serve as the bridge to the instrumental pivots to come.
Named after a Bon Iver song (and the way the sound of the word made him feel), Flume proved at the very beginning of his career that an entire album of Australian electronica could crossover to the global mainstream. A decade since its release, Flume still packs a punch as a unique success.
30
Jet, 'Get Born'
Capitol Records 2003
Jet, like its name would suggest, took flight and hit the spot where the atmosphere is thin, before coming down to land, hard.  
Get Born from 2003 opened their account. It was some opener too, with the album's signature song "Are You Gonna Be My Girl" landing a global ad spot with Apple, for its then killer-cool iPod and iTunes music store.
Coming soon after the debut from Sydney's The Vines, Get Born was a moment for Australian rock, one which had music observers in the northern hemisphere lasered-in.
The word was out on Jet well before Steve Jobs and co. got involved. The Melbourne four-piece showcased the album in central London to a small crowd, packed with music industry types. Frontman Nic Cester channelled both the Beatles and AC/DC, but with the odd time-signature thrown in and a fresh angle that could only come from the land down under.
Cester's brother, Chris, could be spotted backstage after the show, wearing a vintage leather pilot's helmet and swigging vodka from the bottle.  
In that moment, Jet sounded and looked the part of a rock band on the rise.
The music industry wants hits, and with "Are You Gonna Be My Girl", they had one. A rollicking number with a driving bassline so similar to Iggy Pop's "Lust for Life", it's the type of song that doesn't age.
Cut at Sunset Sound Studios in Los Angeles, with Dave Sardy on the desk, the album manages to capture the sound of a band that stayed up late, then sweat out the beer over their instruments. It's raw without being messy, it's clean without being overproduced.
From the first track "Last Chance", you're invited into a time when rock could be simple, when handclaps and tambourines were appropriate. The band's origins are laid bare from the very first note, a spoken word line, "Can you just give me one more try at that?"
Lyrically, the songs of Get Born are untainted with worries about geo-politics or the price of those iPods. "Rollover DJ", the second single, is an almighty F-You to DJ culture. "I wanna move but I don't feel right / 'Cause you've been playing other people's songs all night."
"Look What You've Done" is the tempo-changer. Built around piano, it's the moment the lads drop their tools for a sophisticated dinner suit, its double-tracked vocals in the chorus reminiscent of Oasis' mighty "Champagne Supernova".
The standout, for its brazen, balls-out brand of crash-bang rock, and for a title that wouldn't cut it on commercial radio today, is "Cold Hard Bitch". It's a song with so much bad attitude, it should be sent to the principal's office.
Ultimately, Jet couldn't keep the engines going. The follow-up, Shine On, fell through the cracks in a crowded US release schedule at a time when the availability of prime rack-space at retail outlets could dictate a hit or a miss.
Get Born remains the band's go-to album, stuffed with belters, its tracklist lined with mood-altering swings and roundabouts. Almost certainly, "Are You Gonna Be My Girl" will have another life, perhaps when most of us are already gone.
29
AC/DC, 'Highway to Hell'
Albert Productions 1979
For an album as explosive and hard-living as Highway to Hell, it's hard to not look at it without a twinge of sadness, or to look at it as an epitaph for its late singer. At the time of its release, Highway to Hell was AC/DC's sixth studio album, and their first not to be produced by the dynamic duo of Harry Vanda and George Young.
Having managed to make in-roads into the US by way of their live following, Atlantic Records felt that AC/DC undeniably had potential to crack the elusive American market, but only if they were able to make more radio-friendly tracks. As such, the label forced the band to break a long-standing and familial partnership, recruiting rising producer Robert John "Mutt" Lange to sit behind the desk. As the book AC/DC: Maximum Rock & Roll later put it: "Losing Harry was one thing. Losing George was almost literally like losing a sixth member of the band, and much more." 
In July of 1979, Highway to Hell arrived, and it was arguably the fiercest album in AC/DC's discography to date. Opening with the now-iconic title track, it felt as though we were on the precipice of witnessing a brand new era of the band. Inspired by Western Australia's Canning Highway, "Highway to Hell" was written about the group's endless life on the road, and sounded exactly like what AC/DC should sound like. Front-stacked with a monumental guitar riff, and bolstered by a chorus as big as the band's burgeoning legacy, it is a massive track which, today, is so highly regarded that the Rock and Roll Hall of Fame included it on their list of the 500 Songs that Shaped Rock and Roll.
But there was more to Highway to Hell than just its opener. Across a total of ten tracks, AC/DC gave the listener the closest experience they would get to seeing the band live. Killer cuts like "Touch Too Much" and "Girls Got Rhythm" belted out of the speakers, while "Beating Around the Bush" and "Love Hungry Man" burst eardrums worldwide, before the likes of "Night Prowler" and the exceptional "If You Want Blood (You've Got It)" closed out the album.
It might not have been the album that AC/DC had wanted to make, being forced to change their usual, effective production team to include outsiders for the first time, but if anything, it proved that AC/DC were at the top of their game, with no question that this sort of success would follow into the future.
Ultimately, tragedy soon soured the overwhelming critical response to the album, with frontman Bon Scott passing away at the age of 33 in February of 1980 while on tour in the UK. Though his surviving band members would continue (recruiting Brian Johnson as their lead vocalist before entering the studio to write and record an album known as Back in Black), Scott's passing raised so many questions. Just what would modern rock'n'roll look like had Bon Scott lived? What would have happened had AC/DC broken up instead? And how would Highway to Hell be viewed had it served as the band's final album?
To many, Highway to Hell signifies the end of an era; the final footnote in the band's initial existence before tragedy necessitated a more successful switch. But to others, it remains a stone-cold classic of Australian rock, and an enduring epitaph to one of the genre's most iconic frontmen.
28
Flowers, 'Icehouse'
Regular Records 1980
Iva Davies is one of Australia's most reluctant musical heroes. His game-changing debut album contains the first collection of songs he'd ever written—he'd signed a record deal and needed original music. 
History lesson: Davies ditched a career in classical music (the oboe was his weapon of choice) for a failed solo career in 1975. Two years later, he formed a cover band called Flowers playing loud, faithful but intricate renditions of his favourite songs by Lou Reed, David Bowie, Ultravox, Brian Eno, T-Rex, The Easybeats, Iggy Pop, John Lennon, The Kinks, and The Sex Pistols. That was the night job. The day job was using his musical knowledge to transcribe sheet music for hits of the day, granting him scientific insight into the construction of classics from all genres.
Flowers' live popularity led to that record deal and a situation that would become common for the non-prolific Davies: writing furiously to meet a deadline.
By osmosis, all those diverse influences he'd passionately imitated bled directly into his debut—Sixties rock, early Seventies glam, and late Seventies new wave with catchy melodies and timeless songwriting.
"Icehouse", the song, heisted the gloomy synths and brooding rock emanating from the UK; he'd later successfully export his take on it back to them. It's cold electronic sounds were in sync with a story about the rundown rehab facility he could see out his window ("There's no love inside the icehouse"). Their first hit "Can't Help Myself", like the follow-up "We Can Get Together", reimagined The Beatles as a new wave act—complete with chiming guitar, driving choruses, and strident vocals. 
A third single, "Walls", represented the album's sinister underbelly, which Davies now realises was him unknowingly writing his way through a breakdown—with songs sweating anxiety, anger, and alienation.
Davies' love of punk surfaces on "Skin" and the spiky "Fatman", while "Sister" was never a single but remains a staple in their live show to this day. 
The name swap is the least interesting part of the story. They were called Flowers, the album was called Icehouse. It was the instant global interest in this album that flagged the problem of a Scottish band called The Flowers. Icehouse is a much better name for a band anyway. 
The perennial—and international—appeal of this album is up there with AC/DC and Cold Chisel. In 2011, Icehouse played virtually the entire album at Homebake, with 20-somethings who'd recently discovered the album joyously mixing with those who came of age to it. In 2020, to mark the album's fortieth anniversary, they repeated the trick at St Kilda Festival.
After this debut, Icehouse would morph into a different beast—a feat Davies would pull off for each album. The next move wouldn't so much flirt with synthesisers, rather spend the night and make breakfast. But Icehouse would never be as raw as this. Rather than be haunted by his past, Davies embraces it, seemingly still shocked by how he fluked an Australian classic. 
27
Midnight Oil, 'Blue Sky Mining'
CBS/Sprint 1990
Seven albums in, Blue Sky Mining proved that Midnight Oil still had a lot more to say. Energetic, chaotic in all the right places, the band's 1990 release did well in capturing the essence of the live shows that had, by this point, begun to win fans over globally.
Three years on from the seminal Diesel and Dust, Midnight Oil solidified their international breakthrough with Blue Sky Mining and on the homefront, their profile as one of Australia's most unflinching rock'n'roll bands intensified. The type of confidence the Oils perform with on Blue Sky Mining isn't unfamiliar, though with this album there does exist a new sense of untempered unpredictability that the band thrives on. 
If earlier albums were built on pure rage and disappointment with the failings of the system, Blue Sky Mining offered up these feelings of discontent, packaged in new sonic ways. Far more Achtung Baby than London Calling, Midnight Oil played with more light and shade on Blue Sky Mining—taking the time to explore emotion in its different representations. 
A song like "Bedlam Bridge" is rhythm-driven and almost yearning in its anguish. "River Runs Red" is a mournful ode rooted in environmentalism, showcasing Peter Garrett's dismay and disappointment under a new sonic light. Similarly, Blue Sky Mining brings us moments of contemplation with tracks including "Mountains of Burma" and "Stars of Warburton": two particular stand-out moments of the album that can still ring painfully relevant as current day world politics continues to amble along in new phases of crisis. 
Still, this isn't to say that Blue Sky Mining is devoid of the ruckus Midnight Oil had been known to bring in spades with their music. With the addition of the likes of "Forgotten Years" and "King of The Mountain" on this record, earning their way into the upper echelons of classic Australian music in years to follow, Blue Sky Mining knew how to balance the moments of rueful reflection with the classic Midnight Oil bombast.
The arrival of Blue Sky Mining served as somewhat of a balm to the craziness audiences were seeing dominate their news cycles. Or at least, it served as an avenue to lose oneself in, emotionally purge and find some kind of understanding of it all. The way this music translates thirty years on is testament to the way Midnight Oil were masters of their craft: their music didn't focus on pontification, nor did they dumb their material down for the sake of commercial success or audience relatability. 
Blue Sky Mining—as with much of Midnight Oil's catalogue—still holds relevance today, potentially even more so, considering what has and hasn't changed with regard to Australian and international politics. It's not so much a prophetic record, more a mirror held up to show how easy mistakes are to repeat. Time will move on and activism will present itself in new and different ways. Blue Sky Mining is undeniable in its place within a golden period of Australian protest music.
26
Skyhooks, 'Living in The 70's'
Mushroom 1974
It feels almost too easy to simply write off Skyhooks as a prime example of the burgeoning glam-rock genre of the time. Sure, flamboyancy and stage theatrics might have been part of their act, but it doesn't do service to actually how stunning the outfit was when it came to writing killer songs and performing them. Having formed back in 1973, the lineup of the group was starkly different to what it was by the time their debut album arrived the next year. 
Dubbed Living in The 70's, production was helmed by Daddy Cool's Ross Wilson, and budding Melbourne label Mushroom Records had signed the group, with the ten-track LP released just two months after its title track was issued as a single in August of 1974. Initial sales might have been slow, but this perfect storm of stellar musicianship, ferocious performances, and sharp songwriting soon found its audience, with 1975 seeing the album become a major hit. 
Before long, Living in The 70's had topped the Kent Music Report, second single "Horror Movie" had repeated the feat, Skyhooks had appeared on Countdown, and the album had become the highest-selling record by a local act to that point with sales of 240,000. Even Mushroom founder Michael Gudinski cited the record as a game-changer, with its influence pushing his label to widespread prominence and kicking off almost 50 years of being one of the country's most famed and respected labels.
But what about the musicians behind the art? Vocalist Graeme "Shirley" Strachan soon became known as one of the music scene's leading frontmen, while bassist Greg Macainsh's songwriting talents found him shining bright as a commentator on urban life in Melbourne in the Seventies, with his humorous, sharp-tongued compositions seeing the record's appeal widened at every turn. Meanwhile, drummer Imants "Freddie" Strauks, and guitarists Bob Starkie and Red Symons helped to hold down one of the tightest rhythm sections in the country. While the latter's own vocal and songwriting talents can be heard on "Smut", it's impossible to listen to anything from Living in The 70's without being entirely blown away by how sharp and impressive the music is. Imagine it as an instrumental record, and it might just sell as well as it did with Shirley Strachan's iconic vocals up front.
For countless Australians, Living in The 70's isn't just an album that defined an era, or helped to kick off a love affair with Australian rock, for many, it soundtracked their lives. Whether it's the outrageousness of "You Just Like Me 'cos I'm Good in Bed", the wit of "Horror Movie", the rebelliousness of its title track or "Whatever Happened to The Revolution", or the Melbourne-centric vibes of "Balwyn Calling", "Toorak Cowboy", or "Carlton (Lygon Street Limbo)", it's an album that speaks volumes about the sort of talent this country has. To put it simply, had Skyhooks never coalesced and pooled their collective talents into this one, 39-minute masterpiece, Australian music would never be what it is today.
25
Hoodoo Gurus, 'Stoneage Romeos'
Big Time 1984
From the very start, Hoodoo Gurus had a special appeal. Here was a rock band that was accessible and worked hard, visibly so, by playing every pub and club in their hometown Sydney, before word got out. Then everyone wanted a piece of the Gurus. For a time, every kid wanted to hang ten with Dave Faulkner and his bandmates, every young adult wanted to have a beer with them. 
That special appeal was wider than the Simpson Desert. Their instrumental cover of "Little Drummer Boy" is a relatively unknown wonder, a tune that covers the bases of surf rock, Christmas, and a summer down under. And they would go on to land some killer blows, with "What's My Scene", "Bittersweet", "Like Wow—Wipeout!", and more.
Everything started with their debut from 1984, Stoneage Romeos. The Gurus were armed with songs and ready, they were probably born that way. If looks could kill, Hoodoo Gurus were mass-murderers. From the cover art, a nod to the B-movie One Million Years BC, through to Faulkner and the talismanic guitarist Brad Shepherd, both of whom possessed hair that could have seen them cruise through a Birthday Party audition. A little bit groovy, a touch swampie, all colour, total rock. It also helped that Shepherd had the looks of a guy whose face could be posted to teenage girls' bedrooms around the nation.
Produced by Alan Thorne at Trafalgar Studios in Sydney, the album's first single was "Leilani", a number that carries the ethos of The Cramps, and oozes late-night action. "Tojo" with its power chords and rowdy, upbeat chorus is a Gurus classic, and always a favourite in their sets. The final single from the album, "I Want You Back", was a breakout, its music video served as an important introduction to those not already clued in.
The dinosaurs from the album's cover art made an appearance in a stop-motion animation that's so clunky it would have got an F for a high-school project. It looked rubbish on its release, even to a youngster. That was part of the appeal. Sure, everybody knows dinosaurs and cavemen sex symbols didn't co-exist (its name is lifted from a Fifties Three Stooges short). These guys were so laid-back, so cool, they could get away with anything (curiously, the US record company A&M went with a different cover, with very little appeal).
Those early music videos were shot on a shoestring, but their impact lasts to this day. It's close to impossible to separate the single "My Girl" from its music video, a charming tale about a man (Faulkner) and his dog (a greyhound).
"We thought it would be fun to turn it into the story of a greyhound trainer and his dog," Faulkner recounted. "Ever since, people thought I wrote the actual song about a dog—I didn't…but the fact people thought I did shows that the film clip was memorable and touched people."
Life imitated art in 2019 when the Hoodoo Gurus performed at Wentworth Park on a night that benefited Greyhounds As Pets, a project that retrains dogs for family life after they've retired from racing.
Following its release, in 1985, Stoneage Romeos took out the Best Debut Album category at the Countdown Awards. The ceremony no longer exists, but for the Gurus, it was just the start.
Down the years, the lineup would change, first with drummer James Baker replaced by Mark Kingsmill, the brother of longtime triple j music director Richard Kingsmill. Mark would leave in 2015, the year after the arrival of the Gravy Train EP.
Pop culture was splashed across that first album, all those years back. The band never forgot their roots, or the stuff that turned them on. Their last studio album, 2010's Purity of Essence is a nod to the Stanley Kubrick film from 1964, Dr Strangelove, a favourite among the band members. 
Stoneage Romeos is an album that inspired countless rock bands that followed. The band continues to tour, and inspire, and Faulkner has played a helping hand for generations of homegrown artists as chairman of the judging panel for the Australian Music Prize. Stoneage Romeos and the Gurus have surely lit the spark for many of its nominees and winners, which, collectively, represent the best of the current crop.
24
The Whitlams, 'Eternal Nightcap'
Black Yak Phantom 1997
Just two years before The Whitlams released Eternal Nightcap, the Sydney trio were enjoying some belated success with a song called "I Make Hamburgers". Compared to their more popular work, the single feels a little juvenile and not at all indicative of what was still to come. But while crowds found themselves shouting back "more sauce!" during live shows, no one knew that 1997 would result in the group unveiling one of the most touching and emotionally devastating records of the decade.
In early 1996, The Whitlams' founding guitarist Stevie Plunder was tragically found dead at the age of 32. Having formed the group alongside Tim Freedman and Andy Lewis just four years prior, the trio were an accomplished and eager outfit which never once turned down an opportunity for a live show. Following Plunder's death though, the future seemed less than certain, with lineup changes punctuating a creative period which arose despite the difficulty faced by the band.
"The band became a revolving door because I had no money to pay anyone," Freedman would later recall. "I actually made the album Eternal Nightcap during that most difficult period. That was a really tough year in which to keep my focus and keep my head up, but it ended in September 1997 when I put the record out and it just started selling itself."
At the time of the album's arrival, Freedman was in his early thirties, and by his own admission, "broke" and not in a position to take anything for granted. Thus, the initial success of the record came as something of a shock. Comprising of a number of songs written over the previous decade (and a cover of Bob Dylan's "Tangled Up In Blue"), Eternal Nightcap was indeed a surprise success, with its most popular single—"No Aphrodisiac"—defying the expectations of Freedman as it found widespread popularity, not only topping triple j's Hottest 100 of 1997, but also being nominated for Song of The Year at the ARIA and APRA Awards of 1998, winning the former. "It was a song that worked just because it was pretty, it was about loneliness, but then it got funny," he told Double J in 2017. "It had a real development. It just got a life of its own."
A beautifully sweet song about loneliness, the lyrics—co-written by Machine Gun Fellatio members Pinky Beecroft and Chit Chat von Loopin Stab—struck a chord with listeners around the world, turning The Whitlams into a group who specialised in writing songs that spoke directly to the heart.
No more was this evidenced than on the "Charlie" trilogy, which made up three separate, but loosely-connected, songs on the record which dealt with the loss of Plunder.
"It's funny, because I made Eternal Nightcap as a very personal document but so many people really connected with it," Freedman once noted. "There's quite a bit of raw emotion going on there (in the "Charlie" trilogy), but I think there's also enough humour on the album to balance it out. Perhaps it's black humour, but it's in there."
However, the record wasn't all black humour and loneliness, with upbeat numbers such as "You Sound Like Louis Burdett" and "Love is Everywhere" sitting alongside the likes of "Melbourne" or the hard-hitting "Life's a Beach". Meanwhile, Freedman also sat out of the vocal booth for a couple of rare tracks, allowing Tim Hall to step up to the microphone for "Where's the Enemy?" and their rendition of "Tangled Up In Blue".
As the record continued to find an audience, so too did the accolades continue to arrive, with eight ARIA Award nominations coming their way, and the trophies for Best Independent Release, Song of The Year, and Group of The Year ultimately taking pride of place on their mantle.
"The truth was, ever since Stevie died in 1996, things have gone really well," Freedman told The Age in 2008. "When he died we'd sold 6,000 records; we've sold 500,000 since. It's like I'd had a guardian angel. Stevie helped form the attitude of the band."
While tragedy may have shaped the trajectory of The Whitlams, it goes without saying that the group were able to turn it into their strength, with Eternal Nightcap serving as a document of resilience, optimism, and stoicism. 
23
The Saints, '(I'm) Stranded'
EMI 1977
The question of who started punk rock, and when, is a divisive one, to say the least. Depending on who you ask, it could have been when New York City's Suicide used the term on a gig poster in 1970, or when Rolling Stone used the term in a review of The Guess Who the following year, or it could have been when the Ramones took to the stage for their first show in 1974. Trying to find the exact origin is a fool's errand, but down in Australia, you can trace that thread to September of 1976 when The Saints unleashed their first single.
Formed by Chris Bailey, Ed Kuepper, and Ivor Hay in Brisbane in 1973 as Kid Galahad and The Eternals, they would alter their moniker the following year, using these early days as a chance to 'refine' their unrestrained sound. Armed with Bailey's explosive voice, and the unrelenting "buzz saw" guitar sound of Kuepper, The Saints quickly found themselves the talk of the town, frequently attracting the attention of police at their shows, and speeding up their tempo due to some misplaced nerves. Little did they know it, but they were helping to shape the sound of a genre that their own name would soon become synonymous with.
It was in 1976 that The Saints changed history. In June, they worked with Mark Moffatt to record a pair of tracks which struggled to attract interest from local labels. In keeping with the burgeoning DIY aesthetic, The Saints formed their own label and shared their debut single; "(I'm) Stranded".
As writer Andrew Stafford recalled in 2016, the single's release was fitting, with Brisbane caught under the "tyrannical thumb" of State Premier Joh Bjelke-Petersen, it helped to kick off something of a cultural revolution, singing out against the state of affairs as Bailey decried the notion of "livin' in a world insane". 
Soon enough, the single found global appeal, with copies being sent over to the likes of the UK where it quickly caught the attention of Sounds reviewer Jonh Ingham, who famously labelled it the "single of this and every week". "For some reason Australian record companies think the band lack commercial potential. What a bunch of idiots," he wrote. "You like [Status] Quo or the Ramones? This pounds them into the dirt. Hear it once and you'll never forget it."
With their single, The Saints had beaten just about every English punk band to the punch when it came to pressing their music onto vinyl. Even Boomtown Rats frontman Bob Geldof later cited the band as trailblazers, noting that "rock music in the Seventies was changed by three bands—the Sex Pistols, the Ramones and The Saints".
Not content to rest on the success of one solitary single, The Saints soon hit the studio again, working with Rod Coe to craft the rest of what would become their debut album. Also dubbed (I'm) Stranded, the ten track album arrived in February of 1977 and was—put simply—a musical revolution. In addition to the previously released title track and "No Time", (I'm) Stranded featured six more originals from Bailey and Kuepper, alongside a rendition of The Missing Links' "Wild About You" and Elvis Presley's "Kissin' Cousins", and was an all-out aural assault.
At just over half-an-hour in length, The Saints wasted no time in making their presence felt. Tracks like "Demolition Girl" and "Kissin' Cousins" feel as though they're over as quickly as they begin, while even the longer numbers—such as "Nights in Venice" and "Messin' with The Kid"—refuse to let up for a single second. To say the least, if (I'm) Stranded wasn't viewed as the blueprint of what punk music should be, it would have to be the poster-child for a musician's stamina. 
Ultimately though, (I'm) Stranded would be the last time fans would hear the group in this raw, unfiltered format, with the following years bringing about countless changes. While a decided musical change would follow on the likes of Eternally Yours and the more pop-driven Prehistoric Sounds, Kuepper would depart in 1979, leaving The Saints to explore new sounds with new lineups, with Bailey remaining the sole constant member of the band. 
In 2001, APRA unveiled their list of their Top 30 Australian songs, with "(I'm) Stranded" being named amongst 29 other classic local tracks. Just months later, The Saints found themselves inducted into the ARIA Hall of Fame, receiving the sort of mainstream recognition that had long eluded them throughout their career. Though The Saints might not be as widely recognised as pioneers of the punk world as the Ramones, the Sex Pistols, or The Clash are, any respectable music-lover should never forget the fact that almost 50 years ago, it was a group of Brisbane musicians who changed the world of music forever.
22
Silverchair, 'Diorama'
Eleven: A Music Company 2002
Daniel Johns' expedited creative growth—in public—is truly something to behold. In 1991, aged 12, he was aping the grunge sound eclipsing the world. A decade later he'd sold millions of copies of three albums and was already bored.
Enter Diorama—which they started recording in Sydney five months after playing to 250,000 people at Rock in Rio in January 2001. 
By that point Johns had already tired of Silverchair's most popular songs—"Tomorrow", "Pure Massacre", "Freak"—haunted by his naïve teenage venting becoming global anthems.
"Emotion Sickness", the introduction to third album Neon Ballroom (1999) was a clue hiding in plain sight to not just Johns' rapidly-developing imagination, but where he could take the band, whether they liked it or not. 
It was a pocket-sized epic, complete with lavish orchestra, David Helfgott on piano and Johns exploring his falsetto over "Heart Shaped Box"-style lyrics about being medicated ("addict with no heroine"). 
Live shows of the era demonstrated just how much more Johns enjoyed his present than his past. But he was fixated on the future.
They took 2000 off, with Johns dealing with anorexia (detailed in 1999 hit "Ana's Song (Open Fire)").
At the pointy end of finishing Diorama, Johns was diagnosed with a severe case of reactive arthritis, leaving the entire left side of his body paralysed. All touring for the album was paused.
Johns wasn't bothered; his teenage years set him up financially and he was finally able to spend time translating the music in his head onto his records.
Diorama was the first time Johns got a co-production credit—tellingly working with David Bottrill (Tool, Peter Gabriel).
He was now writing songs on piano, not guitar, enabling a musical landscape to flourish courtesy of acclaimed US arranger Van Dyke Parks (Beach Boys) who was wooed by Johns' creative "courage".
Opener "Across the Night" was a serious statement of intent. Van Dyke Parks' orchestration luring you into a song that made "Tomorrow" look like a chalk drawing. Johns created a mini-musical in several moving parts, instantly drawing a line under his past.
Johns stated "I don't want to be lonely, I just want to be alone", on a record he wrote by himself—the first Silverchair album his bandmates weren't required to contribute to.
It was clear Johns was propelling the band somewhere else—first single "The Greatest View" a flamboyant, kaleidoscopic, and melodic rock song virtually unrecognisable from the lyricist who'd talked about water, taps, and sinks just seven years prior.
"Without You" was more familiar territory—punishing guitars and pounding drums—it'd been held over from Neon Ballroom. It came with a freshly-loved up lyric from Johns who'd started dating Natalie Imbruglia: "You brighten my life like a polystyrene hat."
In interviews Johns said he had "made a conscious effort to make a record that would affect people in a good way rather than the last one, which affected people in a bad way."
Johns was liberated from being freeze-framed as the teenage king of post-grunge. "World Upon Your Shoulders" dug deeper than early influences like Led Zeppelin and Black Sabbath—studying the Beach Boys' balancing of melody with imagination.
"Luv Your Life" another direct hit of musical wonder with Van Dyke Parks' fingerprints all over it, sounded joyous but hid Cobain-esque twisted lyrics ("Thrust the candle to the dark of your disease"). "Tuna in The Brine" deliberately provoked Frogstomp fans—another escapee from whatever musical was playing out in Johns' brain, even including theatrical call and response with himself. It's a staggering piece of work—but more "Bohemian Rhapsody" than "Even Flow".
Those patient Frogstomp fans got their fix with "One Way Mule" and "The Lever"—a return of those guttural vocals and caveman rock—despite the feeling Johns could bash these out in his lunch break. "Too Much of Not Enough" was another gateway drug for those still holding onto the Nineties, occasionally morphing into Jeff Buckley territory.
"After All These Years"—which survived intact from being written on piano, seemed to be Johns decompressing from fast fame. "All those years I was hurting to feel something more than life." It's no accident that when Johns played solo in 2015 it was one of only two Silverchair songs to make the setlist (with 2007's "Straight Lines").
Diorama shed fans by the millions in America—a territory they'd never win back—and in retrospect pulled the ripcord on the band. Following even edgier solo work by Johns, five years after Diorama, he would progress even further with 2007's Young Modern. An attempt at the strangest Silverchair farewell album possible stalled in the studio, with the trio now a decade into an "indefinite hiatus".
But Diorama was where we all saw a 22-year-old Daniel Johns not only outgrow Silverchair, but any limitations put on him. His wild ride had now really started.
21
Sia, '1000 Forms of Fear'
Monkey Puzzle Records/Inertia Recordings 2014
Sia was already renowned for her solo work in Australia when she had started on what would be her sixth album, 1000 Forms of Fear. Internationally though, she was best known as the octave-leaping voice on David Guetta's global hit "Titanium". A reluctant star after realising she could make a living from behind the velvet curtain, Sia spent years as one of the world's most in-demand songwriters. But after a prolonged period penning hits for acts like Christina Aguilera, Beyoncé, and Rihanna, her talent forced her back into the limelight. 
The exact reasons behind the album's inception play out a little like a David Lynch script. In one interview with NME, Sia said 1000 Forms of Fear was released as a contractual obligation to get her out of her publishing deal. In another interview she told American Songwriter that while she had started writing lead single "Chandelier" for Rihanna, she became attached to it—"My intuition told me to sing it myself." Clearly, the latter driving force was stronger; the album crashed into the pop firmament, breaking all the rules along the way.
"Chandelier", nominated for four Grammy awards, could easily be mistaken for a party anthem. Sia's voice soars with impossible abandon, hurdling over key changes and taking your heart along with it. But listen closely and you'll discover a woman amidst a ferocious battle with addiction—"Keep my glass full until morning light / 'Cause I'm just holding on for tonight". The single became one of Sia's most recognisable calling cards, and in turn, publicly cemented her ambition to reject the spotlight and preserve her privacy. Sia's sound may have become ubiquitous, but her face had not. She was actively and strategically avoiding the public eye through face-covering wigs and hats, music videos that showed blink-and-you'll-miss-it Sia snippets or no cameos at all, and live shows where she performed in stage corners with her back to the audience. On the album campaign trail of TV and awards show performances, she recruited Hollywood stars like Kirstin Wiig and Lena Dunham, and dancer Maddie Ziegler, as her onstage persona.
What she left to the imagination with her public appearances, she more than made up for inside the album. Across the breadth of the 12 tracks, Sia is arguably the most candid she's ever been about her professional and personal life struggles. It offers a portrait of a woman who has lived and loved through personal tragedy, relationship breakdowns, bipolar disorder, an autoimmune disorder, addiction to drugs and alcohol, complex PTSD, and suicidal ideation. 1000 forms of fear indeed. 
Songs like the incendiary Diplo co-write "Elastic Heart"—a track she tried to give to Katy Perry at one stage—hint at her personal heartbreak and the strength it takes to mend broken pieces. Meanwhile the fluttering keys in "Burn the Pages" momentarily lift the intensity of the record but stop abruptly to make way for Sia's story of recovery.  
"Her knack for heart-swelling choruses shines through on a set of tracks you might play while winning a marathon," wrote Julianne Escobedo Shepherd in her review for Rolling Stone.
There are moments where Sia's creative genius is less pronounced but just as indisputable. The visceral sound of her voice breaking in back-to-back songs "Eye of The Needle" and "Hostage" proffer moments of vocal vulnerability. And why shouldn't they? The tales of pain, secret love, and trauma-influenced resilience are more than most could bear.
1000 Forms of Fear is more than just a way out of a publishing contract, and more than the feeling of responsibility Sia felt toward the songs when she wrote them. It's a brutal depiction of a layered artist who can explore each part of herself in a way that unfolds as beautifully as an iris flower in springtime. With this record, and much of her art preceding and following it, Sia turned trauma into treasure.