Rolling Stone's 200 Greatest Australian Albums of All Time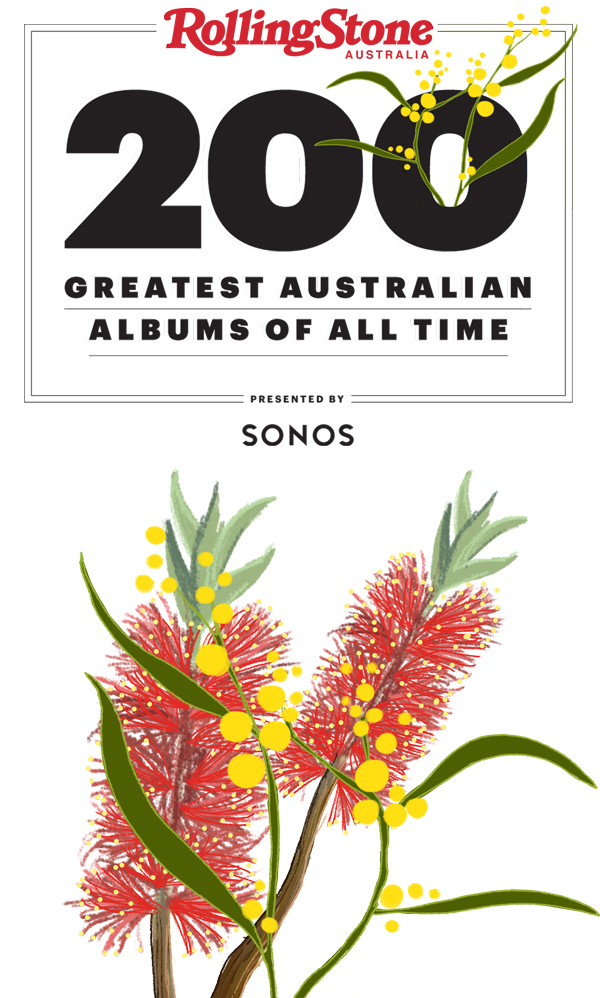 140
Royal Headache, 'High'
Distant & Vague 2015
Royal Headache were true punk romantics. A band that profoundly believed in the enduring power of love, and were unafraid to capture its immensity.
In 2012, the band released their self-titled debut album, a word-of-mouth success amongst the Sydney punk scene. In 2013, frontman Shogun made the premature declaration that the band had broken up. In 2014, they reformed once more, playing a handful of sold-out shows before returning with their second and final album, High.
High is an album stripped of hidden agenda. It is among the rawest, most expressively authentic guitar music ever to emerge from Australia. It is ultra-pure propulsive punk, but Shogun, with his Motown-indebted, hyper-charged delivery, takes High to someplace unknown. 
"I think, to be an Australian male and to be seen with any kind of vulnerability is punk," Shogun told Billboard in 2015. And vulnerable they were. High wails with a heartfelt sincerity that is forgotten, forbidden lore in punk.
"'Cause wouldn't you know, 'cause you ain't never had love / So what would you know what a little love can do?"
139
Adalita, 'Adalita'
Liberation Music 2011
When Magic Dirt guitarist and vocalist Adalita Srsen announced she'd be playing solo shows in 2009, it didn't take long for the news to arrive that an album would follow. Inspired to go solo on the advice of bandmate Dean Turner, the pair soon began work on what would become the rock icon's self-titled debut, with fellow Melbourne artist JP Shilo helping to round out matters in the studio. Tragically though, it would take almost two years for the record to arrive, with Turner passing away in 2009, and production halting while Magic Dirt performed shows in his honour. In early 2011 though, Adalita found its way into the world and managed to floor everyone who found themselves in its vicinity. Unlike the heavier rock numbers of Magic Dirt, Adalita was textured and haunting, devastating with its depth and dark guitarwork. While tracks such as opener "Hot Air" would invite the listener in with its melodic nature, the ethereal "Lassa Hanta" or the forceful "Goin Down" would showcase the other side of the musical spectrum. Of course, the album's most hard-hitting moment came by way of the Turner tribute, "The Repairer", complementing one of the most visceral and accomplished records of the decade.
138
Sia, 'We Are Born'
Monkey Puzzle Records 2010
It's wild to think Sia's We Are Born, the album that catapulted her into the world of pop and won multiple ARIA Awards, almost wasn't made. In fact, it took five years to make it happen. Despite having written countless hits for renowned pop stars, Sia's label was concerned moving away from her more downtempo R&B roots would sabotage her career. Thankfully she was determined, and in 2010 her fifth studio album was released.
Fittingly, the first single was the upbeat and exceedingly poppy "You've Changed", undoubtedly a deliberate signalling of her new career trajectory. Most of the remaining 12 tracks feature this fresh, energetic pop, with momentum propelled by the rocky guitar stylings of The Strokes' Nick Valensi. Clap-driven rhythm and catchy vocal chants are peppered throughout, bringing a jovial measure to songs like "Stop Trying" and "Bring Night". Suitably, the album cover features Sia's face covered in pipe cleaners, diamantes, and stickers—as if a child was let loose in an arts and crafts box. Lower-tempo numbers like "Be Good to Me" and "I'm in Here" offer waltzy intermissions, digging lyrically deeper, emotionally heavier, and highlighting more soulful, soaring vocals. 
On We Are Born, Sia's bubbly, eclectic personality was finally allowed to shine through, unveiling an uplifting album that embodies the joy of music.
137
Nick Cave & The Bad Seeds, 'Tender Prey'
Mute 1988
Sometimes, the most trying of circumstances give way to the greatest art. Tender Prey is a fine example. Nick Cave has gone on the record as describing the album as a "nightmare" to create, due to the chaos which surrounded and carried the band from Melbourne to London, and to former West Berlin for its sessions, spanning late 1987 and early 1988. Drugs were an ingredient in the chaos. 
Stirred together, Tender Prey is a menace, a brew that could grow hair on your knuckles. From the opening track, "The Mercy Seat", we're invited into the mind of a brute who's considering his last moments on earth, as the executioner flicks the switch on the electric chair. The song went on to be covered by the late Johnny Cash and others, and today, this throbbing crescendo of darkness is a cornerstone of Cave's live performance. With "Deanna", Cave and co. create the closest thing to a mid-career pop song. Tender Prey is the antithesis of the Stock Aitken Waterman production-line pop that was dominating the charts at the time, and despite its nightmare origins, it'll live forever in the National Film and Sound Archive.
136
AC/DC, 'Powerage'
Albert Productions 1978
There's been a crime of revisionist history when it comes to AC/DC. Yes, they are one of the best rock bands Australia has ever produced. This is indisputable. But they're also one of the finest rock'n'roll bands ever cut to wax. While that may seem like splitting hairs, Powerage proves it's something else entirely. 
It's the swing in Phil Rudd's drumming that makes you want to get up and move. The "less is more" lyrical approach of each guitar solo. The cocksure bravado of it all. When's the last time a heavy rock band made songs so danceable? That's the alchemy of rock'n'roll at work. 
Much has been written about AC/DC. The irony is, the music on Powerage is too visceral for critical review. Have you ever cranked "Down Payment Blues" with the windows down on a 35-degree afternoon? Felt your pulse rise as "Kicked in the Teeth" launches into overdrive? Or seen the glimmer in the eye of an old fella at the pub who tells you (over a pint, of course) what it was like to see AC/DC live back in the day? If so, you won't simply know why this album is a certified classic. You'll feel it, too. 
135
The Angels, 'Face to Face'
Albert Productions 1978
Despite releasing their self-titled album the year prior, it wasn't until their seminal album Face to Face in 1978 that The Angels truly wove themselves into the Australian rock music fabric.
While their 1976 single "Am I Ever Gonna See Your Face Again" caused rock aficionados to sit up and pay attention, their second record's singles "Comin' Down", "Take a Long Line", "Straightjacket", and "After the Rain", firmly planted them in the limelight.
On how the album's title came about, guitarist John Brewster said, "Face to Face was named because at that point in the band's career, that was our relationship with the audience. They were that close—it was a happy confrontation."
David Gleeson, who took over as frontman in 2011 after Doc Neeson left to pursue a solo career, was just 10 when he first heard Face to Face. 
"I remember my brother being very excited, coming home with the cassette: we listened to it relentlessly, I idolised the band," he told The West Australian. "I grew up hearing the stories of my brothers and their friends going to see The Angels—the fighting and the drinking—and I couldn't wait to grow up and see what all the fuss was about."
134
Angus and Julia Stone, 'Down The Way'
EMI/Capitol Records 2010
Both accomplished musicians in their own right, when siblings Angus and Julia Stone come together there's a certain serenity in the air that can only be attained by two people who've grown up together. Hailing from Newport on Sydney's Northern Beaches, the laidback indie-folk duo have swayed between releasing solo work and albums as a pair for years. 
On 2010's Down the Way, the siblings' sophomore album, the Stones take turns to front the vocals, the alternate providing harmonies, dispensing a cohesiveness across the 13 tracks. Opening track "Hold On" unveils the sultry yet delicate voice Julia is known for, but releases a newfound confidence we'd not previously seen. Each song stylistically different from the next, the siblings champion their acoustic compositions, occasionally weaving in electric guitars to bring a liveliness to the record. 
After six months apart, the pair had time to figure out who they were as solo musicians and to craft their sound as a duo, bringing together a poignant album which not only cleaned up at the 2010 ARIA Awards, affording them five titles, but also led them to take out the coveted top spot on triple j's Hottest 100 countdown with hit single "Big Jet Plane", the first time a female voice had graced the number one spot in 16 years.
133
Silverchair, 'Young Modern'
Eleven: A Music Company 2007
The fifth and final album from Silverchair at the time, was a divisive release. Gone were the grunge-laden riffs and emotional turmoil that marked the early records which brought them global notoriety. 
Revisiting this album years on from its release, Young Modern stuns in how it demonstrates Silverchair's flexibility and adaptability throughout their career. 
Young Modern may often be overshadowed by the sheer impact of Frogstomp, Freak Show, Neon Ballroom, or Diorama, but for those Silverchair fans excited by the direction Daniel Johns' songwriting was heading, this was the perfect kaleidoscope of sounds and ideas.
Johns turns out some of his most confident songwriting on Young Modern and it's a joy to hear how Ben Gillies and Chris Joannou work around his ideas so well to make a cohesive and vibrant progressive pop record. 
It had the commercial blockbuster ("Straight Lines"), massive production moments ("If You Keep Losing Sleep"), and boldness to veer into the expansive (the seven-and-a-half minute trilogy "Those Thieving Birds (Part 1)/Strange Behaviour/Those Thieving Birds (Part 2)"). 
The theatrics and drama of Diorama were finished by the time Young Modern arrived and as Silverchair's final record, it couldn't have represented the band better: always pushing themselves to explore the new.
132
Bernard Fanning, 'Tea & Sympathy'
Dew Process/Universal Music Australia 2005
Powderfinger vocalist Bernard Fanning took to his debut solo album partly to prove to himself that he could actually make one away from the successful group, but also off the back of a year that saw the passing of his brother and the end of a decade-plus relationship. The band's work at the time had steered to social and political commentary, but the turmoil in Fanning's life perhaps prompted a more emotionally-rooted body of songs, recorded while the band took a hiatus. A folk-roots orientation takes precedence, from several songs recorded with producer Tchad Blake in Fanning's Leafy Bug Studio in Brisbane to the majority (also with Blake presiding) at Peter Gabriel's Real World Studio in Bath, UK. The mood is established nicely by the opener, "Thrill Is Gone", with instrumentation sounding lush yet restrained all at once. Tracks such as "Not Finished Just Yet" and "Further Down the Road" touching on Powderfinger feels, but with a gentler hand at play. "Songbird" was a well-received single, but it was the 2005 Hottest 100 topping (and school leavers' anthem for that year) "Wish You Well" that paved the way for three ARIA Awards and proof that a successful solo career awaited Fanning if he wanted. He did, and the rest is history. 
131
Nick Cave & The Bad Seeds, 'Skeleton Tree'
Bad Seed Ltd 2016
Nick Cave's Skeleton Tree is not an easy listen. Rewarding, dark, spiritual, yes. But not easy. There's no escaping the context of the art. In 2015, Cave lost his teenage son Arthur in an accident. On Skeleton Tree, released the following year, Cave is a man in pain. 
If Cave never returned to music, we would have understood. Instead, he reached inside, and with Warren Ellis and his Bad Seeds collaborators, teased out the agony, snared it, recorded it. Shared it. Skeleton Tree is catharsis, an eerie window into the soul of someone who has suffered heartbreak, his trusted lieutenants at his side.
Cave's vocabulary is so vast, his storytelling so refined, he's always able to find the words. 
The ethereal "Distant Sky", featuring the vocals of Danish soprano Else Torp, is closer to a hymn than a hit. If you want singles, this is not the place. Musically, Skeleton Tree is intriguing and intelligent. Loops, strings, and sweeping synths build the tension, create depth, but always sit in the background.
As an artist, Cave, now in his mid-sixties, is intimidating, the creator of a vast catalogue that includes screenplays and novels, soundtracks, and much more. On Skeleton Tree, he has never been more human. 
130
Tash Sultana, 'Flow State'
Lonely Lands Records/Sony Music Entertainment 2018
It was important for Tash Sultana to make their first album entirely on their own. The Melbourne multi-instrumentalist wrote, produced, arranged, and performed all 15 instruments on Flow State, an outstanding body of work which only takes on greater resonance with each year that passes. Prior to the album's release, Sultana had already become a global export. Granted, they got their start busking in Melbourne with their street-stopping live-looping and powerful vocals, but thanks to a viral iPhone 4 recording from their living room in 2016, Sultana was soon crossing international borders to perform to record crowds. Sultana's technical multi-genre patchwork of psych-rock and lo-fi blues covers the masters (Erykah Badu, Jimmy Hendrix, Bob Marley, et al) with creative authority. Tracks like loose, neosoul number "Cigarettes", the ode to the death of ego in "Murder to The Mind", and the jagged acid trip "Big Smoke" all reveal Sultana's supernatural vocal and musical ability. Even the record's sweet little imperfections—an inevitable occurrence with live-looping—make Flow State all the more present. A true testament to the title of the album, Tash Sultana is so connected to their art that they have practically become it.
129
Hiatus Coyote, 'Tawk Tomahawk'
Independent/Flying Buddha 2012
A post-jazz fever dream, dripping in hooks and virtuosic musicianship. But unlike the myriad acts that have been influenced by Tawk Tomahawk in the years since its ground-shaking release, Hiatus Kaiyote proved that the key to creating Australia's first classic neo-soul album in over a generation is not what's performed on top of a song. It's the arrangement and structure of the song itself. 
While that may seem obvious to some, it's a fate suffered all too often in a genre where overplaying runs rampant. Hiatus Kaiyote's members are undoubtedly masters of the craft in their own right. After all, their abilities are lusted after by jazz-school nerds across the country. But it's their function as a group that makes all the difference in their beguiling debut.  
The grooves are heavy enough to paralyse. The interplay between rhythm section and keys create a perfect yin-yang relationship. Throughout, Nai Palm's now-iconic vocal performance floats over the controlled chaos like a spectre. In 2013, who could have imagined "Nakamarra" would go on to become the torch song it is today? No one, perhaps, except Hiatus themselves. 
The culmination of it all is nothing short of pure exhilaration. Tawk Tomahawk is the sound of a band capturing lightning in a bottle, audibly enthralled by the process.  
128
Baby Animals, 'Baby Animals'
Imago 1991
The crushing opening blast of "Rush You" on the Baby Animals' debut album signified the overall assault this band would make on the Australian music industry—and internationally—in 1991-92. While the mid-Nineties new guard of You Am I, Spiderbait, Regurgitator, et al were still percolating in jam rooms and nascent live appearances, Baby Animals (and similarly The Screaming Jets) took the remaining Nineties rock aesthetic into a new decade. Fronted by dynamic, charismatic, and husky-voiced singer/guitarist Suze DeMarchi, the whole band was a powerhouse with lead guitarist Dave Leslie providing sizzling meat-and-potatoes riffery and the rhythm section of Eddie Parise and Frank Celenza (from Eighties pub rockers The Boys, with whom DeMarchi had previously performed with in Perth bands before a stint in the UK) as solid as any on the planet. Debut single, "Early Warning", was a barnstormer that was a hit all over radio, but subsequent singles "Painless" and "One Word" were rock ballads that revealed a softer side that proved just as popular. Huge US and European success seemed to loom, but by the time the band's second album Shaved and Dangerous was released in 1993, cracks in the band's record label Imago were beginning to show, with management issues also around the corner. This eponymous release, however, remains as one of Australian music's best ever debut albums.
127
Pendulum, 'Immersion'
Warner Bros Records/Ear Storm 2010
Formed in Perth as a trio of DJs after a hard-drive failure forced them to play a gig live, Pendulum was subsequently born and seemingly ready for global domination. Over the following years they relocated to the UK, released an album, and added three members to their lineup, releasing their sophomore album, In Silico, in 2008. Influenced by their experimental rock and progressive metal pasts, their venture into trance, industrial EDM, and electronic rock sets Immersion apart. 
The album leans into the adrenaline-producing, genre-fusing music the DnB group are known for. Album opener "Genesis" sounds like part of a Hollywood film trailer, while "Salt in the Wounds" feels like you've been thrown into a futuristic matrix. Leading single "Watercolour" is a contender for album standout, pipped at the post by infectious "Witchcraft". As Pendulum genre-defy their way through industrial-rock sounds on "Comprachicos" and house styles on two-parter "The Island", it's the collaboration with Swedish metal outfit In Flames on "Self vs Self" that showcases how far they've pushed their sound, juxtaposing heavy guitar riffs and screaming vocals against bass-heavy electronica. 
The genre-fusing innovation on Immersion alongside their production development and dedication to frenetic, bass-heavy beats, showed us just how much these Aussie expats had grown. Making it even more tragic, this album would be their last full-length release in over a decade.
126
Frente!, 'Marvin the Album'
White 1992
The acceleration of Frente! from Melbourne indie darlings to unexpected chart stars to human punchlines was swift and brutal. Their debut is a time capsule of everything that went right, plus the three minutes that started everything going wrong. Let's tackle the elephant first: "Accidently Kelly Street" landed on the wrong side of twee for a band from the hipster Brunswick Street indie scene, but it hasn't aged terribly. Frente! were formed by one-time lovers Angie Hart and Simon Austin, whose musical partnership became more significant than their romantic one. Early single "Labour of Love" started all the fuss—just Hart's captivating voice (like Missy Higgins after her, she'd influence a generation of female singers), Austin's acoustic guitar and a recorder. "Ordinary Angels" added shiny hooks (it was a number three hit) without losing their indie quirks. Indeed, there are square-peg, folk-tinged abstract pop delights a'plenty here—the Neil Finn-esque melodies of "No Time", the regret-soaked elegance of "Pretty Friend" and Hart's solo piano powerhouse "Girl". Reissues of Marvin wisely come with their global hit from the era, a stunning cover of New Order's "Bizarre Love Triangle", rendered purely on acoustic guitar. There are few local bands that mastered skew-whiff pop like Frente!
125
Something for Kate, 'Beautiful Sharks'
Murmur 1999
Even before Something for Kate released their debut album, 1997's Elsewhere for 8 Minutes, the winds of change were in motion. With bassist Julian Carroll leaving after the record's completion, vocalist and guitarist Paul Dempsey and percussionist Clint Hyndman were in need of a new member, with Sandpit's Stephanie Ashworth stepping up to cement the now-iconic lineup. A new energy entered their ranks. The trio once again teamed up with producer Brian Paulson to craft another record, but their new effort was a little different than what they had delivered previously. While their debut featured a dense rock sound that was often evocative of names such as Fugazi, Beautiful Sharks felt luscious, welcoming, and at times, blissful. While their raw energy was on display within classic hits such as "Whatever You Want", "Electricity", and "Hallways", they toyed with tenderness and openness within their music, most notably on tracks like "Back to You", "Anchorman", or even its title track. Much like the record's title, the music was breathtaking and stunning to behold, but it still maintained the ability to bite back. Earning an ARIA nomination for their effort, the record even managed to give the group their first Top Ten placing within the charts—which they've maintained with every subsequent release. While they're a household name for most Aussie music fans these days, Beautiful Sharks was the record that helped to make it a possibility, proving that grace and potency can coexist in harmony.
124
The Avalanches, 'Wildflower'
Modular Recordings/Universal Music Australia 2016
One of the most daunting tasks for any artist to undertake is to follow up a sensational debut album. For a group like The Avalanches though, whose debut album was universally praised, it might have occasionally felt as though it would have been easier to remain something of a one-hit wonder than risk leaving fans unsatisfied with a lacklustre second record. Releasing Since I Left You in 2000, the next 16 years were shrouded in mystery. Sporadic live performances and updates filtered through, with rumours and unrealised release dates floating to the top, leaving many to wonder just if a new album would ever actually arrive. In 2016 though, The Avalanches returned with their first new single in 16 years, allowing "Frankie Sinatra" to prove that since they left us, they'd been hard at work on another classic. The resulting album, Wildflower, was an impeccable release which not only captured the unique energy their first record provided, but also highlighted an evolved outfit which had effectively been whittled down to just Robbie Chater and Tony Di Blasi in previous years. Harnessing their original sample-based approach, Wildflower was a triumph of musical mastery, with Danny Brown, MF DOOM, David Berman, and sampling trailblazer Biz Markie lending vocals that once again took fans on a kaleidoscopic musical journey. They say it's impossible to catch lightning in a bottle twice, but to The Avalanches, impossible is nothing, and Wildflower is proof.
123
The Mark of Cain, 'Ill at Ease'
Ra Records 1995
While Adelaide outfit The Mark of Cain might boast a sound that is hallmarked by the aggression of the alternative metal genre, their early days were spent crafting a sound that was like no other. Influenced by names like Joy Division, Big Black, and Gang of Four, The Mark of Cain felt like outliers in the music scene, with their calling card being an "intellectual take on post punk". By the mid-Nineties, brothers Kim and John Scott (along with a litany of drummers), had managed to set themselves apart thanks to a handful of records and EPs, including their 1989 debut Battlesick, and the Steve Albini-produced Incoming EP. However, it was their third album that would put them on the map. Working with Black Flag's Henry Rollins on production, 1995's Ill at Ease was an unintended commercial breakthrough for the group. Featuring their trademark frenetic energy, their angular guitarwork, shifting time signatures, militaristic lyrics, and harsh, haunting songwriting, Ill at Ease would open the group up to a wider audience. While singles such as "First Time" and the deeply personal "LMA" would illustrate what they were capable of, those who went deeper and discovered standouts such as "Interloper", "Point Man", and "The Contender" were reminded that while many bands out there might cite The Mark of Cain as an influence, they're an act that sound like nothing else you've ever heard.
122
RÜFÜS DU SOL, 'Bloom'
Sweat It Out! 2016
What word has five letters, begins with the letter B, and is the collective noun for jellyfish? Bloom. Flittered with underwater references alongside another distinct theme of love, RÜFÜS DU SOL's 2016 sophomore album features 11 dreamy, synth-laden house tracks. Bloom showcased appreciable growth from the Sydney trio, with their highly-anticipated second LP more than living up to the expectations set by their first.
Standout tracks come in waves, making it difficult to land on just one. From pre-released singles, ARIA Best Dance Release Award winner "You Were Right" and "Like an Animal", both unquestionable dance-floor hits; to the infectiously layered "Brighter", to the guitar-flickered "Daylight", and (as promised) the hypnotising "Hypnotised", featuring ethereal vocals from Dena Amy and providing a well-placed complement to singer Tyrone Lindqvist's smooth, indie-pop vocals.
As a flower blooms, so too does the album. The more it opens up, the more it exposes, the more beauty we get to witness. Album closer "Innerbloom" provides that full-bloom moment. Building out to a whopping 9:38 minutes, the experimental slow-burner makes clear the vision the dance act had for the album. Bringing together electronic textures, with catchy hooks, dreamy melodies, and an overall effervescent sound, the production on Bloom is flawless. With each track effortlessly flowing into the next, Bloom exerts a soothing rhythm, dripping with a smooth yet textured energy. If ever there was a party album to listen to while sailing across the Adriatic Sea, this is it.
121
Gang of Youths, 'Go Farther in Lightness'
Mosy Recordings 2017
When Gang of Youths closed their debut album The Positions, they were battered and broken—but one thing they weren't was entirely defeated. Right from the tender keys that opened their follow-up, Go Farther in Lightness, there exists a sense of hope that never wavers.
While the heartache and sadness is still there, Go Farther in Lightness is more concerned with what comes after. Namely, the love for life that surfaces in the aftermath of pushing through immense adversity. 
A lot has changed for Gang of Youths since Go Father In Lightness was unleashed on the world—band members, their home country, record-breaking tours, international supports, Platinum sales, a mantle full of ARIA Awards—but one thing that hasn't is the defiant hope and enduring power it leaves behind.
A sprawling 77-minute opus, not for a moment were Gang of Youths afraid to sound too earnest or vulnerable. Go Father In Lightness is frontman Dave Le'aupepe embracing all the facets of his life—of the ghosts of the band's debut and those of the years since, but also the hope and love that exists around it. 
In the process, Le'aupepe cemented himself as one of Australia's premier wordsmiths. Through intellectual lyricism and palpable charisma, Le'aupepe self-actualised into a magnetic conduit of euphoric stadium rock. Go Farther in Lightness became the turning point for Gang of Youths—finally proving their ilk as a band that refused to be ignored.