What do John F. Kennedy, Elvis Presley, Martin Luther King, and Jimmy Hendrix have in common? They all made history with high-quality audio equipment from Shure. Put a piece of that legacy in your dad's hands, treating him this father's day with one of Shure's high-fidelity headphone sets.
With a string of groundbreaking inventions since the 1930s, Shure has accompanied the evolution of popular music by becoming a synonym of durability and high fidelity. After decades of producing some of the most beloved microphones in the industry and developing best-selling conference systems, the American manufacturer brought their audio expertise to the headphones arena with an ever-expanding line of gear aimed at every type of listener, from casual to demanding audiophile. It doesn't matter if you're an avid podcast listener, ardent gamer, music aficionado, or just someone looking for a decent set to watch a movie without disturbing your partner, Shure has a solution for everyone.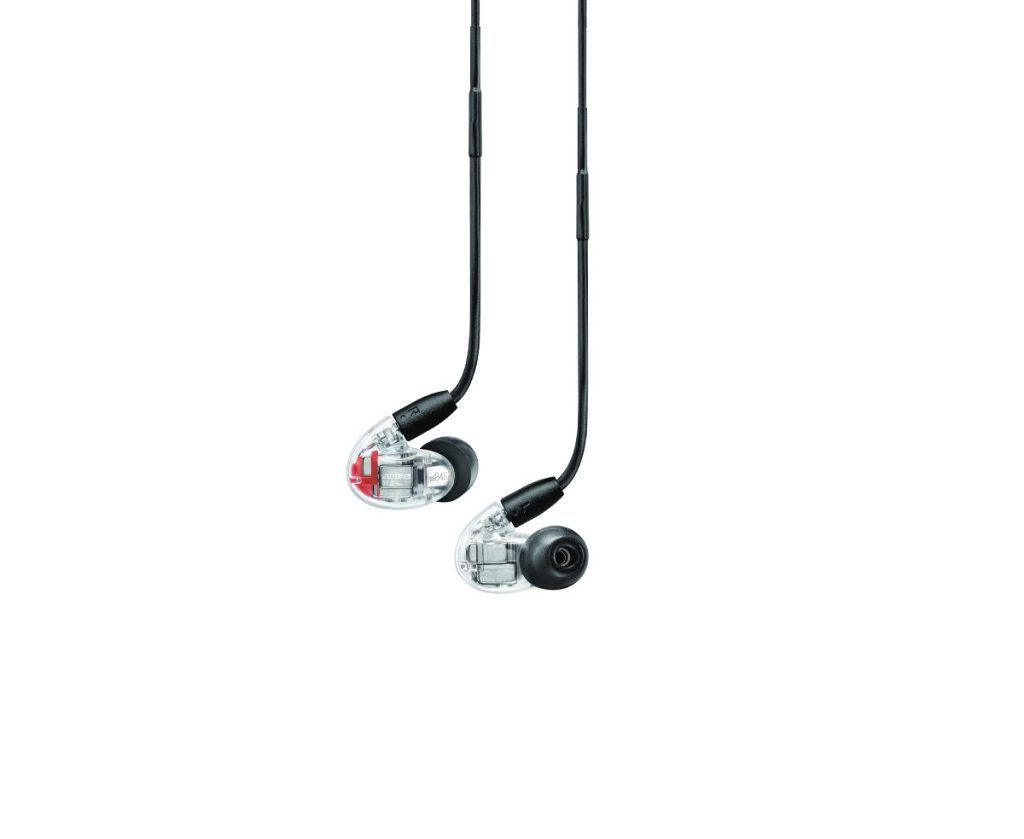 In Shure's words, this set of high-end earphones is aimed at the "unapologetic audiophile." The SE846 features trademarked sound isolating technology that eliminates noise and delivers an exceptional immersive audio experience. Designed to offer comfort for long listening sessions, this set comes with a removable nozzle with interchangeable sound filters that allows the user to pick their preferred sound signature. You can switch from bright to balanced to warm by changing the filter. Another highlight of this set is an industry-first low-pass filter design, that gives you the performance of a true subwoofer.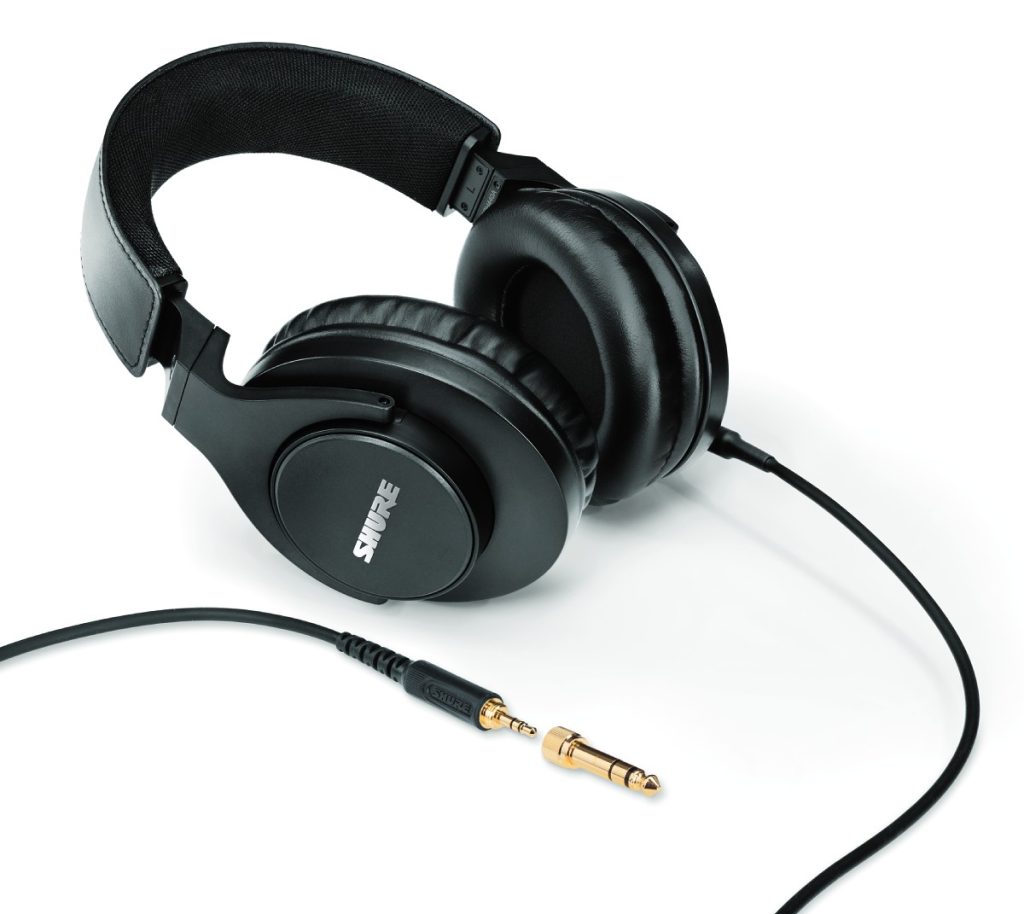 These professional studio headphones are aimed at content creators who produce podcasts or videos. Designed to deliver an uncolored sound response so users can have the most accurate representation possible of their audio assets.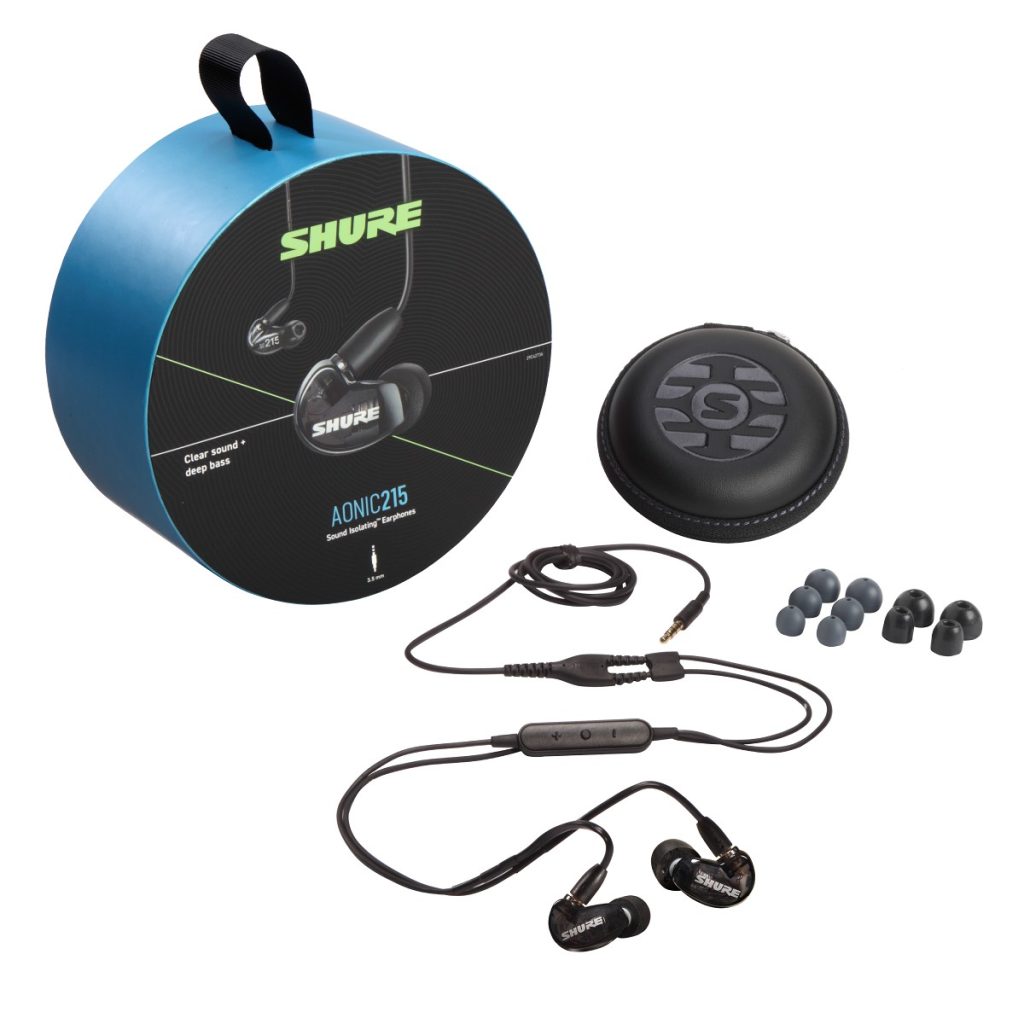 Marketed by Shure with the slogan "Average is for other ears," the AOINIC 215 earphones are designed for the audiophile on the go. They deliver precision-engineered sound that's clear, rich, with deep bass, doesn't matter if you're in the gym or on the street.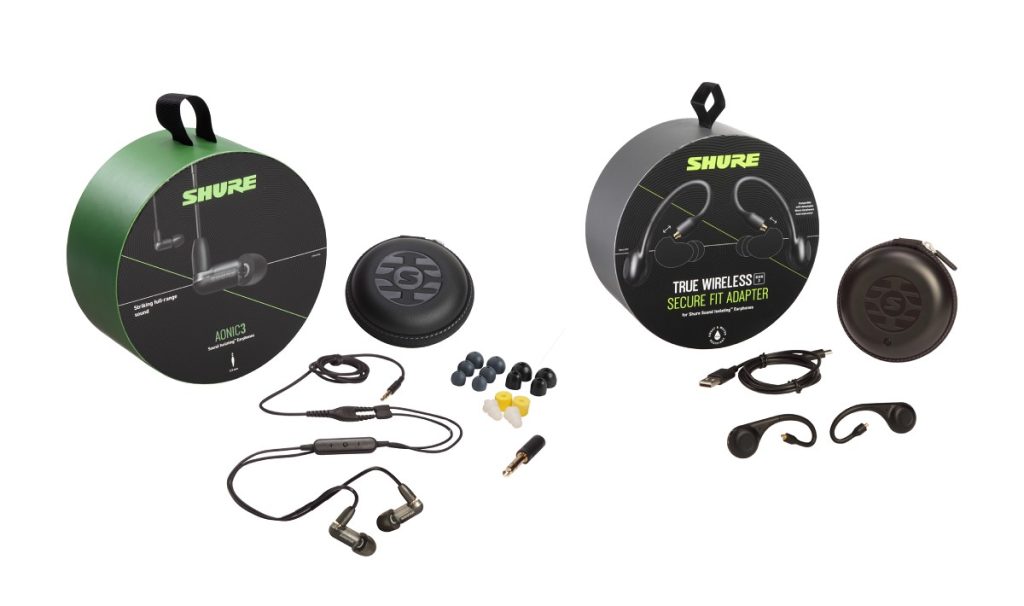 These are the smallest earphones produced by Shure so far. Sleek, designed with a sound isolating, low-profile shape for long-wearing comfort. They deliver powerful full-range sound from a single balanced armature driver.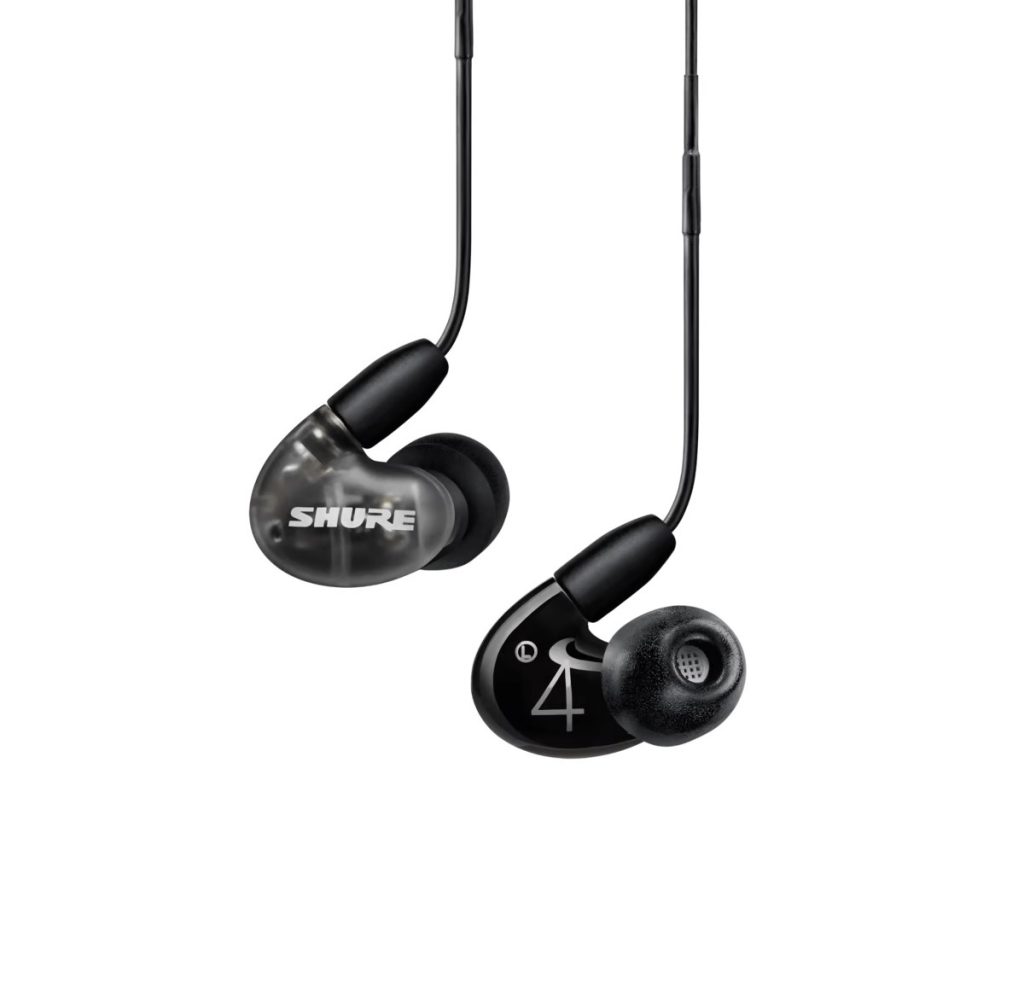 The AONIC 4 earphone set features a dual-driver hybrid design that delivers detailed sound with a natural separation of musical elements. Experience dynamic bass and extended high-frequency detail with clear voice articulation. Its economic low-profile design offers comfort and immersive audio wherever you go.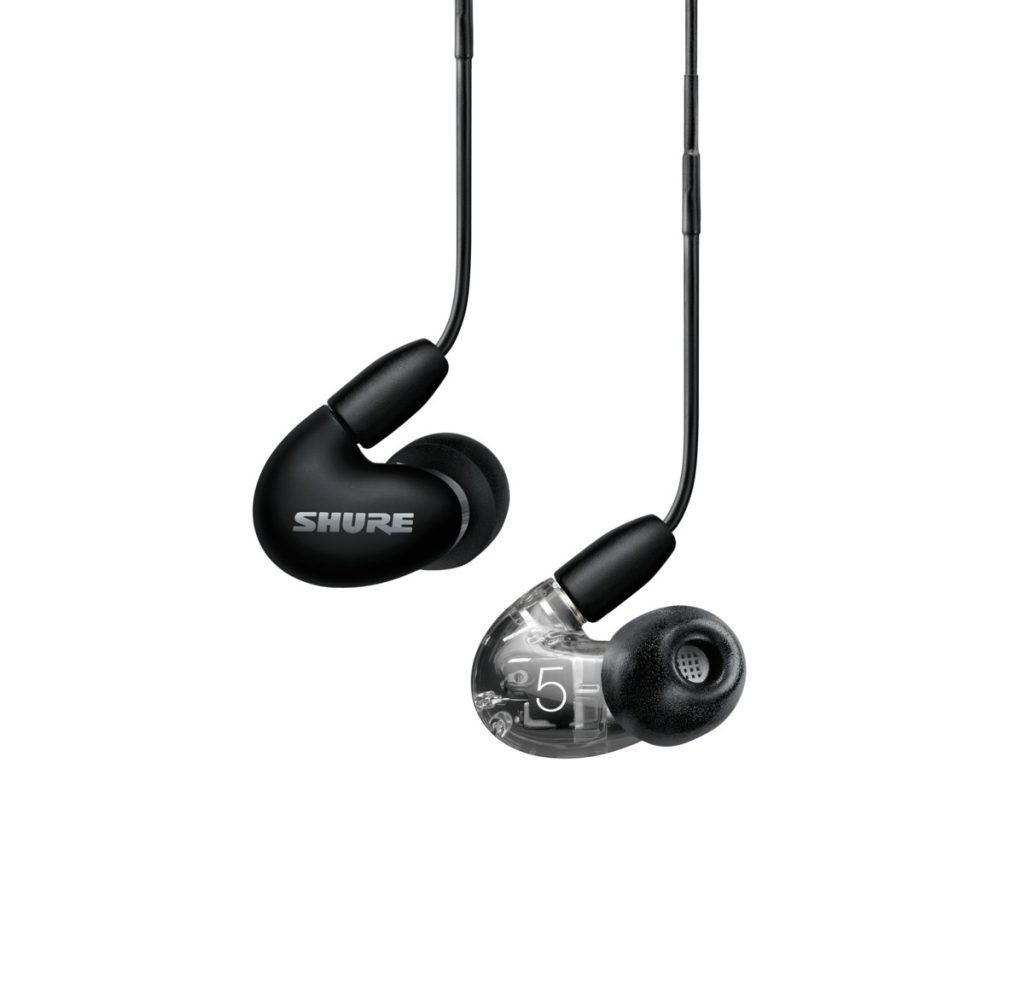 Aimed at the most demanding audiophiles, AONIC 5 earphones offer spacious, ultra-crisp sound with a clean, natural bass. Their innovative sound isolating technology is capable of blocking up to 37dB of noise. This set features three high-definition, balanced armature drivers; a dual woofer and a single tweeter. Just like the SE846, this set also features a removable nozzle with interchangeable sound filters, allowing you to choose from three different sound signatures.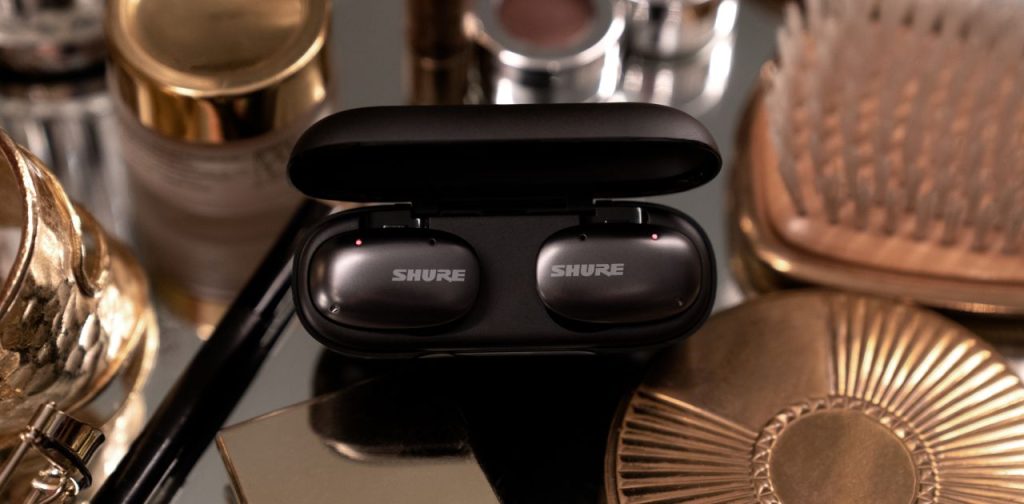 Marketed as earphones "for those who make music, and everybody who moves to it," this AONIC wireless set delivers remarkable studio quality sound with rich deep bass. They're sleek, portable and come with a pocketable charging case. They feature customizable EQ presets and a new Environment Mode that allows you to listen to your surroundings. Battery life is 21 hours.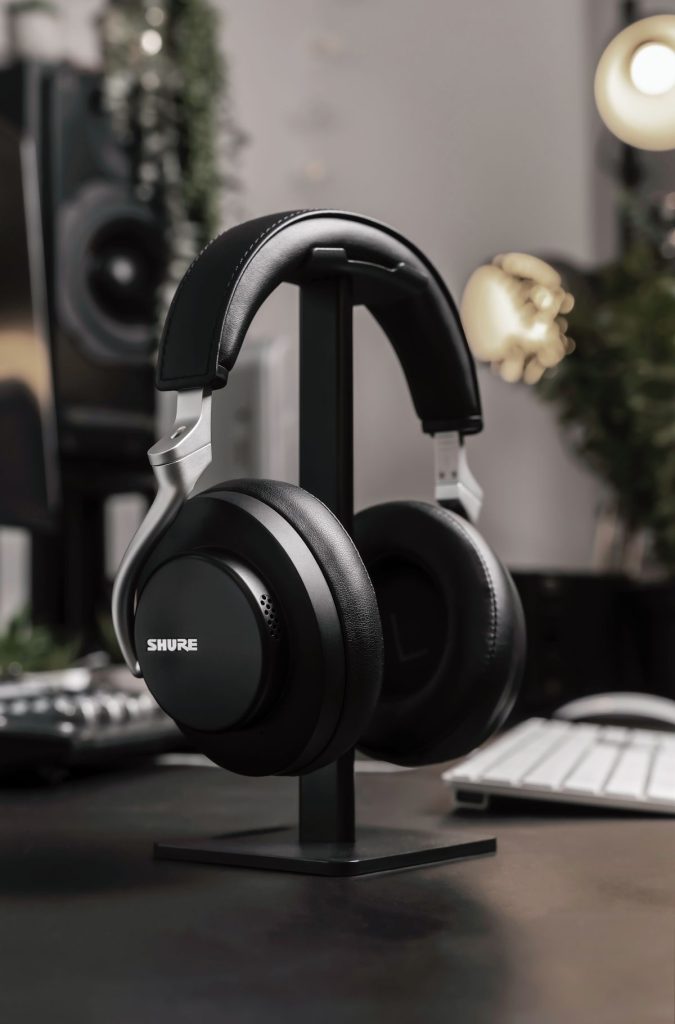 Premium studio-quality sound with adjustable noise cancellation. Made for professionals who wear headphones all day, their design prioritizes comfort and durability. They fold flat so you can fit them in their protective carrying case. Flip the switch to Environment Mode to listen to he world around you.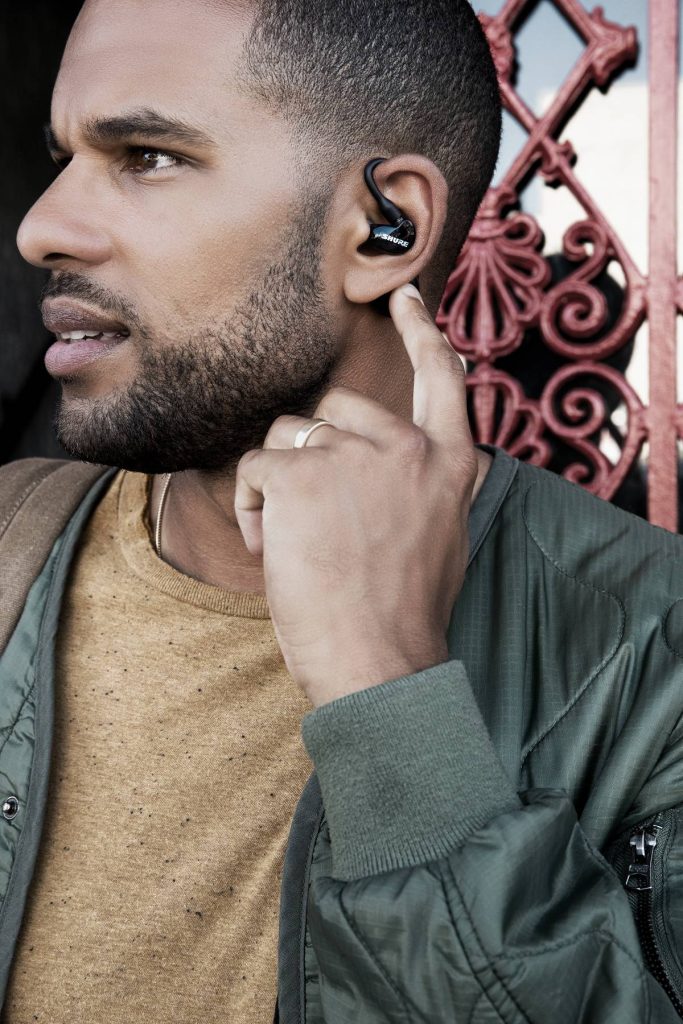 Experience all the capabilities and perks of the AONIC 215, but add the freedom of being wireless. Enjoy awe-inspiring true wireless audio with up to eight hours of battery life. Sweat and water resistant, secure over-ear fit.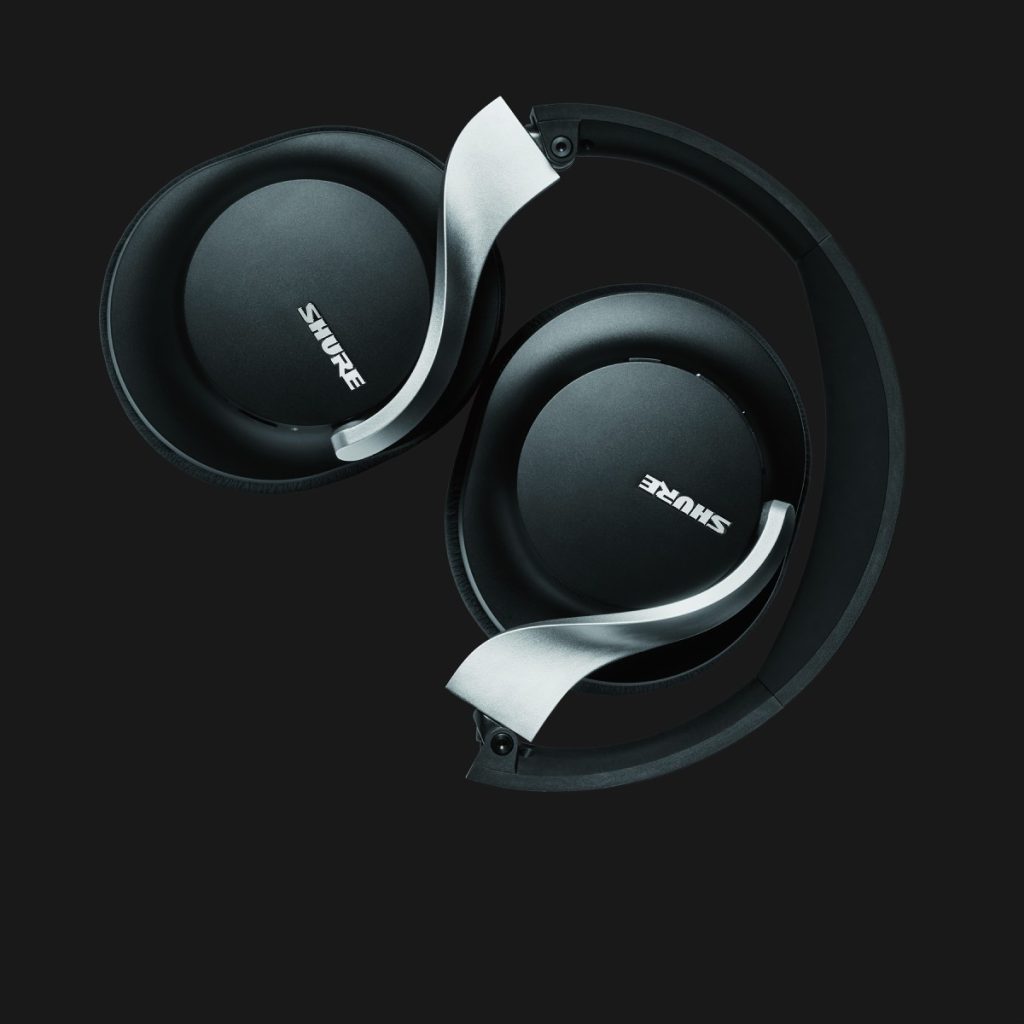 Portable, lightweight, and sturdy, AONIC 40 headphones are designed with premium materials to endure the rigors of the road. They come with their portable carrying case and fold flat for easy storage. They feature adjustable digital noise cancellation and one-push Environment Mode. Customizable EQ, three digital ANC settings for extended low-frequency noise cancellation.
Doesn't matter if your dad is obsessed with that new remaster of Dark Side of the Moon, or just wants to watch The Premier League without driving mom crazy, Shure has the perfect father's day gift for every dad-type out there. 
Find Shure products at Jands!
Technology and art are two forces in constant flux, molding each other as they evolve. Art imagines technology, and in exchange, tech revolutionizes the way art is made. The impressionists couldn't ever have been able to work outdoors if American painter John Goffe Rand hadn't come up with the collapsible paint tube. Garrett Brown's Steadicam invention in 1975 made possible some of the most mesmerizing shots in the history of cinema, like Danny racing around the Overlook Hotel in The Shining, or that epic three-minute Copacabana shot in Goodfellas.
Likewise, Shure's technological developments allowed the best voices of a generation to be heard by the entire world. 
Why Shure products are legendary
The company started in 1925 as a mail order supplier of radio parts kits, but quickly shifted to designing and manufacturing its own line of audio electronics. By 1932, the company had introduced its first two-Carbon microphone, the Model 33N. Shure's first microphone became popular amongst broadcasters at the time, but their eureka moment came in 1939 with the release of the Model 55 series, which would become the most famous microphone of all time. 
Sleek, chrome painted, elegant, the Unidyne 55 is one of the most famous examples of the Art Deco movement, a microphone that at first look is suspiciously reminiscent of the front grill of a '30s Oldsmobile. Over time, it has become a cultural icon, a staple in the history of design just like the Coca-Cola bottle, a 57′ Ford Thunderbird, or the Stratocaster guitar. But the mic couldn't have survived for so many decades on looks alone. It became a legend because of its reliability, durability, and performance.
The microphone offered an unprecedented ability to control feedback and reduce ambient noise, becoming the new standard of high-quality audio to this day. A Shure microphone stood in front of Billie Holiday and Frank Sinatra, and later on, accompanied the birth of rock'n'roll being the preferred mic of Elvis Presley.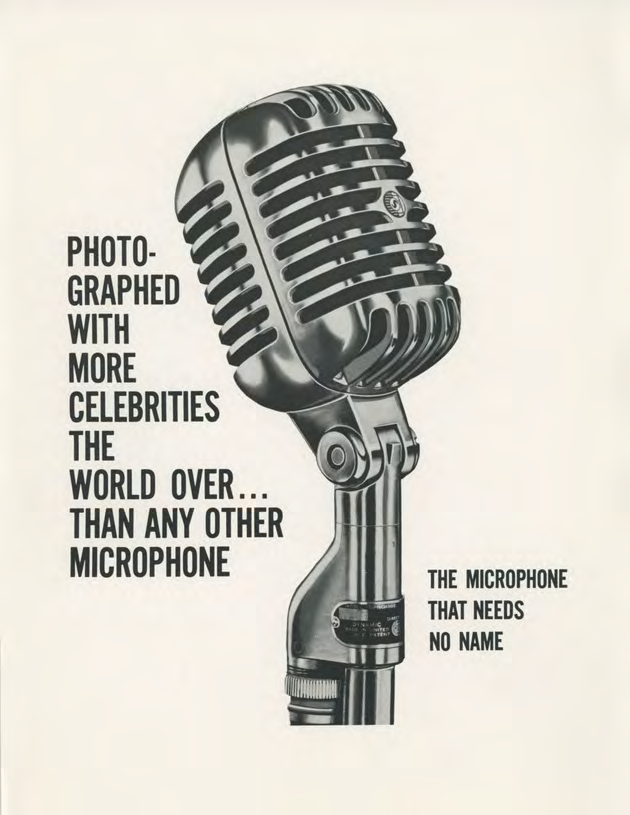 In 1941, Shure was contracted by the United States armed forces to supply microphones during World War II, and by the following year, the T-17B was the microphone most widely used by the U.S. Army and Navy. Urged to create products that could endure battlefield conditions, the company had to adopt an incredibly rigorous testing process to meet U.S. military specifications. When the war ended, Shure decided to keep those standards. That's why they make the most durable audio products in the market.
Shure gear is so reliable that NASA contacted them to develop a series of dynamic microphones for the Space Shuttle. Of all the SM11 lavalier microphones used, only one failed. Posterior analysis found out the mic itself had withstood the sound pressure levels perfectly. The culprit was the NASA technician who had pulled the cable too tight.
Since the invention of the Unidyne 55 series, Shure continued to improve and develop new, groundbreaking products that changed the history of music. In 1953, the company introduced its first wireless microphone system, enabling on-stage freedom for performers that was unprecedented. In the '60s, their Unidyne III microphone component tolerated volume pressure like never before, allowing sound systems to be louder. This advancement was crucial for the transition of live music from indoor venues to large, outdoor events like the Monterey Pop Festival in 1967, and later on, Woodstock. In both historic concerts almost all mics used were Shure.
Because of the Unidyne III SM58's tolerance of high sound pressure levels, since its introduction it has become a mainstay of rock, favored by artists from John Lennon to Jack White.
Shure microphones have not only accompanied the evolution of music but have been present in some of the most important historical moments of the past 80 years. 
When General Douglas MacArthur offered surrender terms to imperial Japan aboard the battleship USS Missouri in 1945, he talked into a Shure microphone. 
A Shure mic was in front of President John F. Kennedy's Inaugural Address in 1961, —the famous "ask not what your country can do for you, ask what you can do for your country,"— and in front of Martin Luther King Jr. when he pronounced the memorable "I Have a Dream" speech during the 1963 March on Washington for Jobs and Freedom.
Shure microphones survived war and went to outer space. They have amplified the voice of kings, queens, presidents, and generals. Over the decades the technology has improved, and its design changed many times, but one thing remains, their relentless search for excellence.