After months spent sharing new singles, performing black-tie concerts, and selling out shows, Byron Bay rockers Skegss have kicked off 2021 with a new single, and word of their highly-anticipated new album.
Dubbed Rehearsal, production of Skegss' new record saw the group teaming up with Catherine Marks (Manchester Orchestra, PJ Harvey, The Killers) to create a 13-track album which is set to release on March 26th through Loma Vista Recordings/Caroline Australia.
Described as a "thrill ride through the band's laissez-faire lifestyle and sunkissed narratives of love, friendship and youthful musings", Rehearsal saw Skegss working at The Grove Studios, creating a bunch of tracks that push the band's ethos of rolling with the punches and making it out on top.
"I was pretty scared that I was going to lose my job at a brewery because I was spontaneously taking off for gig opportunities," Reed explains of the record's origins. "I remember talking to Farmer Greg, who used to come in to get the wheat malt for his cows. He used to work for 60 Minutes, filming on the helicopter and shit.
"He asked what I got up to and I downloaded my predicament to him and he goes: 'Do it. This is no rehearsal. You go for that, you can do this later.' I fully needed to hear that."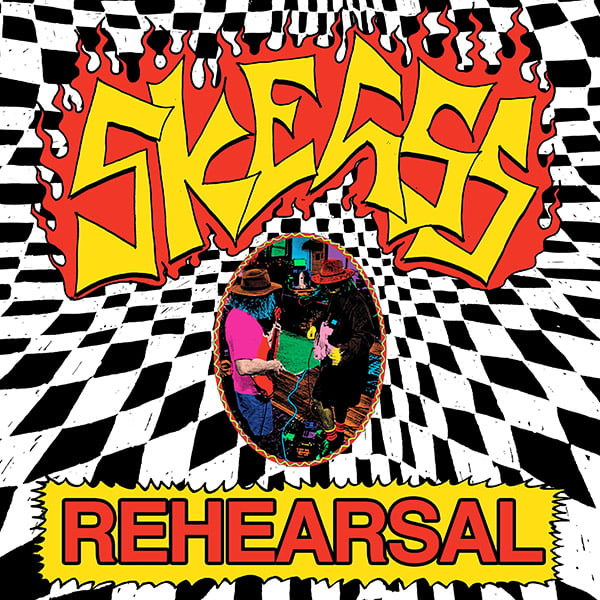 With the new record out in March, Skegss have now shared new single, "Valhalla", following its premiere on triple j this morning.
Described as "an adrenaline shot straight to the heart", "Valhalla" sees Skegss at their finest, delivering the pure indie-rock sounds they've become renowned for. Meanwhile, the track also comes accompanied by a Jamieson Kerr-directed music video, featuring the band enjoying a feast before their own massacre.
"Well I learnt more about Valhalla through watching The Last Kingdom and it got me brainstorming about the ideology of it, and thought how sometimes in our life we have moments that are pretty perfect—as perfect as what you'd want the idea of your own nirvana to be," Reed explains of the track's origin.
"Like when you're having beers with your friends, having big cook ups that are real fun to share. 'Valhalla' was based on those experiences, but it's also kind of cryptically about flying under the radar and avoiding getting into any kind of trouble, and staying healthy enough to keep having those times as you get older throughout your life."
Skegss' "Valhalla" is officially out now, while Rehearsal will be released on March 26th through Loma Vista Recordings/Caroline Australia with pre-orders available now.