By 1996, The Fauves were a Melbourne rock band "going downhill pretty rapidly". Then they released their third album, with 'Future Spa' remaining an ARIA-nominated alt-rock classic even 25 years later.
It's a little difficult to talk about The Fauves these days without phrases like "criminally underrated" and "'90s favourites" repeatedly peppering the discussion. But for diehard supporters of the Victorian outfit, The Fauves have remained one of the most consistent and impressive groups to ever grace the local scene and, for a brief moment in the mid-'90s, it felt like The Fauves might just have received their ticket to the big time.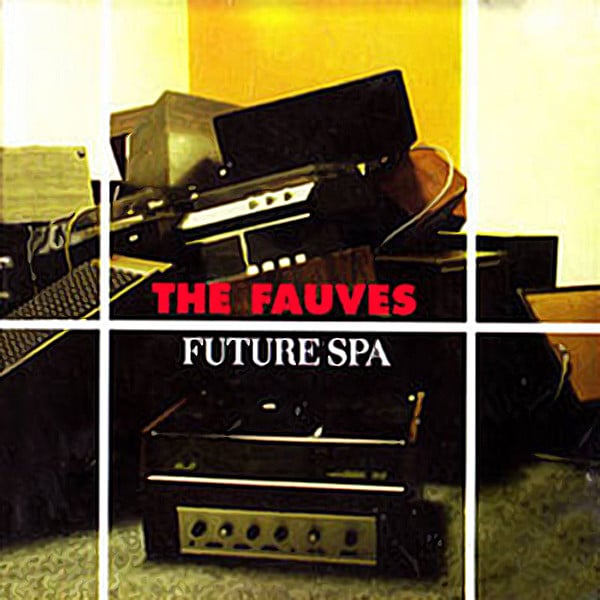 The Fauves story fittingly begins with the sort of 'comedy of errors' feeling that would become commonplace for the group across their lifetime. Having formed in Melbourne's Mornington Peninsula in 1988, the group's members – including self-taught guitarists and vocalists Andrew Cox and Phil 'Doctor' Leonard, bassist Andrew 'Jack' Dyer, and Adam 'Doug' Newey – took to the stage at the function room of the Mt Eliza Football Club for their debut show as part of a player's night and disco.
Despite Cox viewing the band's two-set debut as "god-awful" in hindsight, the event was jovially remembered thanks to organisers forgetting the group's name and printing tickets listing them as "Coxy's Band" instead.
"We had no goals at all," Cox tells Rolling Stone of the band's formative era. "It was completely unstructured. The first goal was really to sort of have four guys play something that was vaguely in time. I mean, it was that primitive.
"Everything we learnt, we learnt together in the band. It was really just about just trying to make some music that sort of sounded like music."
"None of us had been in bands before, had any idea about how to write songs or, really, how to even play. Everything we learnt, we learnt together in the band. It was really just about just trying to make some music that sort of sounded like music, and there was just no plan at all."
Influenced by bands such as R.E.M., The Smiths, and seeing bands on Countdown, the group's early sound was heavily guided by "indie guitar music" of the era. However, due to the somewhat amateurish approach to their craft in the early days, Cox admits that the band likely attempted to rip off some of their influences, but ultimately forged their own sound since they "didn't quite know how" to imitate the music of said influences.
Not in any way deterred by a somewhat bumpy start and a lack of any formal musical education, the group continued on, playing live wherever and whenever possible, before making their recorded debut with a vinyl EP in 1989, and a two-track single the following year. As Cox told Custard's David McCormack for Rolling Stone back in 1997, the group's plans for the future were at one point grandiose, but ultimately level-headed.
"I think there was a time when I wanted to be as big a star as I could possibly be," Cox recalled. "The idea of rock & roll world domination was a genuinely appealing one. Then I got a bit older and I started to wonder if I really wanted to go overseas and go back to square one again – a total nonentity, playing in front of no one, trying to impress some English fuckhead who's already decided that he hates all Australian music, or some American dimwit who doesn't even know where Australia is.
"I see our band as the rock version of the Menzies years," he added. "Inward looking, shutting up shop at 6pm, not open on weekends, a job for everyone, safe, comfortable and happy."
Even more than 30 years on from their formation, Cox still admits that he and the band feel quite the same way, having never quite planned on carving out their own unique niche within the music scene.
"There's always that carrot for pretty much every band that ever starts, 'Oh, what if we become huge?'" he explains. "It's kind of about as realistic as buying a lottery ticket. You need a certain level of self-delusion to sort of even really start. If you're not able to delude yourself to some degree, what's the point?"
As the years continued, The Fauves similarly proceeded to continue showcasing their efforts. Following a rejection from EMI in 1991 ("We were a bunch of cricket playing kids who accidentally hit the ball in next door's yard only to have the mean neighbour confiscate it," they would quip in their Shred magazine some time later), the group signed to Shock the following year for a pair of EPs which were initially intended to make up a full-length album.
Their true debut, Drive Through Charisma, arrived in 1993 (with initial copies paired with a second disc given the rather self-aware title 22 Reasons Why A Band Shouldn't Put Out An Album In Its First Few Years), before The Young Need Discipline emerged the following year.
Inarguably a more palatable record than their first, The Fauves would even find some brief international exposure thanks to The Young Need Discipline, with opening track "The Driver is You" featured on the soundtrack for 1994's Quarantine video game. Despite this though, commercial success remained elusive for the group.
"We put our first EP in 1990 and that was amazing because, you know, a couple of the songs got played on the radio," Cox recalls of the time. "triple j was sort of just going national around that time, from memory, and we were getting played a bit on there, so that was just incredible. That was like, mind-blowing. You never quite get that feeling of achievement again.
"We put out our first two records, which both commercially went terribly. […] We're talking 1,000 copies each. For a major label, that's just so poor."
"Then we got signed to Polydor, which was kind of a bit perplexing. We never really worked out why they signed us," he adds. "We put out our first two records, which both commercially went terribly. I mean by any measure, but particularly by a major label level. We're talking 1,000 copies each. For a major label, that's just so poor."
This period of time also saw The Fauves clashing with Polydor frequently, specifically relating to the way in which the label was handling promotion of their second album, The Young Need Discipline. While the album had been issued in September of 1994, it wasn't until February of 1995 that its first single, "Dwarf on Dwarf", was issued, with "Caesar's Surrender" following in May. Unsurprisingly, neither single found its way into the Australian charts.
"That was their fault, to be honest," Cox recalls. "We had a really fractious relationship with our A&R person right from the get-go. It was terrible. Like, it was a really toxic relationship.
"Just fundamental things like putting the single out in advance of the album, those kind of just basic processes weren't really happening properly, which all sort of channelled into that sense that we were really on borrowed time around that point."
So what does a band like The Fauves – who after just two albums were already feeling the pressure from their record label, and felt like they were "going downhill pretty rapidly" – do in a situation like this? Most bands would probably decide to refocus and rethink their approach, but for The Fauves, the answer is apparently "write an ARIA-nominated album", though that clearly wasn't the plan.
Releasing Future Spa in September of 1996, The Fauves' third album was a surprising entry into the band's catalogue. Named for the 1979 model of pinball machine, the record features the sleekness of a Wayne Connolly-produced affair, but content-wise, it felt like an album of contradictions.
The dirty down-tuned nature of some tracks hid an almost poetic sweetness to them at times, while other songs would feature a sunny-eyed sense of nostalgia as it sat alongside tracks that would reference self-gratification and marital aids. Rough rock songs shared space with more reflective numbers, yet it still felt seamless and accomplished, with the record ultimately highlighting what was once called the group's "newer pop angle".
In theory, an album as equally dark and dryly humorous as this shouldn't have worked, but like many of their contemporaries in the Australian rock scene of the '90s, music that went against the grain tended to be what worked.
"It wasn't until we got to our third record that we were even really starting to write half decent songs."
"I think there was on our part a desire to, just on a really fundamental level, be more popular," Cox recalls. "But also just from a musical level we just were maturing and stripping back a lot of [excess]. There were some good points in our early albums, but there was a lot of waffle too.
"For us, it was so unformed when we started in terms of song writing. So for a lot of bands, their greatest record was their debut record, because when they come to it they've been playing for years, writing for years, and that's the product of it. They really struggle with their second record. For us, it wasn't until we got to our third record that we were even really starting to write half decent songs."
Armed with this desire to try and make something more accessible, the writing for Future Spa saw Cox and Leonard crafting songs which felt far more pure and genuine than previous records. While earlier material had indeed felt the purity and genuineness that Future Spa would showcase, their third album seemed to amplify things.
Tracks like "Dragster For Christmas" and "Big Brother Age" seemed as though they could very well have been torn from the pages of a diary, "Understanding Kyuss" and "I Wrote You a Power Ballad" broached sentimentality in a way far greater than the band had previous, and the likes of "Skateboard World Record" felt as though it captured a level of suburban teenage innocence untapped by most other artists.
"With two songwriters in our band, we never sort of discussed musical direction or musical ideas," Cox explains. "We were really into the idea of writing lyrics that felt true to us as Australians, I suppose. And just growing up in Australia and just growing up in suburban Australia, too. It's got that inner city feel about it. We'd all grown up in the suburbs and I think the songs at that point were really kind of reflecting those experiences."
It was in October of 1995 that fans had first received a taste of what Future Spa would sound like. "Everybody's Getting a Three Piece Together" had originally begun life as a B-side to "Dwarf on Dwarf", with its lyrical content effectively parodying the then-ubiquitous nature of three-piece rock bands. However, Polydor instead decided for the song to be issued as a standalone single, eventually appearing as one of two hidden tracks on Future Spa the following year.
"It was meant to be just a B-Side and then somehow they liked it, so they put it out as a single," Cox explains. "And then triple j didn't touch it and then [Polydor] just still thought the album wasn't strong enough. And we went, 'We're not putting it on the album. It's already come out.' So the compromise was a hidden track.
"It's kind of the sort of thing we had to do all the time, these sort of half-baked compromises that didn't really work on any level. "
"We just played this unknown song, 'Dogs Are the Best People', and people were jumping around to it. It was just staggering to us – it hadn't even been released at that point."
In June of 1996 though, The Fauves unveiled their latest single, with "Dogs Are the Best People" giving them their greatest success to date. In addition to hitting #20 on triple j's Hottest 100 of 1996, the song went on to become a staple of alt-rock radio, even featuring on countless retrospective compilations and playlists now, some 25 years after its release. Even to this day, it's their highest-streamed song on Spotify, with close to 1.2 million streams. By comparison, their next highest-streamed song, "Self Abuser", boasts just 190,000 streams.
"That was again just such a surprise, because we had no idea. The record company didn't like the song," Cox recalls. " Generally we just recorded a whole album and then chose a single, but for that one, we recorded that before the rest of the album. We also recorded another song on there called 'I Love the Fight Game'. And that at the time was seen as probably the song that was going to be the single. We had just no idea [it would become popular]. It just seemed so remote from us at that stage that we'd have a song that got some traction.
"We played at that New Years Eve gig, Falls Festival [then called Rock Above the Falls] in 1995. I remember we came on like really late, like after Hunters and Collectors. On the surface it was a real dud slot, and we just played this unknown song, 'Dogs Are the Best People', and people were jumping around to it. It was just staggering to us – it hadn't even been released at that point."
However, despite the popularity of the song, the track would become something of a double-edged sword for the group. While they had already managed to avoid being seen as some sort of joke band due to the level of subtle humour in their work, the track would ultimately end up seeing the band remembered as "the band that does that 'Dogs" song" to some casual admirers.
"I feel to this day that we got, with probably a couple of singles that came after it, known somehow as a novelty band, which was just so far from what we were about," Cox reflects. "The song itself wasn't even really supposed to be about dogs. It was supposed to be more about people. But that subtext got overlooked.
"I feel to this day that we got […] known somehow as a novelty band, which was just so far from what we were about."
"'Novelty song' is probably too harsh a term but that kind of angle was the sort of thing that was getting air play. Once we had that sort of little bit of traction that was kind of what the record company were particularly looking for thereafter. Our music has always actually I believe sort of quite serious and melancholy, but the songs that the public were getting presented with if they were just listening to the radio were these sort of really upbeat and kind of a bit quirky songs."
The impact of this sort of popularity was quickly seen at the band's live shows. Having played shows which were, by the band's own metric, "massive", their return to the same cities only a couple of months later saw the crowd size sink down to about a third of what it had been previously.
"People had obviously said, 'Oh that dog song I don't mind but fuck the rest of their stuff. I'm just not into at all'," Cox notes. "So, yeah it did kind of give a bit of a false representation of what we were about."
As the record's promotion continued, Rolling Stone's three-and-a-half star review – which ended by noting that "[The Fauves'] time is now" – seemed to be proven right, with more singles following, including the likes of "Self Abuser" (which would hit #30 in triple j's Hottest 100 of 1996), and "Don't Get Death Threats Anymore", with the former written as something of a cathartic response to the group's previous spats with their label.
"Phil sort of had, well not a screaming match, but a showdown with [them] at one point and basically our A&R guy stopped calling him," Cox told Double J in 2016. "So that was him expressing his sense of relief. The death threats were sort of a metaphor for those horrible phone calls."
While these tracks and their associated album might have avoided mainstream smash success, they were however well represented in the bygone ARIA Hit Seekers and Alternative Singles charts. "Did we sell out?" the group later mused on their website about this era. "We were always too dumb for anything that calculated."
"'Did we sell out?' the group later mused on their website about this era. 'We were always too dumb for anything that calculated.'"
Of course, some fans might even have posited that one of the group's most beloved songs, "Understanding Kyuss", should have been released as a single to showcase the group's rare softer side. A comparatively mellow track, "Understanding Kyuss" revels in the bliss of listening to the titular stoner-rock group with close friends, only to recognise that the experience is far more important that comprehending their cryptic meanings.
One of the song's most memorable line, "Crank it up, I really like this bit, fuck, that riff sounds really sick," would stick in the minds of fans for decades to come, remaining a highlight of its appearances in the group's live sets.
Meanwhile, more dedicated fans look to some of the era's offcuts as proof of the group's stunning output, with many of The Fauves' B-sides remaining streets ahead of most other artists' A-sides.
Tunes like "Suitcase Of Carter Browns", "Easy (Easy)", "Marijuana Is God's Currency", "Frontman Practice", and "Hand Solo" (the latter being the only time that Future Spa is mentioned in a track) still serve as highlights of the band's deeper back catalogue, with Cox admitting that some of them likely deserved a spot on the record.
"We've probably made some mistakes over the years and left off songs that were good enough to be on the record, definitely," he notes. "But, we've always really, really strictly adhered to this sort of democratic process. So if you can't get every song past every four members – every member kind of has a power of veto – it can make choosing tracks for a record a really fraught experience."
However, the success for The Fauves was far from over, with September of 1997 bringing with it the news that the group had been nominated for the ARIA Award for the Best Alternative Album.
Up against the likes of Nick Cave & The Bad Seeds, Powderfinger, and the Dirty Three, it was tough competition, and barely a surprise when they lost to Spiderbait's Ivy and The Big Apples. The band would later give a humorous recollection of their visit to the ARIAs in their Shred magazine the following year, downplaying the seriousness of such a nomination and masking any pain of a loss with standard sarcasm.
Despite this though, the group never viewed their comparative success as entirely validating. Rather, it seemed like more of a daunting prospect.
"We were never dealing with genuine fame or success on a massive scale," Cox admits. "But it certainly did put pressure on the sense of having to follow up. And now we'd had a little bit of popularity, how do you maintain that?
"So the period from there up until when we got dumped by the record company was certainly the most stressful time that we've had in the band. But once we were dumped it was just this huge freedom opened up because none of that mattered anymore. But at the time it did change things, for sure."
Following the release and success of Future Spa, The Fauves were in the unenviable position of being on the receiving end of high expectations from the label. In late 1997, the group returned with "Sunbury '97", the first taste of their forthcoming fourth album. Despite their "biggest video budget ever" (of which most of it was blown on "a helicopter ride to the original site of the Sunbury Festival to shoot the video"), the single "pretty much disappeared upon release" – an ominous sign for their upcoming record.
With singles such as "Surf City Limits", "Kickin' On", and "The Charles Atlas Way", Lazy Highways arrived in July of 1998, and was dubbed as the band's "quietest and most reflective record to date". Though renowned by some fans as one of their best releases, it was commercially less successful than its predecessor and "marked the end of [the band's] brief hour in the sun of audience popularity".
It was around this time that The Fauves undoubtedly felt the winds of change blowing, with efforts for their next album being rejected, leaving the group briefly without a label.
"We did some demos for them after [Lazy Highways] for what became out first record without [Polydor]," Cox recalls, "and around that time also they got bought out by Universal. So we did these demos and they just got straight back to us and said goodbye, basically."
Some of the tracks recorded for Universal included the likes of "The Dirt Bike Option", "Giving Up Drinking", "Get Into Retail", and "When The Tour Went Pro", with a lyrical reference to the group being out a total of $150,000 thanks to the label's dissatisfaction being found on "The Charles Atlas Way" B-side, "Monster Truck Show".
Much of this era would be captured on the Vanessa Stuart-directed documentary, The Fauves: 15 Minutes to Rock, which despite being called "one of Australia's best rock documentaries committed to film", had a seemingly unintentional effect, with many fans of the band reportedly believing they had broken up after the fact.
Their continued existence was reaffirmed not long after though, with the group releasing new single "Bigger Than Tina", which featured on the Neil Foley-directed film of the same name. The track was later included on the band's next album, Thousand Yard Stare, which would arrive in 2000, soon after bassist Andrew Dyer left the group, with replacement Tim 'Ted' Cleaver remaining in the band to this day.
Although commercial success would elude the group in the decades to come, The Fauves have managed to seemingly defy convention, releasing a total of eight records since 2000 (their most recent, 2019's Driveway Heart Attack, arrived as a double album) which manage to almost continuously increase in quality. No matter who you ask, that's not usually how a band works. It's this sort of output, paired with a blindness from the mainstream press, which continues to see the group considered one of the country's most underrated bands.
"I guess people roll their eyes when bands sort of say, 'Oh, we like our later albums better,' because obviously the public doesn't feel that way," Cox admits. "But I feel all of our best records came after Polydor. I really do.
"I feel that's where we just moved into another level where we just really clicked on playing and writing songs. As I say, people sort of roll their eyes when they hear that, but that's sort of how we feel about our music.
"But at the same time I have a lot of affection, particularly for [Future Spa and Lazy Highways] because they are our two most popular records and the songs off those records are the songs that people most want to hear when we play. But I think we became a better band after Polydor."
While live appearances from The Fauves are a relatively sporadic affair these days, in October of 2016, The Fauves revisited Future Spa for a one-off 20th anniversary show in Melbourne. Opening the set with the seven-minute recording of a police interview with Phil Leonard and Adam Newey for cannabis possession that closed the album as a hidden track, the show saw the group playing the record in full, with the packed Workers Club showing that even 20 years after its release, it still draws a crowd.
Of course, in a year such as this, when even shows from the most hard-working bands are rare, The Fauves have toyed with the notion of doing another retrospective event in honour of the record, but both COVID-related restrictions and a discontent with looking in the rear-view might see these plans delayed, or abandoned. It's really anyone's guess at this point.
"We have tossed it around and maybe doing the record [in full again], because yeah it was just that one-off show," Cox explains in reference to their 2016 performance. "Maybe playing a bit further afield with it, too. We're not a band that really likes to sort of focus on our past that much. We're always excited about what our next record is going to be. But at the same time it is a record that, to the people who are into our band, it means something to them. So to sort of turn our back on that is probably a bit stupid, really.
"We have loose ideas of doing something for the 25th anniversary, so we'll see. Our loose ideas often stay that way. Occasionally they get cohesive enough to follow through on. It kind of would make sense to do something, so yeah, we'll see how we go."