An unexpected new record has seen Custard prove that even after 30 years in the game, the beloved Aussie rockers are still full of surprises.
When Custard released Loverama back in the middle of 1999, no one could have guessed it would be the band's last record before an untimely split. When they reunited for a sporadic series of shows in 2009, few would've assumed another new album would follow in just a few years.
And when Custard hit the studio in early 2019, no one – not even the band themselves – could have known they were about to record a new album.
Fast-forward a year and a few months, and the facts are well-established: Brisbane's Custard (or Custaro, as they're colloquially known) have a new record. Titled Respect All Lifeforms, it serves as their eighth studio album, and first since 2017's The Common Touch.
First announced back in mid-March, the record's lead single arrived just as Australia – and the rest of the world – were shutting its doors due to the ongoing COVID-19 pandemic. Despite this, frontman Dave McCormack remains positive about the album's release on May 22nd.
"I feel pretty good about it," he states. "I feel like every 20 or so years, the stars and the vibe align, and something sort of, pretty good happens. I'm feeling we're about at alignment now; this is going to be a special time."
Of course, while many bands have been forced to postpone the release of their albums, delay tours, and construct entirely different plans regarding promotion, Custard seem to be taking it all in their stride, relatively nonplussed about the fact they're unleashing a long-awaited new record during a period when people are in fact searching for new content.
"In this terrible, awful time, maybe the time is right for this album."
"We had a big run of shows booked to launch the album, and now we've got no shows," McCormack notes. "It does feel unusual, but secretly, maybe I'm happy about it. It's nice just to chill at home and not have to deal with travelling too much.
"We're not bothered with trying to do any livestreaming, at home concert-y things; we'll leave that to the other people.
"A couple of weeks ago, when the self-isolation was really hardcore, I got the feeling that people were looking online for any entertainment, reading, TV shows, and music. In a way, having a new single and a new album at that time, people are focused, they're open.
"They're not busy, they're not running out here and everywhere, they're on their devices, and they're looking for content. So hopefully, they like our content. I think that in this terrible, awful time, maybe the time is right for this album."
The production and release of Respect All Lifeforms was a surprising one for all involved. In fact, while it follows on from the release of a live record in 2018, neither Custard or their fans were expecting to be launching a new album in 2020, let alone seeing the band return to the same prolific nature they showcased two decades prior.
"Since the 'rebirth', this is the fourth album, well one album was a live album, so maybe that doesn't count, but this is the third album," McCormack says with a characteristic chuckle.
"I'm hoping to do at least another one or two before we drop off the twig, so then we can have an equilibrium between the '90s albums – which is four or five – and these later phase albums, if we can get four or five of them.
"This album was pretty easy, we were about to fly over to Perth to play a festival, and we went over the day before because we hate the three hour time difference in Perth. You end up feeling like it's 4am in the morning by the time you play.
"We had a day to kill, and Glenn Thompson booked us a studio in Fremantle, and we went in and we recorded eight songs on the day, and six of them we used on the album, so it was a productive morning."
"We went in and we recorded eight songs on the day, and six of them we used on the album, so it was a productive morning."
For those on the outside looking in, it seems almost impossible for a band to walk into a studio with no plans, only to walk out with the basis for an album.
While famous albums from The Fall and Black Sabbath have proved what a single session in the studio can do, Respect All Lifeforms shows an acclaimed band who had previously laboured over the minutiae of recording at their freshest and most immediate.
"The songs were so embryonic," McCormack remembers. "I knew one of the songs was going to be called 'Couple's Fight'; I didn't have any lyrics. And I had a couple of riffs, and a chord change, and we just jammed it out.
"I don't think we did more than three or four takes on any of the songs, so it was pretty fresh and immediate. We went down to Officeworks afterwards, bought a hard drive, copied the files over, then brought them back to Sydney.
"That's the fun bit, because I can sit in my own studio with the microphone and go, 'What the hell is this song about? What am I going to sing? What are the words?' And that's always so much fun, just to cut and paste it all together. With the immediacy of the band's takes in my headphones, it was just a blast."
For those paying close attention, two of the tracks recorded in the initial session didn't end up making it to the final product. However, McCormack admits that these tracks might not necessarily be lost to the cutting room floor.
"There was a couple of Glenn Thompson tracks that we bashed out the musical beds for, but he sort of had a couple of different ideas about them when we got back to Sydney. So maybe, I might dig those out on the hard drive and see where they're at; there might be some more in there."
While Custard are undoubtedly a group who take pride in their preparedness and ability to craft thought-out pieces of of work, McCormack admits that this new method of working might actually be a beneficial one for the group, and one they'll likely employ in the future.
"We were less prepared than we normally are," he explains. "Traditionally, Matthew [Strong, guitar] and I would get together and write, we'd show each other some chord ideas, send it around and everyone would have a listen and have a think about it.
"This session, no one had heard anything that any of us were working on, so it was all 'first listen', 'what can we play?' I didn't even know what my songs were, really. I was thinking, 'Maybe there's a chorus here, a guitar solo', but it was all very much a work in progress.
"I think this album is very immediate, and that's the way I like working now. In the '90s, we'd spend weeks and weeks on tracking the album, and mixing the album, but I don't want to do that anymore. I just want to keep it all in a sense of falling forward where no one quite knows what's happening, and I like that energy."
"I just want to keep it all in a sense of falling forward where no one quite knows what's happening, and I like that energy."
For diehard Custard supporters, Respect All Lifeforms is the album they've been longing for. Of course, that's not to condemn the brilliant releases that were 2015's Come Back, All Is Forgiven and 2017's The Common Touch, but the fact remains that their latest effort is the group at their most pure.
In fact, lead single "Funky Again" often evokes musical memories of 1999 single "Ringo (I Feel Like)", while "The Min Min Lights" could easily have found a home on 1995's Wisenheimer.
"It sounds exactly like what you'd think a Custard album would sound, but fresher," McCormack explains. "For example, 'Funky Again', which was the first song we recorded that morning in Fremantle, I think we only played two or three times, and that's the version that you hear on the album.
"When you work on songs for weeks on end, sure, they can turn out pretty good, but all the immediacy is gone from them. But I can still listen to these songs and go, 'Wow, I don't really know what's happening.' I don't know the songs that well because we just bashed them out and that's it, they're done.
"It's just, go in, and see what happens. If we get something, great, but if we don't, no problem."
"The amount of times I hear the songs is for a couple of minutes when we're recording them in Fremantle, and then I hear them a bit when I'm trying to work out my vocals, and then Glenn mixes them all. Glenn takes them away to his studio and no one really hears it until he's finished it.
"It's so exciting, I've probably heard the songs maybe for half and hour's worth before they're completed, so it's all very exciting for me, too."
Likewise, this freedom of has allowed Custard to feel much more in control when it comes to their work, allowing the group's true talents to shine through.
"In the '90s we'd go into the studio well-rehearsed, there'd be a producer, there'd be… not pressure, but there would be a sense of, 'Okay, we're making an album," McCormack recalls. "Then everyone sort of tenses up a bit.
"Whereas now, we go into the studio, it's just us, and we don't mind if nothing comes of it. We'll have a bash at it, but there's no intention of realising an album. It's just, go in, and see what happens. If we get something, great, but if we don't, no problem."
In true Custard style, the record is accompanied by both an album cover and title that truly captures the unique style of the group. As McCormack explains though, both of these facets of their latest release came about as quickly as its accompanying music.
"At this Poons Head Studio in Fremantle, there was this character called Cowboy John who was hanging around the studio," he recalls. "He looked about, maybe [in his] 60s, and he was known to the studio owner.
"He came into the studio, hung out with us a little bit, and then he bummed some of Matthew's cigarettes, and then he was gone. And as he left, he said, 'Respect all lifeforms', and that was it; he just walked out of the studio. And we just looked at each other and said, 'That's the album name, Respect All Lifeforms'.
"And the studio owner, Rob [Grant], said 'I've got a photo here of Cowboy John playing this monophonic Roland synth thing, and he's wearing a crown.' And we said, 'We need that photo, that has to be the cover of the album.'
"So it was a productive morning. We had the album cover done, we had the title of the album done, and we had six songs recorded."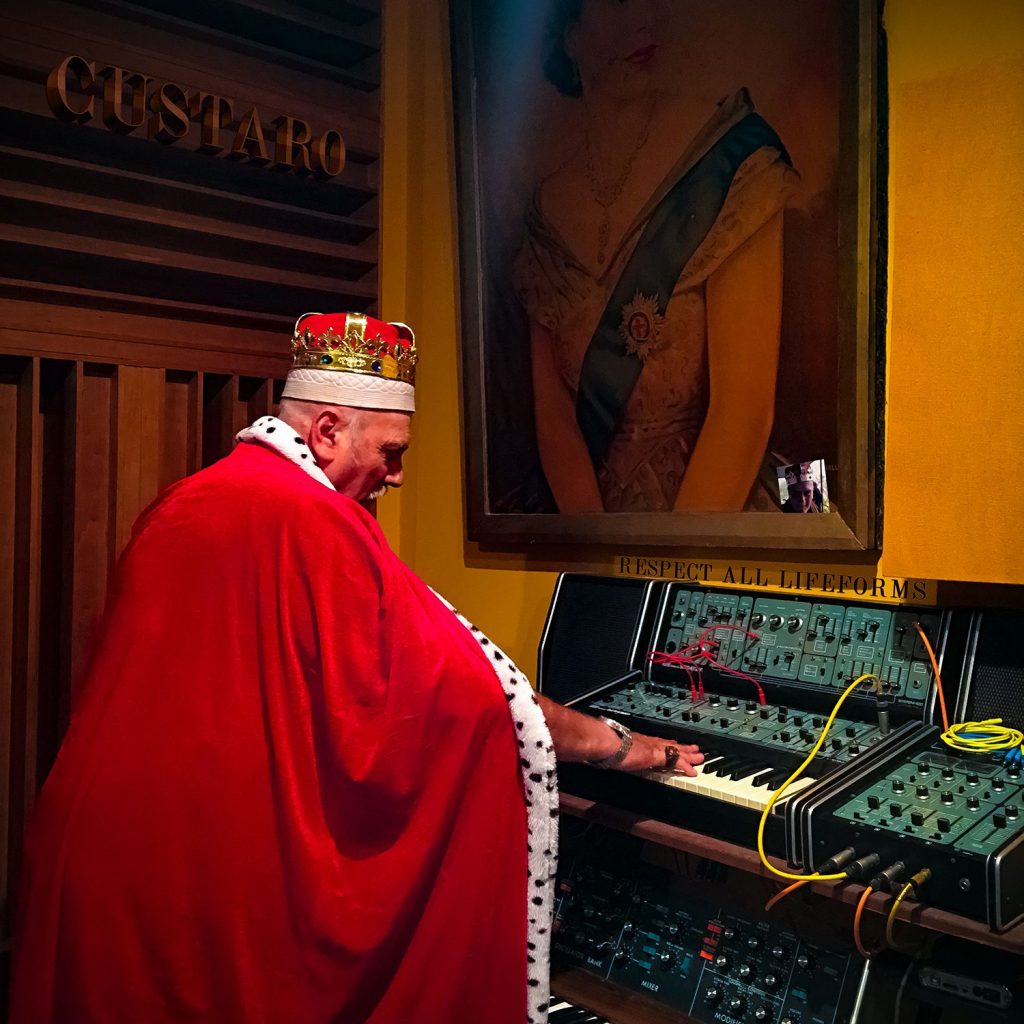 For a band like Custard though, whose commercial peak was more than 20 years ago, it could often be expected that fans would overlook the band's newer material in favour of the classics that they've known and loved. As McCormack notes though, he's not one share in this sense of nostalgia, but admits that it's purely a joy to give fans the enjoyment they seek.
"Obviously when we play live, people quite naturally want to hear the '90s stuff more," he explains. "To me, it's just part of who we are, so we play heaps of '90s stuff and we'll probably only play – if and when we get to play gigs again – a couple of new songs.
"I don't get nostalgic, it's always a project moving forward. It's always great fun making stuff up and then having people interested enough in listening to it. That's what gives me the biggest buzz. We can go into a studio, record, and people listen to it; How good's that?"
"It's always great fun making stuff up and then having people interested enough in listening to it. That's what gives me the biggest buzz."
Unlike a lot of bands that pick things up a decade on from where they left off though, tracks from Custard's more recent records manage to seamlessly fit into their setlists, allowing the band to showcase newer compositions alongside their beloved hits, without one hearing the dreaded audience request for the old stuff.
"It feels like a continuation," McCormack explains. "Because of the immediacy of this album, and sort of working off of muscle memory a bit, I think that's why it sounds very Custardy, because it's not trying to be anything else. It's just us in a room bashing out a bunch of songs I only just figured out how to play."
Of course, while folks are eagerly awaiting the return of Custard to the live stage, McCormack admits that the group's ability to disappear at will is an enticing prospect, and one that makes their sporadic appearances all the more special.
"Because the band is very much a hobby, no one depends on this band as a livelihood, which is different to the '90s," he explains. "So we can do a handful of gigs, and then we won't do a gig for another year or so.
"We really just pick and choose when we want to play, and which gigs have got a good vibe. I like just having the band come out of hiding, and then disappearing again."
Ahead of the release of Respect All Lifeforms, McCormack noted in respect to "Funky Again" that when it comes to "most of our popular songs, I never really understand what they're about." However, while the lyrics plainly ask the question "Will we ever be funky again?", he admits that there's always room for a Custard song to be misinterpreted.
"People misunderstand then, and I misunderstand them," McCormack laughs. "Especially with 'Funky Again', I like the surrealism of the lyrics, and there's also something interesting about gentlemen over 50 playing in a band asking, 'Will we ever be funky again? Will we ever be relevant again?'
"There's something about that that intrigues me. Of course we'll probably never be relevant again, but it's a fun question to ask."
"There's also something interesting about gentlemen over 50 playing in a band asking, 'Will we ever be funky again? Will we ever be relevant again?'"
As the record continues on though, fans are met with a stunning array of tracks, including the exceptional "A Cat Called No", which was recorded entirely by acclaimed all-rounder Glenn Thompson.
"That's about the great thing about someone who's a weapon like Glenn," McCormack explains. "Not only does he mix the songs and organise the studio for us to go into and record, but a couple of months after he's done the recording he just says, 'Check out this song, what do you reckon?'
"And it's always a case of, 'Fantastic! Where do we put it on the album?'"
Meanwhile, album closer "Come Tuesday" serves as something of a look back into an era of the band's history, as well as a spiritual sequel of sorts to a 1974 single from the great Jimmy Buffett.
"There's a Jimmy Buffett song called 'Come Monday" which I just love, and I thought I'd do a 'day after' song," McCormack explains. "The lyrics are pretty much recounting a night when we were mixing Wisenheimer, me and Paul Medew were in a hotel because the other two band members had flown back to Australia.
"So me and Paul tried to drink two bottles of vodka in one night, but we couldn't do it. But we woke up and the place was a mess, we'd destroyed this hotel room, thrown the video cassette recorder out the window. It was just us, these crazy, young mid-twentysomething people.
"But it's harking back to a time… geez it was fun though, going to America. For all the gruelling amount of travel time, it was pretty fun being in America, recording an album with a producer like Eric Drew Feldman who was such a legend and had worked on so many fantastic albums that we adored."
Meanwhile, one of the album's most notable moments comes by way of Custard's cover of Camper Van Beethoven's "Take the Skinheads Bowling".
A surrealist piece of college rock from 1985, the band first played the track as an encore at their Melbourne show in 2018 before it resurfaced as their first cover on a studio album since Beck's "Totally Confused" on 1997's We Have the Technology.
"The first time we played that as an encore was at the Prince of Wales Hotel in Melbourne," McCormack recalls. "So we played it at the next couple of gigs we did and I just put it in the back of my mind that if we ever do another album, we should probably record that song.
"I love that song; it's a surrealist's dream of lyrics, I have no idea what it's on about. And it's only got three chords and it has a good feel. So we bashed that out, not in Fremantle, we bashed that out back here in Sydney at Glenn's workshop/studio one afternoon before we were doing a gig.
"That song needs to be heard. It's one of those songs I've loved since the late '80s, but in a way, I'd forgotten about it for a while, and to hear it again, it was a case of, 'This is great'. And it's quite fortuitous, because in a way it sounds very Custard-like anyway; the melody, the lyrics, the chords. It's something that suits our style, so I'm glad we got to put it out there."
Of course, no mention of new happenings from Custard would be complete without mentioning Dave McCormack's other gig, which has seen him become a favourite of children (and their rock-loving parents) thanks to his voice role as Bandit on the ABC Kids program Bluey.
However, while there's been a few stories of youngsters getting into the Custard back catalogue thanks to Bluey, McCormack says he's "not counting" on his television role scoring some extra attention to the band's new record.
"It freaks out some kids when they Custard songs because they only know me as the cattledog father in Bluey," he says with a chuckle. "And then if they hear me interviewed or they hear me singing, they're like 'What?'
"It really freaks them out if they see me, because they expect me to look like an animated dog. And they're like, 'What? That old guy does not look like an animated dog!'"
However, while Bluey might not result in Custard performing any matinée performances for a younger crowd soon, McCormack says he looks forward to the band being able to get back on the stage once again as soon as the current global pandemic clears up.
"We were toying with the idea of doing a 21st party for Loverama, but with the coronavirus, everything just got sort of thrown out the window," he explains, ahead of the album's anniversary next month.
"I don't know, we'll have to have a 30th birthday party for Custard, but in isolation. That'd be weird, wouldn't it?
"We don't need to do a livestream, we'll just wait. We're old men now, so we're used to years just floating by with not much happening. Early next year, if it all clears up, we'll do some gigs, but there's nothing planned."
Custard's Respect All Lifeforms is out today via ABC Music.