Close to 20 years since they first recorded an album's worth of early material, Descendents drummer Bill Stevenson discusses its long-awaited arrival.
Cast your mind back to 2002 for a second, and fans of punk music were in the midst of a rather powerful time for the genre. Protest music was a hot topic thanks to the then-current global climate, many veteran outfits had used the turn of the new millennium to reunite, and the rise of the internet made said music and artists all the more accessible. In the midst of it all though, California punk icons Descendents were taking a look back to the past.
Having previously split five years earlier following a two-year return which had seen vocalist Milo Aukerman put his molecular biology career on hold, 2002 brought with it another return for the band, with new album Cool To Be You recorded in the early months of the year. Not too long after though, the "classic" lineup of the band – including guitarist Frank Navetta, bassist Tony Lombardo, and drummer Bill Stevenson – got together to re-record some of their earliest material.
Consisting of tracks that dated back to the band's early days in the late '70s, the vast majority of this material had never before been brought into a professional studio. While "Ride The Wild" and "It's A Hectic World" – which comprised the band's debut single in 1980 – had been previously released, it had been many years since they had last been revisited. Meanwhile, these sessions also featured a cover of the Dave Clark Five's "Glad All Over", a staple of the '60s beat movement, and a track which had previously opened the Descendents' first-ever live show.
Once the dust settled on these recordings though, they laid dormant in the vaults for years. Sadly, they would mark the final time that the band's classic lineup would record together, with Navetta passing away in 2008 at the age of 46, and Lombardo all but having quit the music business years earlier – save for a few appearances with Descendents and spin-off band All in the ensuing years.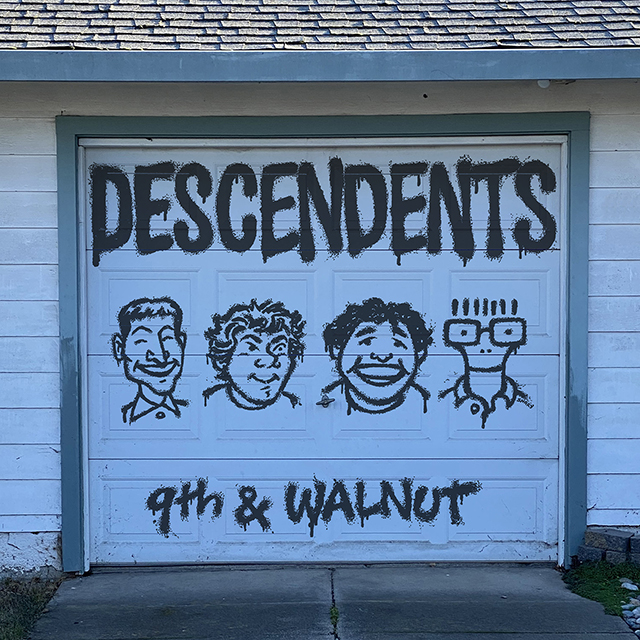 Almost 20 years later though, these recordings have finally seen the light of day. Complemented by the vocals of Aukerman, and named for the location of their first practice room, 9th & Walnut is a powerful release from one of the world's most influential punk bands. Raw and unrelenting, and as gritty as one would want a Descendents album to be, it's a stunning snapshot of the group's early years, delivered many years after the fact.
In anticipation of the record's release, drummer Bill Stevenson spoke to Rolling Stone to discuss the origin of these recordings, their formative years, and life in the Californian punk scene.
First of all, I should say congratulations on the album. I don't want to say 'new' album for obvious reasons, but this must be something that feels really special to release after all these years?
It brought back so many cool memories. I kept calling Tony and [we were] talking about stupid things: "Hey, remember when your amp blew up and then Fear wouldn't let you use their bass amp?" I don't know, stupid little things like that. Plus since Frank is no longer with us, it was just nice to be bathing in that period of the band where we were just little ignorant kids, basically learning how to play our instruments.
When you, Frank, and Tony got together in 2002 to record these songs, what was the initial intention? Were they planned for release at the time?
When we were doing Everything Sucks – that was in 1996, because you know Tony and Frank only played just a little bit on Everything Sucks, they kind of just played one song each or something like that. When we were all together, Tony said – he suggested it – he goes, "Why didn't we ever record all of our first songs?" And we were like, "Well, because we got sick of them, and we wrote better songs." But then we thought about it, and we were like, "Yeah, we should", because they were fun and they were cool, and they were how we learnt to be a band was by playing those songs.
"For me, these were the first time I ever played with a human being, y'know, instead of playing along with my KISS records."
So then it took us a few more years to actually assemble ourselves and do the recording. Then of course, once we recorded the music, we sort of didn't really have Milo's attention because he was really focused on being a scientist then. So it was a long time before we got the vocals done.
Yeah, I don't really have a reason for it taking so long. I wish I had a clever reason, but that's just… I think COVID sort of made it seem like the right time to release it, because we couldn't tour during COVID, and this lineup can't tour anyway because Frank's no longer with us and Tony's kind of far out of music, so it seemed like a good time to finish it and release it.
Milo was really keen on it, so we finally got it done. It's like our lost album of songs. They were the very very first songs that we ever played together. Like, for me, these were the first time I ever played with a human being, y'know, instead of playing along with my KISS records.
It's fitting how this material was recorded almost 20 years ago, with songs that were more than 20 years old at the time. How does the material from that era stand up in your eyes these days?
I can't really judge it qualitatively. It sounds like a young band and a group of frustrated individuals who don't quite fit into the normal world. That's what it sounds like, that what it was [laughs]. It was so cool. We started so young. It's just funny on all the levels: the lyrics, some of them are written by… Dave wrote two songs, and I think a couple of those were written in '76! So we were little kids.
I didn't write any songs on 9th & Walnut because I didn't know how to write songs then. I didn't know how to play guitar and bass yet. I didn't write songs until a little later. These are all Tony and Frank's songs.
"It sounds like a young band and a group of frustrated individuals who don't quite fit into the normal world."
What was the approach that you had in mind for the material? Was it to record it as it would've been played back in the day, or record them as the Descendents circa 2002?
We recorded them how they really were back in the day. We didn't update them or anything. We had practice tapes from… I mean, we had a decent recording of our first party we ever played, which basically has every one of those songs on it. So that was after we had maybe been together four months. And it's a real clear recording of a party we played, so that's how they went, so that's how we recorded them. We didn't update them.
But later on, Tony started doing a lot more runs later on as we went through, but on those ones, he kept them how they were. And for me, I've become quite a technical drummer, but I left them how they were. We weren't trying to make them fit in to today's version of whatever Descendents might be. That's how we were in 1979, that's what we sounded like. That's exactly what we sounded like [laughs].
It's impressive that it really sounds like a record that you all could have made just today. It sounds so fresh, and when you look at it in the timeline of the band's work, it doesn't feel like you've gone from the last album to 20 years back in time. It just feels like the next album.
It's a document of what we were. Y'know, we sort of got sick of those songs, wrote new ones, and moved past them. So they never got recorded at the time, but now they have. I'll give you an example: there's a little trace of that sound – the 9th & Walnut sound – if you think about Milo Goes to College. If you think about "Parents" and "Statue of Liberty", those are from our first 20 songs we ever played.
They somehow stuck around and they made it onto Milo Goes to College, but those are two that are from the original batch. And you can kind of hear how those are a little different to say, "Suburban Home" or "Bikeage".
Milo wasn't part of these original sessions, so was there any apprehension in having him record these songs so far down the line from a session he wasn't involved in?
It's common for bands to record music separately from the vocalist, and these songs weren't new to him. There were a few that by the time he joined the band, we had already quit playing them, so he never played them with us. But most of them, he played them with us when he joined in 1980. Most of them. So he already knew most of them, but there were a few that were new to him.
This record is obviously notable for featuring Frank on guitar again. How does it feel looking back at this and releasing 'new' material from him? It must feel quite bittersweet in a sense.
It just brings back a lot of fond memories. I feel like I was the most naïve of the original trio lineup. I was kind of just in awe of those guys. I remember when Tony brought in "You Make Me Sick", "Tired of Being Tired", and "It's a Hectic World", I thought, "Wow…." I just thought I was in a band with the two best songwriters in the world or something.
Also adding the fact that the vast majority of these songs being written by him, it must be an odd experience effectively revisiting a style of songwriting that has been absent for 13 years now.
I hope people enjoy it. I can think of a few people who are just really going to enjoy it a lot, like Mike Watt of The Minutemen, I think he's going to be happy when he hears it. Joe Carducci from SST, or I don't know, Chuck Dukowski (Black Flag), Dezo (Dez Cadena, Black Flag)… There will be a handful of people who will be really happy, it'll bring back some fond memories of… I don't know, the punk scene was pretty small back then, and we were kind of a little family in the South Bay there.
There was Black Flag and Minutemen, and Saccharine Trust, Descendents… We didn't quite fit in and the Hollywood clubs didn't really want us to play, so a lot of the time we had to rent our own little buildings and put one of our friends at the door to collect five bucks. So that was our little weird community there in Hermosa Beach, South Bay, Long Beach, San Pedro, Lawndale…all in there.
"I would be a miserable person had that first wave of LA punk rock not just opened my eyes and changed me."
There was so much creativity and community around that time as well. Looking back on it, it must be something you feel very proud of, to say you were part of this influential scene.
It seemed kind of unbelievable when I was in my late teens that I could just go out and I could see X, Germs, The Weirdos, Blasters, Fear, The Go-Go's, Black Flag… I could just see these bands for not much money. And sometimes it would be three or four of them all playing on the same bill. The Bags, The Alley Cats, The Last… It seemed to me like it was so unbelievable.
I considered myself to be so fortunate just to have been growing up at that time in that place. It had such a huge influence upon me. I would be a miserable person had that first wave of LA punk rock not just opened my eyes and changed me. I would be a very miserable, lonely man.
It feels absolutely unbelievable that it all happened at the same time.
You'd just go and it'd be like, one show: The Alley Cats, The Plugs, The Go-Go's, The Weirdos… Just all at one show, and it was kind of like it seemed like none of the bands really sounded like each other. Everybody had their own little weird way of playing this thing that got known as punk rock. Everybody had their own little weird way of doing it.
There's also the "Glad All Over" cover at the end of the album, which used to either open or close your early shows?
We would play it in the very beginning, like, real early on. Our first song of our first party we ever played – the first time we ever played in front of people – the first thing we ever played was "Glad All Over". Tony, he said, "Yeah let's play 'Glad All Over' but let's make it really grindy eight-notey like The Alley Cats play." So that's kind of how we played it how we did. We were always trying to sound like The Alley Cats.
Was it a song you were particularly fond of beforehand?
Well, Tony bought it in with that enthusiasm that I had just mentioned. I had never even heard the song before. I'm thinking Frank had heard it because Frank was more familiar with '50s and '60s music than I was.
With this album out in the world now, what's the current plan for the band? There's obviously upcoming US tour dates, but there was also word of a "new" studio album as well?
Yeah, we've recorded about 15 songs already of new new songs, so we're maybe about halfway through it.
Descendents' 9th & Walnut is out now via Epitaph.