KRK in partnership with leading Australian distributor Jands is offering an incredibly enticing promotion. For a limited time only!
Beloved by industry greats like Don Was and Rodney Jerkins, KRK gear has been present in some of the most fabled albums of all time. It's now hard to find a rock'n'roll documentary or an industry studio interview where KRK's distinctive bright, yellow-painted cones don't make a cameo.
"You got to have something that sounds great, that sounds inspiring. And something that is also accurate. That's the thing that I find appealing about KRK speakers." — Don Was.
A good studio monitor can reproduce a flat, "objective" sound, a signal as close as possible to the original recording. When you're creating music, you don't need your speakers to embellish your work. On the contrary, you need accurate tools to expose all the flaws in your recordings so you can address them properly, ensuring that what ends up appearing in the final product is exactly what you intended.
KRK is esteemed in the industry because it gives you just that; a flat, unadorned sound at a price that doesn't require you to break the bank. They're sturdy, compact, and durable, making them the preferred workhorse for newcomer artists and seasoned pros alike.
Only between September 26th and November 30th, KRK is giving you a free set of their trusty KNS 6402 headphones with any paired purchase of their S8.4, S10.4 or S12.4 subwoofers, or any paired purchase of their ROKIT G4 line of monitors.
Interested? Read along, we'll list the reasons why KRK products are a no-brainer.
So, what's so special about the ROKIT G4 line of monitors?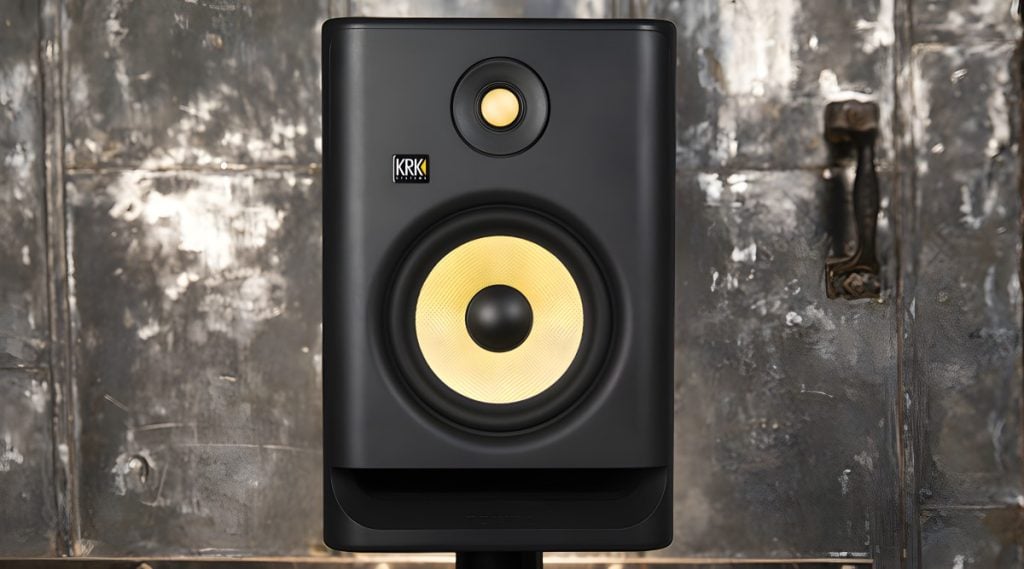 Simply put, they offer quality far beyond their price range. That's the reason why they've become the preferred sound solution for both up-and-coming artists recording in their bedroom, and hi-end, legendary studios like The Hit Factory in New York City.
Four main characteristics make the ROKIT G4 line stand apart from other affordable studio monitors:
Build Quality
The components used in the ROKIT G4 line were developed to deliver high durability far beyond products in the market of the same price range. 
The ROKIT G4 drivers utilise top-quality, rigid aramid fibre typical of more expensive monitors. Rigid aramid fibre is used both in the woofer and the tweeter, giving the G4 line an accurate and balanced reproduction throughout the whole frequency spectrum.
Particular effort was put into the construction of the cabinet itself, designing it so the placement of every component doesn't interfere with the cabinet's acoustics. 
Even the front protection grilles are made with premium components built to protect the drivers against the elements. 
"We moved to a property by the sea and my KRK ROKITs have stood up incredibly well to the salty, corrosive environment—it's really impressive." says Maxi Jazz, original vocalist of the British electronic band Faithless, "The monitors are well-engineered and durable. I couldn't be happier with my KRK ROKIT G4s."
LCD Display
Imitated but never equaled, the ROKIT G4 is the first monitor line in its range to feature an LCD display on the back, enabling the user to visualize EQ settings and frequency response. The panel also includes selection dials so you can easily control all the monitor options from the monitor itself. Studio spaces are often dimly lit, and little things like these make all the difference. The devil is in the details they say.
Proprietary App with Built-In Room Acclimation
No two studio spaces sound the same, and it can be a real pain to find the perfect EQ setting for your environment. KRK has developed the KRK Audio Tools app, a free, ad-stripped application that helps you find the perfect sweet spot. 
How does it do it? First, the KRK Audio Tools app plays pink noise through the monitors so the waves can bounce around your environment, then, using that info the app comes up with a recommendation for the best EQ preset for your studio setup.
The app offers six audio tools to help you configure your space, monitor, and control your ROKITs; the EQ Recommendation Tool, Spectrum Real Time Analyser, Level Meter, Monitor Align, Delay Distance, and Polarity.
When you're creating in the studio you need the energy from the environment to add richness to your sound. On the other hand, when you're mixing, you need the complete contrary, for your environment to not affect the sound at all. 
Having the versatility of changing to different EQs is one of those little details that can take your career to a whole different level.
Isolation Pads and On-Board Limiter
Although it's highly recommended that you place your monitors on their own stands so no surface can interfere with their acoustics, ROKIT G4 monitors have high-density isolation pads on the bottom of the cabinet. This means that, if stands are not an option in your setup, the built-in isolation pads can help separate the monitor from the surface they're resting on, minimising interference. ROKIT monitors also feature an on-board limiter that works with the power amplifier. It's unobtrusive and only kicks in when the system has reached its limit. It's a mechanism built in to protect the drivers and at the same time to ensure clear sound reproduction at very high volumes. 
ROKITS are available in 5″, 7″, 8″ (Bi-amp) and 10″ (Tri-amp).
"We've done country records, dance records… pop records, R&B, hip hop… we vary from all kinds of different types of music, and KRK to me has been the one monitor that's been true through it all," confides seasoned mix engineer Michael "Handz" Donaldson.
Meet the Next Dimension in Low-End Precision with KRK Subwoofers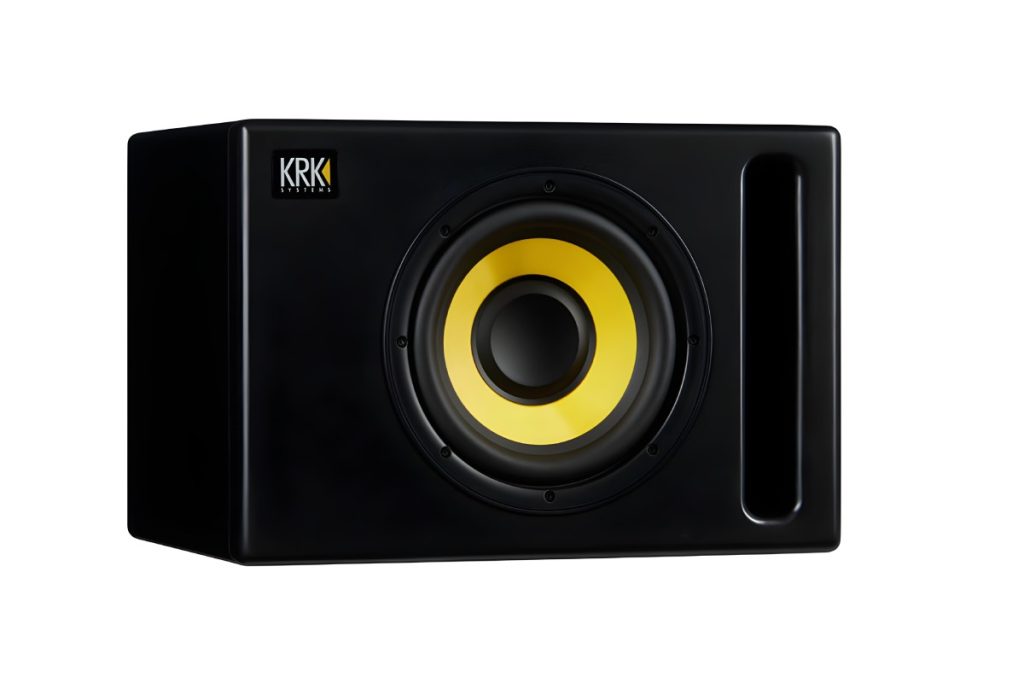 KRK's updated line of subwoofers is the perfect companion for your ROKITs, especially if you're working on bass-heavy genres like funk or dubstep. They deliver tight, accurate, defined bass for an optimised listening and mixing experience with extended low end.
KRK subwoofers are durable and robust, built with an inverted dust cap and removable all-steel grille option, along with a reinforced MDF enclosure. The woven aramid composite woofer features a strong, yet lightweight driver that blasts optimal sound quality without distortion. If your space is tight, the subwoofer is designed with a front-firing port that allows you to place it close to a wall without interference from the rear-firing port.
Plug your KRK subwoofers to almost any monitor, mixer, and audio interface in the market with a host of connectivity options that include XLR, 1/4″ TRS, and RCA inputs and outputs.
One of the most useful features in KRK's updated range of subwoofers is the bypass control function. Pair it with a KRK Foot Switch and compare your sound with and without the subwoofer's contribution without having to move out of your monitoring sweet spot to turn off the subwoofer.
KRK Studio Subwoofers are available in 8, 10, and 12-inch variations.
Experience the Durability and Comfort of KRK Headphones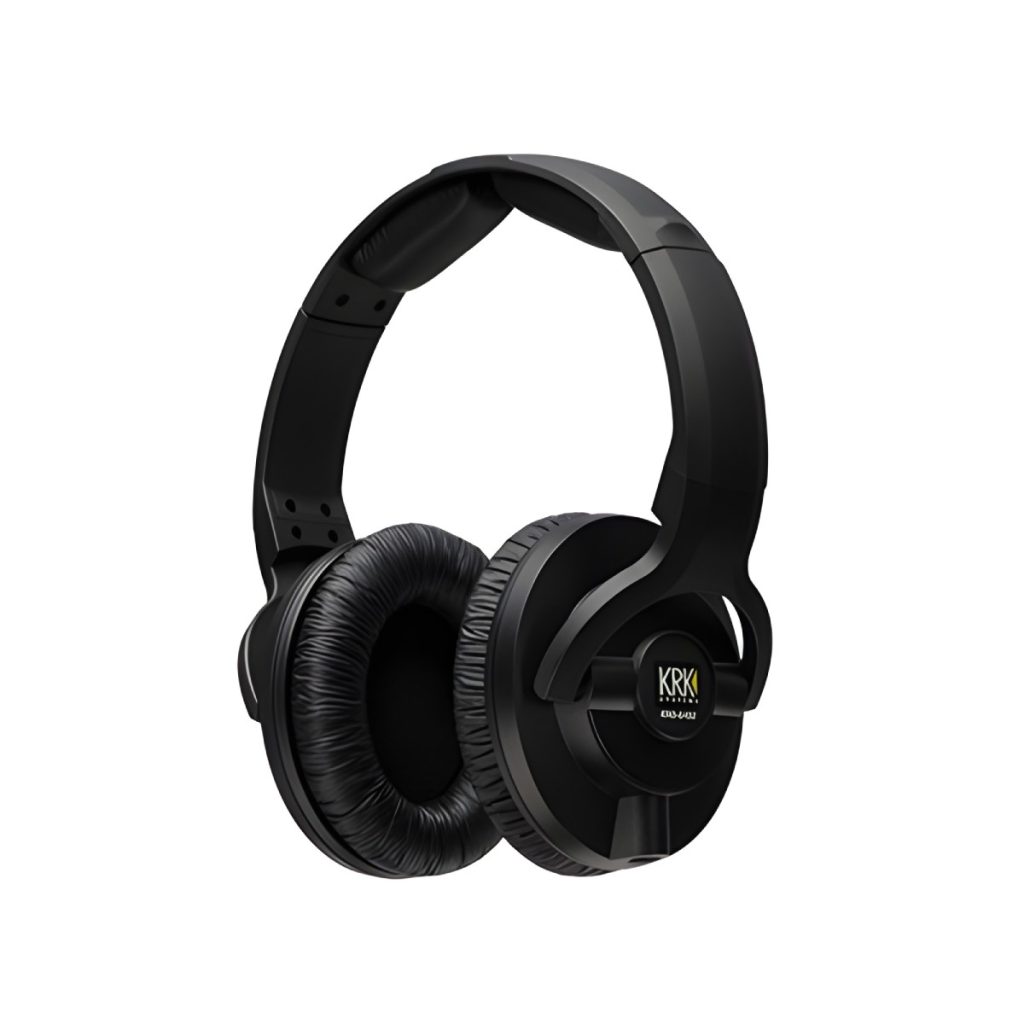 "I have become obsessed with using the KNS 6400s," says singer Daniel René, ex-member of the Latin boy band Menudo, "The sound is perfect for me, clear and honest every time. They're my favorite pair, even above other headphones I've purchased that cost hundreds of dollars more."
KNS headphones display a wide frequency response and dynamic range, superb stereo imaging, and consistent voicing, which makes them one of the most popular sets in the market. They blast clear and detailed sound with low distortion and are perfect for long-hour studio sessions because of their closed-back circumaural —around the ear— design, which offers maximum comfort and zero fatigue.
The KNS headphone line also counts with acoustic cellular insulating foam pads that provide up to 26dBA of isolation, significantly reducing any bleed into microphones when recording.
Built to last, they're made out of impact-resistant plastic materials, making them lightweight and durable. The ideal set for professional engineers and music creators who want a reliable, high-fidelity sound that doesn't cost an arm and a leg.
Tempted Already? Jump on to KRK's Mouthwatering 2022 Promotion
KRK has partnered with the renowned Australian independent distributor Jands to offer a FREE set of KRK-KNS-6402 headphones with the following purchases:
Any purchase of one subwoofer:
S10.4 Powered Studio Subwoofer
S12.4 Powered Studio Subwoofer
Any paired purchase of ROKIT monitors:
ROKIT 5 G4 5″ Near-Field Studio Monitor
ROKIT 7 G4 7″ Near-Field Studio Monitor
ROKIT 8 G4 8″ Near-Field Studio Monitor
ROKIT 10-3 G4 10″ Mid-Field Studio Monitor
The ROKIT Movement promotion starts on the 26th of September and ends on the 30th of November.