Fresh from announcing their second album last week, Melbourne's enigmatic punk-rockers Private Function have shared the first taste of their new record with the blistering "I Don't Wanna Make Out With You".
Receiving its live debut at Howler earlier this year, "I Don't Wanna Make Out With You" features all the hallmarks of a classic Private Function hit, including breakneck chord changes, pounding rhythms, and a memorable vocal line almost tailor-made to get stuck in your head for weeks to come.
"It doesn't matter what your sexual preference is, or whether you identify as a girl, guy or somewhere in between," Private Function explained of the track's message. "If you're a person and someone is hassling you, you can tell them to fuck off and not feel bad about it."
Accompanied by a humorous animated film clip created by acclaimed artist Jase Harper, the video follows a "super cool guy who just moved to Melbourne [and] wants to start [a] new band", while a hooded figure attempts to thwart his efforts, conjuring up images of the classic Road Runner and Wile E. Coyote cartoons.
Featuring tongue-in-cheek tactics that include luring the Victorian newcomer to his potential doom with a record of 21 Folk Punk Hits, and altering an advertisement for a Private Function gig at The Tote to be a "boring music industry panel discussion", the clip is littered with in-jokes and references to the group's work, serving as perfect fodder for the die-hard fan.
Private Function's new album, Whose Line Is It Anyway?, was announced on Friday and features some rather interesting artwork, with the classic Australian $5 note trick serving as the record's artwork. Pre-orders for the record are available now, with the limited "mystery bag" edition selling out within 15 minutes.
Private Function's "I Don't Wanna Make Out With You" is out now, while Whose Line Is It Anyway? will be released on August 28th.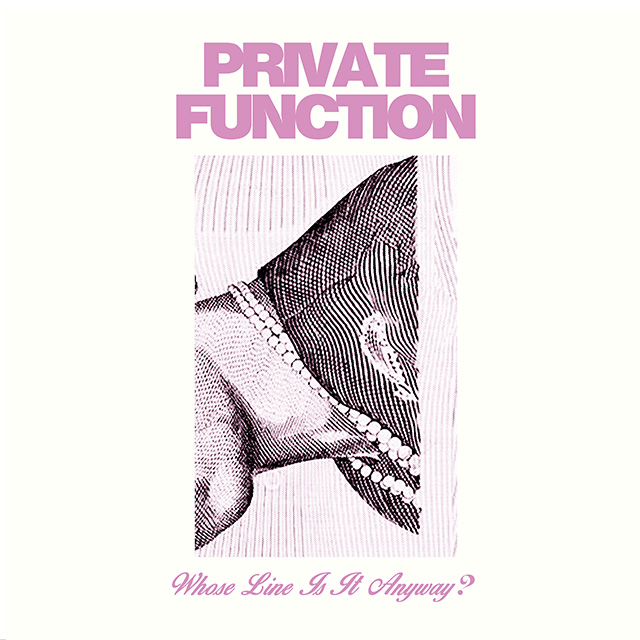 Private Function – Whose Line Is It Anyway? tracklist
1. "I Don't Wanna Make Out With You"
2. "Albury Wodonga"
3. "Speed Bumps"
4. "Give War A Chance"
5. "Sleep Paralysis"
6. "Evie Part 4"
7. "Are You Gonna Go My Way?"
8. "Stop Liking What I Don't Like"
9. "Static Electricity"
10. "Irresponsible Dog Owner (I'm An)"
11. "Black Eye Blues"
12. "Make Me"
13. "Grabbing My Butt"