Private Function are at it again, announcing their latest album today, and pairing it with one of the most memorable album covers of the year.
Ever since they first burst onto the scene a few years ago, Melbourne's Private Function quickly became one of the most enigmatic groups in the country. Whether it be their high energy performances, their attention-grabbing song titles ("I Wish Australia Had Its Guns Again", for example), or their ever-intriguing merchandise, they've managed to set themselves apart as the wildcards of the Australian music scene.
Just last year, Private Function released their debut album, which was named after (and even liberally paid tribute to the artwork of) Metallica's divisive 2003 record, St. Anger. Needless to say, while this St. Anger wasn't quite as polarising as its namesake, expectations were high for how the Victorian outfit could follow this up.
Now, they've announced their latest album, with its soon-to-be iconic artwork paying homage to one of Australia's most intriguing fiscal tricks.
Titled Whose Line Is It Anyway? (for context, the group recently changed their Facebook cover photo to that of a mirror with a line of cocaine atop it), the record's cover artwork features a cross-section of the Australian five-dollar note, cropped to portray its hidden easter egg of sorts.
For those unaware, it's long been a point of juvenile national pride that – once folded – the Queen's neckline on the Australian five-dollar note seems to mimic that of a whale performing fellatio. Now, this piece of information is set to live forever as part of Private Function's latest record.
The new record follows on from the group's recent signing to Damaged Music – led by fellow Victorian rockers Clowns.
"In our years we've never come across a more entertaining, infectious and magnetic band than Private Function," label director and Clowns frontman Stevie Williams said of their signing.
"Whether you're listening to their records or catching them live, you simply can't turn your attention off from this irreverent, hilarious, crackerjack punk-rock act. Further expanding our label facilities to Private Function's new LP is not just exciting but feels oh so right. PF STILL ON TOP!"
Pre-orders for the record went live this morning following its announcement, with their special limited "mystery bag" edition of the record selling out within 15 minutes.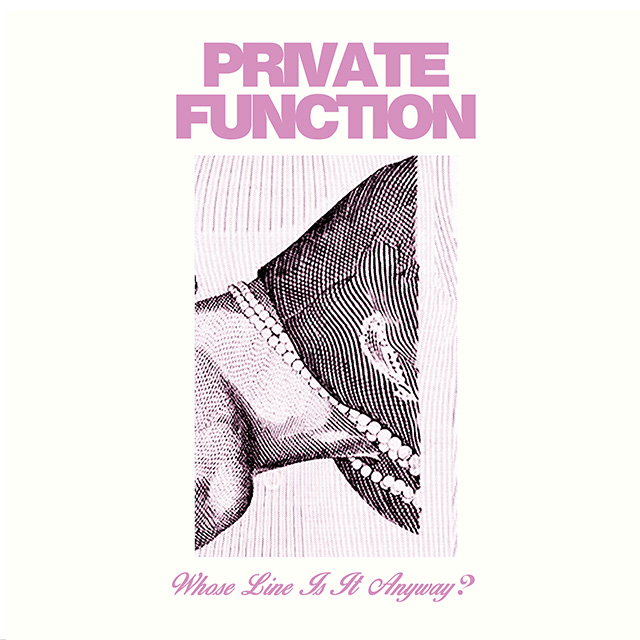 Private Function – Whose Line Is It Anyway? tracklist
1. "I Don't Wanna Make Out With You"
2. "Albury Wodonga"
3. "Speed Bumps"
4. "Give War A Chance"
5. "Sleep Paralysis"
6. "Evie Part 4"
7. "Are You Gonna Go My Way?"
8. "Stop Liking What I Don't Like"
9. "Static Electricity"
10. "Irresponsible Dog Owner (I'm An)"
11. "Black Eye Blues"
12. "Make Me"
13. "Grabbing My Butt"