This year's high-profile musical events are well underway, with Sydney's own Lime Cordiale helping to kick off the 2023 edition of the Jim Beam Welcome Sessions in February
This year's high-profile musical events are well underway, with Sydney's own Lime Cordiale helping to kick off the 2023 edition of the Jim Beam Welcome Sessions.
First announcing their current roster of events earlier this year, Jim Beam Welcome Sessions entered 2023 in a big way, expanding upon their initial activities in recent years. In 2022, undertakings expanded to Australian shores, with beloved artists like Flight Facilities, Client Liaison, and The Veronicas all performing before the homegrown crowds that have admired them since day one.
Needless to say, the memorable experiences it provides for the artists at the centre of the performances are matched by the fans in attendance, witnessing the magic happen thanks to the folks at Jim Beam. Deeply personal, for fans and artists, these majestic undertakings have provided and fostered a deep sense of community for all involved, ensuring that the magic of music continues to affect even when not performing in a traditional sense.
Closing out the opening weekend with a bang, the 2023 series of gigs officially kicked off, with Lime Cordiale taking over The Island in Sydney for a DJ set on the afternoon of Sunday, February 12th. Appearing against the stunning backdrop of the Opera House and Harbour Bridge, the pair turned the iconic venue into a celebration of their own world-beating music, paired with other beloved classics as they dished out a stunning DJ set before an adoring crowd. 
For those who knew the band, it was clear that this was always going to be a memorable affair. After all, the group said so themselves when Oli Leimbach spoke to Rolling Stone last month. "It's pretty special, and a DJ set is a good one to take all your friends to, so you can have a lot of fun," said Liembach. "It's special playing at home, for sure."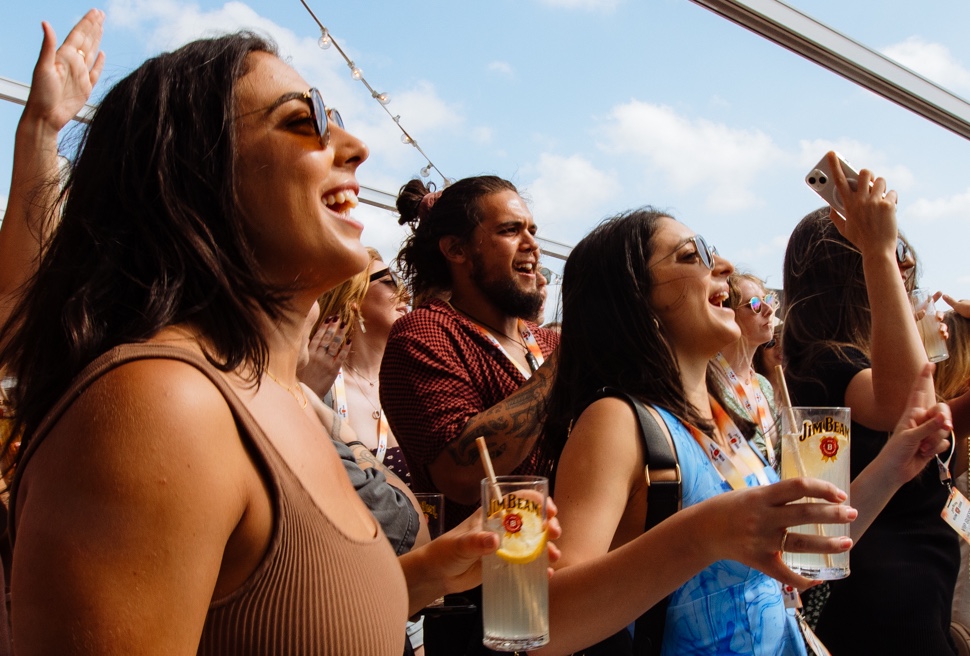 Indeed, it was this sort of homecoming atmosphere that the pair wanted to ensure the Sydney crowd experienced as they descended upon The Island for an afternoon of good vibes, good tunes, and refreshing Jim Beam beverages.
Impeccably dressed as always, Oli and Louis Liembach appeared before a crowd who felt born for the summer afternoon. The voracious punters were eating out of the palm of the Liembachs' collective hands, adoring every single track that was played. It was impossible for anyone in the crowd to stand still, or to wipe the smile off of their faces, with Lime Cordiale taking time to point out individual members of the audience during their set.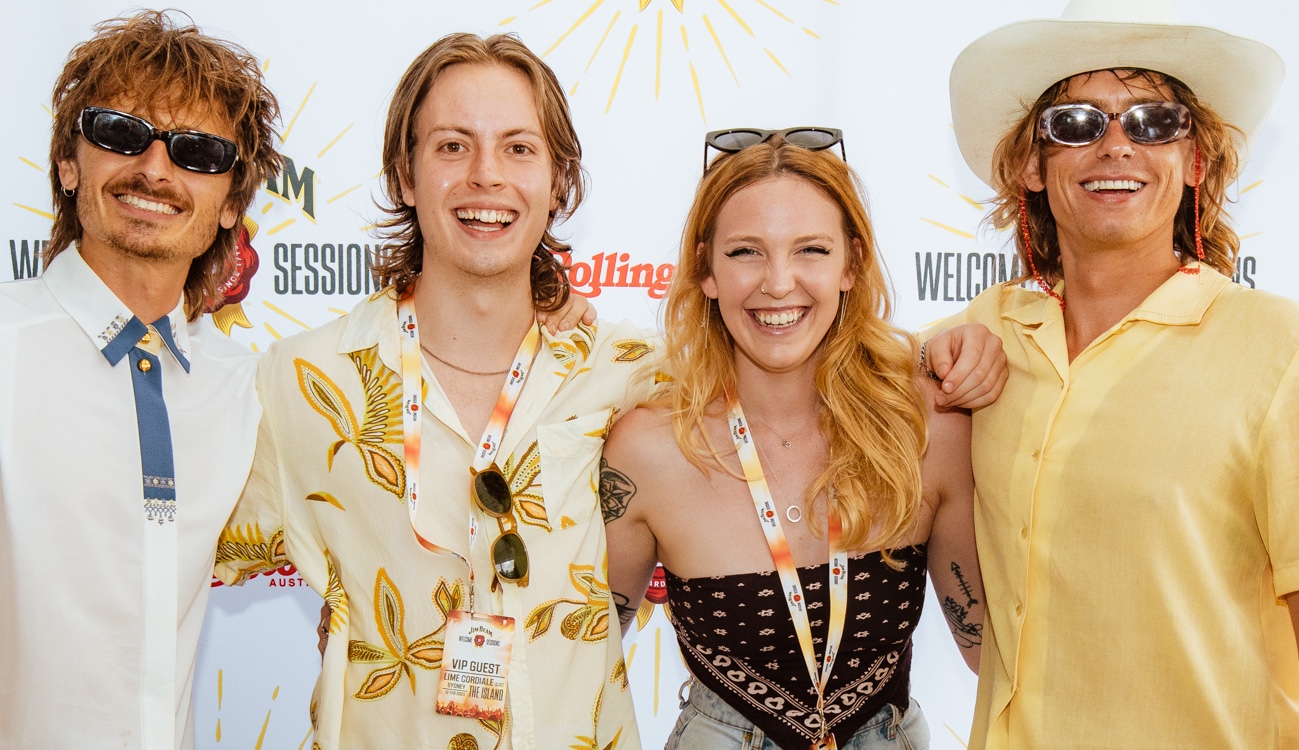 As the harbour breeze enveloped all in attendance, so too did the sonic majesty of Lime Cordiale wash over the crowd. Pairing classic hits with their own material, and even a few remixes here and there, the Liembach's ensured that everyone's musical tastes were taken care of. As Oli explained recently, they've been working hard to ensure their DJ sets are something for fans to remember forever.
"They're always pretty fun," Oli told Rolling Stone of the group's previous DJ sets. "Louis gets incredibly nervous for a DJ set, but then doesn't have any fear when we're playing live at a big festival, which is pretty hilarious."
As expected, Lime Cordiale's appearance for the 2023 edition of Jim Beam Welcome Sessions was all about vibe curation. It wasn't enough to simply turn up before a hometown crowd and expect the kudos to roll in (though it well may have). No, the pair worked hard to ensure the voracious crowd had their afternoon soundtracked by smooth tunes, the trademark brand of Lime Cordiale humour, and the sort of high-energy and musical expertise that only the familial duo can provide.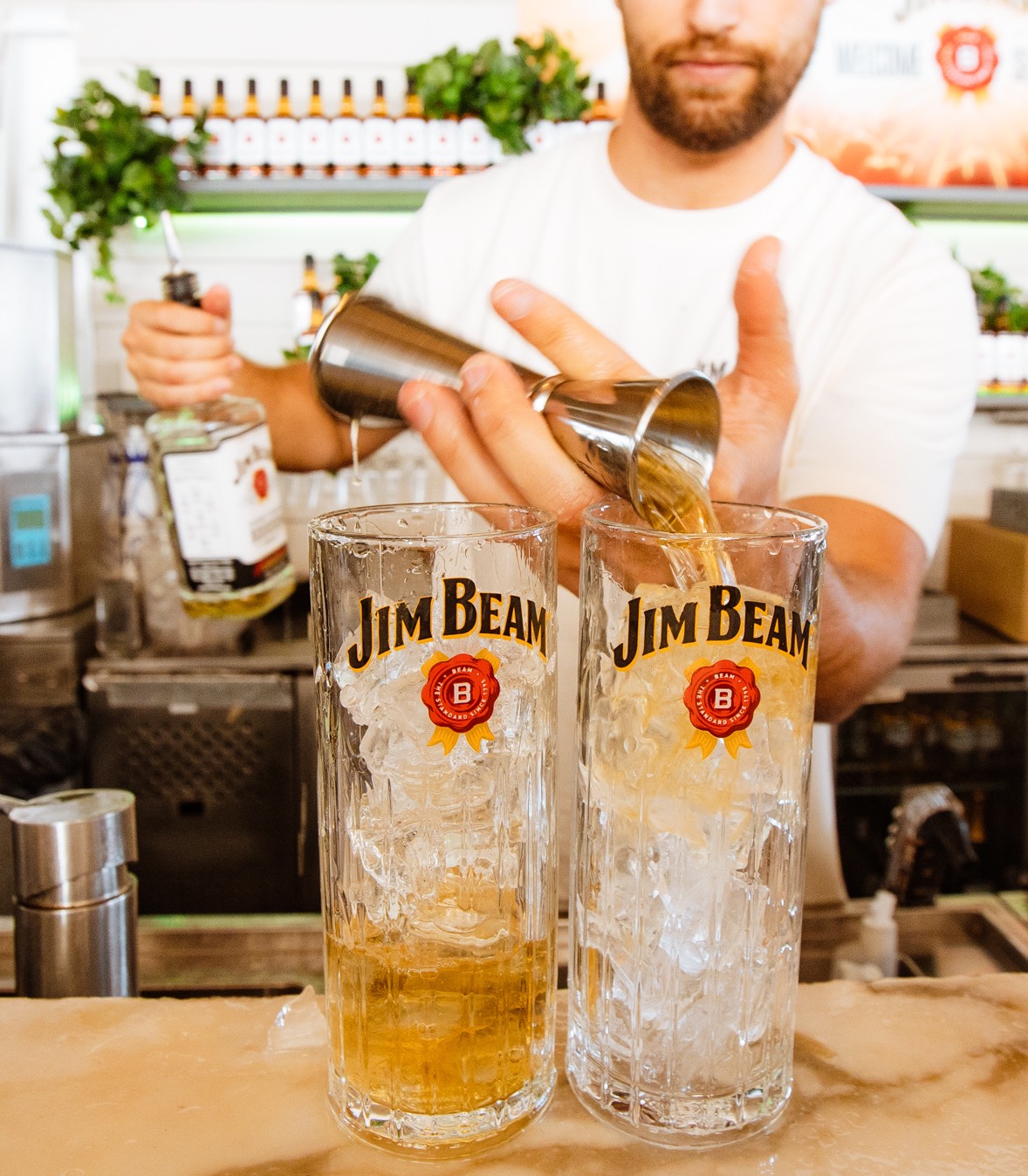 By the end of the day though, what had occurred wasn't just a musical showcase of the Liembachs' own influences and favourites; it was a communal experience that would remain unmatched. Getting up close and personal with fans, it provided the pair with a chance to speak to their devoted fanbase, while also giving the average punter a rare opportunity to rub shoulders with some of the country's biggest musical exports. 
In true form, the pair's planned meet-and-greet which closed out the affair was so popular that it went into overtime, with the brothers ensuring they met everyone they could in order to thank them for attending, and to help further the sense of community that has accompanied their rise to the top.
For further information about Jim Beam Welcome Sessions, head along to their official website, or stay tuned to Rolling Stone for more updates.