"I was not born into this world," sings Grian Chatten in his distinctive North Dublin accent, "To do another man's bidding."
These lines, which open "I Was Not Born" from Fontaines D.C.'s second album A Hero's Death, are as much a declamation of the Dublin band's founding ideology as a rejection of the dangling carrot of commercialism.

This article is created in partnership with Jim Beam to celebrate the launch of Welcome Sessions, a new live music series that sees groundbreaking artists return to the venue that first welcomed them. 
"I Was Not Born" is a four-on-the-floor proto-punk dispatch that owes a few pints to The Velvet Underground. From its opening moments, the song is marked with the single-minded intent of a high-speed rail journey—you get the impression the band's very integrity depends on its unswerving execution.
"I Was Not Born" was the first song written for A Hero's Death, which came out in July 2020. The crux of the track was conceived at soundcheck ahead of a show in Switzerland in 2019, just prior to the release of the band's breakout LP, Dogrel. 
"The reason for us writing 'I Was Not Born' was to give ourselves a sense of freedom and autonomy," says Chatten, the band's lead vocalist. "It was just about convincing ourselves that we were doing it for the right reasons." 
Chatten is speaking to me via Zoom from his London flat, with guitarist Carlos O'Connell joining us from a separate London lounge room. Drummer Tom Coll and guitarist Conor Curley also live in London these days, while bass player Conor Deegan resides in Paris.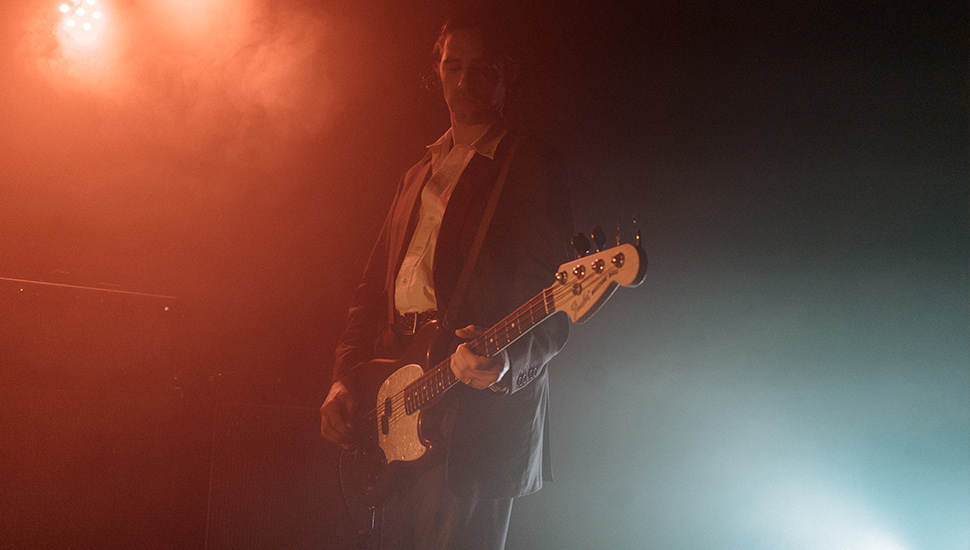 The band's four London-based members recently regrouped at The Lexington in North London to perform "I Was Not Born" for episode #2 of the Jim Beam Welcome Sessions. Located just a short walk from the King's Cross St Pancras train terminal in the borough of Islington, The Lexington is a neighbourhood bourbon and burger joint with a 200-capacity live room upstairs.
Along with its famed Monday night pop quiz, The Lexington has a reputation for booking acts on the cusp of major international success. Noel Gallagher saw psych-rockers Temples play there in 2013 and immediately fell in love with the group. The venue has also welcomed the likes of Sleaford Mods, Julia Jacklin and Arlo Parks in recent years, all of who moved on to bigger venues in the UK capital shortly thereafter. 
Fontaines D.C. first played at The Lexington in December 2018. They'd just released "Too Real", the first official teaser for Dogrel, and although their visits to London had become increasingly frequent over the preceding 18 months, the show at The Lexington was a significant step up the ladder.
"The other gigs were just put together by us and our manager, trying to break into London and become as big as we were in Dublin," says O'Connell.
Not long before headlining The Lexington, Fontaines D.C. signed a deal with the UK arm of Partisan Records, who put out "Too Real" and reissued the band's earlier singles, "Liberty Belle" and "Hurricane Laughter". "Too Real" was soon playlisted by the influential BBC Radio 6 Music, but it wasn't until getting on-stage at The Lexington that the band realised the extent of the London public's embrace.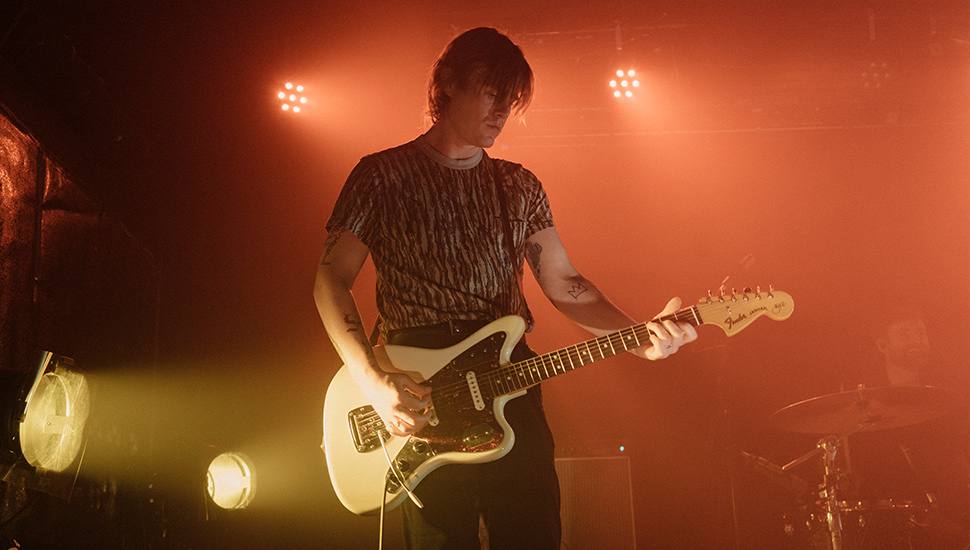 "That was the first gig outside of Dublin that I felt really at home," says Chatten. "There was this surreal lack of pressure. I've never felt so almost cocky in my life."
Although Fontaines D.C.'s triumphant debut at The Lexington took place just two-and-a-half years ago, that's aeons in the life of one of the globe's most talked about young rock bands. Dogrel was released in April 2020, after which the band embarked on a marathon run of European and North American touring. 
They'd likely still be on the road were it not for the COVID shutdown—as it stands, their most recent gig was in front of a sold-out crowd at the 5000-capacity Brixton Academy in February 2020. This is a band that thrives on the undiluted human-to-human interactions of the live environment. 
"We have an uncommonly chapterised life now, because we have things like this to talk about; venue sizes increasing," says Chatten. "We have many birthdays every year, almost."
The decision to perform "I Was Not Born" for the Jim Beam Welcome Sessions was entirely purposive. The track's affirmation of uncompromised intent—most plainly expressed via Chatten's lyrics—became the blueprint for A Hero's Death.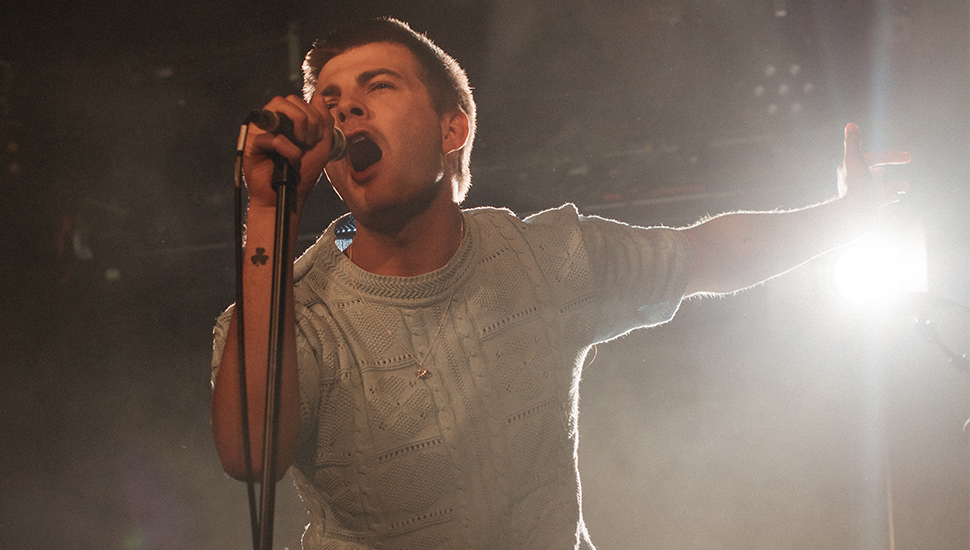 "A lot of the album was written to prove to ourselves that we were doing this because we couldn't stop, we just loved it so much," Chatten says. "You know, 'We have to keep writing because we have to keep expressing ourselves.'"
Chatten is responsible for a number of contemporary rock music's most quotable lyrics. "I'm about to make a lot of money," he warned listeners on "Too Real", while Fontaines' next release, "Big", revolved around the insistent hook, "My childhood was small, but I'm gonna be big." 
A closer look at the band's lyrics reveals Chatten to be more tender-hearted socialist than ego-driven materialist, but Fontaines D.C.'s rise from crummy student accommodation to Brit Award-nominated international repute has surely been aided by their frontperson's willingness to imagine a different, more magical future for the band. 
"We were picked up because someone saw potential in what we were doing—our manager and then our label," says O'Connell. "And that's the way I perceive the band, as potential."
The actualisation of this potential—which was fostered in various small, independent venues around Dublin, Cork, Galway and London—has now secured the band a transgenerational international fanbase and even landed them a Grammy nomination for Best Rock Album. 
Crucially, however, Fontaines D.C.'s phenomenal growth in stature has done nothing to dampen the band's authenticity, a point that's emphasised by the magnetic connectivity displayed in the Welcome Sessions performance of "I Was Not Born".
"Going back to that venue meant so much to me, because the memories are very, very clear," says Chatten. "I remember being so present and having no pressure. It represented nothing but fun."
Follow each Welcome Session as they drop by following the Jim Beam Youtube Channel.
Watch Fontaines D.C.'s performance for Jim Beam Welcome Sessions