For over three decades, Chris Cuffaro has been one of the foremost music photographers of his generation.
A special pop-up exhibition of some of his finest work is coming to Aotearoa next month, featuring a wide variety of artists spanning all genres of music. It will be the first time the Los Angeles-based photographer has come to New Zealand, and comes after he hosted his Greatest Hits exhibition in Sydney late last year.
Just look at some of the iconic names that will feature in Chris Cuffaro: Greatest Hits: photographs of Nirvana, Iggy Pop, Eddie Van Halen, Fiona Apple, George Michael, Morrissey, and Australia's own Daniel Johns and Michael Hutchence will be included in the exhibition.
You can see the American photographer's work in Chris Cuffaro: Greatest Hits at Auckland's Indigo Studios from Wednesday, February 8th until Sunday, February 12th (see full details below). Admission to the exhibition and all events is completely free.
The five days will see an extended program containing music, artist talks, workshops and more accompanying Cuffaro's photography.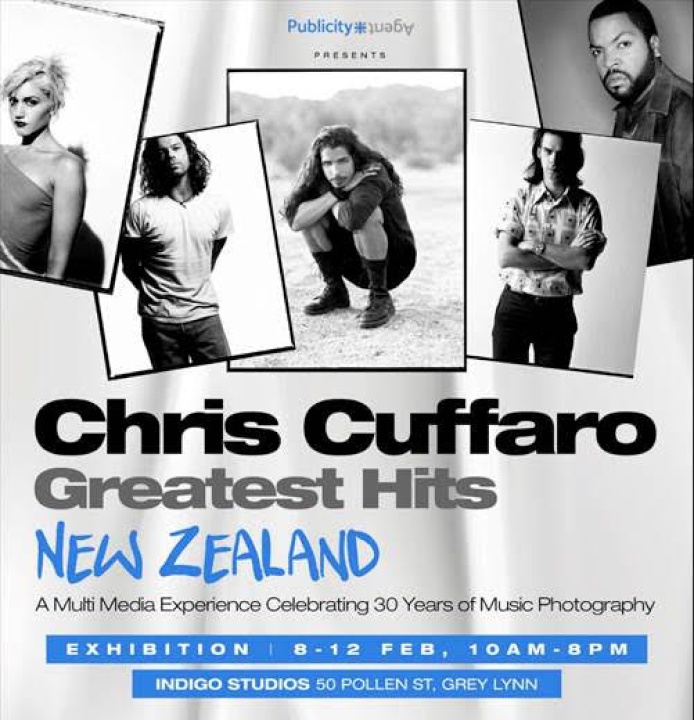 Cuffaro can't wait to visit New Zealand. "I'm so excited to show my exhibition in New Zealand for the first time," he says. "Also, to have the opportunity to share my experience with Kiwi's and to photograph local musical talent and give back to musicians in need."
Still not slowing down after over 30 years at the top of his field, you can keep up with Cuffaro's current life and work via his Instagram and Facebook.
For more information about Cuffaro's Greatest Hits, head here.
Chris Cuffaro: Greatest Hits
Wednesday, February 8th-Sunday, February 12th (10am-8pm)
Indigo Studios, 50 Pollen Street, Grey Lynn, Auckland
Wednesday, 6pm – official opening with live music (RSVP via website)
Thursday, 6:30pm – artist talk with Chris Cuffaro (hosted by FromThePit)
Friday, 5pm – live music (TBA)
Saturday, 11am – photographer workshop with Chris Cuffaro (hosted by FromThePit)
Saturday, 4pm – DJ Murray Cammick