What is Americana?
We sit down with four of the artists on the line-up for the forthcoming 'Nashville Skyline' Americana festival, to find what the – often confusingly defined – genre means to them.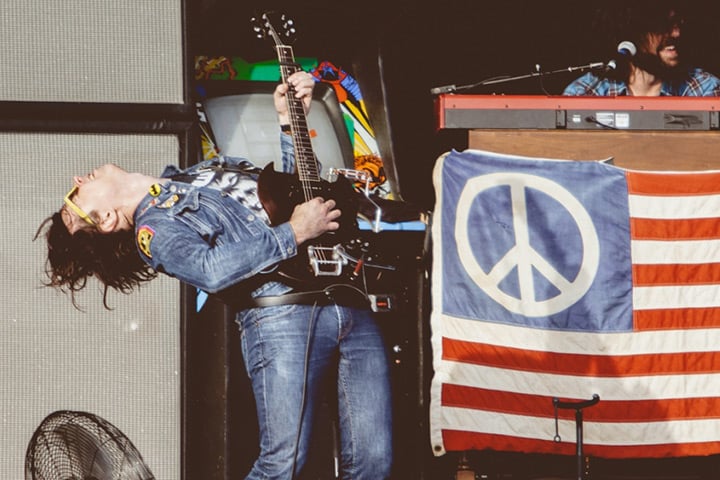 With country artists continuing to skew their sound away from the traditional path, the lines between alt-country and indie-rock more blurred than ever and blues rock sliding further down the spectrum towards heartland rock positivity, the often under-appreciated — and confusingly defined — genre of 'Americana' is currently enjoying somewhat of a popularity revival.
Locally, this recent resurgence in attention as led to a new festival, Dashville Skyline, solely dedicated to the vast stylistic influences the genre embodies. We sat down with the few artists from the Dashville bill to discuss what the label 'Americana' specifically means to them.
Lachlan Bryan and The Wildes
Ryan Adams "Oh My Sweet Carolina"
If we're being honest, Ryan got a lot of our generation started on this music. This track is just about best country song written in the last twenty years and it illustrates how sometimes Americana just means real country. The presence of Emmy Lou Harris on backing vocals doesn't hurt either.
The Band "The Night They Drove Old Dixie Down"
For guys like us, The Band really are the band. Anyone playing our kind of music owes a huge debt to Levon Helm, Robbie Robertson and co. Their legacy is one of soulfulness and authenticity — hallmarks of Americana and qualities to which any self respecting modern twangy outfit should always aspire.
Bob Dylan "Tangled Up in Blue"
As a genre, Americana is quite a lot like Bob Dylan – never just folk, never just country, never just blues, never just soul, never just rock n roll. It's somehow all of these things at once. And almost always great. Just like Bob.
Bex Chilcott (Ruby Boots)
For me Americana music encompasses the emphasis of incredibly touching song writing, it's the kind of music that you know it when you hear it, it hits you in your core, reaches great depths and swims right down to the bottom pits of your soul. There is nothing fickle about the genre and I think that's why there is a great gravitation toward it, it's so real, it's hard to describe in few words, it's more of a feeling than anything. A timeless treasure amongst so much of today's music that wears an expiration date like a badge!
Here are five of my favourite songs (although it pains me to pick only five) from artists that have paved the way for today's songwriters shaping the genre to what it is today.
Emmylou Harris "Red Dirt Girl"
Ryan Adams "Let It Ride"
Neil Young "Unknown Legend"
Gillian Welch and Dave Rawlings "Miss Ohio"
Lucinda Williams "Still I Long For Your Kiss"
Shane Reilly & Matt Walker (Lost Ragas)
Ry Cooder "How Can A Poor Man Stand Such Times And Live?"
This track is from his debut album in 1970 and was written by Blind Alfred Reed. I could have picked any track, but this will always ring true. Ry has the ability to take what appears to be history past, wrap it up in its family members such as aunt blues, uncle country, brother jazz and make it say something now. He's the grand alchemist of Americana, a true original and a reminder that the same old paint can inspire a modern masterpiece.
Emmylou Harris "Boulder To Birmingham"
Once again this is from her debut album Pieces Of The Sky from 1975. Emmylou co wrote this gorgeous ballad with Bill Danoff. It poetically speaks of her love for Gram Parsons , inventor and travelling tent salesman for Cosmic American Music. If you play Americana then you owe Gram a drink at the tavern in the sky, he made it hip, relevant and damn good looking. Cheers GP.
Kris Kristofferson "Me And Bobby McGee"
Too obvious? Well, who doesn't know this song? This song has travelled further than Kris himself, and for good reason.
His rendition from his debut album starts with him saying "If it sounds country man, that's what it is, it's a country song". Yet it travelled through pop and rock via Janis and many others caught in it's simple majesty. Most people know the story of the song being about Bobby McKee (yes, McKee not McGee) who was Boudleaux Bryant's secretary (he's a legend of Americana song writing and a big influence on me personally), but the less known fact is that he was thinking of the Fellini film La Strada. This makes it a great example of how Americana can and should be influenced by and steal from whatever cookie jar is left open on the table, it also validates why a bunch of Australian vagabonds can steal and borrow from what appears to be a very distinct colloquial styling's and tell their own stories.
We're all just trying to beat the devil here, so here's the last word from Kris. "I ain't saying I beat the devil, but I drank his beer for nothin', then I stole his song." Kris Kristofferson.
The Lonesome Heroes (USA)
Flying Burrito Brothers "Wheels"
Gram Parson understood the notion of Americana before there was even a name for it. The Burrito Brothers combine old-time Bluegrass Harmony with the screeching fuzz tones of Sneaky Pete's pedal steel and honkey tonk piano to make country music that the hippies of the 60's could dig. Finding Gram Parsons in my 20's was like finding the missing link between Hank Williams and Wilco.
Bob Dylan "Tonight I'll Be Staying Here with You"
Nashville Skyline was my first exposure to country music. I had never heard a Dobro, pedal steel, or Johnny Cash before this record. I could separate my musical life to BNS (before Nashville Skyline) and after. Fifteen years after discovering this record, I still love it. I think good Americana and roots music has a timeless quality to it and never gets old.
Magnetic Fields "Two Characters In Search of a Country Song"
I grew up in NYC and had little exposure to country or folk music as a kid, but a plethora of great 90's indie rock. I remember getting a copy of 69 Love Songs in High School and falling in love with Stephen Merritt's witty lyricism. Later in College I found Charm of the Highway Strip, an album of highway songs with country and folk instruments mixed together with distorted dance like drums. It sounds nothing like any folk or country music I have ever heard, but still uses classic song writing motifs of American Pop music. He is one of the few writers that can name drop historical figures like Jesse James, William Tell, Calamity Jane, and Wild Bill in 3 minute pop song, and make it sound so cool. I like to think of our music as a combination of older roots sounds with modern sounds, not an attempt at a retro throwback sound. Stephen Merritt is the master of this.