Tom Petty's 50 Greatest Songs
His hits have defined rock radio since the Seventies, and he never stopped writing great music. Here's the definitive guide to his best songs.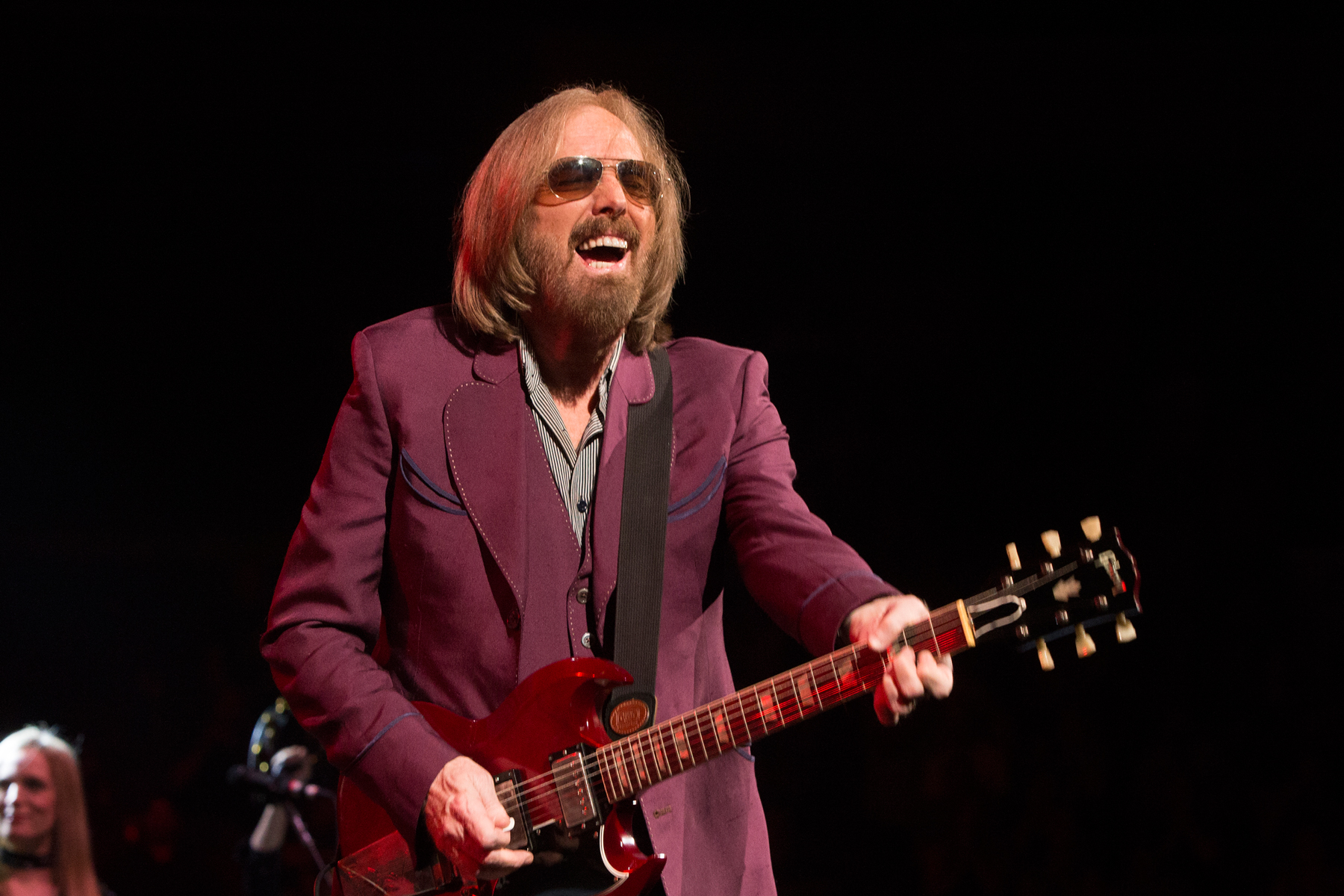 "It's a strange to say out loud, but I always felt destined to do this," Tom Petty told Rolling Stone's David Fricke in 2009. "From a very young age I felt this was going to happen to me." From his early days as a hard-jangling realist amidst the fluff-addled Seventies, Tom Petty was always one of rock's most enduring Everyman heroes, as well as one of the preeminent songwriters of his generation. A Tom Petty and the Heartbreakers show could reach the two-hour mark and not make it through all of his hits and memorable album cuts, or explore every nook of his career. And he was writing classic songs right up to the end. Here's our definitive rundown of his 50 greatest.
By Christopher R. Weingarten, Jon Dolan,Corinne Cummings, Nick Murray, Kory Grow, Andy Greene, Will Hermes and Rob Sheffield.
50. "It'll All Work Out"
Let Me Up (I've Had Enough), 1987
Inspired by Petty's brief separation from his wife, Jane, during the making of Let Me Up (I've Had Enough), "It'll All Work Out" is a sweetly effectual breakup song. "That's one of my favorites ever," he said. "It's a durable song. I don't think it was about [the separation] necessarily, but that inspired it." Thanks to Mike Campbell's haunting folk melody, played on the mandolin, and Howie Epstein's rich harmony on the chorus, the song is a reflective gem.
49. "I Should Have Known It"
Mojo, 2010
"We'd record in one or two takes," Petty said of 2010's Mojo. "We couldn't have made this album in the Eighties." Mojo, which was recorded at the band's Los Angeles rehearsal space, saw the Heartbreakers get back to the raw, impassioned vigor of their early work, minus any extraneous studio sweetening; "I Should Have Known It" has the garage-blues drive of classic Yardbirds or Led Zeppelin, with a grinding riff and a wailing vocal from Petty. It was music, as Petty put it, not for the radio or big arenas, but "for the band to play."
48. "The Best of Everything"
Southern Accents, 1985
Southern Accents closes with a powerful ballad that Petty calls "one of the best songs I ever wrote." He'd intended "The Best of Everything" for 1981's Hard Promises, but held it and eventually gave it to Robbie Robertson, who added horns and enlisted his fellow Band alums Garth Hudson on keyboard and Richard Manuel on backing vocals. The Heartbreakers rarely play it live, but they performed it in concert in 2012, dedicating the song to Band drummer Levon Helm, who had died the morning of the show.
47. "A Higher Place"
Wildflowers, 1994
"It's a nice hopeful lyric," says Mike Campbell of the brightest-sounding song on Wildflowers. Petty sang all the harmonies, and Campbell garlanded the melody with swirling psychedelic guitar that recalls the Byrds and the Beatles. Petty's lyric has a mix of realism and optimism, like a more-experienced man's version of a youthful Sixties homily. "It took us two years to make [Wildflowers]," producer Rick Rubin said. "But it sounds like it was made on a weekend – the right weekend."
46. "Crystal River"
Mudcrutch, 2008
This nine-minute-plus, organ-wrapped, Grateful Dead–style guitar jam is a taste of what might have been had Tom Petty and Mike Campbell stayed with Mudcrutch. A highlight of the band's 2008 reunion album, it was named for a Florida nature preserve and features scintillating guitar from Tom Leadon. "We were learning to interact with each other again," explains Campbell. "That take is literally the first time we ever played that song, on the first day."
45. "Waiting for Tonight"
Playback, 1995
When Tom Petty recorded "Waiting for Tonight" with all of the Heartbreakers during a break in the sessions for Full Moon Fever, the tune had all the makings of a breakout single, from yearning melodies and lyrics about lost love to sublime backup vocals by the Bangles, who were actually in the midst of breaking up at the time. But amazingly, Petty held on to the track for years, finally including it on his 1995 box set, Playback, where it was a standout. Mike Campbell vividly recalls the session. "I love the 12-string part on it. It's very Byrds-y, and I play bass on this track," he says. "We had this track, and we thought, 'We've got to get some singers in here.' It was funny having the Bangles come in. Watching them do the backgrounds was an experience. They were so great, and in between takes, they just chatter. They all four just talk at once. You can't even keep up with the conversation and then one, two, three, four, and boom! They're right on the singing."
44. "Peace in L.A."
Non-album single, 1992
Days after the 1992 L.A. riots, Petty rushed into the studio with Mike Campbell to vent his frustrations and plead for calm. "I just had the feeling that the word 'peace' needs to be on the radio," said Petty. "I quickly got on the phone, arranged the session, and then went into my little room and wrote the song." It was on the radio just one day after they wrapped recording, with all profits from its release going to charities across L.A. "To this day I still get letters of thanks from missions in East L.A. because money keeps coming in," he said. "I felt like we did some good."
43. "Yer So Bad"
Full Moon Fever, 1989
The journey to making Full Moon Fever began by chance, when Petty and Jeff Lynne started talking while stopped next to each other at a red light on Thanksgiving 1987. Their first collaboration came soon after, with Lynne helping Petty figure out the structure of "Yer So Bad" – a song he had been struggling with. Recorded in Mike Campbell's tiny-bedroom recording studio and garage, "Yer So Bad" is Petty at his most caustically hilarious: "My sister got lucky, married a yuppie/Took him for all he was worth," he sings. "Black humor," Petty said proudly.
42. "Square One"
Highway Companion, 2006
First heard on the soundtrack to Cameron Crowe's 2005 film Elizabethtown, "Square One" received a proper release a year later on Petty's criminally underrated solo LP Highway Companion. Co-produced by Jeff Lynne and Mike Campbell, the album exudes contentment and hard-won satisfaction. "It took a world of trouble, took a world of tears," Petty sings gently. "It took a long time to get back here." "I am pretty happy these days," the 55-year-old singer said at the time. "I've gotten through the dark tunnel and come out the other side."
41. "Rebels"
Southern Accents, 1985
"I wasn't trying to cover the entire South and its story," Petty said of Southern Accents. "I was trying to use it as a jumping-off place." The narrator on the album's towering opening track traces his own wild ways back to the South's deep-seated rebel spirit. Petty wrote the song on a visit home to Florida and spent a year on it in the studio. The Southern Accents sessions were so difficult that at one point he punched a wall in frustration, injuring his hand. "I nearly blew it there," Petty said later. "I almost didn't play anymore."
40. "Last Night"
Traveling Wilburys Vol. 1, 1988
The reggae-tinged "Last Night" is one of two songs on Vol. 1 where the youngest Traveling Wilbury sings lead vocals. The buoyant tune, which tells the story of a guy who has a one-night stand with a woman who robs him at knifepoint, ended up reaching the Top Five on the rock charts. But it wasn't Petty's first foray into reggae. He'd been a fan of the music since the Seventies, and he "tried to put some kind of reggae thing" into the second Mudcrutch single, "Depot Street," from 1975. "I don't think we were really successful," he said later.
39. "Casa Dega"
B side, 1979
This highlight of the six-CD Playback box set, with a groove that vaguely echoes the Zombies' "Time of the Season," was originally the B side of "Don't Do Me Like That." The song originated with a demo from Mike Campbell. Petty wrote the words on a plane after reading a New York Times article about a strange town in his home state. "There are all kinds of psychics and fortune tellers," Petty said. "It's this really small place. And I wrote that by putting myself in the mind of someone who went to Cassadaga. Though I spelled it wrong. … Poetic license, I guess."
38. "Love Is a Long Road"
Full Moon Fever, 1989
This churning rocker was co-written by Mike Campbell, who was inspired by a motorcycle he owned. "I was really into that frame of mind," the guitarist said. "This feels like a motorcycle shifting gears." Petty and Campbell recorded a demo that Petty described as "chaotic, with a lot of drum fills." Jeff Lynne polished out the kinks with the help of a hard-hitting performance by L.A. session vet Jim Keltner, and the finished track rivalled "Runnin' Down a Dream" in its sleek energy. "All of us had a hand in the arrangement," Petty said.
37. "Shadow of a Doubt (A Complex Kid)"
Damn the Torpedoes, 1979
With a heraldic intro recalling the Who and an opening line that evokes the Drifters ("There goes my baby …"), this paean to a moody, mysterious girlfriend in open-A tuning came together quickly in the studio. Petty's punk-Dylan lyrics were amusing – "And when she's dreaming/Sometimes she sings in French/But in the morning/She don't remember it" – but the emotion of "Shadow of a Doubt" rings true. As Petty sums it up, "It's a good rock & roll song."
36. "Tweeter and the Monkey Man"
Traveling Wilburys Vol. 1, 1988
When the Traveling Wilburys released a song about two outlaws in New Jersey, crammed with references to Bruce Springsteen songs, some felt the supergroup was poking fun at the singer. "We weren't trying to mock anybody," said Petty. "Dylan said he wanted to set a song in New Jersey and use references to Springsteen songs. He meant it as praise." Though one of Petty's funniest songs, he didn't play it live until his 2013 tour, which included his five-night stand at New York's Beacon Theatre.
35. "Dreamville"
The Last DJ, 2002
Petty's 2002 album, The Last DJ, was dismissed by some as a veteran rocker's aimless primal scream against a changing music industry. (Many stations refused to play its anti-corporate title track, which Petty took as a compliment.) The album did have some fine moments, especially the gorgeous "Dreamville," a nostalgic look back at his youth, when he bought guitar strings at Lillian's Music Store and listened to early rock on the radio. "It's one of the best songs I ever wrote," said Petty. "That was about innocence, before the corruptions hit me."
34. "Two Gunslingers"
Into the Great Wide Open, 1991
"A real good anti-war song," Petty said of "Two Gunslingers." Released months after the end of the first Gulf War, this Great Wide Open deep cut is a subtle demand for peace. Amid jangling acoustic guitars and cascading piano, Petty sings about two cowboys who are "takin' control" of their lives and decide not to shoot it out, disappointing the assembled crowd that's gathered to watch them battle. Petty said the germ of the song came from an old movie poster for the "terrible" 1967 Western Hostile Guns that a friend had given him as a joke.
33. "Hometown Blues"
Tom Petty and the Heartbreakers, 1976
Written during Petty's days in Mudcrutch, "Hometown Blues" was recorded with a unique lineup that included Florida musician Charlie Souza on sax, ex-Mudcrutch drummer Randall Marsh and Memphis soul legend Donald "Duck" Dunn on bass. "I could never get the right swing on it from Stan [Lynch] and Ron [Blair]," Petty said. "So I took that track and got Duck Dunn to play bass on it. He became a lifelong friend." Petty engineered the track and his wife, Jane, helped out by lending hand claps.
32. "Lonesome Sundown"
Echo, 1999
The overwhelming bleakness of Petty's most downcast album briefly lifts, at least for a verse or two, on "Lonesome Sundown," and something resembling hope shines in. "Redemption comes to those who wait," Petty sings over a slow, swaying country-tinged backing. "Forgiveness is the key/And I wish you love." It's a song about accepting loss and moving on, while also admitting that pain never truly goes away. "The words changed several times in that song," said Petty. "I worked on that one a lot more than the others."
31. "American Dream Plan B"
Hypnotic Eye, 2014
"I knew I wanted to do a rock & roll record," Petty told Rolling Stone of 2014's Hypnotic Eye. "We hadn't made a straight hard-rockin' record, from beginning to end, in a long time." The album recalled the tough, hungry intensity of the Heartbreakers' debut and You're Gonna Get It!, especially its gut-punch opening track, "American Dream Plan B." The growling guitar riff is one of their hardest ever, and the lyric mixes resigned wit and up-against-the-wall defiance: "I'm half lit/I can't dance for shit/But I see what I want/I go after it," Petty sings. Amazingly, when Petty first played the song for his bandmates, they weren't impressed. "Silence," he said, recalling their initial response. "I said, 'Listen, I think we have something here, but we're going to have to get excited about it.'" Eventually, he brought them around, and it became one of their best late-period anthems, delivered with the fire of late-Seventies Heartbreakers and the feel and nuance of men who've been playing together for decades. "It's that band 30 years later," Petty said.
30. "The Wild One, Forever"
Tom Petty and the Heartbreakers, 1976
The soulful centrepiece on the Heartbreakers' debut is one of Petty's finest early ballads. "I think with that chorus, we were trying to make it sound like the Rascals," Petty said. It tells the story of a one-night stand that never got a chance to grow into something more, a wistful sentiment amplified by subtle, majestic playing by Mike Campbell and Benmont Tench and, low in the mix, a cello part by Ron Blair. "He doesn't play the cello," Petty said of Blair. "He just fashioned out enough that he could play the chorus."
29. "Echo"
Echo, 1999
The title track from the emotionally intense Echo is a stream-of-conscious ballad about Petty's divorce from his first wife, Jane, that goes on for nearly seven minutes. The lyrics are so personal that listening to the song almost feels invasive. "I woke up right here in a pool of sweat," Petty sings. "And with a box of pills and you/Yeah, and I'm gonna keep my head/I'm gonna keep my cool. Oh, I'm so in love with you." Petty said later, "There wasn't much editing on that album at all, or any rethinking too much. I just let it come out the way it was."
28. "Straight Into Darkness"
Long After Dark, 1982
"That's quite a nice song," Petty said. "I wrote it quite late at night, I think. I thought it was a nice optimistic verse at the end: 'I don't believe the good times are over.' That song was one of the few things I was excited about on [Long After Dark]." The late-night feel comes through in the tune's tense, moody intro, which opens up into the searing guitar part and lyrics about keeping your faith alive in dark times. "I remember Bruce Springsteen saying something about the song at a time when I felt like that album was kind of lost on people," Petty said. "That meant a lot."
27. "Insider"
Hard Promises, 1981
When Petty wrote "Insider," he wasn't sure about it – but the song made producer Jimmy Iovine jump up and down, yelling, "We're through! That's the best fucking song you ever wrote!" Petty wrote "Insider" for Stevie Nicks, but she opted for "Stop Draggin' My Heart Around" instead, giving the song back to Petty and singing harmony on his Hard Promises version. The line "I've had to live with some hard promises" gave Petty his album title. "The tunes, they're all just hard promises," he said. "A promise you have to deal with."
26. "Scare Easy"
Mudcrutch, 2008
In the early Seventies, Petty, Mike Campbell and Benmont Tench played in Mudcrutch, a rootsy band that featured hot-handed guitarist Tom Leadon (brother of Eagle Bernie Leadon). They split up in 1975 ("We didn't have any idea how to record," Campbell says), but reconvened in 2008 to make an excellent album. With a sizzling Telecaster solo from Campbell, "Scare Easy" is less like the Byrds than like their brethren the Flying Burrito Brothers, and evidence that Mudcrutch was one of the greatest country-rock bands that nearly was.
25. "Jammin' Me"
Let Me Up (I've Had Enough), 1987
Sounding like Heartland New Wave, "Jammin' Me" was one of two songs written with Bob Dylan in one productive day while on tour. "The verse about Eddie Murphy, that was all Bob," said Petty. "Which embarrassed me a little bit because I remember seeing Eddie Murphy on TV really pissed off about it. I had nothing against Eddie Murphy or Vanessa Redgrave. What [Dylan] was talking about was media overload and being slammed with so many things at once. And times were changing; there weren't four TV channels anymore."
24. "You Wreck Me"
Wildflowers, 1994
Petty used an array of musicians on Wildflowers. Still, the Heartbreakers' pulse beats strong, especially on "You Wreck Me," which was co-written by Mike Campbell. "Rick [Rubin] suggested this song that Mike had played him," Petty said at the time. "And I thought, 'Man, this sounds just like the Heartbreakers about 1980' – that style [that tells you] exactly who that is. So I got into it, to do a nostalgic song – 'All right, we'll go as far back as high school.'" Sentimentality aside, its ragged riffs fit with the alt-rock Nineties too.
23. "You Got Lucky"
Long After Dark, 1982
The Heartbreakers' most Eighties-sounding rocker is defined by its synthesizer stabs, which were written over a drum-machine loop. But on the chorus, their familiar, tambourine-spangled guitars shine through. A perfect hybrid, it cracked the pop Top 20, and its futuristic video, complete with a Logan's Run–style hovercraft, was an MTV staple. "Benmont [Tench] was really angry about the synthesizer," Petty told an interviewer with a laugh. "He begrudgingly played it. And I'm glad he did, because it was a hit record."
22. "Learning to Fly"
Into the Great Wide Open, 1991
"'Learning to Fly' was a Jeff Lynne production," says Mike Campbell. "Tons of acoustic guitars on it, layered really thick, strumming away. My favorite part was the little drum break at the end – dica-dica-dic boom-boom. I got off on that a lot. That was fun." But he adds that what made the song work was the simplicity of Petty's writing: "That's the miracle of the song. There's really not much to it. It's really simple music, simple lyrics." Petty claims to have gotten the words almost verbatim from watching a television interview with a pilot. "He said there's not much to learning to fly; the difficult thing is coming down, and I thought, 'Yeah, that's true,'" Petty recalled. The song, which also contains allusions to the just-ended Gulf War ("The sea may burn"), was pulled together in an evening with Lynne, who came up with chords to go under Petty's melody. It became one of his most inspirational tunes. "I wanted that song to be a kind of redemptive song," Petty said. "Only in the vaguest way."
21. "Change of Heart"
Long After Dark, 1982
"Long After Dark," the Heartbreakers' fifth album and the last helmed by producer Jimmy Iovine, marked the end of an era for the band: "The production with the big drums and stuff," said Mike Campbell. "After that, we kind of went in a different direction." "Change of Heart" certainly fits that mold with its huge riffs and arena-filling drum sound. Petty was trying to write something in the style of ELO songs like "Do Ya." "I loved the way Jeff Lynne used chords," Petty said. "That's how it started, that big crunchy guitar. That's how it ended too."
20. "You Don't Know How It Feels"
Wildflowers, 1994
"I just hoped we could have songs as good as Full Moon Fever," said Wildflowers producer Rick Rubin, "but with a more rock & roll, more personal approach." This rugged standout is a rare example of Petty writing and arranging a whole song; he started with a drum machine and laid on all the instruments. "Rick Rubin really liked the spare character of the demo," Petty said. Radio insisted they edit out the line "let's roll another joint," but it's sure a crowd-pleaser live.
19. "Even the Losers"
Damn the Torpedoes, 1979
"We smoked cigarettes, and we stared at the moon," Petty sings over Mike Campbell's chiming guitar in this penetrating anthem. The song's writing was something of a magic act. "That's the weirdest one ever," Petty said. "I still have a hard time believing that happened, but it did. I had everything but the chorus. … And I was bold enough to say, 'Let's cut this thing.' But I had no idea what I was going to sing when I got to that point. And, boom, divine intervention – it just came out. … I'm not even going to question where that came from."
18. "Southern Accents"
Southern Accents, 1985
The Heartbreakers spent 118 months recording Southern Accents, a loose concept album about Petty's roots. Recorded at his home studio, the sessions were intense and often drug-fuelled, but the results were undeniable, especially the moving title track, which tells the story of a down-and-out Florida orange-picker. "I came from a real Southern family, and I wanted to address that world," Petty said. Johnny Cash was so moved by this that he recorded the tune for his Unchained LP and told Petty that he could see it replacing "Dixie" as the region's unofficial anthem.
17. "Mary Jane's Last Dance"
Greatest Hits, 1993
Petty was "really annoyed" that he had to record new songs for his 1993 Greatest Hits record, so he tasked producer Rick Rubin with picking one from demos he made during the Full Moon Fever sessions. Rubin singled out a song about an "Indiana girl," to which Petty added a haunting chorus and a bluesy guitar lead. It became a hit, thanks in part to a morbid video where Petty plays an undertaker clinging to the corpse of Kim Basinger. "I complained about that [song] so much," Petty said later. "I'm really glad I did it now."
16. "Here Comes My Girl"
Damn the Torpedoes, 1979
Petty was inspired by Sixties girl groups like the Shangri-Las when he wrote the spoken-word opening to "Here Comes My Girl," one of his most majestic early moments. It was written by Mike Campbell, who gave it to Petty on the same cassette that contained the demo that became "Refugee." Petty's R&B-flavoured vocal gave the song its tender emotional core, and he played it, along with "Refugee," at his first meeting with producer Jimmy Iovine. Said Iovine, "I always wait for someone to come into my office and play me songs as good as those."
15. "Stop Draggin' My Heart Around"
Bella Donna (Stevie Nicks), 1981
Stevie Nicks' first solo hit was this Petty duet. When Petty and producer Jimmy Iovine offered her the song, she asked, "Is this the right thing to do? I only get 11 songs and one of them won't be mine." Nicks recalled them saying, "You don't have a single on this record. And here's a single for you." When the longtime pals toured together in 2006, Petty gave her a platinum sheriff's badge that said "To the only girl in our band," declaring her an "Honorary Heartbreaker."
14. "Walls (Circus)"
Songs and Music from 'She's the One,' 1996
Ed Burns was one of the hottest filmmakers around when he approached Petty about contributing songs for his movie She's the One. The best of the bunch, "Walls," was inspired by something Petty had been told by Johnny Cash. "He said to me, 'Some days are diamonds, and some days are rocks.' I took that line and wrote the song." Lindsey Buckingham helped arrange its lush harmonies, resulting in one of Petty's prettiest songs. But two different versions appeared in the film, hurting its chances of becoming a single. "It probably should have been a hit," says Petty.
13. "Don't Do Me Like That"
Damn the Torpedoes, 1979
"It was something my dad used to say," Petty said, explaining the title of this Heartbreakers breakthrough. "I thought it was humorous." Initially conceived as an R&B workout around a staccato, right-hand piano signature, the song had been around a while. Written in about an hour, it was recorded in a leaner version by Petty and Mike Campbell with their previous band, Mudcrutch, back in 1974. Producer Jimmy Iovine initially dismissed the track, and even Petty thought it lightweight, but it became a hit as the lead single from Damn the Torpedoes.
12. "Into the Great Wide Open"
Into the Great Wide Open, 1991
One of Petty's most vivid story songs chronicles the demise of a guitar-toting "rebel without a clue" who comes to Los Angeles and gets eaten alive by the record industry. The song's Julien Temple–directed video starred Johnny Depp and Faye Dunaway, and Petty himself as everything from narrator to roadie. "One of the only times I've ever felt fulfilled by a video," Petty said. "I even had people coming to me wanting to make it into a movie."
11. "I Need to Know"
You're Gonna Get It!, 1978
One of Petty's most driving Seventies rockers has roots in Sixties soul. "I was trying to make a song like Wilson Pickett's 'Land of a Thousand Dances,' " Petty said. "That's one of my favorite records." You can especially hear that influence during the bridge, which features Benmont Tench's roiling piano. But it's Petty's impatient intensity that sells the song. Written at a friend's house in Florida and cut in L.A. at Sound City Studios, it reflected the desire of a young band trying to strike while the iron was hot. Said Petty, "We wanted to get product out there."
10. "I Won't Back Down"
Full Moon Fever, 1989
"That song frightened me when I wrote it," said Petty. "There's not a hint of metaphor in this thing. It's just blatantly straightforward." "I Won't Back Down" was written in the studio while "Free Fallin'" was being mixed. George Harrison, who performed background harmonies, told Petty that a line about "standing on the edge of the world" was dumb – so he promptly replaced it with "there ain't no easy way out." "I had a lot of second thoughts about recording that song," said Petty. "But everyone around me liked the song, and it turns out everyone was right."
9. "Room at the Top"
Echo, 1999
Petty was deep in the throes of depression after divorcing his first wife, Jane, when he sat down at a piano in the studio and poured his heart into this song. "I wish I could feel you, little one," he sang. "You're so far away. I want to reach out and touch your heart." The emotionally raw song kicks off Echo, a collection of tracks inspired by their breakup. "'Room at the Top' is the most depressing song I've ever written," said Petty, who hasn't played it a single time in the past 15 years. "I haven't even wanted to hear it. Though the last time I heard Echo, I did think, 'God, there's a lot more on here than I remembered.'"
8. "Breakdown"
Tom Petty and the Heartbreakers, 1976
"We were passionate kids," Petty said, describing his band's mood during the recording of "Breakdown." Petty came up with the slinky, eerily spare R&B-influenced song while taking a late-night break at Hollywood's Shelter Studios during sessions for his first album. "It was one or two in the morning, and I called the Heartbreakers and had them all come back," he recalled. "They had all gone home. They came back at two or three in the morning, and we cut the song." The track originally went on for more than seven minutes, but it was eventually shortened to less than half that length when it was released as Petty and the Heartbreakers' debut single. Driven by a drum track that was inspired by the clipped, anticipatory beat on the Beatles' 1963 song "All I've Got to Do," and featuring one of Mike Campbell's most memorable guitar licks, it just made the Top 40. As Petty proudly said later, "It's really a perfect little record, isn't it?"
7. "The Waiting"
Hard Promises, 1981
"The Waiting" might be the single greatest example of the Heartbreakers piecing something together from their rich classic rock knowledge. The song's call-and-response hook echoes the Animals' "It's My Life," and the chorus is so evocative of the Byrds that their leader thought he'd had a hand in it. "[Roger] McGuinn swears that he said it to me," Petty said, referring to the line "the waiting is the hardest part," adding, "Maybe he did." Petty actually recalled cribbing it from Janis Joplin's famous declaration "I love being onstage, and everything else is waiting." Either way, the lead single from Hard Promises was a high point in what Rolling Stone senior writer David Fricke called the Heartbreakers' "golden twang" era, topping the Billboard rock chart for six weeks. "It was about waiting for your dreams and not knowing if they will come true," Petty said. "I always felt it was an optimistic song."
6. "Runnin' Down a Dream"
Full Moon Fever, 1989
Full Moon Fever was released as a Petty solo album, but every Heartbreaker (with the exception of drummer Stan Lynch) played on it. "Runnin' Down a Dream," the album's most propulsive rocker, was built around a heavy riff from Mike Campbell, originally written in a different time signature. Petty straightened it out and took it to producer Jeff Lynne. Campbell also played the song's guitar solo (a combination of searing held notes and frenetic shredding), nailing it in one take. Petty gave the hard-charging track vivid lyrics about the freedom of flying down the highway, which spoke to his deepest feelings about the meaning of rock & roll. "To me, American music was all about listening in the car," he said. The line "me and Del were singing 'Little Runaway'" was a friendly salute to his new pal Del Shannon, who had a Number One hit in 1961 with "Runaway," a song Petty had grown up loving as a kid in Florida.
5. "Listen to Her Heart"
You're Gonna Get It!, 1978
Petty was inspired to write "Listen to Her Heart" by a story his wife Jane told him. Not long after the couple moved to L.A., she found herself at a party thrown by mercurial R&B legend Ike Turner. As the festivities went on late into the night, Turner locked the doors to his house from the inside so no one could leave. Petty turned the odd incident into a driving, tightly wound anthem addressed to a guy who has no regard for a woman's real feelings. The song was the second single from You're Gonna Get It! ("Everything's banking on that one song right now," he told Rolling Stone in 1978, "and I'm prepared for the worst.") In fact, "Listen to Her Heart" only made it to Number 59 on the singles charts, perhaps due to Petty's direct mention of cocaine, which he was asked to change to "Champagne." "What women would leave some guy for money and Champagne?" Petty said at the time. "I mean, Champagne is only $4 a bottle."
4. "Free Fallin'"
Full Moon Fever, 1989
With the exception of "Stop Draggin' My Heart Around," his breakthrough duet with Stevie Nicks, "Free Fallin'" is the biggest hit of Petty's career. However, when he first brought Full Moon Fever to MCA Records, not only did the label not hear a single, it balked at releasing the album at all. "I was stunned," said Petty. "It's the only time in my life that a record's been rejected." As with most of Full Moon Fever, "Free Fallin'" came together quickly. Petty had written the shimmering riff on a little electric keyboard and came up with lyrics while ad-libbing in the studio for producer Jeff Lynne. Luckily, turnover happened at the label, cooler heads were hired, and "Free Fallin'" became a Top 10 smash, staying on Billboard's singles chart for seven months. "There's not a day that goes by that someone doesn't hum 'Free Fallin" to me, or I don't hear it somewhere," said Petty. "But it was really only 30 minutes of my life."
3. "Don't Come Around Here No More"
Southern Accents, 1985
"I wanted to make a single that sounded like nothing anybody had ever done," Petty said of "Don't Come Around Here No More." Psychedelic yet synth-y, classic yet modern, the song was a radical musical reinvention concocted with English producer Dave Stewart of Eurythmics. The Heartbreakers were skeptical of an outsider revamping their sound, especially when he suggested adding a sitar. "I think most of his band – and I don't blame them – were going, 'What the fuck is this?'" Stewart recalled. "The record was called Southern Accents, and it sounded like we're in India." Petty's lyric was based on a line Stevie Nicks said to ex-boyfriend Joe Walsh at a Eurythmics afterparty, and Stewart also suggested the Alice in Wonderland concept of the song's groundbreaking video. "Dave and I worked on that single for months," Petty said. "It could've come out as 10 different records."
2. "Refugee"
Damn the Torpedoes, 1979
"We're always hearing that we're the future of rock & roll," Petty declared around the release of the Heartbreakers' third LP. "I don't want to be the future – I want to be the present." The lead track on Damn the Torpedoes ensured that. Produced by Jimmy Iovine, "Refugee" was their most brass-knuckled rocker to date, a declaration that they weren't following any New Wave or punk-rock trends, but were a new breed of rock & roll–schooled traditionalists. As is frequently the case with the band's creative process, Mike Campbell wrote the music, recorded it on a four-track tape and passed it to his partner. "The words came really quick," Petty said. The recording, not so much. Campbell recalled 100 takes; Petty says 200. "I remember being so frustrated," said Campbell. "I just left the studio and went out of town for two days." When he returned, they nailed it, and shot a no-frills video that became an early MTV staple. And suddenly, American rock seemed born again.
1. "American Girl"
Tom Petty and the Heartbreakers, 1976
"The American Girl is just one example of this character that I write about a lot," Tom Petty said. "The small-town kid who knows there's something more out there, but gets fucked up trying to find it. I always felt sympathetic with her." On his greatest song, Petty channeled his sympathy into an American classic – recorded, fittingly, on July 4th, 1976. The song fuses decades of rock & roll into one supercharged anthem: Stan Lynch's jumpy Bo Diddley beat echoes back to the Fifties; the bright guitar jangle evokes the Byrds (so much so that Byrds leader Roger McGuinn covered it); Mike Campbell's high-flying runs at the outro are Seventies guitar-hero lightning; and the taut New Wave energy pushes into the Eighties and beyond (the Strokes nicked it for their 2001 hit "Last Nite"). Ironically, when it arrived as the second single on Petty and the Heartbreakers' self-titled debut in 1977, it didn't make the U.S. charts, though it did reach the Top 40 in the U.K., and remains a radio staple ("It felt like, 'Wow, this might work,'" Campbell said, recalling the song's initial success). The lyrics' allusion to Route 441, which runs through Gainesville, Florida, inspired rumours that "American Girl" was about a University of Florida student who committed suicide by jumping off her dorm-room balcony. In fact, it was written in Petty's Encino, California, apartment while he listened to the freeway outside. "The words just came tumbling out of me," he said. "The girl was looking for the strength to move on – and she found it."