Summer Flake: Friends and Influences
A guided tour of the artists who've inspired the expanded sound of the Adelaide songwriter's second album 'Hello Friends'.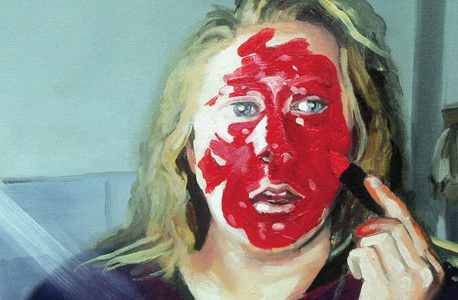 As Barnaby Smith highlights in his review of Summer Flake's new album, Hello Friends, for her second go 'round, the Adelaide singer-songwriter builds on the charming lo-fidelity of her 2013 debut You Can Have It All, retaining her personal, conversational flow, yet expanding the overall sound with a more cinematic scope.
Curious to find out more about the stylistic shift — conscious or not — we recently sat down with Summer Flake (aka Stephanie Crase) to discuss the artists that have helped form this unique balance of perspective. Below, in her own words, Crase walks us through a playlist of influences from her hometown to far further afield.
Hello Friends premiered earlier this week on Henry Rollins' KCRW radio show, ahead of the official release on Friday, April 8th.
All words below by Stephanie Crase.
Hit The Jackpot "Cats and Dogs"
"I don't think anyone is ever going to say that the early 2000s were ever good for anyone or anything, but that was when I was at art school, at uni, working at Coles, had a blog and a MySpace, bought a digital camera, and going to see local bands 5 nights a week in Adelaide, and it was great. Hit The Jackpot, Matt Banham, Straight 2 Video, Home for the Deaf, All Made of Rubies, Lindsday Lowhand, Sweet Raxxx, Shame Spiral, Skeletons, and a million more soundtracked good times and bad and just encouraged a community of people to work in the periphery."
Sebadoh "Not Too Amused"
"People are always requesting 'Not Too Amused' at Lou Barlow gigs and he never plays it. But I have seen him sign the lyrics onto a fan's t-shirt on request, more than once, which is pretty funny, because Lou didn't write that song. Maybe he's was too embarrassed to explain. Or maybe he got a kick out of bumming them out when someone like me is like 'mate, Lou Barlow has signed your T-shirt with Jason's Loewenstein name.' I love Bakesale and III."
The Beach Boys "'Til I Die"
"I covered this song on the first Summer Flake two-song release on Bandcamp. I am not mad on the Beach Boys production like I should be, I just like the sadness, the harmonies, the songs when you break them down to the main chords. "
Polvo "Gemini Cusp"
"My ears are pretty narrow and my mind was blown when I started listening to bands like Helium, Polvo, Karate, who I probably likely group together in my head due to my own chronology and connections, not theirs. Karate were kind of jazzier, Helium was a revelation of guitar sounds and a new female voice to me, and then Polvo, with the Albini drum sound, were playing these strange chords with slack strings, the shrill guitar tones, then whammy bar textures, and buried vocals."
The Velvet Underground "Candy Says"
"With Doug Yule on lead vocals, this is the most perfect sigh in the mirror about identity and discomfort in one's own skin and self esteem. It's so powerful and perfect. I seem to prefer all the VU songs without Lou Reed singing. I'm one of those ones who loves The Velvet Underground and Nico album."
Nico "No One Is There"
"Fuck it. Nico is amazing and so strong and strange and one of a kind."
Sonic Youth "Tunic (Song for Karen)"
"This song is genuinely haunting. It has so much tension between the plain spoken vocal delivery and lyric tone and the urgent sounding music, it's a psychological masterpiece. The lyrics from the point of view of Karen Carpenter in heaven and they're kind naive and optimistic, telling her mum about her new friends (Janis, Elvis, Dennis), but also so heavy with they weight of her life events and the pressure from her mum, it's such an amazing song."
No Joy "Moon In My Mouth"
"This only came out last year, but I guess it represents a bunch of cool stuff I've listened to a bit over the past few years, on Mexican Summer. I like it when labels operate like curators, and you trust them and dive in and follow it back, hear some different stuff and find some new favs. Following new releases by labels at records shops or in magazines was what I did back when the internet was slow — Matador, Kill Rock Stars, Subpop, and Chapter, Au Go Go, Waterfront, etc in Australia."
Cat Power "Rockets"
"I listened to Cat Power when Moon Pix came out, and went back to earlier albums, and I think I prefer them. The song structures and arrangements and instrumentation seem so simple, and the lyrics so abstract, but i always identify with the tone of these early songs, and ones like 'Rockets' and 'Nude as the News' that build and build with these straight forward mid-pace beats. Can you tell I like gentle but crunchy mid paced music with memorable melodies?"
Magic Dirt "Ascot Red"
"I know it's kinda lame choosing a quiet song by a loud band, but it's the one i feel like at this very moment. Friends In Danger was such a special album; it sounded loud, heavy, noisy, harsh, and Australian to me. It was powerful seeing a successful band with a cool, talented woman at the front, from Australia, playing all the time to packed rooms in Adelaide."
Elliott Smith "Christian Brothers"
"So many old bands either died or turned shit, that's why it's cool starting a new band after you're 30+. The first three Elliott Smith albums are so amazing and devastating and are the reason I double-track all my vocals and guitars, but I usually keep my obsession with ES secret because 99% of people you meet who say they love Elliott Smith too are horrible losers in Jeff Buckley t-shirts. You should have seen the types at the Heaven Adores You MIFF premiere, and you know it kills me that they would've been looking around at me thinking the same thing."