Sadie Dupuis: Beyond The Music
Speedy Ortiz singer/guitarist runs us through a playlist of her current favourite songs.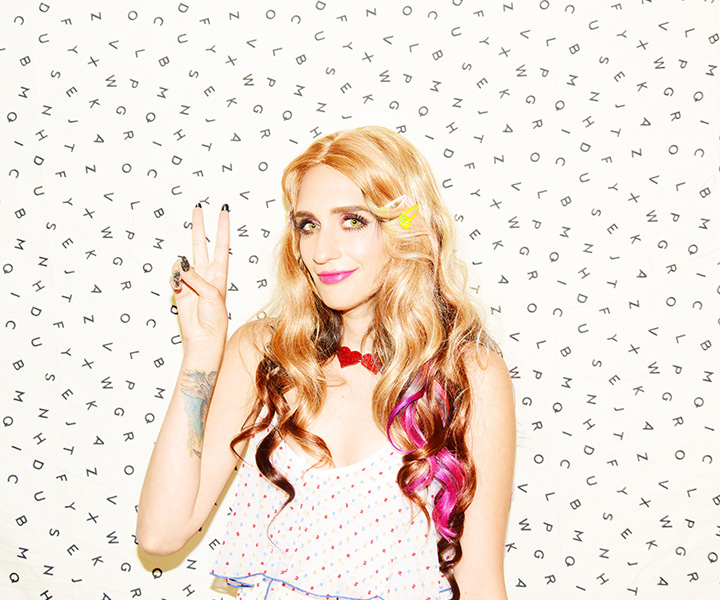 Defiant and empowering, indie-rock band Speedy Ortiz — which expanded from the solo-project of Sadie Dupuis in 2011 — has consistently been focused on more than the art they create. From establishing a "help hotline" for people to report assault at their shows to donating money from album sales to the Ferguson Public Library, the band clearly practice what they preach.
This community-focused activism will be the focus of discussion when Dupuis sits down for a keynore interview with Pitchfork's Jillian Mapes on Wednesday at Bigsound.
Ahead of which, Dupius gives us a teaser of potential talking points with a playlist of the songs she's currently enjoying — clearly with a focus on artist's who have interwoven elements of their own lived experiences and beliefs into their music.
All words below by Sadie Dupuis.
Jen Cloher "Forgot Myself"
"I like when a simple, still description force a reader to fill in the dots and cast them in a brutal context. Renata Adler's prose does this really well. And Jen Cloher does too, especially in these three lines: 'Paint a still life of your side of the bed / Patti Smith poems, a hair tie and some vitamins / There's only so much you can say in a text.'"
Naomi Punk "Gotham Brake"
"It's been cool hearing this band diverge from the arty, dark hooks that comprised their first releases into the more experimental song studies that make up their newest LP, which clocks in at 25 songs and 75 minutes. Good proof that contemporary guitar music can wander and deconstruct and mire in self-repetition just like any other genre of noise."
Downtown Boys "Promissory Note"
"Some of current punk's most vital messages come from this group, whose brash, bouncing music is matched with thoughtful, galvanizing lyrics. They've been great from day one, but this new record ups the production values (helmed by Fugazi's Guy Picciotto). There's a greater emphasis on the instrumental arrangements — blaring saxophone, moodier keyboards, and bright guitar riffs – which allows Victoria Ruiz's resonant lyrical ideologies and Joey LaNeve DeFrancesco's hype-along affirmations to tear right through the mix."
Tyler, The Creator "Garden Shed" (featuring Estelle)
"Tyler's production chops have always been next level, though his public persona has been hard to support. Flower Boy implies a coming out narrative for Tyler, and whether or not that redeems the years of shock jock misogyny and homophobia that turned me off of him in the past, it's a gorgeously produced and emotionally powerful start. 'Garden Shed' as an in-the-closet narrative is a compositional feat. It sees Tyler doing his best André 3000 flow around an underwater hook from Estelle hook. Tense waves of guitar static break into lush soul. Some of his coolest work yet, and certainly his most sentimental."
Japanese Breakfast "12 Steps"
"I could pick just about any song from Michelle Zauner's awesome sophomore record and praise its hooks, its surprising chord progressions, its charm. The fact that just about every song mines a different era or genre of pop, rock and electronica is an even greater feat. '12 Steps' happens to be stuck in my head the most lately, especially Zauner's plaintive 'I can't blame you's' in the coda."
SZA "The Weekend"
"The side-chick narrative has been well-traversed in pop and soul — 'The Weekend' comes across like a 2017 reboot of Betty Davis' 'Your Man My Man.' SZA lays this subject bare with boldness and sensitivity over the course of an entire concept album. "The Weekend" is one of her best thematic explorations, teetering coolly between resignation and complicity, and with a chorus that circles back on itself like an earworm eating its own tail."
Hazel English "Birthday"
"Layers of arpeggiated guitars a la Alex G's earliest uploads, sweet vocals over an almost-shoegazing chorus, and a meet-cute on a b'day — like a song from a mixtape from a romcom from a dream."
Julia Michaels "Uh Huh"
"Thanks to her stellar songwriting work for Selena Gomez and Justin Bieber, I've been long anticipating Julia Michael's first EP. It's rare — and exciting — for a pop debut to shine through with this much oddball personality, and Michaels spares no quirk over the course of 'Uh Huh.' She saves some of her best melodies for layered post-choruses, and ends her pop anthems abruptly — for an EP so glossy, her deviations from form come across punk. Nominating this for song of the summer. Too late, it already won."
Marika Hackman "Time's Been Reckless"
"Marika's music reminds me of how I felt when I first heard Blur, or some of my other favourite artists as a kid — I have to listen to her songs over and over again to catch every detail, but these songs never lose their punch even after a million replays. She has an uncanny ability to bring an early section of a song back to life under changing chords in the final moment, to pile up melodies until you have no idea how she assembled this complicated puzzle of a song. There's so much musical information in each tune, you might not expect it to come out as pop. But this song's been stuck in my head for the better half of the year, and I don't expect you to fare any better once you hear it."
Mhysa "Strobe"
"A dance-pop project from Philly-based artist and activist E. Jane that venerates going to the club, looking amazing for it, and being in 'sooo many pics it's like I got my own strobe light.' As a mission statement, Mhysa's music prioritises space for black femmes to experience and create joy every day. That joy is palpable in the "click, click, click' of the cameras, and in Mhysa's celebration of turning up 'regardless of the current crisis' as a method of self-preservation."