Rubber Soul Revolver: Favourite Beatles Songs
A national tour celebrating the Beatles' formative creative albums kicks off this week, featuring a selection of the finest contemporary antipodean artists.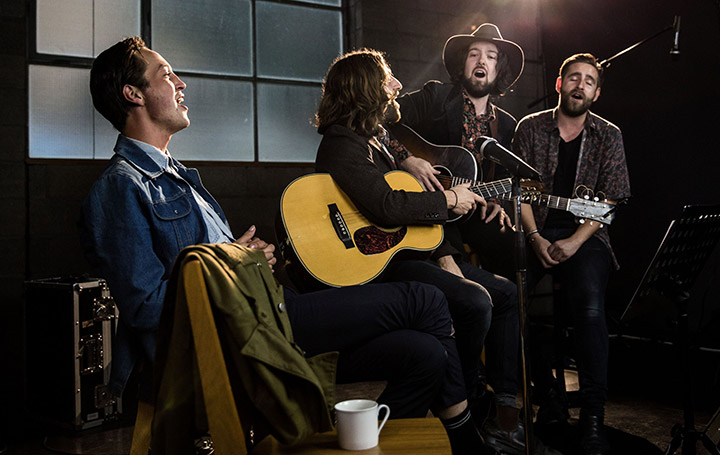 At risk of starting an unresolvable debate The Beatles' 1965/66 pair of albums Rubber Soul and Revolver are the reason they're the revered group they remain to this day. Built on an upfront act of genre rebellion — touching on everything from world music, folk rock and psych pop — the records set the band on the defining course away from simply being the marketable 'fab four'. Creative diversity and confidence that earned both albums a top five finish in the 2012 Rolling Stone 'top 200 albums of all time' list.
In celebration of the albums' 50th anniversary, a selection of antipodean artists have banded together for the national Rubber Soul Revolver tour, where they will perform both iconic releases in full. Marlon Williams, Husky Gawenda (Husky), Jordie Lane and Fergus Linacre (Kingswood) will bring the albums back to life with their own contemporary touch added to the classic tracks. "'Rubber Soul' strikes the beautiful balance between incredible pop music with just a little bit of weirdness in it", Williams explains of the album's influential mark, while Gawenda adds that "the songs are so musical and touch on universal things, I don't think that time and place really matters".
Ahead of the tour kicking off in Brisbane this weekend (full dates and details here), we sat down with the four Rubber Soul Revolver artists to get their perspective on the role The Beatles' songs have played in their own musical evolution.
Jordie Lane
"I'm Only Sleeping"
This has got to be my favourite song from Revolver. I really relate to the theme and concept in this song. I'm the worst at getting up in the morning. I've always been fascinated by dreams and the idea of alternate realities. Not to mention the killer melody and chord progression in this song. I could sleep for ever if I didn't have that guilt finally creep in at 4 or 5pm telling me I should maybe think about joining society.
"Eleanor Rigby"
I've always adored pop/rock'n'roll and folk music meeting up with classical instrumentation. And I think myself and many other people out there owe it all to this song being recorded.
"Something"
I remember my parents buying a new stereo system when I was about 7. And I think Abbey Road was the first piece of vinyl I ever placed the needle on. They only had 3 other records to choose from and I chose this. This song is carved in my memory just as strong as the little scar on my face from falling out of a tree that same year. I also grew into a sucker for romance. Maybe this song has something to do with it?
"In My Life"
It wasn't until I finally sat down to learn to play "In My Life" that it really connected with me. I've been to and fro, away from family and friends for a long time now. About 5 years on the road has you missing a lot of places and people dear to you. This one gives me great comfort.
"A Day In The Life"
This is probably on a whole lotta lists out there, but for good reason. It's the culmination of an amazing group of guys displaying artistic freedom, and bending and exploring and breaking all the rules in terms of song form and recording techniques. This smashed open the possibilities in modern pop music. So for me this song helps remind me to try and not give a shit what other people think and keep reaching further creatively.
Fergus Linacre (Kingswood)
"Michelle"
I think this may be one of the most beautiful songs ever written. Alex (Kingswood guitarist) and I would play it from time to time when we'd had just the right amount to drink, but I would never sing the french properly. I've since learnt that Macca used to play an early version of the song making up french words for fun, until John encouraged him to make a real song out of it.
"Girl"
Whenever I hear this song I think of my school years and all those 'It girls' that were too cool and confident to get too close to. The ones you like so much but wonder if they even know who you are. I think its one of johns most honest vocal performances, from the first few words you can hear the pain in his voice. Then they sing tit tit tit for the BV's, perhaps to salvage the song becoming that little bit too sentimental.
"In My Life"
This song makes all your little day to day worries seem rightfully meaningless, and you feel this strange premature reminiscence of a life you haven't lived yet. It reminds you of the love you have for the people in your life, and that they won't always be there. But it is a content sadness. A goof funeral song I think.
"Eleanor Rigby"
I have never thought what this song is about. But I just love it. How the vocals come in and out of your left ear. And the strings are so perfect, they held their own place as an instrumental on the 'LOVE' remix. This song was produced so differently to anything else they had done, I think it is one of the early songs that opened a whole new world for the band and hints at what was to come in Pepper and beyond.
"Tomorrow Never Knows"
I had to choose thing song because I believe it was a huge step for the band. It began this sonic exploration which was so prominent in the albums to come, and bred many genres that are still prominent today. You could say this song is at the top of the family tree of psychedelia. LSD had a lot to do with it.
Husky Gawenda (Husky)
"Girl"
The first time I heard it was when my mum sang it to me. I was around 13 years old and I thought it was beautiful.
"Norwegian Wood (This Bird Has Flown)"
I listened to it as a kid and it transported me every time – into that room with that girl, onto that rug, beside that fire, asleep in the bath.
"For No One"
This song just kills me. Every time. And the trumpet solo is brilliant.
"Love You To"
It's the beginning of George Harrison's signature sound. I'm a big fan. This one sounds great turned up loud!
"Eleanor Rigby"
It's one of the great songs. A beautiful melody and arrangement and portrait of loneliness. It hurts but sometimes it has to.
Marlon Williams
"Don't Bother Me"
George Harrison claims that this is the first song he ever wrote, and it was, at least, his first composition to appear on a Beatles recording. Bastard. He wrote it in bed while sick as a dog and it has all the hallmarks of fevered claustrophobia. It was dismissed as rudimentary and trite by at least two of the Fab Four but for me it holds a special place.
"Girl"
What a strong melody. I love how it seesaws it's way up the minor scale then comes back down to settle on the relative major, and the last verse lamenting her sense of entitlement is just a kicker for me.
"Hey Bulldog"
This was the last song The Beatles properly collaborated on, and the only song in their catalogue built up from a piano riff. It's just a cracker if a pop song, the likes of which you can almost here ABBA having come up with a few years later.
"We Can Work it Out"
This song is a standout for me because it so strongly and simply contrasts McCartney's upbeat verse with Lennon's pessimistic bridge, both lyrically and sonically. In other hands it might've sounded clunky, but not our boys.
"Strawberry Fields Forever"
I've never much been one for surreal, nonsensical lyrics. I find I Am the Walrus is a bit funny at best and just fucking annoying at worst, but "Strawberry Fields" hits me right in the heart. For me it's a continuation of In My Life, an evocation of Lennon's youthful nostalgia, but once you let him take you down, a much darker path opens up. He assures us he 'know(s) when it's a dream', but the psychology here is one of confusion and hallucinogenic uncertainty (I mean it must be high or low). The Beatles' darkest and greatest moment.