Power Fantastic: 10 Prince Deep Cuts to Grieve By
It will take time to process this. Now is the time to indulge.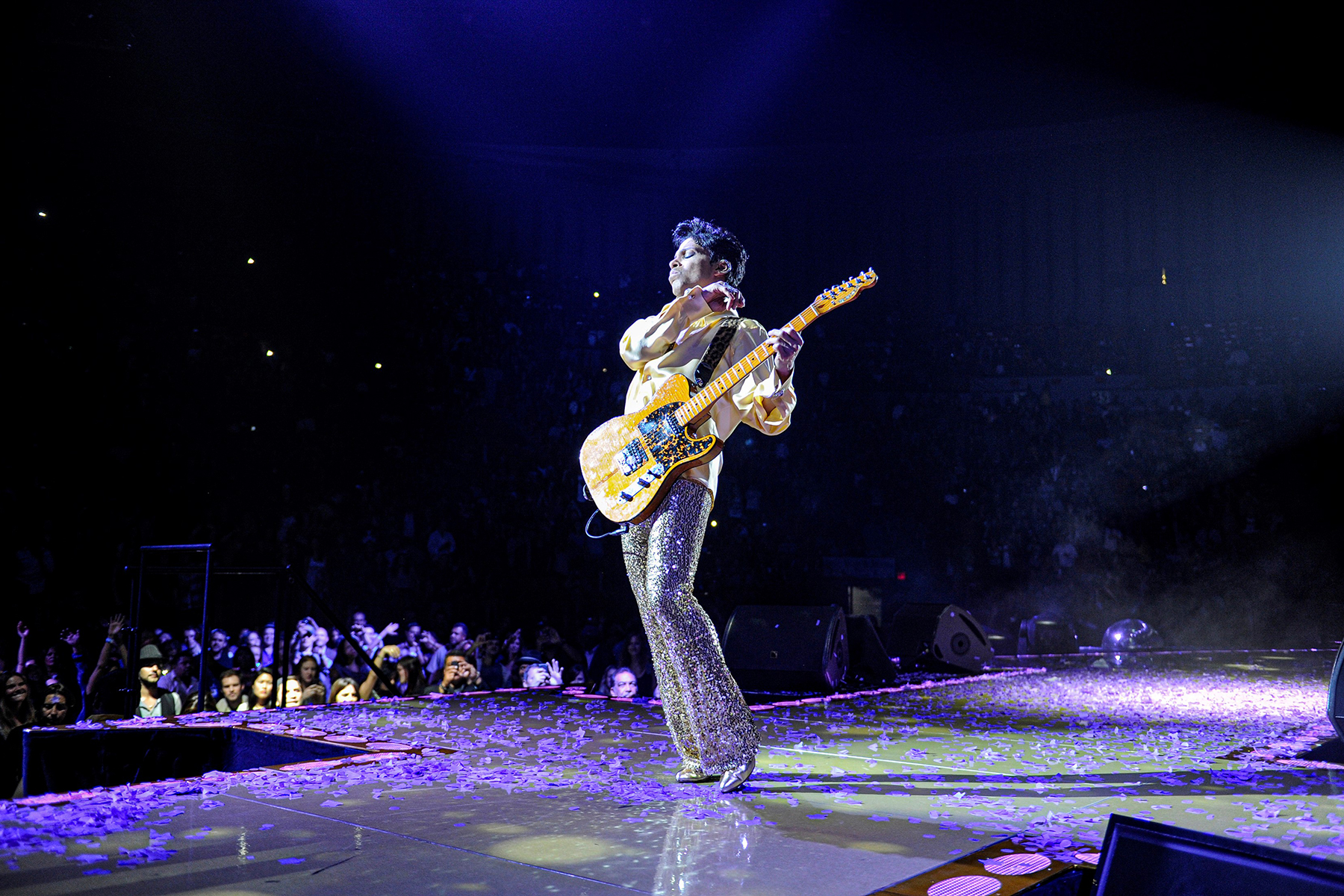 What can U say? It's too soon to make sense of it. You never thought of Prince as suffering the way Michael and Elvis did. You can't really say "At least he finally found peace" because he always seemed to be having the time of his life. Prince felt more like Dylan, who will probably live forever: all his heart in his music, indifferent to public opinion, working ceaselessly. Now he is somehow gone forever and the sadness is real, a deep sense of loss felt around the world. The internet is starting to flood with his content and we can worry about the ethics of that later. It will take time to process this. Now is the time to indulge.
"For You"
For You (1978)
In 1978, this would have just sounded like a brief intro to a promising R&B/disco crossover record. Only 20-year-old Prince knew the gravity of the first track on the first Prince album. It's all his voice, harmonising with itself: "All of this and more is 4 U/With love, sincerity and deepest care/My life with U, Eye'll share." He means it. He's about to share his most intimate thoughts with all of us over his entire lifetime. There are musical clues about what's to come too; Stevie Wonder, gospel, even Joni Mitchell's "Shadows and Light." It took until the second album Prince for critic Robert Christgau to call it, and even he got in early: "This boy is going to be a big star, and he deserves it."
"Tokyo"
C-NOTE (2003)
C-NOTE was probably the most low-key release of Prince's career, a collection of minimal, improvised recordings made at soundchecks in Copenhagen, Nagoya, Osaka and Tokyo in 2002. Every Prince show was three shows: soundcheck, concert, afterparty. He was creating music so often and so easily that it was hard to imagine him asleep. There's nothing fancy about "Tokyo" but something about it is profound, smoky. Prince sings the word "Tokyo" over and over, just feeling the vibe of the joint, testing things out. The band follow his lead, playing off his vocal. Just another night in his world.
"The War"
Single release (1998)
This indulgent 26-minute odyssey feels like a sermon. Musically "The War" owes a lot to Miles Davis' more difficult work like Agharta. "We r running out of the essentials of life here on earth!… Will U go underground 2 the metropolis paradise? 1 condition: microchip in ur neck." Paranoid rambling, or an early prediction of the smartphone? It turns out that this seventeen-and-a-half minute speech is a slow buildup to a solo so badass it sort of hurts to listen to, makes you cringe, like he's playing a flamethrower. Probably one of the most powerful guitar features of Prince's career and here it is, tucked away on a promo-only fan club single from 1998. Plenty more where that came from.
"Papa"
Come (1994)
He had a dark and violent side. Only Prince could have written a song about child abuse that feels this erotic. A four-year-old child throws rocks at cars and is ruthlessly beaten on a closet floor by his father, who then goes outside and shoots himself in the head. Prince makes this grisly scene feel like an S&M ritual, adding "Don't abuse children or else they turn out like me." And this is on an album called Come. Somehow he gets away with such an awful thing, maybe because it feels so real. The Purple Rain film was largely fictional and Prince's acting was not great, but in the scenes where he comes home to his father beating up his mother, you can tell something is up.
"Black Muse"
HitnRun Phase Two (2015)
It turns out that Prince has been secretly working with charities and community projects for years. "Anybody struggling anywhere in the world, he was sending cheques, making phone calls," his confidant Van Jones recently told CNN. "There are people that have solar panels on their houses right now in Oakland, California that they don't know Prince paid for." They say Andy Warhol was the same, secretly slogging it out in soup kitchens at night when everyone thought he was some heartless savant. Listening to Prince's final album HitnRun Phase Two, it's surprising we didn't figure it out earlier.
"Black Muse" is such an important song. With seemingly little effort Prince tackles nothing less than what it means to be African-American today. These are seven-and-a-half minutes that sound like A-grade Stevie Wonder. We are the people who created rock'n'roll, blues and jazz, he says. We carry the burden of our enslaved ancestors but we are powerful, beautiful and full of hope. "A brand new day is dawning, U and me know what 2 do/So much work 2 do." Recently on Twitter, Kanye West told Pitchfork to stop writing about black music: "I love love love white people but you don't understand what it means to be the great grandson of ex-slaves and make it this far." Seems Prince would agree. If "Black Muse" was easier to hear, it could have become an anthem. You can only get it on Tidal or CD.
"Colonized Mind"
Lotusflow3r (2009)
The man obsessed with controlling his internet presence here uses uploads and downloads as a metaphor for everything that's wrong with the world. His logic is shaky and bizarre, then it is totally dead-on. Believing in evolution leads to a society that doesn't care about the environment, racism leads to isolation, the two-party system leads to "a veiled 4rm of fascism." Then he bitterly sticks it to the music industry: "Upload: a joint venture record deal/It's just another way 4 the man 2 steal while he's sticking U with the bill/Download: The temporary acquisition of fleeting fame and 4tune/Nothing 2 leave in ur will." This is cutting and probably accurate. The confusing thing is that apparently he had no will.
"June"
HitnRun Phase One (2015)
All the merchandise and posters for this year's Piano and a Microphone tour featured a stark cycle of moons. Just a visual motif, but there was something eery about it. Perhaps he was alluding to "June", a strange song he recently wrote about boiling pasta, or something: "Pasta boiling on the stove in June/Makes no sense yet, but it will soon… Somebody famous had a birthday 2day/All eye saw was another full moon." The piano shows were unusually personal and intimate. Many were moved to tears. When his former protege Vanity died, he spoke about her at length and seemed more openly upset than he had ever let on to an audience before. There was talk that he was writing a book. Last Thursday, he died on a full moon.
"Still Would Stand All Time"
Graffiti Bridge (1990)
Prince had no idea how to write or direct a film when he made Graffiti Bridge. The surreal result is a thin B-movie with a transcendent, immortal soundtrack. Several songs on here easily rank among his very best ever: "Joy in Repetition", "The Question of U", "Elephants and Flowers." Then there's "Still Would Stand All Time", which is something else again. It's pure gospel written without fear, deeply personal, all about redemption. There's a moment in the film just before this song when Morris Day gives Prince a long, hard look and says "I have just one question for you. How do you want to die?"
"Power Fantastic"
The Hits/The B-Sides (1993, recorded 1986)
Wendy and Lisa shared something very special with Prince and were probably the best of his many collaborators. They wrote this song with him in 1986 for the unfinished Dream Factory project and somehow managed to express a feeling that most people would find beyond words. "Power fantastic is in ur life at last/U're a little apprehensive/What it is, is what U want, and need." It is at once deeply unsettling and totally romantic, a ghost somewhere out in the night. This is the sort of magic that really made him special, the kind of song that will be played in museums in hundreds of years. It's only just starting to sink in.
"Reflection"
Musicology (2004)
This is not a work of genius. It's powerful because anyone could've written it. "Did we remember 2 water the plants 2day? Eye forgot to look up at the moon because eye was 2 busy looking at U." Every now and then Prince would remind you that he was a normal person; a certain lyric, a bit of stage banter, even just a look in his eye would jump out at you and say "I know, right?" There is no mystery to "Reflection", just a rare glimpse of Prince Rogers Nelson as a young man growing up in Minneapolis, before everything. "Sometimes eye just wanna go sit out on the stoop and play my guitar/Just watch all the cars go by." You can just see him hanging out with his friends, playing basketball, listening to Joni Mitchell in his bedroom, dreaming dreams.
We loved him.