Paul McCartney's 40 Greatest Solo Songs
The definitive guide to his post-Beatles best – chart smashes, psychedelic curiosities, punk, folk, disco and plenty of silly love songs.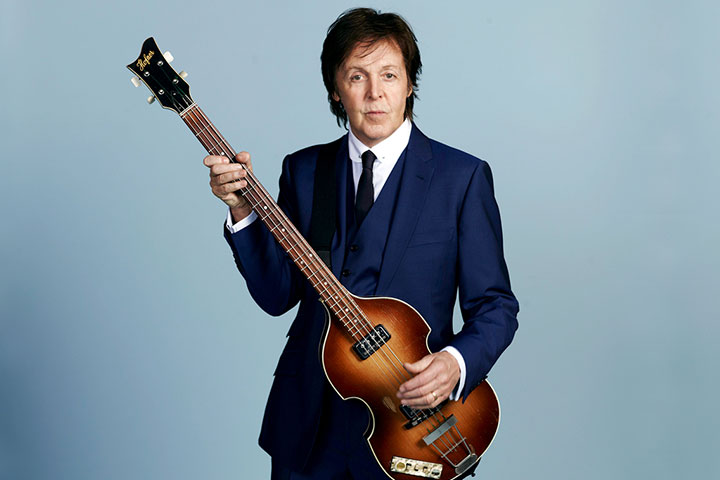 "I'm proud of the Beatle thing," Paul McCartney told Rolling Stone in 1978. "It was great, and I can go along with all the people you meet on the street who say you gave so much happiness to so many people. I don't think that's corny." Even though it was Paul's 1970 solo debut that marked the end of the Beatles, it was Paul's post-Beatle career that was truest to the band's world-hugging, happiness-spreading vision, as he channeled his own changing inspirations and desires into beloved hits like "Baby I'm Amazed," "Jet" and "Band on the Run," as well as genius obscurities like "Monkberry Moon Delight." Our ranking of his 40 greatest solo songs is sure to start some arguments (his banned stoner-anthem rocker "Hi, Hi, Hi" makes the top 10 and his radio-dominating global smash "My Love" isn't here at all), and the picks run from pop to folk to punk and disco and beyond, as well as a few silly love songs – some of the greatest of all time, in fact.
By Jon Dolan, Simon Vozick-Levinson, Will Hermes and Rob Sheffield.
40. "Ever Present Past"
Memory Almost Full, 2007
McCartney tapped into the restless energy of a man half his age on this backward-looking single, singing about "searching for the time that has gone so fast" over quick, incisive riffs. "I wouldn't use the word 'nostalgia,'" he said. "I would use the word 'memory.' … If you're using your imagination, you tend to look into the past."
39. "Riding to Vanity Fair"
Chaos and Creation in the Backyard, 2005
Nigel Godrich's production makes this psychedelic ballad feel like it's floating in space, while the excellently sharp-edged lyrics lash out at an undermining type. "I don't write many songs like that," he told RS. "I thought it might be good to tell some people you can't stand them."
38. "Mull of Kintyre"
Non-album single, 1977
A bagpipe-assisted pub singalong in praise of the gorgeous, remote part of western Scotland where McCartney's farm is located, "Mull of Kintyre" is a footnote for most U.S. fans. But it was an unstoppable phenomenon in Britain, becoming the country's bestselling single ever, beating "She Loves You." (It was unseated in 1984 by "Do They Know It's Christmas?")
37. "Temporary Secretary"
McCartney II, 1980
Deep into the free-form tape-machine improvisation that produced most of McCartney II, Paul came up with this oddly catchy electro-pop nugget, about a slightly creepy-sounding guy looking to hire a temp. "I just saw it as an experiment," he said years later, by which time the song had become a cult favorite. "I didn't know I was doing anything innovative, really."
36. "I've Had Enough"
London Town, 1978
This late-model Wings cut followed up the ultra-easygoing "With a Little Luck," with tough talk and guitars to match. McCartney's sarcastic snarl suggests he was already paying close attention to future collaborator Elvis Costello. "I've Had Enough" was a minor Top 40 hit in the U.S. – but it flopped in the U.K. "You can't win 'em all," McCartney said with a shrug.
35. "Early Days"
New, 2013
You might think of McCartney as being beyond the old debates over who wrote what in the Beatles, but if so, you don't know Paul. "I know my memory has got chips in it that still can go exactly back to two guys sitting in a room trying to write 'I Saw Her Standing There' or 'One After 909,'" he told Rolling Stone in 2014. "I can see every minute of John and I writing together, playing together, recording together. I still have very vivid memories of all of that. It's not like it fades." This highlight from 2013's New, he explained, is rooted in that same sense of frustration at revisionist Beatles histories. "They can't take it from me if they try/I lived through those early days," he sings. "So many times I had to change the pain to laughter/Just to keep from getting crazed." And because he's Paul, it comes out as a bittersweet, gentle folk ballad that's one of the most moving songs he's written this century. There's no resentment in the performance, just a lot of love for the memory of a friend.
34. "The Back Seat of My Car"
Ram, 1971
Like many of McCartney's early triumphs, "The Back Seat of My Car" could have been a Beatles song: He played them an early version in 1969. Two years later, he revived it as Ram's grand orchestral finale. "A really teenage song," he said in 2001. "The two lovers are going to take on the world. I always like the underdog."
33. "Magneto and Titanium Man"
Venus and Mars, 1975
On vacation in Jamaica, McCartney started buying comic books for his kids – inspiring him to write this jolly little tune about a bank robbery involving several Marvel supervillains. On Wings' next tour, images of Magneto and Titanium Man were featured alongside paintings by artists like Magritte. "It's all art," he said.
32. "Flaming Pie"
Flaming Pie, 1997
McCartney rode the wave of excitement from the Beatles' Anthology with Flaming Pie, named for an old Lennon joke about the band's origins. The title track is at once rocking and bizarre, with a from-nowhere New Orleans piano breakdown and acid-trip lyrics. Paul said he "really didn't give a shit" how the LP sold: "Everyone likes to have a hit, but not at the expense of fun."
31. "Say Say Say"
Pipes of Peace, 1983
Before they fell out over the rights to the Beatles' publishing catalog, McCartney and Michael Jackson were good pals. "Mike's great; lovely guy!" Paul said the year they released this zippy duet. Virtually anything involving Jackson was a guaranteed hit at the time, and this was no exception – it spent six weeks at Number One.
30. "Fine Line"
Chaos and Creation in the Backyard, 2005
Radiohead producer Nigel Godrich pushed McCartney out of his comfort zone on Chaos and Creation in the Backyard, getting Paul to play nearly every instrument himself for the first time in decades. The results, as heard on this urgent, piano-driven jam, came out sounding classic.
29. "FourFiveSeconds"
Non-album single, 2015
Technically a duet between Rihanna and Kanye West featuring some evocative acoustic strumming from Paul, "FourFiveSeconds" was nonetheless McCartney's biggest hit in decades, proving that pop music still needs and feeds him long after his 64th birthday – and blessedly replacing "Spies Like Us" as his most recent appearance in the Top 10. And even though he barely sings on it, "FourFiveSeconds" is a deeply McCartney-ish song in spirit. From the understated uplift of the chord progression to the churchy organ breakdown in the middle to the quiet jabs of passive aggression ("All of my kindness is taken for weakness," Rihanna sighs like she's dissolving Apple Corps), it sounds far more like him than like either of his younger co-stars. It takes a powerful musical presence to overshadow Yeezus, but that's Paul for you.
28. "Goodnight Tonight"
Non-album single, 1979
"Goodnight Tonight" was one of McCartney's biggest disco-era hits – a butter-smooth groove recorded with Wings' seventh and final lineup. But he almost left it on the studio floor while making Back to the Egg. "We scrapped the whole thing," he recalled. "A week later, I played the record again and thought, 'That's crazy.'"
27. "Angry"
Press to Play, 1986
The McCartney who howled "Helter Skelter" mostly took the Eighties off. But he rages in this proto-grunge blast – with Pete Townshend on guitar and Phil Collins on drums – righteously ranting against racism and Margaret Thatcher. "Britain's attitude toward apartheid at the moment is just so crazy," Paul told RS. "It's so insane. Couldn't they just wise up?"
26. "Heart of the Country"
Ram, 1971
When the business battles that followed the Beatles' breakup threatened to drive him mad, McCartney headed to Scotland with Linda and threw himself into country living – an experience commemorated in this joyful, folksy idyll. "It was an escape," he said years later. "I had always been a nature lover as a kid, but I'd never really had any time to return to that."
25. "Waterfalls"
McCartney II, 1980
Named for a cottage McCartney owned in Sussex, this stately ballad is a highlight of one of his lesser-known LPs. Serious fans might have noticed something familiar when they heard TLC's R&B hit of the same title 14 years later: The central metaphor and some key lyrics are nearly identical. "It's like, 'Excuse me?'" an incredulous McCartney later said.
24. "Hope of Deliverance"
Off the Ground, 1993
"It's an international message with a Latin American flavor," McCartney said of this uplifting anthem, where he trades Spanish guitar solos with Robbie McIntosh over syncopated rhythms, with a first-take immediacy. It wasn't a hit in the U.S. – but it was huge in post–Cold War Eastern Europe, where its optimism had fresh, deep resonance.
23. "Listen to What the Man Said"
Venus and Mars, 1975
It wasn't quite "The Hustle," but "Listen to What the Man Said" – with its silky, seductive groove spotlighting session pro Tom Scott's zesty sax – proved that McCartney would have no trouble fitting into the dawning disco age. "'The Man' could mean God, it could mean many things," he said. "It's a good summer single."
22. "Monkberry Moon Delight"
Ram, 1971
An ominous late-night fantasy: Over a hard-chugging piano riff, McCartney wails about getting loony under some exotic influence, with "a piano up my nose." "It's like abstract painting," he told RS. "People go, 'Wow – is that cocaine?' And I go, 'No. It's a piano up his nose. Haven't you ever seen surrealist paintings?'"
21. "You Gave Me the Answer"
Venus and Mars, 1975
When McCartney asks, "Shall we dance?" it's hard to say no. "You Gave Me the Answer" is his return to the old-timey music-hall vibe of "Honey Pie" and "Your Mother Should Know," with soft-shoe crooning worthy of Rudy Vallee: "You gave me the answer to love eternally/I love you, and you – you seem to like me!"
20. "Here Today"
Tug of War, 1982
"Here Today" is McCartney's moving response to Lennon's death. Produced by George Martin, the subtle ballad carries distinct echoes of the Beatles, with heartbreakingly honest lyrics that continue McCartney's lifelong dialogue with his late friend. "We had some great conversations just before he died," he recalled in 1993. "I felt like I'd made my peace with him."
19. "With a Little Luck"
London Town, 1978
McCartney at his very mellowest. "There is no end to what we can do together," he coos over gently layered harmonies from Linda and pillow-soft synths that define the sound of yacht rock. In fact, "With a Little Luck" was literally recorded on a yacht: the Fair Carol, a pleasure craft with a full 24-track studio onboard, anchored somewhere off the Virgin Islands.
18. "Coming Up"
McCartney II, 1980
As the Seventies drew to a close, McCartney retreated to his Scottish farm and had some fun with a tape machine. "I got into all sorts of tricks, and I can't remember how I did half of them," he said of this tune, a hyper-caffeinated groove with quirky sped-up vocals. Among the song's many fans was Lennon – "Coming Up" reportedly inspired him to make music again.
17. "Junior's Farm"
Non-album single, 1974
This one-off hit was recorded in Nashville while Wings were staying in nearby Lebanon, Tennessee, at the rural home of Curly Putman Jr., a songwriter best known for the George Jones classic "He Stopped Loving Her Today." But the song was way more glam rock than country, with a majorly psychedelic cast of characters including an Eskimo and a sea lion.
16. "Nineteen Hundred and Eighty Five"
Band on the Run, 1973
A tasty end to Wings' finest LP. A sci-fi spectacular driven by McCartney's barreling bar-room piano, it was just a single line at first: "No one ever left alive in nineteen hundred and eighty five." "That's all I had for months," McCartney later said. "'No one ever left alive in nineteen hundred and eighty … six?' It wouldn't have worked!"
15. "Silly Love Songs"
Wings at the Speed of Sound, 1976
After years of doing his best to ignore critics who saw him as a starry-eyed fool for love, McCartney struck back with this disco smash. "What's wrong with that? I'd like to know," he sings over a giddy bass line and lush strings. He had the last laugh when the song stayed at Number One for five weeks and topped the year-end charts.
14. "Bluebird"
Band on the Run, 1973
Like many of the great songs on Band on the Run, "Bluebird" is a fantasy of escape: Paul and Linda as a pair of lovebirds, flying free in the breeze. The song features a bittersweet melody only McCartney could have written, carried along by guitar that lilts like Brazilian bossa nova and soft-touch percussion from Nigerian instrumentalist Remi Kabaka.
13. "Every Night"
McCartney, 1970
"I don't go out at all," McCartney told RS in April 1970. "I would rather be in bed than at the clubs." This lovely acoustic number paints a more complicated picture: McCartney sings about feeling aimless and wanting to "get out of my head" – but when he says he's decided to stay home with Linda instead, you can hear a hint of sunshine breaking through the clouds.
12. "Let Me Roll It"
Band on the Run, 1973
One of McCartney's rawest tracks, with slashing, bluesy guitar and reverb-heavy vocals, "Let Me Roll It" has often been seen as a Lennon pastiche. Yet McCartney has consistently denied this interpretation, saying, "You have to remember that, despite the myth, there was a lot of commonality between us in the way that we thought and the way that we worked."
11. "Beware My Love"
Wings at the Speed of Sound, 1976
"We're trying to make it sound as hard as possible," McCartney said around the time they recorded Wings at the Speed of Sound. They succeeded with this scorching, multipart rocker, which stands out from the laid-back disco pop on the rest of the LP thanks to McCartney's pleading vocals and Jimmy McCulloch's gnarly guitar.
10. "Venus and Mars"/"Rock Show"
Venus and Mars, 1975
"The whole idea behind Wings is to get a touring band," McCartney told RS in 1976, "so that we are just like a band, instead of the whole Beatles myth." But nothing he touched in those days could be "just" anything. The two-part suite that kicked off each night of the Wings Over America tour is a sweeping head trip – from the golden acoustic opening to the rip-roaring crescendo, which rhymes "rock show" with the Dutch "Concertgebouw" and includes a jokey nod to arguably the biggest arena star of the day, Jimmy Page.
9. "Another Day"
Non-album single, 1971
McCartney was writing so many great songs in the late Sixties and early Seventies that a perfectly turned pop tune like this could sit in his back pocket for years: Although he first played it during the filming of the Beatles' Let It Be project in 1969, it remained unrecorded until the Ram sessions in late 1970, when he decided to make it the first official single of his solo career. It's a classic McCartney story song – drummer Denny Seiwell famously called it "'Eleanor Rigby' in New York City" – with Linda's plaintive harmonies helping to bring the song's young female protagonist to life.
8. "Hi, Hi, Hi"
Non-album single, 1972
McCartney expertly tweaked his gentlemanly image with this shameless celebration of sex, drugs and guitars. The single promptly got banned by the BBC: Even Macca couldn't quite get away with inviting the ladies to "lie on the bed, get you ready for my body gun." McCartney protested that it was all an innocent misunderstanding, telling Rolling Stone he was really singing, "Get ready for my polygon." (Much better!) He also claimed the chorus – "We're gonna get hi, hi, hi" – "could easily be taken as a natural high." Nobody believed him, but it remains one of his best-loved rockers.
7. "Junk"
McCartney, 1970
McCartney originally wrote "Junk" for the White Album – check out the excellent demo on the Beatles' Anthology 3. But it fits even better on his solo debut: A young man looks in a junk-shop window and gets a glimpse of his future, picturing himself as old and forgotten. You can hear McCartney's determination to make music on his own homespun terms. "I rather fancied having just the plain tapes and nothing done to them at all," he told RS in 1974. "It's got the door opening, the banging of the tape recorder, a couple of people giggling in the background."
6. "Jet"
Band on the Run, 1973
Every Seventies rocker had to reckon with David Bowie somehow, but only McCartney could outdo him with a hit as swank as this one. Recorded in Nigeria, "Jet" opens with stately horn fanfare, before exploding into glam-rock guitars, groovy overdriven synths and a one-word window-rattler of a chorus. "Jet," it turns out, was the name of one of his dogs; the rest of the lyrics are quizzical even by McCartney standards, full of tantalising riddles about space travel and suffragettes. "I can't really explain what it is," he later said. "It sounded silly, so I liked it."
5. "Uncle Albert/Admiral Halsey"
Ram, 1971
McCartney's first post-Beatles Number One is a tour de force – a quilt of song fragments and sound effects that clocks in under five minutes, but feels much longer with all its transitions and funny voices. "I was in a very free mood," he said in 2001. "It must have freaked a few people." Written with McCartney's real-life uncle Albert Kendall in mind, and with orchestral help from George Martin and the New York Philharmonic, it had a decidedly Beatles-y feel. Even Lennon, who bashed the rest of Ram, had to admit he liked the song.
4. "Live and Let Die"
Non-album single, 1973
One of McCartney's kookiest, hardest-rocking tunes with Wings was written for the James Bond film of the same name, which former Beatles producer George Martin had been hired to score. (Some members of the press mocked the idea of Macca going 007. "I thought, 'You silly sods!'" he told RS.) Martin helped arrange breakneck, over-the-top orchestration and a reggae midsection to chill things out. The song became one of McCartney's biggest hits, cracking the Top 10 in both the U.K. and the U.S. To this day, it has a choice spot in his stadium and arena sets, complete with eyebrow-singe-ing pyrotechnics.
3. "Too Many People"
Ram, 1971
By his second solo album, McCartney had every reason to be pissed off: His beloved band had dissolved, and everyone seemed to be blaming him. His frustration spilled out in this startlingly biting track, recorded in New York. "That was your first mistake/You took your lucky break and broke it in two," he scoffs – a direct swipe at John Lennon. "He'd been doing a lot of preaching, and it got up my nose a little bit," McCartney said in 1984. Yet the song's incredibly sweet melody is proof that McCartney could use his charm as a weapon when he wanted to. "It's so harmless, really," he said in 2001. "Just little digs."
2. "Band on the Run"
Band on the Run, 1973
If anyone still wondered whether McCartney could really cut it solo, "Band on the Run" settled the question once and for all. It's an audaciously daft multipart suite about a rock & roll prison break, with hints of escaping his Beatles past. ("If we ever get out of here" was a phrase George Harrison had muttered in a business meeting.) But even when McCartney is singing about conflict and confinement, he gets swept up, hollering in delight. The whole world decided to run along with him, taking the song to the top of the pop charts here. No one dismissed him as a lightweight after this.
1. "Maybe I'm Amazed"
McCartney, 1970
Paul McCartney conjured this simple, immaculate love song on his piano at home at 7 Cavendish Avenue in St. John's Wood, London – where, with the Beatles' future uncertain, he'd been testing out some ideas on his new Studer 4-track tape recorder. While several of the strongest tunes that wound up on his 1970 solo debut ("Junk," "Teddy Boy") had been written months or years earlier for potential use on Beatles albums, this one was entirely new: a reflection of how lost he felt as he watched the band that had been his life's work fall apart, and how much he relied just then on the support of his new wife, Linda. There was no missing the fact that "Maybe I'm Amazed" was something special, and so – in contrast with the deliberately DIY recordings that made up most of the new LP – he decided to give the song the full studio treatment, slipping into EMI's Abbey Road Studios under a fake name with his family in tow. He completed the recording essentially alone, producing it and playing every instrument, with Linda adding harmonies. "We had a lot of fun," McCartney told RS that year. "We decided we didn't want to tell anyone what we were doing or go to any companies. It was just swell." "Maybe I'm Amazed" was the definite highlight of McCartney, released several weeks before the Beatles' Let It Be movie in 1970, but strangely it was never released as a single, despite significant radio airplay. A live version, however, made the Top 10 in 1977 via his new band's Wings Over America set. For all the peaks he'd hit in the years and decades that followed, this early triumph remains McCartney's solo-era signature – an understated but perfect beginning to a truly remarkable second act.