My Soundtrack: Wayne Coyne
The Flaming Lips' head honcho on imaginary dragons and the art of waiting in line.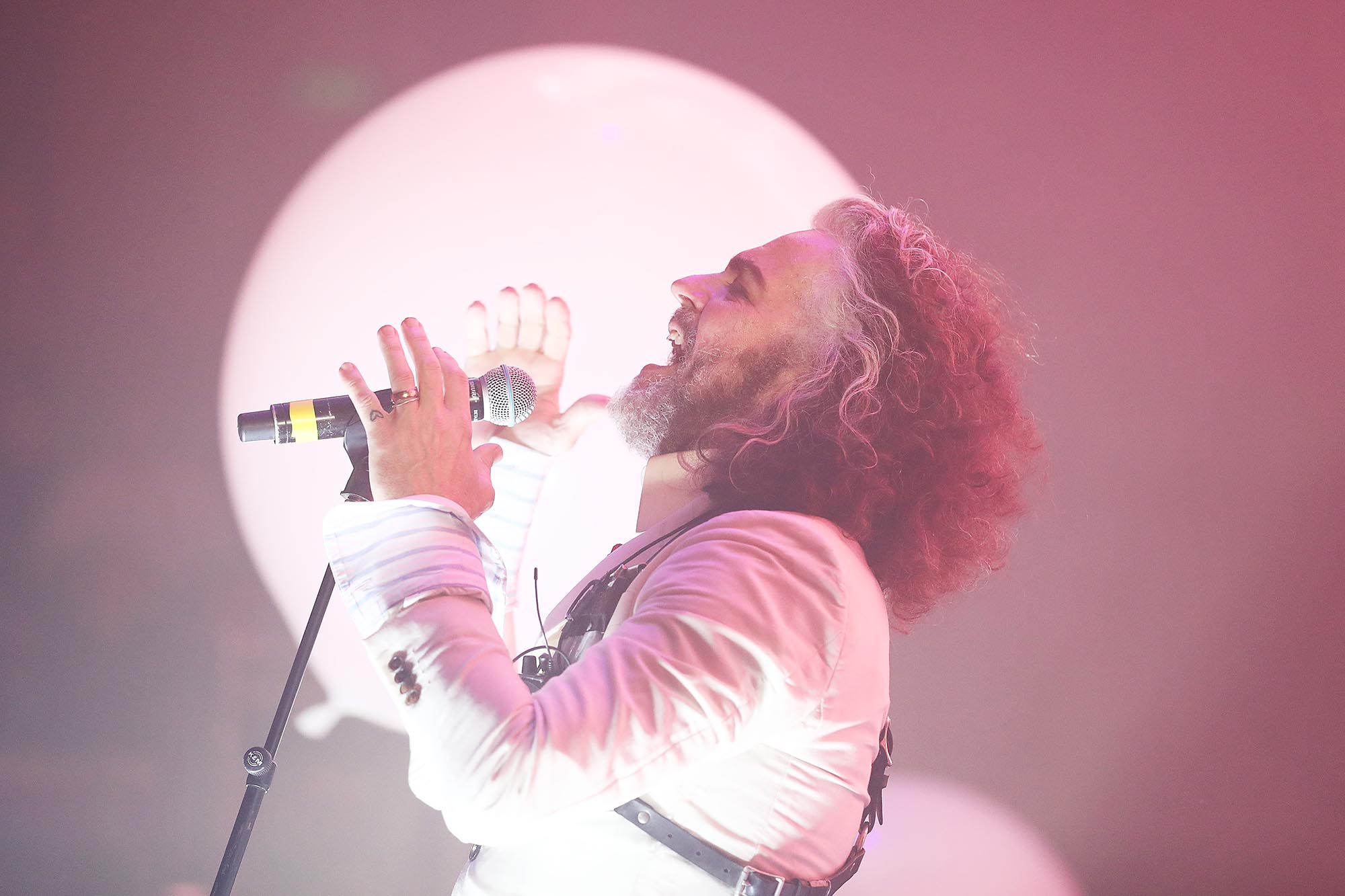 The Flaming Lips' head honcho on imaginary dragons and the art of waiting in line.
All words below by Wayne Coyne.
The First Song I Learned To Play
Deep Purple "Smoke On the Water", 1972
"I grew up in the Sixties and Seventies, and my older brothers had all the records, and I think everyone played what they thought was this riff from 'Smoke on the Water', though now I know I wasn't playing it, I was playing a version of it. There were a couple of dudes around who would be hanging with my older brothers and they all would be taking drugs and smoking pot, and for whatever reason they would take their guitars over to his apartment, and we would all hang out up there. Mostly they would play their guitars and we would listen, but occasionally I'd say, 'How are you doing that?' I think I had an accelerated first two months of playing guitar. If you'd just met me when I started to play guitar you'd think, oh my god, he's amazing! And if you met me now you'd be like, 'You don't seem to be able to play guitar very well at all!' But for the first couple of weeks it felt like, I've got this."
The Song I Want Played At My Funeral
Louis Armstrong "What a Wonderful World", 1967
"It's not written by Louis Armstrong but he definitely has the definitive version. We play it every night after our set as the audience is leaving. It's especially powerful that he sang it in a time in America [where] his perspective of the world could have been embittered, [but he was] still seeing the magic. It's just perfect, it's the greatest."
The Song That Makes Me Cry
Peter, Paul & Mary "Puff, the Magic Dragon", 1963
"That song is about growing up and how you have to let go of childish things, but there's something very sad about letting go of this dragon in the story. It still gets me. There's something about that relationship that the boy in the song has to the dragon, even though it's an imaginary dragon. I remember hearing it when I was really young and thinking, fuck, this is sad! As I get older I think it's even more powerful because of its quietness."
The Song I'm Most Proud Of
The Flaming Lips "Do You Realize??", 2002
"We're very lucky to have this song. I'm proud of a lot of our music, but this one has made its own way in the world and has become this light that shines on us, brighter than we deserve. The world has given it special meaning, and we're the ones who get to sing it and be responsible for it; it's just a beautiful, powerful song. When we were coming up with it we didn't treat it like, 'Oh my god, what a special song', we liked it and we did the best we could to make it happen. But it wasn't something that we thought, this is going to be the one."
The Song I Wish I Wrote
Patty & Mildred J. Hill "Happy Birthday", 1893
"A perfect six-word song, and one of the words you insert yourself. It's simple, useful and memorable."
The Song That Cheers Me Up
Miley Cyrus "Lighter", 2015
"We've done this record with Miley Cyrus [Miley Cyrus & Her Dead Petz], and some of the songs are just so beautiful. It's not because I'm involved it's because she's involved. I think this veers between being a song that's about her dad and about her boyfriend and about her dog and about her mother and about her best friends, depending on which line she's using there. When we first got together a couple of years ago she had a bit of it, and as it developed it was one of those songs where we were like, don't change the good stuff! Try to pile on little by little the stuff that makes it more and more special, and that's difficult to do when you're not getting a song all in one phase. When I hear it I'm happy, not just because of what the song is, but happy in the way that it worked and happy in the way we feel about it now."
The Song That Reminds Me Of Growing Up
Bee Gees "Lonely Days", 1970
"I don't listen to it very often, 'cause if you listen to it too often that trigger will wear out. Even when we're speaking now I can picture driving around in the car with my older brothers, and that song must have been a pretty big hit or something, 'cause it felt like you heard it every 20 minutes. And I think I was probably starting to be old enough that this obsession and love of music was starting to creep into my mind. There are other songs from that time, but I've worn them out so they're not so exclusively of that time. It's a great song."
The Song I Play Air Guitar To
Led Zeppelin "Stairway To Heaven", 1971
"I don't do that much air guitar, but I'm sure I've done it to that solo. Classic rock is full of guitar solos whereas a lot of the pop music I listen to now, it's not really a thing that you get to air guitar to. The other night with Miley Cyrus, there was a group of fans waiting in line from the previous night, and it got very cold as the night went on and it snowed the next day and they were waiting in the snow for 12 hours before they got into the venue. And everyone was so concerned, they said, 'We should take them pizza and let them into the venue early', and I said, 'When I waited in line in the Oklahoma January winter in 1978, I waited in line for four days for Led Zeppelin tickets. Zeppelin didn't come and bring me pizzas, I waited in line.' Waiting in line is its own reward. But we did get front row tickets!"
—
From issue #771 (February, 2016), available Thursday, January 7th. The Flaming Lips will perform at the Sydney Festival opening night on January 9th. More information here.