My Soundtrack: Tim Rogers
The You Am I frontman is a dancer, a romancer and remains hopelessly in love with loud guitars.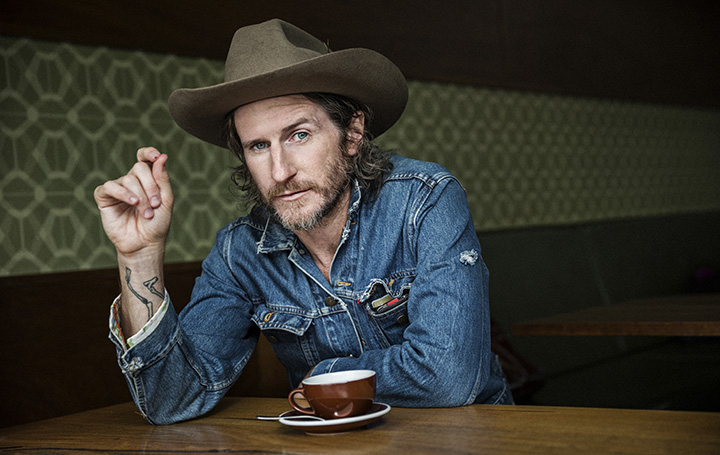 The You Am I frontman is a dancer, a romancer and remains hopelessly in love with loud guitars.
All words below by Tim Rogers.
The Song I Fell In Love To
Hall & Oates "I Can't Go For That", 1981
"I've been drinking at my wife's restaurant for years, and the night I asked her out, which was only a few years ago, she nodded 'yes', and then we got a lock-in at the restaurant, dancing to Hall & Oates songs. And then we noticed staff leaving and we were the only two left there. Hall & Oates is still a code for something I can't tell you about."
The Song That Makes Me Cry
Randy Newman "Losing You", 2008
"I brought it to my dad when he was having triple bypass surgery, and he also had bowel cancer, and I listened to that with him when he was very frail. It's from a record [Harps and Angels] about mortality and dying, but it's humorous as well, and I wanted him to be filled with that."
The Song I Want Played At My Funeral
The Rolling Stones "Jumpin' Jack Flash", 1968
"It will remind anyone who turns up that this auditorily sums up the reason I'm around. At my funeral [there'll be] a great bar around the corner, Rusty [Hopkinson, You Am I drummer] will be DJing, Andy [Kent, bass] will be the barman, and you'll probably go home and sleep with Davey [Lane, guitar]."
The Song That Reminds Me Of Touring
Billy Miranda "Go Ahead", 1960
"Rusty and I were sharing a hotel room in London in about '97, and we got this record called Black Rock & Roll Volume 1, and it had little known rock & roll songs from the Fifties by African-American artists, and this song [was on it]. It's a break-up song, and it's berserk. Russ and I were open jawed, we couldn't believe this fucking song. We initiated Davey to it last year, we realised we hadn't played him the song. Same thing happened to him, his jaw dropped."
The First Song I Learned To Play
The Rolling Stones "The Last Time", 1965
"I'd bought a gut-string acoustic, and as soon as I learned to play this song a friend invited me to a jam the following week at his house in Adelaide. I thought great, I want to be in a rock band, but realised that's all I knew, three chords. If Bono says all you need is three chords and the truth, I think you need four-and-a-half chords and a lot of lies. 'Cause I said, 'Yeah I'll play guitar, I can play "The Last Time"', and we played that for three hours."
The Song People Wouldn't Expect Me To Like
Scissor Sisters "I Don't Feel Like Dancin'", 2006
"My daughter and I used to dance for 15 minutes before bedtime to Smokey Robinson and the Miracles, Marvin Gaye and Scissor Sisters. The last time they toured I was having a drink down near the Harbour and the guitarist walked past and I had to stop him and say, 'I adore your fucking band.' And he sat down and said, 'What do you do, you look like you're a musician', and I had to say, 'I've got nothing more to say, I just want to express how happy you make me feel.'"
The Song That Cheers Me Up
Violent Soho "In the Aisle", 2013
"I was walking over the Brooklyn Bridge last month and listening to the whole record [Hungry Ghost], and I wanted to jump off the bridge I was that happy. I can't think of a more exciting record I've heard in my life. Any time I get down about, being in a rock band's going to kill me, I can listen to that record and be like, no, being in a rock band is what made me."
The Song I'm Most Proud Of
Tim Rogers "Part Time Dads", 2012
"The protagonist in it starts off with a bit of a whinge about the difficulties of break-ups and kids and wanting to maintain a wonderful relationship with your daughter when you're a part-time dad. But then why I'm proud of it, by the end, the protagonist – who isn't me at all [smirks] – realises that you are my only joy, and so I'm going to just get on with it, make dinner and let's do homework together and stop whingeing. Maybe 20 years ago if I'd been in that situation I wouldn't have had that denouement, so I'm quite proud of that."
The Song I Play Air Guitar To
The Replacements "I.O.U.", 1987
"I saw the film clip for 'Bastards Of Young' on Rage, and thought that's the greatest thing I've ever heard. So I went to Collect Records in Parramatta and mistakenly bought three Residents records [laughs]. They weren't what I was expecting. We played with the Replacements two months ago, and when they played 'I.O.U.' Davey and I were doing the whole Status Quo air guitar thing."
The Song I Listen To When Hungover
Noël Coward "Let's Say Goodbye", 1932
"I listen to Noël Coward almost exclusively when I'm hungover. I think, 'Come on, Rogers, stop feeling sorry for yourself, you did it to yourself.' So I put on my smoking jacket and say, 'Remember how lucky you are. Sure you may be hungover but you're not on the poverty line, so be grateful.' I do that by listening to Noël Coward records and wearing a smoking jacket."
—
From issue #770 (January, 2016).