My Soundtrack: Ricky Gervais
The comedic brain behind 'The Office', 'Extras' and more discusses the songs that made him.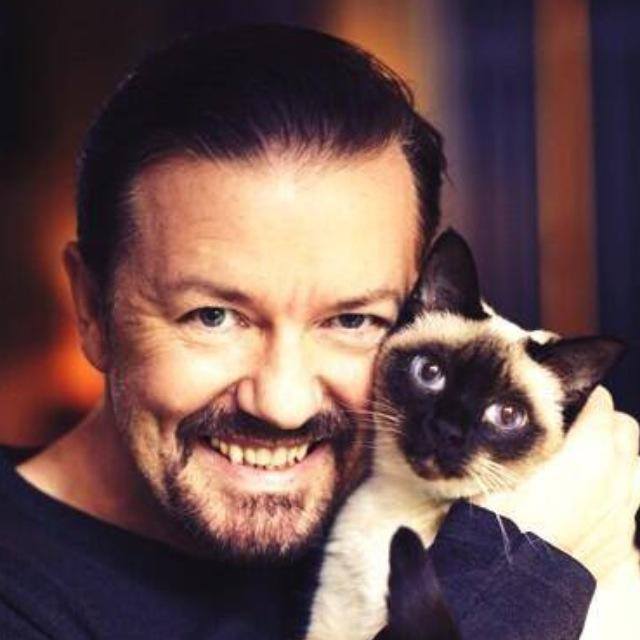 The comedic brain behind The Office, Extras and more discusses the songs that have defined his life, from his self-described "rebellious" teenage years to his current writing inspiration.
All words below by Ricky Gervais.
The Song I Listen To Before Going On Stage
Radiohead "Bones", 1995
"I don't really. I don't sit and vibe, as Eminem would say. [Laughs] I'm probably chatting and going over my first few lines. But I do put on an album for the audience, when the doors are open, so I can hear [that], and the one I've probably put on the most is The Bends by Radiohead. It's so beautifully structured and complex that it really stands the test of time, and 'Bones' is an amazing track. The lyric 'I used to fly like Peter Pan', it brings a lump to my throat."
The Song I Want Played At My Funeral
Willie Nelson "Always On My Mind", 1982
"Why do I give a flying fuck what's played? [Laughs] What's the point of being the centre of attention if you're fucking dead? That is shit. [Laughs] My first thought was that I want [people] to be laughing, but then I thought, no, I want them to be fucking crying [laughs]. One of the things with me is old people with regrets, I can't stand it, it hurts me. And I've always loved 'Always On My Mind – [sings] "Maybe I didn't love you/Quite as often as I could". It's beautiful. So I'd play that. And hope that they cry."
The Song That Makes Me Cry
Jim Reeves "The Blizzard", 1961
"This might have been very influential in forming my outlook on life, particularly cruelty to animals and kindness. I was five years old and my mum used to play Jim Reeves records, and this used to destroy me. I never told anyone, I used to cry secretly. It goes [sings], "There's a blizzard, coming on/How I'm wishing I was home/But my pony's lame and he can hardly stand". He's trying to make it through the blizzard to Mary Ann. The second verse, he sings something like, "Dan get up you ornery cuss, or you'll be the death of us/I'm so weary, but I'll help you if I can/ Alright Dan, perhaps it's best, if we stop a while and rest", and he waits with his pony and his pony dies. Honestly, I'm welling up! It used to destroy me! And it wasn't just that the pony died, it was such a lovely thing for him to wait. They both died, by the way."
The Song I Write Scripts To
Sun Kil Moon "Lost Verses", 2008
"Last year was my scriptwriting phase for three projects. I wrote Special Correspondents, the Derek special and Life on the Road over a one-year period, and I used to go out and sit on the heath and listen to stuff, and the most listened-to track was 'Lost Verses'. I'd sit there and just make notes, thinking and scribbling and, I suppose, revelling in my existence a bit. What a privilege: I can sit in the sun on the heath and scribble things that are going to be made into TV shows or movies, and listen to amazing music. I remember thinking, I'm a fucking lucky bastard."
The Song That Reminds Me of School
David Bowie "All the Young Dudes", 1974
"It's like the story of being a teenager in the Seventies for me. Was I a good teenager? I was rebellious, but only in terms of ideas and free speech. I never raced cars, I was never James Dean, it was always just answering back to teachers and thinking I knew better, and embracing taboos and arguing the unpopular side."
The Song That Changed My Life
David Bowie "Heroes", 1977
"I remember it, it was a Eureka moment. It was on a TV show called Marc, which was [hosted by] Marc Bolan, and Marc went, 'And here's my friend David Bowie's latest song, "Heroes"', and it just started. I'd never heard anything like it. Every moment of that song brings chills. And I remember thinking, this is what I want to do, I want to do art, I want to do music. I think before that, in my head, the world was in black and white, and that's when it changed to colour for me."
The Song That Reminds Me Of Growing Up
Bob Dylan "Like a Rolling Stone", 1965
"When I was 8, 9, 10, I acquired a big collection of my older siblings' 7 inches, and it was the classics. It was the Beatles and the Stones and Dylan. There was just something about this I just loved. [Impersonates Dylan singing] I played it every day. I couldn't have appreciated it at the time. I couldn't have really understood how important Dylan and Jagger and Lennon were, but I'd accidentally been handed great taste! It was a very, very lucky start."
The Song I Wish I'd Written
Bruce Springsteen "Thunder Road", 1975
"It's so evocative, it's filmic. [Sings] "The screendoor slams/Mary's dress waves/Like a vision she dances across the porch/As the radio plays". It's just amazing. I wasn't a fan of Springsteen in the Seventies, but I went back and realised I was an idiot and should have been. As soon as I was 19, old enough to realise how fucking amazing he was, he jumped straight into my pantheon of the greatest. I've played the Bob Woodroffe [benefit show] in New York for wounded veterans two or three times with him, and seeing him and his wife doing 'Thunder Road' acoustically is ridiculous. He came out and said, 'There's been a lot of comedians on the bill, so I'm going to tell you a joke', and then he told a joke, and then he told another joke! [Laughs] And the audience laughed. I went out and said, 'Springsteen's stepping on my toes, I'm going to do a song then.'"
The Song With the Greatest Lyrics
Randy Newman "Marie", 1974
"Oh my God, the lyrics: 'You looked like a princess the night we met/With your hair piled up high/I will never forget/I'm drunk right now baby, but I've got to be/Or I never could tell you what you mean to me.' There was a point in my life where that was the song I wished I could write. I remember it was kind of at the end of the manic episode that basically was the story behind [2012's] Gossamer. And that song came back into my life during that transitional period, and that's when the power of a pop song really just crushes it."
The Greatest Song Ever Written
Tom Waits "In the Neighborhood", 1983
"No one does character development like Tom Waits. The idea of the frustrated apartment dweller screaming about the milk not getting delivered anymore, and the trucks keeping everyone awake… I never write for myself with Passion Pit, I write for a version of myself, and Tom Waits mastered that. He was always writing for a version of himself. And that song, you can hear him stomping and the grit in his teeth."
—
From issue #782 (January 2017), available now.