My Soundtrack: M. Ward
From singing karaoke to 'collaborating' with Martin Luther King, it's all in a day's work for this former punk rocker.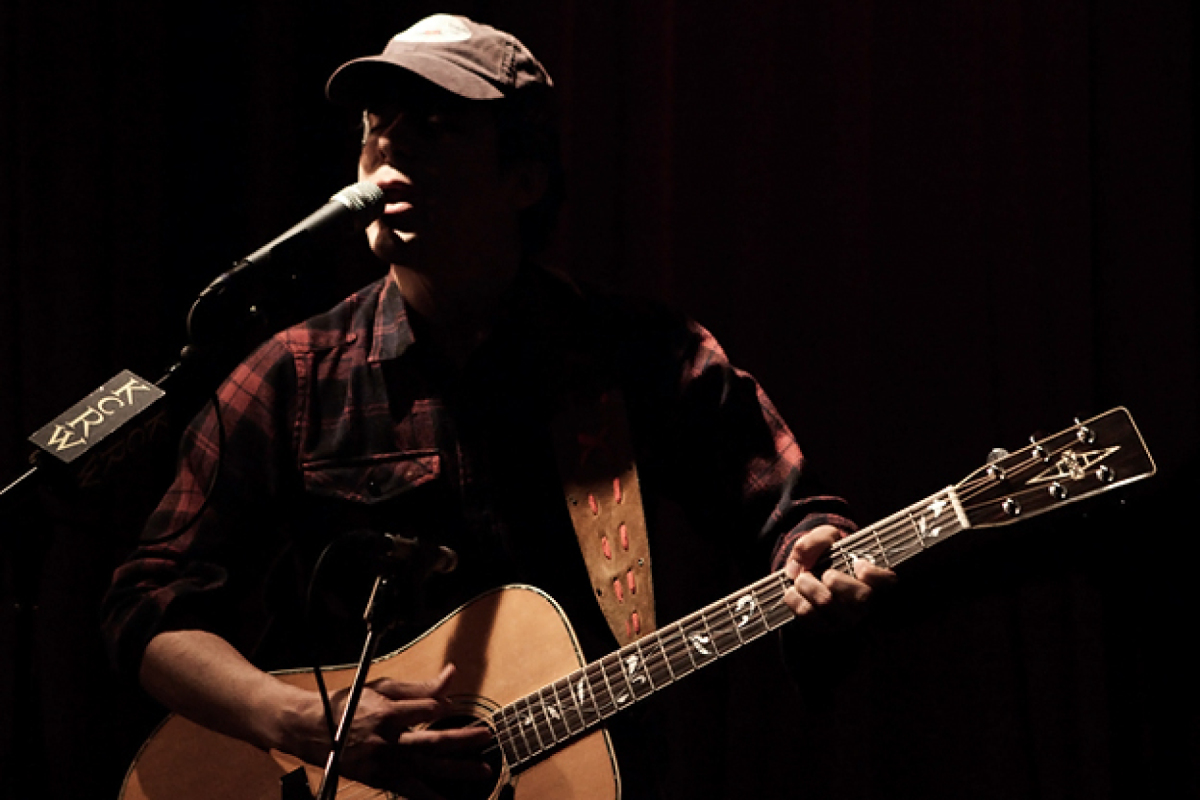 From singing karaoke to 'collaborating' with Martin Luther King, it's all in a day's work for this former punk rocker.
The Song That Makes Me Think Of Home
Firehose "Chemical Wire", 1986
"The first real concert I went to was by a band called Firehose, and they were my favourite live band in high school. I was probably 18 years old, or 17, and I'm surprised I got in. When I hear this it takes me back to high school and going to see live music. I'll never forget the feeling of seeing these guys – the way they played their instruments was just completely eye-opening and probably life changing. It made me want to go out and buy an electric guitar. I had been playing acoustic guitar, and seeing Sonic Youth and Firehose in L.A. in the late Eighties and early Nineties probably changed my life."
The Song That Reminds Me Of Touring
Chuck Berry "Roll Over Beethoven", 1956
"The first time I heard it would have been on oldies radio when I was in high school. Actually, my first exposure to that song might have been the Beatles' version, because I have this cassette tape that had them covering these old songs. Incredible sound. 'Roll Over Beethoven' is a song I've loved since high school and I've been covering it with my band; I recorded it a few years ago. Chuck Berry completely invented the guitar solo, he doesn't get as much credit as he deserves for that."
The Song You Wouldn't Expect To Find On My iPod
Sade "Lovers Rock", 2000
"That kind of style of music is not something my friends or I listen to very much, but that's the first name that comes to mind. I love the production, I love her voice, I think it's a really unique mix of reggae and soul and R&B, and I recommend it to everyone. The first time I heard her? I went to go see some movie and one of her songs was playing before the movie even started, it was intermission music. And the beauty of the production and the sound just hit me in this movie theatre and I went out and bought all her most recent records."
The First Song I Learned To Play
The Beatles "Blackbird", 1968
"My brother had an acoustic guitar in his closet that he never played, and I had a couple of friends in high school who were just learning how to play. I had some spare time on my hands when I was 15 or right around that age, and I started to see what would happen if I just started playing it. It definitely changed my life. I received a book of the Beatles' songs when I was probably 15 and it had all their chords, and that's how I learned to play guitar, going through the Beatles' catalogue. One could do worse. I bought a four-track and started covering their songs on four-track and that led me to start writing my own songs."
The Song That Makes Me Cry
The Beach Boys "Surfer Girl", 1963
"Seeing Brian Wilson at the Sydney Opera House was a tearjerker. I'm gonna guess it was six or seven years ago. Hearing him sing these old songs that I grew up with was really an emotional thing, because he is able to take you to Southern California where I grew up with just the sound of his voice. Then a couple of years later I ended up playing on his new record [No Pier Pressure], and I've done a few performances with him. The first time I met him was backstage at a show that the reunited Beach Boys were about to perform at the Beacon Theater, this is maybe five years ago. I just shook his hand and that was all it was. The next time I met him was in the studio in Los Angeles, Zooey Deschanel and I were going into record on a new song of his and I played guitar and Zooey sang harmonies and lead vocals. Brian was right there directing us and saying, 'Try this again and don't try that again', and really standing by like a great teacher would. What an experience."
The Song I'm Most Proud Of
Mavis Staples "MLK Song", 2016
"I just produced her new record, and I borrowed some words and phrases and lines from a Martin Luther King speech and turned it into a song. So I'm able to share writing credit with Martin Luther King Jnr, on a song that Mavis Staples sings lead vocals on and I play guitar on. So it's a really heavy production for me. And I'm really proud of how it turned out and I hope everyone goes out and buys the new Mavis Staples record. I don't think she was that familiar with my music [before we worked together], but we ended up getting along great. The music she listens to now is Beyoncé and a very kind of different style of music than I play."
The Song I Sing At Karaoke
John Lennon "(Just Like) Starting Over", 1980
"My go-to song for some reason is '(Just Like) Starting Over'. It's almost impossible for me to sing that song, it's a very hard song to sing, but it's a great song for karaoke 'cause people will sing along. The last time I did it? I'm gonna say four or five years ago, probably in San Francisco. Can I remember the circumstances of the evening? Not so much."
The Song That Reminds Me Of Growing Up
Johnny Cash "I Still Miss Someone", 1958
"My dad used to play Johnny Cash when I was growing up, so I heard his voice before I knew what music even was. My mum listened to classical music and my dad listened to country and gospel. I think it's safe to say [if I hear early Johnny Cash] it takes me back to where I grew up in Southern California."
—
From issue #774, available now.