My Soundtrack: James Mercer
In light of their reflective new album 'Heartworms', we invite the Shins frontman to look back at his life of punk rock, new wave and heartbreak.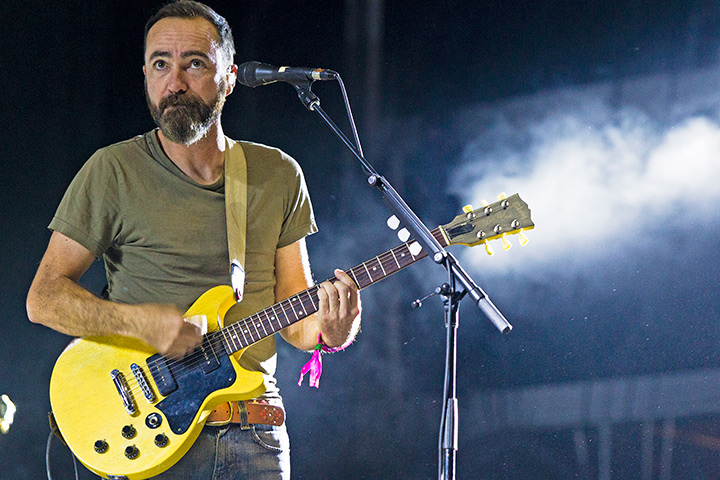 In light of The Shins' reflective new album, Heartworms, Rolling Stone Australia invited frontman, James Mercer, to look back at the music that has defined his life, so far.
What we got was a few surprises (Mercer's punk foundation), alongside tales of early romances, nagging regrets and his own song-writing legacy.
All words below by James Mercer.
The Song That Reminds Me of Growing Up
Burl Ives "There's Always Tomorrow", 1964
"It's just a really sentimental, lovely song. I would make up songs at that age, around seven or eight. Really wistful, weird shit like [singing] 'There's always tomorrow'. I loved that, super melancholy, even as a kid [laughs]"
The Song That Makes Me Cry
Bonnie Raitt "I Can't Make You Love Me", 1991
"I associate it with the girls I broke up with [laughs]. That sounds so egotistical or something, but it really makes me feel bad about breaking up with girls. It fucking kills me."
The Song That Reminds Me of My First Crush
Orchestral Manoeuvres in the Dark "If You Leave", 1986
I was living in Albuquerque, New Mexico, and she was a new-waver. She really loved Cyndi Lauper and actually shaved a checkerboard into the side of her head. Her dad played in a band, her parents were successful hair-stylists, hence her awesome style in every way. She was just cool as shit, you know? And she was my first real crush. That song was just everywhere during that time."
The Song That Made Me Want to Be a Musician
Echo and the Bunnymen "The Killing Moon", 1984
"All through high school, you know when you're trying to find an identity, I just really loved [the album] Ocean Rain. When I would listen to it, I was utterly in the dark as to how they could've created such an awesome thing. I didn't understand anything about guitars, I didn't know what they did. There's some really strange songs on there, but then there are some really dark, beautiful songs. At that time I was also listening to U2's War and [the Smiths'] The Queen Is Dead. Those were the three records that I was really stoked on, but there was just something about Ocean Rain that really grew on me. As for what made me really think I could play guitar, that was punk stuff. Me and my friends really loved the Sex Pistols' [Never Mind the Bollocks]. It sounded really current and cool. You could just sit there and play the chords and it kinda fucking sounded like it. That kept me playing guitar. For me to try and do what they did on Ocean Rain, that's hard to do when you're just starting out."
The Song I'm Most Proud Of
The Shins "Rubber Ballz", 2017
"It has this weird 3-4 or 6-8 thing. In the beginning, it starts off with this [taps a beat], and then it crashes right into the song that changes meter. The chords are sort of accidents that just happened. I just heard them and thought, 'Woah, that's really neat.' And for us, it has really novel chord progressions. If I was speaking to a songwriter I'd be like, 'Here's some stuff I can do, what do you think of this?'"
The Song I Wish I Hadn't Recorded
The Shins "Fighting In a Sack", 2003
"I more have regrets about the way it was recorded. We had been playing it live, and I had been doing it in E, but when we went into the studio, I was struggling to reach E in the vocals, so we dropped it down to D. It just lost all the energy. It was one of the songs we had to re-record with Phil Ek and we were under duress to get the album out. It was just too late. I walked away from it and immediately regretted it. I should have just somehow ploughed through."
The Song I Wish I Wrote
Angel Olsen "Shut Up Kiss Me", 2016
"It's really touching. It's the perfect song. It also kinda feels like the type of thing I might've been able to pull off. There's other new acts that I really love, like Ariel Pink, but I just don't write that way. I love some of his pop jams but they're so odd and different."
The Song That People Wouldn't Expect To Find On My iPod
Carl Perkins "Honey Don't", 1956
"I always get lumped in with certain bands like Death Cab For Cutie and the 2000s 'indie thing', but I actually listen to a lot of old country music. Maybe that wouldn't be so surprising, because some of my songs are just me trying to be that [laughs]. My dad was a country singer in nightclubs the whole time I was growing up, so I was always exposed to that world."
The Song With the Greatest Lyrics
Cass McCombs "County Line," 2011
"I really love that song and I think the lyrics are a big reason as to why. For years, every time I'd meet someone who knew Cass McCombs we'd say, 'Why isn't he huge, what's going on?'"
The Song That Makes Me Homesick
Jim Glaser "The Lights of Albuquerque", 1983
"I've lived in Portland for 15 years, but home is still with my folks in Albuquerque. There's not much around for miles so when you're coming home, the first thing you see is this weird glow above the desert. Me and my buddies would always play this song when we're flying into Albuquerque after being away for a while."