My Soundtrack: Hayley Mary, The Jezabels
Singer confesses her unabashed love of cheese.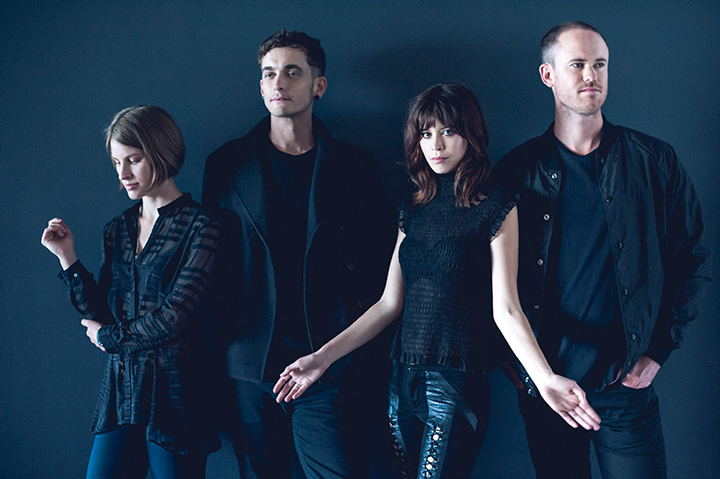 Hayley Mary, singer for Australian indie-pop band, The Jezabels, confesses her unabashed love of cheese as she takes us on a tour of the song's that have soundtracked her life and inspired her music.
All words below by Hayley Mary.
The Song That Reminds Me Of Growing Up
Soul Asylum "Runaway Train", 1992
"I was in Austin and met [Soul Asylum singer] Dave Pirner a couple of weeks ago, and I remembered 'Runaway Train' and was like, 'Man, that was a fucking good song!' I distinctly remember the video, because it was about missing people, it was quite sad. The song came out when I was in kindergarten. When I met Dave I refrained from telling him that I loved his song when I was five – I just pretended I didn't know who he was! I was like, 'So, what do you do?'" [Laughs]
The Song That Reminds Me Of Touring
Future Islands "Tin Man", 2010
"Nik [Kaloper, Jezabels drummer] was obsessed with Future Islands when they first came out. That voice … Samuel Herring [Future Islands' singer] is so good. We would just play it all the time in the tour van. It's very rare that there are songs that everyone in the band likes, so when one resonates with everyone, it tends to get played quite a bit. We played a festival in Germany and all went and watched them, it was nice."
The Song I'm Most Proud Of
The Jezabels "Smile", 2016
"Lyrically I managed to combine opposing forces that I've struggled with in the past. I guess it [combines] sexiness with anger – it's sexy but it's not submissive. It's also literal and deals in realism but is also symbolic and abstract at times, which I find a hard line to walk. So 'Smile' sits in a good pocket for me. I think the music does the same thing – it's kind of chilled and grooving then it gets all epic and otherworldly, and I like its different opposing forces and how they somehow exist together in some kind of relative harmony."
The Song That Made Me Want To Be a Musician
The Righteous Brothers "Unchained Melody", 1965
"I watched the movie Ghost, and the first song that I ever learned to sing because I just loved it was this. I had a little songbook and I learned the lyrics, and it was definitely a 'this is what I want to do' moment. My mum recently found a business card I made when I was a kid. I made one card and I didn't give it to anyone, so that was a pretty sweet business plan. [Laughs] It was a stick figure drawing of a girl and it said, 'Hayley, singer' with my home phone number."
The Song That Makes Me Cry
Boston "More Than a Feeling", 1976
"I remember once I was going on a school excursion and I didn't get to say goodbye to my dad. I was about seven, and I think I'd had a fight with him, and a song that we always sang together came on the radio, which was 'More Than a Feeling' by Boston, and I cried. I don't always cry when I hear it, but it's so emotional." [Laughs]
The Song I Wish I Wrote
Shania Twain "You're Still the One", 1997
"Sometimes I feel like I should make myself sound more credible as a musician, but I always wind up going with the truth, which is my lack of taste. Currently I'd choose this song. I once chose 'Power of Love' by Jennifer Rush, and I realised that both songs are about that romantic notion of your one true love. It's a myth I don't adhere to in my life because I think it's quite flawed, but because of that I have a morbid fascination with songs that are about that 'one true love' myth. This is a great song because it can make someone who doesn't believe in true love fall for the idea during the song – it's like making you believe in God if you're an atheist."
The Song You Wouldn't Expect To Find On My iPod
Enrique Iglesias "Be With You", 1999
"I'm a sucker for cheesy euphoric acoustic guitar solos. It's like a fetish. It's a similar thing to 'On a Night Like This' by Kylie Minogue – that really dance-y Nineties vibe with cheesy, clean, Spanish-esque acoustic guitar over the top – it gets me every time."
The Song I Want Played At My Funeral
The Sensational Alex Harvey Band "Anthem", 1974
"They were like a Scottish art rock band from the Seventies, and it's a sick song. They did [sings] 'My, my, my Delilah'. That's them. But 'Anthem' is really sombre and has this marching drum and sweet guitar solos, and it's got beautiful lyrics too – simple but dramatic. I chose this because the band are quite funny and absurd in their gloom, which is a very Scottish thing. It's a way of dealing with the darkness. There are so many songs that you could have played at your funeral though – I'd want a whole playlist."
The Song I Can't Get Out Of My Head
Lou Reed "Perfect Day", 1972
"This is actually dangerous, because I had this song in my head every day for two years straight when I was at uni. It actually started to bother my co-workers in the bar I was working in because I sang it every day – I literally couldn't get it out of my head for two years. So bringing this up could be bad – I could relapse. [Laughs] Maybe starting to write my own songs is the thing that finally got it out of my head. Perhaps you'll listen to our first EP and it all just sounds like 'Perfect Day'." [Laughs]
—
From issue #775, available now.