My Soundtrack: Glen Hansard
With a new solo album, 'Didn't He Ramble', out this week, we catch up with the Irish singer-songwriter about the songs that made him who he is.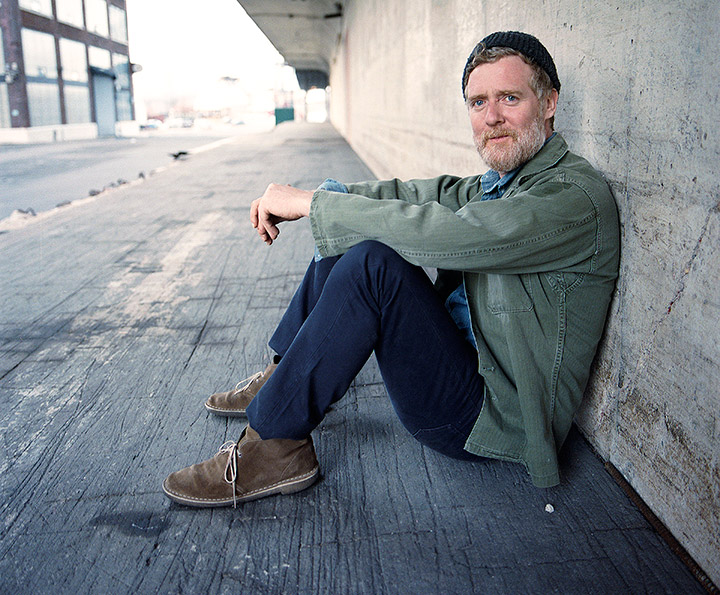 With his new solo album, Didn't He Ramble, out this week, we catch up with the Irish singer-songwriter about the songs that made him who he is.
Related: Exclusive Stream of Didn't He Ramble
All words below by Glen Hansard.
The Song That Makes Me Cry
R.E.M. "Hairshirt", 1988
"The first song that ever made me cry. My girlfriend put it on a mixtape for me and I was missing her really bad, and I was in the bath in my mother's house listening to this tape and that song came on and I just burst into floods of tears. Crying wasn't a big thing when I was growing up, so to have that release was just huge. I actually got to sing it with Michael Stipe a few years ago, and it blew my mind. He told me it had brought a tear to his eye listening to it, too."
The Song I Want Played At My Funeral
Willie Nelson "Blue Eyes Crying in the Rain", 1975
"It has that lovely lyric: 'Some day when we meet again up yonder, we'll stroll hand in hand again, in a land that knows no partin', blue eyes crying in the rain.' I heard it for the first time in Melbourne, I was with my band and we were at a party at my friend's house, and we had a couple of beers and were sitting on the porch. The violin player from my band, Colm Mac Con Iomaire, took up the guitar and started playing this song and I was fucking knocked out. Then I went and listened to Willie's version and loved it. If I make a mixtape for anyone it's always on it."
The Song I'm Most Proud Of
The Frames "What Happens When the Heart Just Stops", 2001
"Sometimes when you write a song all you're really trying to do is create a sentiment; you're trying to create a sense of space and vulnerability, or strength in your weakness, or honesty or whatever it is you're trying to create. When I sing that song I can mean it now as much as when I wrote it. And that's a really powerful feeling. The song is all about shutting down, and jealousy, and asking the gods above to turn your heart off 'cause you're hurting so much, and then one day they do."
The Song I Play Air Guitar To
AC/DC "Down Payment Blues", 1978
"My confirmation name is Angus. You get to pick a name for yourself when you're 12 years old or whatever, and I picked Angus, 'cause I was the biggest AC/DC fan on the planet. He was my first idol. Powerage is like a Bible to me. The writing between Bon Scott and the two Young brothers on that record is just unbelievable: 'I got myself a Cadillac but I can't afford the gasoline.' Fuck! Come on!"
The First Song I Learned To Play
Bob Dylan "Ballad in Plain D", 1964
"My uncle's guitar got left at my house, and he'd taught me a few chords, but he also taught me how to tune. And so I could tune the guitar before I could really play it. And because I could tune it I could tune it into records, so I'd listen to records and tune the guitar into the albums. And I remember picking this out by ear and feeling so proud. In fairness the clue was in the title, so I knew what the opening chord was!"
The Song I Listen To When Hungover
Serge Gainsbourg "Ballade de Melody Nelson", 1971
"I was on a flight a couple of days ago, I was coming back from the Czech Republic, I was in a pretty rough state, and I put it on and I absolutely loved it. You just get lost in it – it goes beyond your intellect, it just becomes something that you let yourself go and float into. It's just pure mood. Incidentally, it was recorded on my birthday in 1970, so it's fascinating to think that as I was being pushed out into the world screaming, somewhere in Paris Serge Gainsbourg was singing. I can picture it all now."
The Song I Wish I'd Written
Leonard Cohen "Famous Blue Raincoat", 1971
"It's written in letter form. The whole song is a letter to a friend, or a brother maybe, to somebody who took his lover, and it's a song of forgiveness and understanding. The compassion that Leonard is able to produce in that song, even though this guy has done him wrong, the fact that he's able to say, it's OK, I love you and I love her and the world doesn't make sense, and we're all victims of our own needs and desire… it's unbelievable. It speaks of a world that I have always longed to be in, which is the world of men and women and the complication and senselessness of what it is to love."
The Song That Reminds Me Of Growing Up
The Specials "Ghost Town", 1981
"I grew up in Ballymun, which was Dublin's own projects. And this was a very poignant song when we were kids. There were a lot of drugs and it was a troubled neighbourhood, and this reminds me of an aspect of where I'm from that I'm really nostalgic for, even though at the time it was pretty horrific. In the tower blocks there was this really strong wind that would blow around the buildings, and I remember my mother bought me a pair of black combat trousers, and I'm walking around listening to this song on my Walkman and just loving it."
The Song You Wouldn't Expect Me To Like
Bee Gees "Love You Inside and Out", 1979
"One of my favourite songs of all time. It's one of the most well crafted songs. Sometimes when I say it to a mate they say, 'What?! You like that tune?!' Those lyrics! It's such a statement of, take it or leave it, this is how I feel about you, and I love no other way. Brilliant."
The Greatest Song Ever Written
Tom Waits "In the Neighborhood", 1983
"No one does character development like Tom Waits. The idea of the frustrated apartment dweller screaming about the milk not getting delivered anymore, and the trucks keeping everyone awake… I never write for myself with Passion Pit, I write for a version of myself, and Tom Waits mastered that. He was always writing for a version of himself. And that song, you can hear him stomping and the grit in his teeth."
—
From issue #767 (October, 2015), available now.