My Soundtrack: Dallas Green
Fresh from the Bluesfest stages, Dallas Green a.k.a. City and Colour shares the songs that have anchored his journey.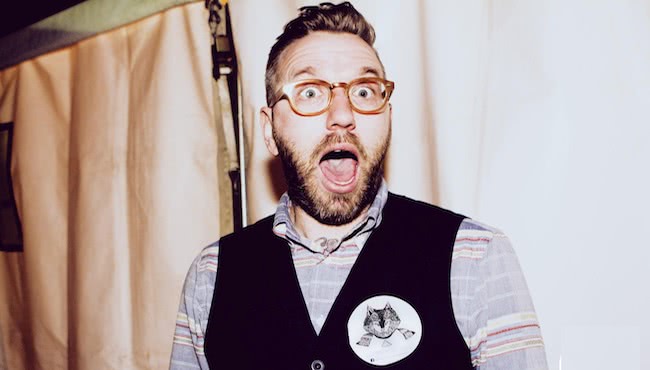 Fresh from the Bluesfest stages, Dallas Green a.k.a. City and Colour shares the songs that have anchored his journey.
All words below by Dallas Green.
The Song That Reminds Me of Growing Up
Alice In Chains "Them Bones", 1992
"I was 11 or so years old, so I guess I was already kind of grown up, but to me that's the period of music in the Nineties that sealed the deal for me as far as being emotionally attached to music. I liked a lot of music from this period, Pearl Jam, Nirvana, but I chose this song just because I've always really liked it and it takes me back to that time."
The First Song I Learned To Play
Pearl Jam "Alive", 1991
"I want to say it's either 'Alive' or 'Even Flow' by Pearl Jam. I can't remember which order though. When Ten came out it was '91. I'm 11 or 12 years old and I had been playing guitar for probably four or five years at that point. I had started to develop an ear, and that's when my guitar teacher showed me how to listen. I would bring a cassette and he would listen to it and write the tablature out for me. The first thing I brought in for him was Pearl Jam Ten and we started learning the songs. So 'Alive' was the first song I learned by somebody else."
The Song I'm Most Proud Of
City and Colour "Hope For Now", 2011
"It's the last song on Little Hell. I really like that song because on the recording I play everything. I always wanted to play drums on a song, because I'm not that good of a drummer but I have a secret fantasy to play the drums, just like a lot of front men. But on that one I had an idea of what I wanted that song to be, this sort of slow build into this crescendo. And now when we play that live it's one of my favourite ones to do."
The Song That's Guaranteed To Get Me on the Dancefloor
Craig Mack "Flava In Ya Ear", 1994
"We have a pretty rad playlist that we play in the dressing room that's mostly Nineties hip-hop and R&B. [This is] Craig Mack's one big song. That to me is the best hip-hop beat of all time. Even when it comes on every night on my playlist I freak out, because I just fucking love it."
The Song I Play Air Guitar To
Pantera "I'm Broken", 1994
"It's a similar thing to 'Alive' [sings guitar line]. That and 'Five Minutes Alone' off that same Pantera album. I used to love the video. It had a close up of Dimebag's guitar strings and there was a cool bit where he hits the whammy bar and the string goes 'brrrrr'."
The Song I Never Want to Hear Again
Gloria Estefan & Miami Sound Machine "Conga", 1985
"When I was younger my mum used to listen to Gloria Estefan & Miami Sound Machine, and I don't really think I liked that. I'd probably like it now though. My mum turned me onto a lot of really great music though as well. She turned me on to Sade, and she's one of my favourite singers. I'm being tentative with this answer because I really need to hear the song again before I write it off. Maybe I'll really dig it now."
The Song That Makes Me Cry
Low "Two Step", 1999
"Low are one of my favourite bands. They just have a way about them. Their earlier records are just so slow and beautiful. This song is just so gorgeous. It's not that I'm crying because of the lyrics, it's just a beautiful, beautiful song. I went through a period of loving that slowcore stuff. Slowdive and
Codeine and Low."
The Song I Wish I Wrote
David Bazan "Impermanent Record", 2014
"[Plays song on phone] David Bazan is one of my favourite songwriters. There's a lot of his songs that I wish I had written. There's a song off of his newest record, Bazan Monthly Vol. 1, called 'Impermanent Record'. He just has a way about him, I think his solo records are some of the best things to come out in recent years."
The Song I Want Played At My Funeral
City and Colour "Body In a Box", 2008
"Seeing as though I have a song about how I don't want to have a funeral, I don't know what it would be. Maybe this song? And then everybody would realise, 'Oh, we shouldn't be here.' So if you're there, remind everybody that I didn't want a funeral."
The Song I Sing At Karaoke
Mary J. Blige "Be Without You", 2005
"I've always wanted to be the Mary J. Blige to someone's Method Man. I love to sing along to female vocalists, especially Nineties R&B. I recently played at an event and she was in the audience. If I never sing on stage again, I'm OK with it – knowing she heard me sing. I hope she didn't hate it. Ha!"
—
From issue #773, available now.