My Life in 15 Songs: Phil Collins
The singer on the critics who hate him, the rappers who love him and why he's also a little sick of 'Sussudio'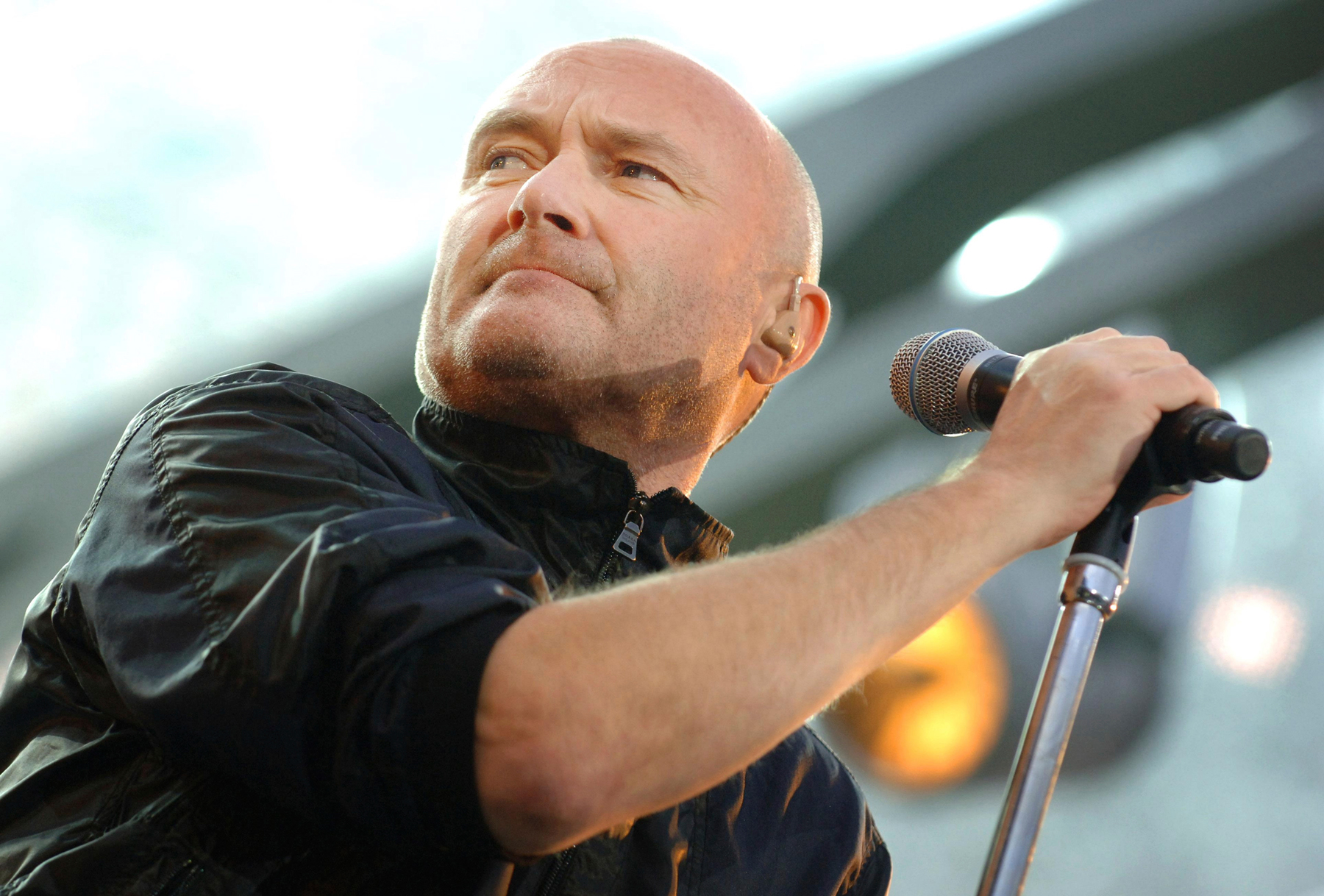 For a long time, Phil Collins was everybody's punching bag. Old-school Genesis fans blamed him for turning the group away from its prog-rock roots. Critics dismissed his 1980s hits as derivative schlock, and the fans he won that decade largely turned away from him in the 1990s.
"People assess you by your hits," he says, lounging in the master bedroom of his Miami Beach mansion. "So when the radio plays 'Against All Odds' or fuckin' 'Separate Lives' again and again, they become your flagship." But now, Collins, 65, is having the last laugh: A new generation is discovering his music, and artists from Lorde to Pharrell Williams have cited him as a major influence. (Adele even reached out to him about co-writing songs for 25.)
"They don't have the bias that we all grew up with," says Collins, who, with 150 million albums sold, is one of the top-selling artists of all time. "When people stop thinking about you, you can be rediscovered."
A decade ago, upset at his declining reputation, and struggling with a drinking problem and a nasty divorce, Collins retired from public life. But there's good news on that front too: Collins recently quit drinking and has decided to "unretire" and record new songs. In January, he started reissuing his solo albums in deluxe packages – a perfect occasion to take us through 15 highlights from a nearly 50-year career. "I'm proud of what I did," he says, "but also a little ashamed of the things that happened along the way."
All words below by Phil Collins.
The Beatles "A Hard Day's Night", 1964
I got the chance to be in the audience when the Beatles filmed A Hard Day's Night. They wanted kids that were screaming, and I just sat still, which is probably why I was cut out of the film. Thirty years later I was asked to narrate a documentary about the movie. I got to go through the outtakes, and I found a guy wearing a pin tie that looked just like me, sitting completely still. I remember thinking, "For crying out loud, will you stop screaming? Let's listen to the music!"
George Harrison "Art of Dying", 1970
In 1969, I was playing drums in a band called the Herd. One night, our managers called me and said, "You want to go down to Abbey Road?" I said, "I'm a bit busy, I've just had a bath." And they said, "Well, it's for George Harrison." I went, "I'll get a cab." I walked in and there was Ringo Starr, Billy Preston, Phil Spector, Klaus Voorman, Badfinger, [guitarist] Pete Drake, [Beatles road manager] Mal Evans and George. Spector was introduced in this brusque way. He was like, "Who is this young guy, thinks he can play with the Beatles?" They wanted me to play congas. After 90 minutes, I had blood blisters. They took a break, and then Ringo's chauffeur came and said, "You're finished." When All Things Must Pass came out, I looked through the credits and there was no mention of me. They used a different version of the song.
Genesis "For Absent Friends", 1971
Steve [Hackett] and I joined Genesis a few months after my All Things Must Pass soiree. Tony [Banks], Mike [Rutherford] and Peter [Gabriel] were the writers. But Steve and I wrote this sort of classical piece that I haven't heard, frankly, for God knows how many years. It was the first time I ever sang on a Genesis record.
Genesis "Follow You, Follow Me", 1978
I was a drummer. I sang in my school groups in the mid-1960s, but I really didn't want to be a singer. I took over after Peter left because I had the voice. But I had nothing to do with "Follow You, Follow Me". It was written around a guitar piece by Mike. Tony wrote the words, which I didn't hear until the day I went in to rec­ord them.
It was our first real hit. Genesis had been trying desperately to write pop singles for a long time. Everybody was a fan of the Beat­les and the Kinks and the Stones, but we didn't have a very good editor in the band – it was hard to write songs shorter than 10 minutes. But "Follow You, Follow Me" was a game-changer. Because I had become the singer a couple of albums earlier, I was given the blame [for the band's new pop direction]. Suddenly, there was this guy that not only can sing and play drums, but he's been to drama school! Fans thought, "He's probably Mr. Showbiz and he's pushed Pete out." It wasn't like that at all, but it makes a better story. The truth is, we grew up. We matured.
Phil Collins "In the Air Tonight", 1981
This song has become a stone around my neck, though I do love it. I wrote it after my wife left me. Genesis had done a tour that was far too long. She said to me, "We won't be together if you do the next tour." I said, "I'm a musician. I have to go away and play. Just hold your breath when I'm over there." Then Genesis toured Japan. When I got back, she said she was leaving and taking the kids.
At the time, Genesis had decided to change things up a bit, maybe rattle our cages. The idea was to record separately with these new Roland drum machines we'd been given. I set up a studio in the master bedroom of my house with a Fender Rhodes piano and a drum kit.
One day I was working on a piece in D-minor, the saddest [key] of all. I just wrote a sequence, and it sounded nice. I wrote the lyrics spontaneously. I'm not quite sure what the song is about, but there's a lot of anger, a lot of despair and a lot of frustration.
Tony Banks claims I never played him the song, but I don't see why that would be true. But I'm glad he didn't take it, because Genesis would have put their mark on it, and it wouldn't be the piece of music we're talking about now.
Nobody knows what the song is about, and I kind of like the mystery. And now NFL players use it to work out. I saw a video recently of Steph Curry singing it in his car, and it was just in an ad for milk chocolate. Where will it end? But I'm not complaining. It paid for this house we're in right now!
Phil Collins "I Don't Care Anymore", 1982
If my first album [Face Value] was "I'm divorced and I'm miserable", my next one was "I'm going to kick this fucker to bits." By this point, I was getting letters from lawyers asking for unbelievable things. I never sat down and wrote, "You're a bitch." I went to school with my wife. I have a huge amount of affection for her.
Phil Collins "Against All Odds", 1984
This is another song that's been a ring around my neck. It was written around the same time as "In the Air Tonight", but I discarded it. A couple of years later, I was asked to write a song for the movie called Against All Odds. I was really hot at the time, and they said, "Have you got a song for this movie of ours?" I said, "I'm not able to do it on the road, but I have a demo of this ballad." It was basically like saying, "Here's $10 million. Would you want it?" I had already written the lyrics, before I saw the film. When I think about the movie, the first thing that comes to mind is the size of Rachel Ward's breasts. I thought they were fantastic. I like Jeff Bridges, too.
Earth, Wind & Fire (featuring Phil Collins) "Easy Lover", 1984
I always loved Earth, Wind & Fire, and in 1984 I was asked if I would produce Philip Bailey's solo album. People were leaning on him, racially – "Don't come back with a white album. You're one of us." So Philip got Nathan East to play on it also. We hit some rocky ground early on, but we worked everything out. Near the end of the sessions, Philip said, "We haven't written anything together on this album."
So we just started having a jam one night, and went round and round and turned it into a verse and a chorus. We rec­orded it that night so we wouldn't forget it. That song doesn't sound like any particular era. It's just fantastic. The hip-hop brigade fell in love with me after "Easy Lover". They were like, "Where'd that come from? That ain't black music and that ain't white music. That's kind of an interesting colour of beige."
Phil Collins "Sussudio", 1985
Why do you have to bring me down by asking about this one? It's from one of my least-favourite records, No Jacket Required. I wanted to work with different people at the time, people that could do things I wasn't capable of doing. So I got ahold of Dave Frank [from the New York synth-pop duo the System], and I said, "Do you fancy having a go at this?" And he programmed the whole song. There's a killer horn section. At the time, I wasn't being me. I've grown up a bit now and much prefer to play songs that are me. I only play a bit part in that one.
Genesis "Invisible Touch", 1986
This is one of my favourite Genesis songs. There was a Sheila E. record out at the time, I think it was Glamorous Life, and I wanted to write my own version of that. I had decided to stay in the band even though my solo career had taken off. When you're in a band, it's family. There's the road crew and their families to think about. If you just flippantly say, "I'm leaving", they're like, "We've just bought a house with a mortgage." You can't do that to people.
Phil Collins "Another Day in Paradise", 1989
This is one I got a lot of flak for because I'm a multimillionaire. It was inspired by an incident in Washington, D.C. We were driving around in a limo and I saw all these boxes on Capitol Hill. It was snowing, and I said, "What's going on here? Is there some sort of demonstration?" Someone said, "No, that's where these people live." I just thought, "This is one of the wealthiest countries in the world. How can this happen?" It put a bee in my bonnet.
Genesis "I Can't Dance", 1991
This began as a guitar riff of Mike's. We'd all taken our Fine Young Cannibals pills, imitating the way that Roland Gift sings, and joking about jeans commercials. It's not about being unable to dance. It's about guys that look good but can't string a sentence together. Each verse is a piss-take at the scenario of a jeans commercial. It was good fun, but the audience thought, "What does he mean that he can't dance?" They didn't see the humour, and it killed the fun. A few years later, I was doing promo for my [solo] album Both Sides. I told my manager, "I think I've done enough [with Genesis]. I'm living in Switzerland and I'm really happy domestically." All bands dissolve. They aren't meant to last forever.
Phil Collins "You'll Be in My Heart" (from the soundtrack to Disney's 'Tarzan'), 1999
This part of my career has always baffled my fans. They go, "What the fuck has Disney to do with Phil Collins and Genesis?" But I grew up with Disney films in my life. People without kids may not understand. The whole experience was a thrill for me, and I won an Oscar for Best Song. But with or without the glory, I would have taken the experience.
Bone Thugs-N-Harmony "Home", 2002
Bone Thugs-N-Harmony called me up and said, "We've done a version of your song 'Take Me Home' and we'd like you to be in the video." I said, "No, I'm not in America." They said, "They can come wherever you are." I said, "Don't make me say, 'No, fuck off.' " But then I heard the song, and I quite liked it, and they agreed to come to Geneva. How could I disappoint these guys?  My songs are often sampled by rappers, and it's deeply flattering, but I'm easily flattered. The [1996] Urban Renewal album [where hip-hop artists like Lil Kim and Ol' Dirty Bastard covered Collins tunes] was also very flattering. It shows that people outside the U.K. have minds of their own.
Phil Collins "Going Back", 2010
I had wanted to record an album of covers since I started making music. It's a bit of a karaoke album. When you hear "Uptight", you want to hear Stevie Wonder come in and sing. But it's like, "It's my record. I can do what I want." I retired years ago, but I am now officially unretired. My new studio arrived yesterday. I just need to wire it up, which will be another month or so. I've got a couple of ideas of people to work with. If people show interest in these reissues, it would be silly not to make more music.
—
From issue #774, available now.