My Life in 15 Songs: Billy Gibbons
ZZ Top's guitarist on how the Stones, Devo and a backwoods cathouse inspired some supercharged Texas-blues classics.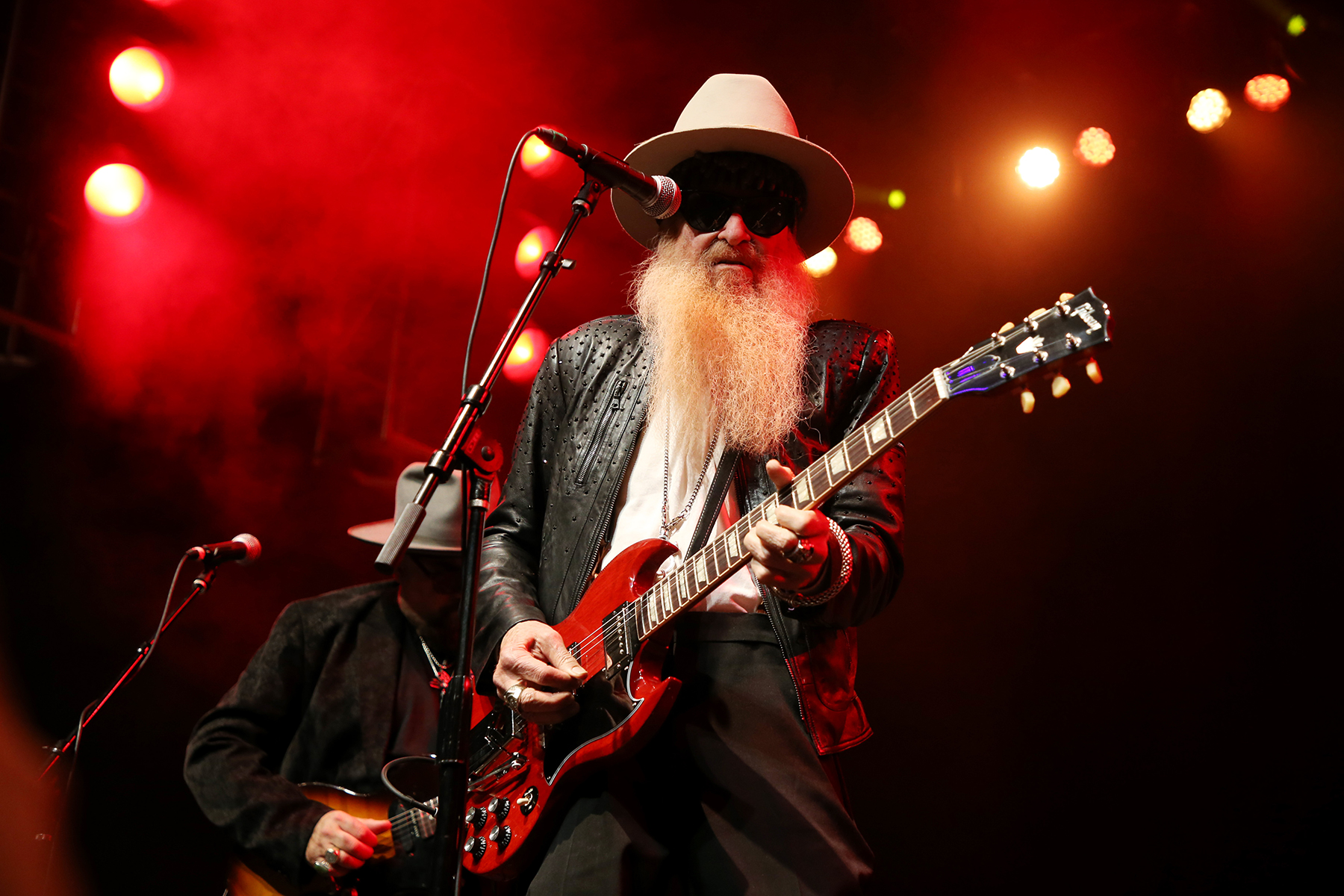 Singer-guitarist Billy Gibbons of ZZ Top can remember exactly when his life in music truly began: Christmas Day 1962. He was 13 and "the first guitar landed in my lap", Gibbons says, a fond smile breaking through his trademark beard. "It was a Gibson Melody Maker, single pickup. I took off to the bedroom and figured out the intro to 'What'd I Say', by Ray Charles. Then I stumbled into a Jimmy Reed thing." He hums one of the legendary bluesman's signature licks. "He was the good-luck charm. I'd play Jimmy Reed going to sleep at night – and in the morning."
At 65, Gibbons – born in a Houston suburb, the son of a ­pianist-conductor – has played the blues for more than half a century, across 15 ZZ Top albums with bassist Dusty Hill and drummer Frank Beard, including the 1983 10-million-selling smash Eliminator. That record, with its synthesised riffs and modernist grooves, reflected the long-standing adventure in Gibbons' devotion to the blues, from his teenage psychedelic band the Moving Sidewalks up to his new solo debut, Perfectamundo, a peppery Afro-Cuban twist on his roots. "We don't posture ourselves as anything other than interpreters," Gibbons says of ZZ Top. He also notes something the late producer Jim Dickinson told him after the band made Eliminator: "He said, 'You have taken blues to a very surreal plane. And it still holds the tradition.' "
All words below by Billy Gibbons.
"99th Floor" (Moving Sidewalks song)
Non-album single (1967)
Nobody could escape the British Invasion. "99th Floor" was part Beatles and part Rolling Stones. The triplet drumbeat came off "Taxman"; the chord change was from a Rolling Stones single. The 13th Floor Elevators were a band from Austin – we started drifting into what they were doing: psychedelic sounds. The idea for "99th Floor" was, if the Elevators were going up, I was going further.
"Red House" (Jimi Hendrix song)
Are You Experienced (1967)
A buddy said, "There's a song that you oughta hear." He was talking about "Red House", by Jimi Hendrix, and that completely turned us upside down. It was blues taken beyond. Then the Sidewalks got hired to join the Experience tour in 1968. We didn't have enough material for 45 minutes, so we started doing "Purple Haze". I looked over and Hendrix was in the wings, wide-eyed, grinning. We had seen his showman antics from older blues guitarists. But he had a vision and aura. I remember him tiptoeing across the hall at the hotel: "Come in here. Do you know how this is done?" He was learning chops off Jeff Beck's first record, Truth.
"Just Got Paid"
Rio Grande Mud (1972)
This was inspired by Peter Green's opening figure in [Fleetwood Mac's] "Oh Well". I was living in Los Angeles, sitting on the steps of this apartment. It was raining and I couldn't go anywhere, so I was trying to learn this figure. It got all tangled up. And it stayed tangled.
"La Grange"
Tres Hombres (1973)
You had this explosion of Southern rock. But Texas was different – Southern enough but off to the side. We were extolling the virtues of our proximity to Mexico and that gunslinger mentality. "La Grange" was one of the rites of passage for a young man. It was a cathouse, way back in the woods. The simplicity of that song was part of the magic – only two chords. And the break coming out of the solo – those notes are straight Robert Johnson. He did it as a shuffle. I just dissected the notes.
"Jesus Just Left Chicago"
Tres Hombres (1973)
There was a buddy of mine when we were teenagers – everybody called him R&B Jr. He had all these colloquialisms. He blurted out "Jesus just left Chicago" during a phone conversation and it just stuck. We took what could have been an easy 12-bar blues and made it more interesting by adding those odd extra measures. It's the same chords as "La Grange" with the Robert Johnson lick, but weirder. Robert Johnson was country blues – not that shiny hot-rod electric stuff. But there was a magnetic appeal: "What can we take and interpret in some way?"
"Heard It on the X"
Fandango! (1975)
Those border stations from Mexico would come in like a police call. XERF could be picked up in Hawaii, parts of Western Europe. It was fascinating to hear all of that blues and R&B on the radio. And Wolfman Jack, who was on XERF – man, he made the stuff out of control. "Heard It on the X" was a cele­bration, acknowledging that influence. To this day, Frank, Dusty and I share the same influences. It's in the first line: "Do you remember back in 1966?/Country, Jesus, hillbilly, blues/That's where I learned my licks." What you were hearing was indelible.
"Tush"
Fandango! (1975)
We were in Florence, Alabama, playing in a rodeo arena with a dirt floor. We decided to play a bit in the afternoon. I hit that opening lick, and Dave Blayney, our lighting director, gave us the hand [twirls a finger in the air]: "Keep it going." I leaned over to Dusty and said, "Call it 'Tush'." [The Texas singer] Roy Head had a flip side in 1966, "Tush Hog". Down South, the word meant deluxe, plush. And a tush hog was very deluxe. We had the riff going, Dusty fell in with the vocal, and we wrote it in three minutes. We had the advantage of that dual meaning of the word "tush" [grins]. It's that secret blues language – saying it without saying it.
"I Thank You"
Degüello (1979)
I remember hearing the Sam and Dave single on the radio in Houston; I was turning the corner onto the Gulf Freeway, going to my grandmother's house. Shortly thereafter, we were off to Memphis to record. I got to the studio and said, "Man, I heard that Sam and Dave song. I'd forgotten how good it was. It's that keyboard part." Lo and behold, the very clavinet used on their recording was in the studio. We fired it up, and it was ready to go. There was no way we were going to do Sam and Dave exact. But if you're going to take a shot, make it a good one. That album was our first for Warner Bros., and they were doing such a good job. The song was our message – not only to the fans and friends but to the label guys.
"Manic Mechanic"
Degüello (1979)
As a kid, I'd stand on the front seat of my parents' car, watching cars coming in the opposite direction. And I could name 'em all. My dad bought a Dodge Dart – an entry-level, economy-priced car. It had no radio. The only amenity was a heater – talk about miserable, driving in that during those Texas summers. The sound you hear on the intro is that 1964 Dart. I still have that car. It would not die. I do very little mechanic work, but I was at a speed shop in Pomona, California. The head honcho saw me with a wrench, going under a car, and said, "God, get out of there. That exhaust system is hot, and that beard is like a bale of hay." But I love those crazy automobiles.
"Groovy Little Hippie Pad"
El Loco (1981)
I saw Devo doing a soundcheck at a Houston club, a country & western bar, of all places. I had heard their first album and kind of dug it. One of the guys in the band was playing a Minimoog, and he did this figure on it [hums a bouncy robotlike riff]. He was just noodling around. But it was enough. What came out of that was "Groovy Little Hippie Pad" – same figure. It was a direct derivative of punk. Devo was a big influence on that album – and the B-52s as well. They had that song "Party Out of Bounds". Our song "Party on the Patio" was an extension of that. [The critic] Lester Bangs played it for some punks in New York, and they dug it. It proved we weren't just a boogie band. We had this New Wave edge.
"Gimme All Your Lovin'"
Eliminator (1983)
We had dabbled with the synthesiser, and then all this gear was showing up from manufacturers. We threw caution to the winds. This was one of the first tracks that started unfolding. That video was the big car connection. I started that project, building the Eliminator [ZZ Top's customised 1930s Ford Coupe], in 1976. We were shooting in California, but I still owed the builder $150,000. I went to the accountant: "It's on the album cover. Can I get a write-off?" "Yeah, you're promoting your business." I scared up the dough and paid it off.
"Sharp Dressed Man"
Eliminator (1983)
I went to see a film. The credits were rolling, and one of the players was described as "Sharp Eyed Man". That started it. The track had this heavyweight bass line from a synthesiser. You know who was poppin' at this time? Depeche Mode. I went to see them one night, and it was a mind-bender. No guitars, no drums. It was all coming from the machines. But they had blues threads going through their stuff. I went backstage; I had to meet these guys. They were surprised – "What brings you here?" I said, "Man, the heaviness." We became friends. Martin Gore was a guitar player trapped behind the synthesisers. He was like, "Man, let's talk guitar."
"My Head's in Mississippi"
Recycler (1990)
My buddy Walter Baldwin spoke in the most poetic way. Every sentence was a visual awakening. His dad was the editor of the Houston Post. We grew up in a neighbourhood where the last thing you would say is, "These teenagers know what blues is." But our appreciation dragged us in. Years later, we were sitting in a tavern in Memphis called Sleep Out Louie's – you could see the Mississippi River. Walter said, "We didn't grow up pickin' cotton. We weren't field hands in Mississippi. But my head's there." Our platform, in ZZ Top, was we'd be the Salvador Dalí of the Delta. It was a surrealist take. This song was not a big radio hit. But we still play it live, even if it's just the opening bit.
"I Gotsta Get Paid"
La Futura (2012)
I heard "25 Lighters" [a 1998 Houston rap single by DJ DMD, Lil' Keke and Fat Pat] when it came out. It was so peculiar I couldn't forget about it. We were in the studio and [co-producer] Rick Rubin called up: "We need one more song." Our engineer Gary Moon was in the other room, watching Lightnin' Hopkins on YouTube. An earful of that prompted me to blurt out "25 Lighters". Gary said, "I engineered that." Isn't that ironic? We put the two [sounds] together for "I Gotsta Get Paid". It was legit ghetto. Hip-hop is the cry of angst that propelled the blues. If blues is the highest of highs, lowest of lows and all points in between, what comes out runs right through hip-hop.
"Treat Her Right" (Gibbons solo song)
Perfectamundo (2015)
The tune had a Texas legitimacy. The Roy Head single came out of Houston. And it was not about girls. It was about heroin. That a hit like that got through in 1965 – that's as blues as you can get, saying it without saying it. The Afro-Cuban thing – it seemed to make sense there. The song goes so far back that most people like this because of the feel rather than "What an interesting twist on that old song." But there is that constant presence: Texas. It's this thing that helps make everything cool.