My Life in 10 Songs: Chris Cheney
How the Living End have used the element of surprise to keep them at the forefront of the Australian music scene.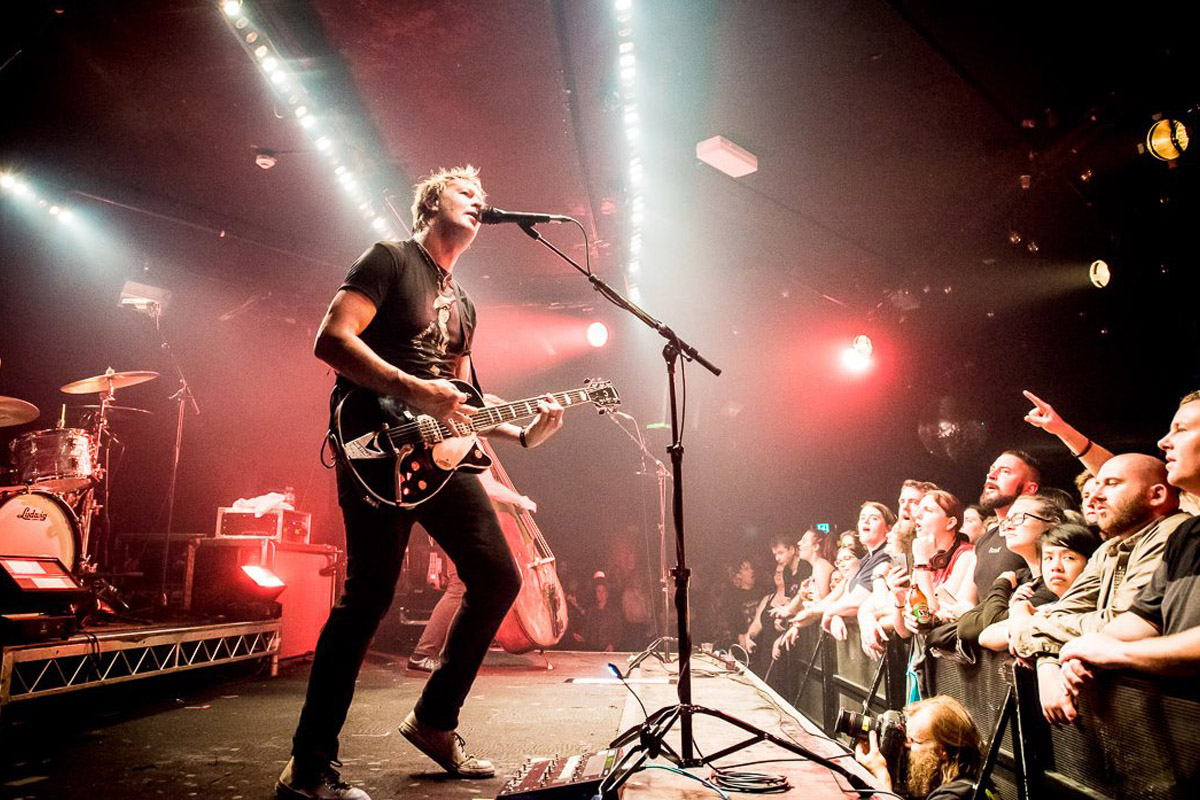 Chris Cheney was up until 1.30 this morning, fresh from a performance on the NRL Footy Show with the Living End, after which he and his bandmates – drummer Andy Strachan and bassist Scott Owen – retired to their Sydney hotel to spend the night drinking and signing 1,500 copies of their upcoming seventh studio album, Shift [due May 13th]. Not surprisingly, the singer/guitarist's sunglasses are welded to his face when he turns up at the Rolling Stone offices at the crack of 10am.
Having moved to Los Angeles four and a half years ago, where he plays in a number of groups – the Jack Tars, with Slim Jim Phantom (the Stray Cats) and Captain Sensible (the Damned); the Wild Roses (with Marc Orrell, formerly of the Dropkick Murphys) – it's clear the Living End remains Cheney's first love. Since co-founding the group in Melbourne in 1994, Cheney and his bandmates have guided the Living End from punk rock hopefuls to one of the country's most enduring acts, weathering the sudden rush of success that accompanied 1997 breakthrough "Prisoner Of Society" to spend the next two decades unleashing a slew of hit singles and albums, while developing one of the most incendiary live shows in the country.
The road to this point has not, however, always been paved with gold. There have been splits (original drummer Travis Demsey quit in 2002), there has been burn-out and there have been intra-band struggles, with Cheney himself quitting briefly after 2008's State Of Emergency tour cycle. When the trio reconvened in a Melbourne studio last year with only bare bones ideas, there was no guarantee they'd even make a new album – until, that is, they started writing and recording and realised they still had something to say. "It didn't come easy, it was a long road, but we are so stoked on Shift," says Cheney. Key to that satisfaction is the fact that the album adheres to a strict principle the band have employed since day one: "I think we always wanted to surprise people," says Cheney.
"From Here On In" (1996)
I remember coming off the Green Day Australian tour [as support]. All of a sudden we were on the map – we'd gone from playing the Wheelers Hill Hotel to playing Festival Hall with Green Day. We had lots of ideas and songs, and we just dug in. "From Here On In" was one of the first songs where we hit our sound. We were still playing with a lot of psychobilly and ska bands, and there was a lack of melody in that music, and that was always a big thing for us, trying to find those big pop moments. It was added to high rotation [on Triple J], and that was a big thing. I don't think I ever thought we were worthy of being played on Triple J, I didn't think we were cool enough.
"Second Solution" (1997)
(from the "Second Solution"/"Prisoner of Society" Double A-side single)
We all thought it was the stronger song but "Prisoner Of Society" ended up getting all the airplay. It was a good mash-up of our influences: the Stray Cats, the Specials and the Clash and some metal stuff. It came together with that tune. There was definitely a theme of escapism [on the EP], and there has been our entire career. Escaping from what? You'd have to talk to my psychiatrist about that.
"Prisoner Of Society" (1997)
(from the "Second Solution"/"Prisoner of Society" Double A-side single)
We were pushing "Second Solution", but "Prisoner Of Society" was getting so many requests [radio] just started to play that one. It was different walking around the shopping centre after that! I was still living at home with Mum and Dad at that point, and my parents were pretty freaked out – they'd always go, "I can't believe it!" Our lives were changing. We were doing tours where literally every show was selling out. One magazine had the Top 100 Things Of 1997, and we came in at Number One. I was like, wow, we've really broken through to a whole new level.
"Don't Shut the Gate" (2000)
We were hellbent on expanding on what people's perception of the Living End was. [The single] "Roll On" was good, but this shows some growth. During the writing of Roll On we were listening to a lot of [Midnight Oil's] 10, 9, 8, 7, 6, 5, 4, 3, 2, 1 and Red Sails in the Sunset, and were blown away by their fearlessness in not being shackled to a style. "Don't Shut the Gate" was us trying to do Rage Against the Machine or something, just get on a really heavy, relentless riff. There was a lot of stuff going on back then as far as boat people, as it is now. Maybe it was Travis [Demsey] who came up with the "don't shut the gate" [line].
"The Room" (2003)
We were getting into the Who big time. I loved their ambition and fearlessness, that idea of writing a rock opera. It was like, "All right, maybe we can do that." We started out playing "Peggy Sue" by Buddy Holly; it's not that different, writing an eight-and-a-half-minute epic! I remember Andy [Strachan, drummer, who made his recorded debut on Modern Artillery] working his arse off. He definitely had a point to prove after Travis's departure. [Making the album] with [producer] Mark Trombino was a miserable experience. We put all this work and effort into the writing of the record, and he seemed like he was dictating how things were going to be and how things were going to sound. We let go of the reins a little bit and made a few choices that we wouldn't make again.
"Wake Up" (2006)
That was a big moment in the band's career. We'd done Modern Artillery, it was OK. But when we released "Wake Up" that song crossed over to radio in a huge way. There were all these new people coming to the shows. I remember when we were trying to write it. It was a good moment, because three of us just got on the guitar lick and I started coming up with words. We felt our way through this arrangement, and Nick [Launay, producer] was recording at the time, just on the dictaphone. And he was like, "Fucking gold. Now that's a song!" It ended up being a very powerful tune.
"White Noise" (2008)
We were mid-tour [supporting the State of Emergency LP], and I just snapped. We were on stage in Tweed Heads or something, we were playing a version of "All Torn Down". Scott was doing something on his bass, and I was doing an extended solo. He was clowning around, and I remember going, "Fuck you, man. I don't want to be here now. You're ruining what I'm trying to do here." I came off stage and it was like World War III backstage. Guitars were getting flung across the room. And I just said, "I'm done." I was just burnt out. So [Scott and Andy] didn't contact me for six or seven months. That was strict orders from [management]: "Leave him alone." I was still writing stuff, but not much. And then I started to miss it. So we got together and threw a few ideas around. We had the chorus to "White Noise" and I just knew, this is a cracker. It became this massive radio hit and all of a sudden we were playing bigger venues. So it was like, "Thank fuck we had that break. Thank God I quit the band." Because this wouldn't have happened.
"How Do We Know" (2008)
I'd bought an octave pedal, just trying to expand the sound a little bit. And I was thinking, "What would Jimmy Page play?" I'd come up with that riff and we were playing it, and I remember [Shihad frontman] Jon Toogood – Shihad were always rehearsing next door – coming in and going, "That riff, man, that riff rules! What is that?" So to get the seal of approval from the heavy Kiwi kings was a big moment.
"One Step" (2016)
It's is the most important song on Shift. It's not the best song on the record, but it's the most vital. It was the first thing that we did, where we went in, set up, looked at the control room and went, "Right, press record. All right, Andy, play a beat." Andy went into this kind of Bloc Party, disco-on-steroids psychotic beat and Scott was playing this funky thing, and I went right up high on the neck, just trying to make an apocalyptic sound, something that was crazy. We jammed on that for two or three minutes, went into the control room and listened back and were all like, "OK, this is good. This is a sigh of relief." Because we could've just gone into a swing beat and some kind of shuffle guitar, and it would've been OK, but it would've sounded like the Living End. This was breaking it wide open from the beginning. The three of us were like, "OK, if this is the beginning of what we can do, then we will make a record."
"Keep On Running" (2016)
When we got into [the studio], I played the guys little bits and pieces of things, and a lot of it was like, "Nah, you should keep that for your solo thing." [Cheney has been working on a solo album for several years.] And this was one where the other guys just went, "That's pretty undeniable, but it's not us." But [our manager] was really into the idea of us trying it. We thought, let's just give it a crack, see whether we could make it work. And I feel like we did. I'm glad it's coming out as the single, because there's gonna be a lot of people out there who're gonna think we've lost our minds. This shows a different side to the band. And it couldn't be further away from "Prisoner of Society" if it tried. It's what you wouldn't expect from the Living End.