Linkin Park: 12 Essential Songs
Revisit Chester Bennington & Co.'s key tracks, from rap-metal smashes to daring pop departures.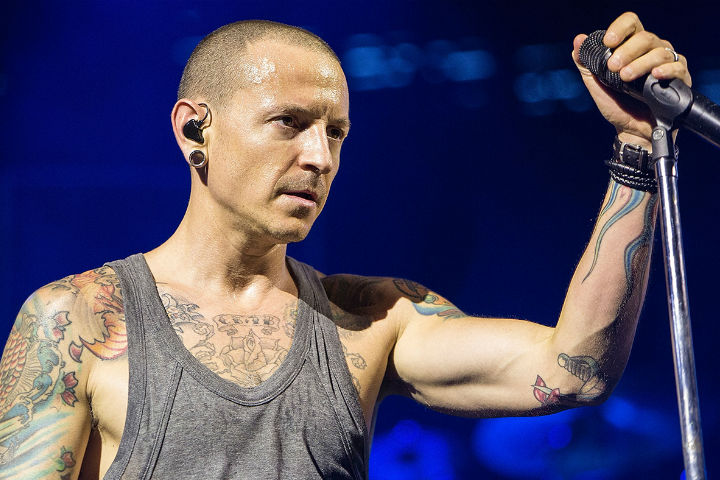 Linkin Park's music has long explored themes of alienation, inner demons and personal suffering, making the suicide of the band's lead singer Chester Bennington an especially tragic and heavy loss. Bennington's voice often sounded like the battle of dark and light, as he would shift suddenly from tender, subtle vulnerability to scorching, raspy screams. "Literally the most impressive talent I've seen live," Rihanna wrote in an Instagram tribute to Bennington. "Vocal beast!" Here we revisit 12 key songs by the band that brought that voice to the world.
By Christopher R. Weingarten, Brittany Spanos, Suzy Exposito,Maura Johnston, Patrick Doyle and Hank Shteamer.
"One Step Closer" (2000)
"As far as the lyrics, it's very self-explanatory," Linkin Park vocalist Mike Shinoda told Billboard in 2000. "I think that's one reason that it's being as well received as it is." From their debut single, Linkin Park's had all the elements that would make the band a rap-rock sensation: detuned guitar, scribbling turntables, part-sung-part-rapped angst, and a chorus ("Everything you say to me/Takes me one step closer to the edge/And I'm about to break!") that walked the line between vulnerability and rage. "It was written at a time when we were in the studio and things with our social lives and our music were getting a little bit stressful," Shinoda continued. "We were at the end of our ropes, so to speak." Years later, Shinoda would reveal that the song was written about a record executive who tried convincing Bennington to ditch the band for a solo career.
"Crawling" (2001)
The claustrophobic, burbling "Crawling" places Bennington at center stage, allowing him to fully portray the gritted-teeth tension outlined in its discomfort-filled verses. Bennington told Rolling Stone that "Crawling" and similarly themed tracks were his way of taking stock of his life's rough patches. "It's easy to fall into that thing – 'poor, poor me,'" Bennington said in 2002. "That's where songs like 'Crawling' come from: I can't take myself. But that song is about taking responsibility for your actions. I don't say 'you' at any point. It's about how I'mthe reason that I feel this way. There's something inside me that pulls me down."
"Papercut" (2001)
In a 2013 interview with Manila station Monster Radio RX 93.1, Chester Bennington described "Papercut" as "the identity of the band," and his all-time favorite Linkin Park song. The incendiary opening track to their landmark debut, Hybrid Theory, "Papercut" set a precedent for metal in the new millenium. "In the beginning, my whole goal was to bring as much melody as I could to the music," said Bennington. "The band was really, really good at doing the hip-hop thing, and really good at writing rock music, but there hadn't been a lot of melody [before] I joined. … When we got to that song, the chorus was so dope and the words behind it were so cool, that I didn't need to do much melodically until we flipped it up at the end. That was a lot of fun; I felt like that song really captured what the vibe of the band's about."
"In the End" (2001)
This soaring Hybrid Theory smash would make it to Number Two on the Billboard charts – the band's best Hot 100 showing of their career. Bennington, however, admitted he wasn't sold on it at first. "I was never a fan of 'In The End' and I didn't even want it to be on the record, honestly," the singer told V Music in 2012. "How wrong could I have possibly been? … But, you know, now I love 'In the End' and I think it's such a great song."
"Faint" (2003)
Linkin Park's churning second single from Meteora frames Mike Shinoda's dissection of a broken relationship with Chester Bennington's demand, "I can't feel the way I did before!/Don't turn your back on me/I won't be ignored!" "Faint" fuses together high-gloss strings and crushing riffs to great effect.
"Breaking the Habit" (2004)
"Breaking the Habit" was the fifth single off their second album, 2003's Meteora, which avoided the sophomore slump by selling 27 million copies worldwide.
"Numb/Encore" with Jay-Z (2004)
In 2004, Linkin Park further dismantled the boundaries of rap and rock when the group teamed up with none other than Jay-Z. Originally intended for an MTV special, the project eventually led to a mash-up EP titled Collision Course, a six-song collection featuring Linkin Park songs paired with various classics by the New York MC. It ended up becoming the second EP to ever top the Billboard 200, and its lone single "Numb/Encore" (a new version of Linkin Park's 2003 track "Numb") was the crowning jewel. Jay's verses bounce above the glitch-y beat, and Bennington's vocal delivery – moving from tender singing to a harsh growl – is the perfect complement. "There was no ego at all working with Jay," Mike Shinoda told MTV News of the overall collaboration. "If I asked him to perform something a certain way or put a vocal line here or there, he was happy to do it."
"What I've Done" (2007)
For their third album, Minutes to Midnight, Linkin Park teamed with legendary producer Rick Rubin, who helped them move beyond their nu-metal roots. Lead single "What I've Done" summed up the band's new approach, shifting the focus to Bennington's vocals rather than the interplay between his soaring voice and Mike Shinoda's rhymes. Moving from vulnerability to desperation, the singer explores regret above an ominous, hypnotic piano riff. "We're straying away from a lot of the predictable sounds we've had in the past," Bennington said in an interview with MTV upon the single's release.
"Bleed It Out" (2007)
This track from 2007's Minutes to Midnight sums up Linkin Park's utter disregard for stylistic boundaries, alternating rap-like verses from Mike Shinoda with Chester Bennington's fist-pumping melodic-rock refrains. "When it finally came together," Shinoda told Kerrang! of the song, "I said to the band, 'I don't think anyone but us could have made a song like this.' It's a fucking bizarre death-party-rap-hoedown!'"
"The Catalyst" (2010)
"We wanted a track that represented where the album was going to be and how it was going to work, and this was really the track to do that," bassist Dave "Phoenix" Farrell told MTV News of the band's decision to release "The Catalyst" as the lead single from their 2010 LP, A Thousand Suns. "It's a risk, but [it's] worth it." he said. The song represents a clean break with the band's early-2000s sound, combining urgent synth-pop with an industrial edge reminiscent of Nine Inch Nails.
"Burn It Down" (2012)
"Burn It Down" opens in a haze, its whirring synths eventually coming together into a heavily processed keyboard line that recalls a gauze-swaddled inversion of the riff powering 2000's "In the End." The album it introduced, the Rick Rubin-produced Living Things, was, in some ways, a back-to-basics shift from the heady concepts and genre-melding sprawl of its 2010 predecessor A Thousand Suns. "In the past, we've consciously steered away from what we'd done before, but here, the energy is clearly similar to Hybrid Theory," Bennington told Rolling Stone in 2012. But the subtler textures and Bennington's passionate, yet minutely calibrated vocal on "Burn It Down" were a signal of how much the band had grown as musicians since they crash-landed into rock's mainstream nearly 12 years earlier.
"Heavy" feat. Kiiara (2017)
"I remember Chester walked in and it was, 'Hey, how are you doing today?'" Mike Shinoda told Billboard of the writing session that spawned this heartfelt, downtempo pop track from their latest album, One More Light. "And he's like, 'Oh, I'm fine,' and we were hanging out for a minutes and he was like, 'Y'know what? I have to be honest. I'm not fine. I'm not OK. Too much stuff is just happening to me. I just feel underwater.'" The song, on which Bennington shares lead-vocal with pop singer Kiiara, hit Number 50 on the Hot 100.