Leonard Cohen: 20 Essential Songs
The best from iconic singer-songwriter behind "Suzanne" and "Hallelujah".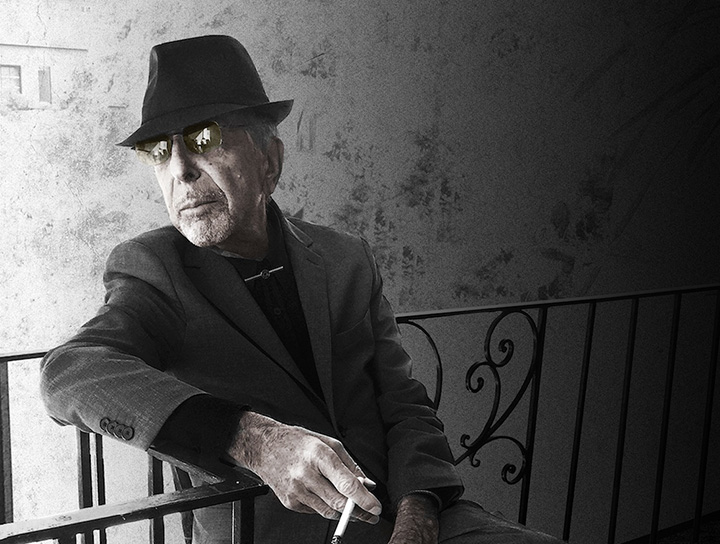 Poetry, fiction and songwriting were more or less equal forms of expression to Leonard Cohen – although one paid a hell of a lot better than the others. After mastering the mystical power of melody, Cohen went on to enjoy a long, fruitful career marked by spiritual hiatuses, reinvention and a surprising late-career second act unprecedented in American entertainment.
Cohen was the sexy, late-blooming gloom-monger among a small, elite coterie of singer-songwriters who came to define the Sixties and early Seventies. His rumbling voice, Spanish-y guitar lines and deeply poetic lyrics transubstantiated the sacred into the profane and vice versa. While early songs like "Suzanne," "Sisters of Mercy" and "Bird on a Wire" made him a college-dorm fixture, later masterpieces like "Everybody Knows," "I'm Your Man" and "The Future" introduced him to a new generation of post-punks and fellow travelers.
And then, in his 70s, he had to do it all over again, thanks to a larcenous manager. But touring rejuvenated our hero, not to mention his reputation. Cohen's songs, both old and new, sounded deeper, richer, and more important than ever, as this sampling demonstrates.
"Suzanne" (1967)
The opening track of Leonard Cohen's debut album became his career-making signature. Comparing it to a great Bordeaux, he has deemed this immaculate conflation of the spiritual and the sensual to be his best work. Joined by one of the female choruses that would accompany him through his career, "Suzanne" chronicles his real-life relationship with the artist/dancer Suzanne Verdal near Montreal's St. Lawrence River in the summer of 1965. "I don't think I was quite as sad as that," Verdal later said of Cohen's portrayal of her, "albeit maybe I was and he perceived that and I didn't."
"Sisters of Mercy" (1967)
Cohen composed this sweetly haunting waltz – augmented with calliope and bells – during a blizzard in Edmonton, Canada. After letting backpackers Barbara and Lorraine use his hotel bed for the night, Cohen watched them sleep, gazed out upon the North Saskatchewan River, savored "the only time a song has ever been given to me without my having to sweat over every word," and sang it for them the following morning. In it, the girls become not entirely chaste nuns who facilitate the singer's flight from "everything that you cannot control/It begins with your family but soon it comes around to your soul."
"Bird on the Wire" (1969)
Recorded in Nashville, and bearing a strong melodic connection to Lefty Frizzell's "Mom & Dad's Waltz," the prayerlike "Bird on the Wire" draws its title image from Cohen's reclusive early-Sixties residence on the Greek island of Hydra, where birds alighted on newly installed telephone wires like notes on a staff. Willie Nelson, Johnny Cash and Aaron Neville have all recorded it, while Kris Kristofferson requested that its opening lines be inscribed on his tombstone. "The song is so important to me," said Cohen, who frequently opened concerts with it. "It's that one verse where I say that 'I swear by this song, and by all that I have done wrong, I'll make it all up to thee.'"
"Famous Blue Raincoat" (1971)
Among the more enigmatic songs by a composer who claimed to love clarity, "Famous Blue Raincoat" transfers specifics from the songwriter's life onto the "other man" in a romantic triangle Cohen later claimed to have forgotten the details of. The rival possesses the titular Burberry raincoat Cohen long wore and appears to have been into Scientology, which Cohen explored briefly as a way to meet women. A low-key female chorus and ghostly strings add subliminal harmonic movement to a song that, for all its obscurity, ends with a most crystalline sign-off: "Sincerely, L. Cohen."
"Is This What You Wanted" (1974)
New Skin for the Old Ceremony sounds like a break-up album anticipating Cohen's 1979 split from Suzanne Elrod, mother of his two children. "Is This What You Wanted" is a self-deprecating airing of grievances with an increasingly accusatory refrain. Cohen compares himself unfavorably to the woman kicking him out – he's the moneylender, Steve McQueen, and Rin Tin Tin to her Jesus, Brando, and beast of Babylon. The music has a refreshing, even bracing music-hall kick thanks to new producer John Lissauer, and the female chorus has never sounded more classically Greek.
"Chelsea Hotel #2" (1974)
It's certainly no "Bird Song," Jerry Garcia and Robert Hunter's bucolic tribute to Janis Joplin. But once Cohen identified the woman "givin' [him] head on the unmade bed" as Joplin, it became easy to see the singer in his snapshot. With their mutual limos idling downstairs, Cohen and fling sympathise and spar, with Joplin getting off the best line: "You told me again you preferred handsome men/But for me you would make an exception." Cohen later regretted revealing her identity. "It was very indiscreet of me to let that news out," he said. "Looking back I'm sorry I did because there are some lines in it that are extremely intimate."
"Lover Lover Lover" (1974)
Cohen often depicted himself as a soldier in art and life, and he improvised the first version of this song for Israeli troopers in the Sinai during the Yom Kippur War. It would later become the first of a batch of unfinished songs he completing while visiting Ethiopia. Eliminating his original opening line about "brothers fighting in the desert," Cohen went on to construct an Old Testament, if not downright Freudian, dialogue between father and son. "He said, 'I locked you in this body/I meant it as a kind of trial/You can use it for a weapon/Or to make some woman smile.'" This is my rifle, this is my gun….
"Who By Fire" (1974)
The solemn, strings-accompanied centrepiece of New Skin for the Old Ceremony is based on a melody for the Hebrew prayer "Unetanneh Tokef," chanted on Yom Kippur, the Day of Atonement, when the Book of Life is opened to reveal who will die and by what means. In this duet with folksinger Janis Ian, Cohen conceives his own litany of "the ways you can leave this vale of tears," which include downers, avalanche and "something blunt," ending each verse with the agnostic query, "and who shall I say is calling?" He also encouraged his musicians to improvise Middle Eastern maqams around "Who By Fire" onstage.
"Memories" (1977)
Cohen and villainous producer Phil Spector had a rollicking drunken time recording Death of a Ladies' Man together. Cohen taps into both his adolescent sexual angst and his unrequited lust for tall, Teutonic singer Nico in this over-the-top Wall of Sound takeoff on the Shields' 1958 doo-wop hit "You Cheated, You Lied," which he quotes by way of outro. Later, onstage, Cohen introduced "Memories" as a "vulgar ditty … in which I have placed my most irrelevant and banal adolescent recollections." It's actually rather glorious in its uncharacteristic over-the-top-ness.
"The Guests" (1979)
Following the baroque hysterics of Death of a Ladies' Man, Cohen returned to his acoustic folk roots on Recent Songs. Inspired by the 14th-Century Sufi poet Rumi, "The Guests" sports a Middle Eastern tinge and marks Cohen's first track with one of his favorite vocal accompanists, Jennifer Warnes. Somewhere between a celebration of life's rich pageant and a take-off on Poe's grisly "Masque of the Red Death," "The Guests" provides a glimpse into Cohen's spiritual ambivalence. It's a cold, lonely world out there, but sometimes, as he told filmmaker Harry Rasky, "If the striving is deep enough or if the grace of the host is turned towards the seeking guest, then suddenly the inner door flies open and … the soul finds himself at that banquet table."
"Hallelujah" (1984)
Five years after Recent Songs, 50-year-old Leonard Cohen returned with Various Positions, which contained the most covered song of his career. "Hallelujah" did not impress CBS president Walter Yetnikoff, however, who considered the album an abomination: "What is this? This isn't pop music. We're not releasing it. This is a disaster." Cohen himself considered the song "rather joyous," as did Bob Dylan, who played it live in '88, and Jeff Buckley, whose '94 version launched him into short-lived stardom. "It was effortless to record," producer John Lissauer told Alan Light. "It almost recorded itself. The great records usually do."
"First We Take Manhattan" (1988)
Low-budget synths are in full effect on I'm Your Man, Cohen's first major artistic reboot. In its opening track, fueled by a spare Eurodisco beat in stark contrast to Cohen's seven prior more-or-less acoustic albums, the bloody but unbowed troubadour unspools a fantasy about worldwide musical domination. Originally titled "In Old Berlin," the song also seems to prophesy a bad moon rising. Cohen described the singer as "the voice of enlightened bitterness," rendering a "demented, menacing, geopolitical manifesto in which I really do offer to take over the world with any like spirits who want to go on this adventure with me."
"I'm Your Man" (1988)
"I sweated over that one. I really sweated over it," Cohen said about the overtly carnal title track of his "comeback" album. "On I'm Your Man, my voice had settled and I didn't feel ambiguous about it. I could at last deliver the songs with the authority and intensity required." Set to a cheesy drum-machine beat and sotto voce horn riffs, with more than a little suggestion of a country ballad, Cohen conversationally throws himself at the feet of a woman he's done wrong. He'd never beg for her forgiveness, of course. But if he did: "I'd crawl to you baby and I'd fall at your feet/And I'd howl at your beauty like a dog in heat…."
"Everybody Knows" (1988)
I'm Your Man's apocalyptic-comedy theme continued in this classic Cohen list song. His voice is deeper and more mordant than ever, and Jennifer Warnes adds angelic encouragement. Cohen unspools a string of received ideas – about sex, politics, the AIDS crisis, etc. – which he then goes on to neatly overturn. "It says we're not really in control of our destiny," explained co-writer Sharon Robinson. "[T]here are others running things, and we go about our daily lives with that in the background." The synthesizers and disco bass line contrast perfectly with the organic sound of Cohen's voice and the old-world oud soloing around it.
"The Future" (1992)
The fall of the Berlin Wall inspired The Future, especially its gloomy, thrilling title track: "Give me back the Berlin Wall/Give me Stalin and St. Paul/I've seen the future, brother: It is murder." A gospel chorus punctuates this rocker reminiscent of Dylan at his most apocalyptic. Decaying Los Angeles had infected Cohen, who's both appalled by the present and pessimistic about what's coming down the track. As he gleefully told one interviewer, "This is kindergarten stuff compared to the homicidal impulse that is developing in every breast!"
"Waiting for the Miracle" (1992)
Cohen sounds like Serge Gainsbourg at his most melancholy here. A low recurring whistle suggests the theme song from some desolate spaghetti Western. In increasingly disconsolate verses, Cohen charts the geography of the "interior catastrophe" he said informed The Future, adding, "All the songs are about that position, but I think treated vigorously, and if I may say so, cheerfully." Is that a marriage proposal to his current girlfriend Rebecca De Mornay in the penultimate verse? If so, it didn't take, because the glam couple separated not long after The Future's release. "The miracle," Cohen would say, "is to move to the other side of the miracle where you cop to the fact that you're waiting for it and that it may or may not come."
"Anthem" (1992)
"To me, 'Anthem' was the pinnacle of his deep understanding of human defeat," said Rebecca De Mornay, who earned a production credit for suggesting its gospel choir. The Future's centrepiece, a magnificent anthem to decay and rebirth, goes back a ways. Cohen began it a decade earlier as "Ring the Bells," but its Kabbalistic roots extend to the 16th century. As for its unforgettable chorus – "There is a crack, a crack in everything/That's how the light gets in" – Cohen claims the lines are "very old. … I've been recycling them in many songs. I must not be able to nail it."
"A Thousand Kisses Deep" (2001)
Leonard's koans became even more profound after he spent five years in the Mt. Baldy Zen Center between The Future and 2001's Ten New Songs. His new record, according to co-writer/producer/singer Sharon Robinson, was "some kind of extension of his time at Mount Baldy. He was still very reclusive during this time." Robinson recorded the music in her garage studio and took it to Cohen, who added his vocals in his own home studio. He gave it the feel of an old folk song, and its sense of desolation and profound loneliness makes it an exceptionally intimate experience.
"Going Home" (2012)
Rejuvenated by the two-year tour he undertook in 2008 at age 73, Cohen returned to the studio to record what would become Old Ideas. Its opening track is marvellously meta, with Cohen's ego or transcendental self or somesuch describing "Leonard" as a "lazy bastard living in a suit." Although thousands of cigarettes had done a number on his voice, Cohen's self-examination offers a remarkable example of self-forgiveness on the way to the long goodbye. Cohen didn't see much future in the song when he first gave it to his producer. "Pat [Leonard] saw the lyric for 'Going Home' and said, 'This could be a really good song,' and I said, 'I don't think so.'"
"You Want it Darker" (2016)
Cohen's long goodbye concluded with a sparsely arranged 14th album produced by his son, Adam. A male cantorial chorus replaces the backing women of yore in its title track, intoning a haunting countermelody to Cohen's baritone growl. Like so much great devotional music, the words could be addressed equally to a deity, an object of desire or a fan. It's hopeful and despairing, bitter and sweet, pious and profane. "Hineni, hineni" – here I am – he declares in Hebrew between verses, "I'm ready my Lord." You want it darker? As he told The New Yorkerupon its release, "I am ready to die. I hope it's not too uncomfortable."