Jeff Lynne: My Life In 10 Songs
The ELO leader on 'Mr. Blue Sky', producing the Beatles, and why he'd rather have just stayed in the studio.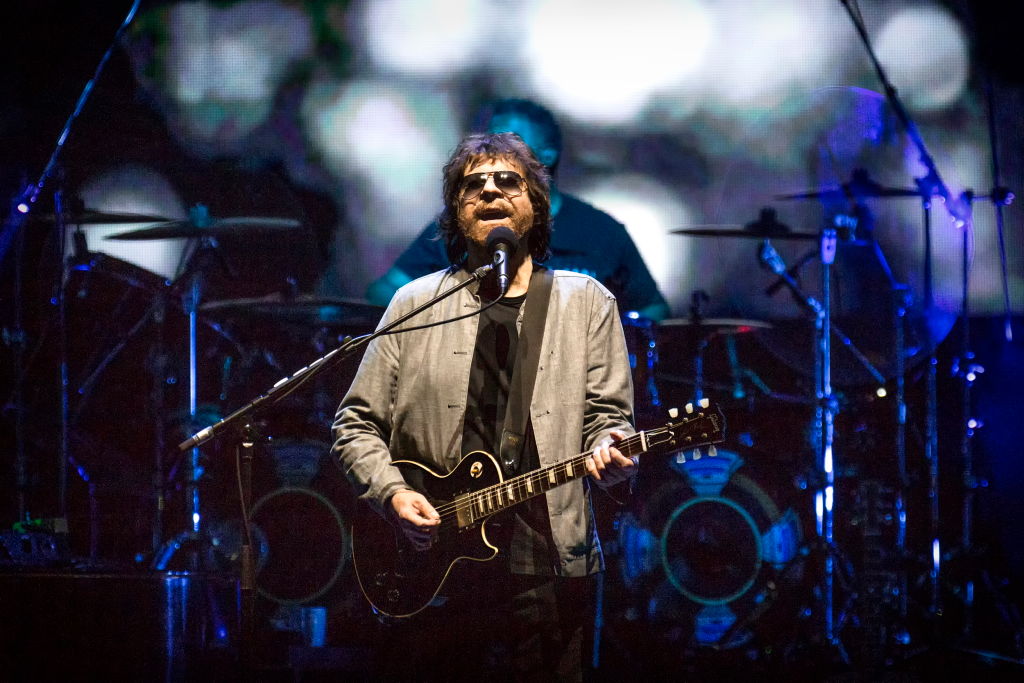 Even when Electric Light Orchestra were selling millions of albums in the 1970s, only devoted fans knew frontman Jeff Lynne's name – which was just fine by him. "I didn't push myself forward," Lynne says. "It just wasn't in my nature. All I wanted was studio time, more studio time and even more studio time."
After ELO split up in the mid-Eighties, Lynne produced comeback albums for George Harrison, Tom Petty and Roy Orbison – then pulled all three together, along with Bob Dylan, to form the Traveling Wilburys. "It was marvellous," says Lynne. "I thought, 'I should have been doing this years ago.' " In 2014, Lynne revived ELO for a show at London's Hyde Park before 50,000 fans. The gig went so well he decided to cut a new ELO album, Alone in the Universe, and this year ELO will launch a world tour. "It took a lot of rehearsal, since we hadn't played in 28 years," he says. "I had to wait that long before I could really enjoy it again."
All words below by Jeff Lynne.
"Showdown" (1973)
In the late 1960s, I was in a group called the Idle Race, and I got to be pals with this guy called Roy Wood, who was in the Move. We thought it might be nice to have a band with strings in it – back then most groups only had drums and guitar, organ and maybe saxophones and trumpets. The problem with strings, as we discovered, was that there were no pickups on them, which meant doing shows was a real pain in the ass.
After about three months, Roy left to do his own group. I carried on and became the sole producer and the sole writer. I wrote "Showdown" in my mum and dad's front room in Birmingham, England. I knew it was going to be a hit after just a few notes. The lyrics ("She blew in on a southern wind/Now my heart is turned to stone again") are just a made-up scenario. A lot of people ask me what my songs mean, and I have no idea.
"Evil Woman" (1975)
Face the Music [ELO's 1975 album] was finished, but I thought, "There's not a good single." So I sent the band out to [watch] a game of football and made up "Evil Woman" on the spot. It was kind of a posh one for me, with all the big piano solos and the string arrangement. It was inspired by a certain woman, but I can't say who. She's appeared a few times in my songs.
"Mr. Blue Sky" (1977)
I suppose this is my most well-known song. Even kids love it, since it's like a nursery rhyme. I wrote the words at a chalet in the mountains of Switzerland. It was misty and cloudy, and I didn't see any countryside for four days. Then everything cleared. There was this enormous view, and the sky was blue.
By this point, ELO was playing stadiums. It was fun, but kind of scary. I was reluctant to become a real rock star. I was shy and was always told to not get a big head. I did have a big house, but I didn't do rock-star things.
"Don't Bring Me Down" (1979)
This one I made up in the studio. When I was singing, there was a gap in the vocals, so I just shouted out, "Groose!" It just came into my head. The engineer said that it meant "greetings" in German, which I thought was lovely, so we left it in. When we played it live, everyone would sing "Bruce." I just ended up singing "Bruce" as well.
This was the first song I ever did without strings. After six albums, I was fed up with them. Part of it was trouble with the unions. The string players would have to stop before a song was finished if the end of the hour was approaching. Now that there are samplers, string players aren't so rude.
"When We Was Fab" (George Harrison) (1987)
I decided to pack it in with ELO in 1986. The concerts were horrible, and I always wanted to be a producer anyway. About six months later, George Harrison asked me to work on his next album. Soon after we met, he said, "Let's go on holiday. I'm going to Australia." He took me to the Grand Prix in Adelaide, which was amazing.
George came up with the words for "When We Was Fab", which we co-wrote. It was supposed to sound like a Beatles song, which was magical for me, since I was a huge Beatles fan.
"Let It Shine" (Brian Wilson) (1988)
After George's album, Warner Bros. asked me to produce Brian Wilson. I was like, "You can't produce Brian Wilson. He's the best producer in the world." But I agreed anyway. We wrote "Let It Shine" at his house in Malibu. He was being treated -really badly at the time. I only saw Dr. Landy [Eugene Landy, Wilson's controversial therapist-manager] a couple of times, walking around with his cape and walking stick. You could see what a nice guy Brian was, despite everything happening in the background.
"Free Fallin'" (Tom Petty) (1989)
One day, I saw Tom stopped at a streetlight in Los Angeles. I had met him once before, and he said, "Jeff, pull over." When I did, he said, "I just listened to George's album. What about coming over and writing some tunes together?" "Free Fallin' " was probably the second song we wrote. I got the chords, and we both fleshed out the chorus. Everyone who heard it knew it was a hit.
It was Tom's first solo album, Full Moon Fever, and I didn't realise it would be such a big thing for the Heartbreakers, Tom going off on his own. Mike [Campbell] was there, but I played keyboards and bass and told the drummer what to play. The thing is, Tom got a great record out of it. It's still my favourite record that I made with anybody. It's so simple and fresh, and it's got no bullshit.
"Nobody's Child" (The Traveling Wilburys) (1990)
One night, George Harrison and I were recording and he said, "We should form a group." I said, "OK. Who should we have in it?" He said, "Bob Dylan." I'm going, "Bloody hell." I never expected that answer. And then I said, "Can we have Roy Orbison?" He said, "Great, I love Roy." And we both loved Tom. Everyone we asked joined immediately.
George had some wacky ideas about how the Wilburys could tour. His first was that we'd rent an aircraft carrier and then fly to different ports and let everyone climb onto the aircraft carrier and have a listen. His next idea was to tour by train. We'd pull into a station, drop a stage and play. But we never got around to either of them. Everyone had their own tours to do.
"Nobody's Child" was a charity single to raise money for orphans – it's an old American folk song with a real nice sentiment to it. Later on, we did a second album after Roy died, but I could have done without it. Roy was just too big a part of the group.
"Free as a Bird" (The Beatles) (1995)
George asked me to do this [a "new" Beatles track built around an old John Lennon demo]. It was the hardest thing I've had to do in my life. There was this elation and dread at the same time. I was given a mono one-track tape of John singing the song in 1977. I came to the first session with George, and we were late, which was a bad start. Ringo and Paul were already there. All four of us sat down at a table, I think the first time they'd all been together for about 20 years. They spent a long time talking about the old days, just reminiscing. I was thrilled to bits.
Some days I thought I was going to get it right, and other days I thought, "What did I get myself into?" One day, I waited until everyone went home, then used a little sampler to insert John's voice into the song wherever I could. It would have been much easier if I had ProTools! The next morning Paul came in and was like, "Jeff, you did it! Well done." He gave me a big hug. It was a relief.
"When I Was a Boy" (2015)
This is the most autobiographical song I've ever written. It's about listening to my little crystal-set radio growing up. It's the first single off the new ELO album, which is doing well in England. We just played Jimmy Fallon. I used to dread doing TV appearances, but with monitors now, I can actually hear myself. It's taken me about 40 years to get here, but I've finally caught on.