Jay-Z: 50 Greatest Songs
With a rhyme career going since the late Eighties, Jay-Z's songs have been reflective, pop, confessional, hard-edged and indelible. Here are his best.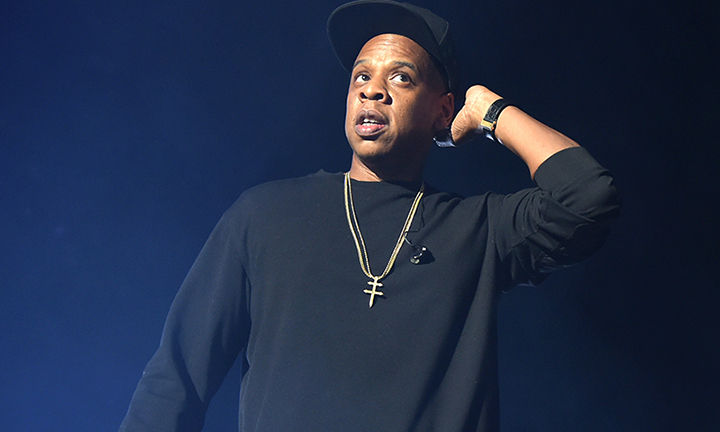 Is Jay-Z the greatest rapper of all time? "I've got this Elvis thing going on right here," Jay-Z told Rolling Stone in 2007 shortly before tying the King's record of 10 albums debuting at Number One (and well before notching four more in the following decade). Indeed, Jay-Z's feats are many: 21 Grammys, toasted by Barack Obama as the first rapper in the Songwriters Hall of Fame, and represented in countless rappers' Top Fives (Kendrick Lamar, T.I., J. Cole among them; and Lil Wayne has a Jay-Z verse tattooed on his leg). He looms large in skills, impact, business acumen: the cool yet distant image of a former street hustler, a flow that's both technically advanced and pop savvy and an unimaginable wealth that Forbes and other publications struggle to calculate. Yet even among the musical largess that comprises Jay, some of his classic songs rise above others. Here's our list of his 50 greatest.
By Christopher R. Weingarten, Elias Leight,Mosi Reeves, Al Shipley,Jason Newman, Christina Lee, David Drake, Maura Johnston and Dan Hyman.
50. "Roc Boys (And the Winner Is…)" (2007)
"Roc Boys (And the Winner Is…)" reaches back to the dazzling, horn-blasting sound of iconic Jay-Z hits like "U Don't Know." Gleaming brass lines ricochet around the track – produced by P. Diddy and the Hitmen – and Jay-Z raps about amassing vast wealth: "Let ya hair down baby, I just hit a score/Pick any place on the planet, pick a shore/Take what the Forbes figure, then figure more." One group that got to share the wealth was the Brooklyn soul outfit the Menahan Street Band, who were sampled for the track. "A record being sampled is like a needle in the haystack, and the chances of it being a hit song is even slimmer, so it was a real fortunate thing that happened to us," the group's guitarist and leader Thomas Brenneck told Life and Times. "Then being credited as a songwriter on a Jay-Z song does a lot for the songwriters. Up until then our records sold 5,000-10,000 copies; [2007 LP] American Gangster sold a million copies. It was a real boost in self-esteem."
49. Jay-Z and Linkin Park, "Numb/Encore" (2004)
Jay-Z was hip-hop's Grateful Dead – despite having "retired," he couldn't bear saying goodbye to the game. In 2003, Jay and Linkin Park capitalized off the burgeoning MP3 "mashup" culture with an MTV special, followed by the six-song EP Collision Course. What could have been an empty cash grab ended up feeling sincere. Lone single "Numb/Encore" especially captured everyone's delight over how well their music actually fit together. "I'm not trying to be you, you're not trying to be. There's fusion and just whatever happens, happens. I love that," Jay said to Linkin Park lead singer Chester Bennington on MTV. Since Bennington's death in July, Jay has performed "Numb/Encore" several times in tribute, turning the single into a bittersweet farewell.
48. Jay-Z and T.I. feat. Lil Wayne, Kanye West, "Swagga Like Us"
"It was a song that Kanye and I had done first; me featuring Kanye," T.I. told MTV. "An idea had presented itself: 'What if we included these people and made it an event record?' I was like, 'That's a very ambitious idea, but a lovely one.'" In 2008, "Swagga Like Us" represented a summit of rappers – T.I., Lil Wayne and Kanye West – all in the middle of remarkable stretches of hit-making, joining forces with Jay-Z, who had helped to clear the way for their pop crossover success with his own hot streak in the late Nineties and early 2000s. Each MC takes turns rapping as a blithe sample of M.I.A.'s "Paper Planes" cycles through the background. Jay-Z sounds at ease, unruffled by the star power of his collaborators and casually dismissive of everyone else. "Can't teach you my swag," he raps. "You can pay for school, but you can't buy class."
47. "Ain't No Nigga" feat. Foxy Brown (1996)
"Ain't No Nigga" might be the most shamelessly commercial track on Jay-Z's debut, Reasonable Doubt, and it's naturally the one that elevated him from Brooklyn thug poet to future pop dominance. Initially released as the B-side to "Dead Presidents," it found a national audience when the rapper's Roc-A-Fella team switched distribution from Freeze/Priority Records to Def Jam, and the latter selected it as a single for Eddie Murphy's The Nutty Professor soundtrack. Jay's verses are nice – "They say sex is a weapon/So when I shoot, meet your death in less than eight seconds," he brags. But he meets his match thanks to a riposte from a then-teenaged Foxy Brown.
46. "Empire State of Mind" feat. Alicia Keys (2009)
By at least one measure, "Empire State of Mind" is the biggest record of Jay-Z's career: He had never topped the Hot 100 as a lead artist until he released this collaboration with Alicia Keys, the final Number One hit of the 2000s. "Jay hit me up like, 'I feel like I have this record that's going to be the anthem of New York,'" Keys, another Big Apple native, explained to MTV. "He's like, 'The piano, the way the style [is], the whole flow, and it couldn't be the anthem of New York without you.'" "Empire State of Mind" loops the dramatic, golden opening motif from a towering slice of orchestral soul – in this case, the Moments' "Love on a Two-Way Street" – to great effect. Jay-Z touts his credentials as the "new Sinatra," while Keys aims for universal uplift: "These streets will make you feel brand new/Big lights will inspire you."
45. "Snoopy Track" feat. Juvenile (1999)
Jay-Z was in his imperial phase when New York rap was doing the same, but as a true student of history, he looked the country over for inspiration, appearing on No Limit releases like the I Got the Hook-Up soundtrack and inviting underground regional heroes UGK and a newly minted multi-platinum superstar from New Orleans named Juvenile to appear on 1999's Vol. 3. Though Juvenile only appears on the song's hook, his sonorous Southern drawl framed one of Timbaland's most unsettling beats with a menacing melody. As searing synths tore a hole in the stratosphere, Jay rapped with the impenetrable, brutal confidence of a world – from New York to Houston to Miami to Atlanta – which folded before him, violence and success its only currency.
44. "Politics As Usual" (1996)
Reasonable Doubt is suffused with a mixture of regret and pride at Jay-Z's street exploits. The two conflicting emotions can be difficult to parse, which may have led some early critics to dismiss it as an above-average gangsta rap record upon its initial release. Produced by Ski Beatz, who flips a Stylistics sample and lends the track a smooth, melancholy tone, "Politics As Usual" epitomizes this quandary: Jay rhymes how he's "cursing the very God that brought this grief to be," but then shifts and says, "I'm trying to feel mink, nigga." "I remember even the reviews, when it first came out, 'This is gangsta, hustler persona.' I knew they didn't understand what was being said in the music," he told the BBC for its 2008 documentary series Classic Albums. While inner turmoil about the hustler's life has been a hallmark of hip-hop since the days of Ice-T, Jay's use of language elevates songs like "Politics As Usual," and justifies Barry Michael Cooper's assessment of him as "the Proust of the projects."
43. "Song Cry" (2002)
The Just Blaze-produced "Song Cry" features a particularly wrenching performance from Jay. Offset by an interpolation from Bobby Glenn's 1976 ballad "Sounds Like a Love Song," he embarks on a world-weary lament, looking harshly at the effects a demanding tour schedule and roving eye are having on his relationships. The lyrics, which represent what Jay-Z called a "gumbo of a lot of my relationships" in a 2005 GQ interview, are "about a guy who isn't fully ready to commit, but the girl he's with, he really loves her, you know? And he wants to be with her. So what happens is, she's sick of putting up with his stuff and she finally moves on into another relationship and he's crushed. But even after all that, his pride won't allow him to cry. … So you've gotta make the song cry."
42. Kanye West feat. Jay-Z, "Diamonds From Sierra Leone (Remix)" (2005)
Kanye West acknowledged how impressed he was this Jay-Z verse on 2007's "Big Brother": "On that 'Diamonds' remix I swore I spazzed/Then my big brother came through and kicked my ass." The friendship and rivalry between Jay-Z and his former producer has been the source of lots of great music since the two began working together at the dawn of the new millennium. "Diamonds From Sierra Leone (Remix)" remains one of their pluckiest collaborations, an audacious merger of old-school pomp – the in-your-face sample of Shirley Bassey's over-the-top James Bond theme – and a sleek synth-pop sound that hints at West's upcoming pivot into dance music. West raps with focus and dexterity here before passing the baton to Jay-Z for a scorching verse, the origin of one of his most famous lines: "I'm not a businessman, I'm a business, man."
41. Scarface feat. Jay-Z, Beanie Sigel, "Guess Who's Back" (2002)
Jay-Z told Cornel West that rappers like Scarface inspired his own honest, biographical approach. When the Houston rap legend reintroduced himself on 2002's The Fix as an aging gangster with stories to tell, Jay-Z helped welcome the transition – in his autobiography, Scarface said the two MCs would "talk for hours." With a glittering soul loop by Kanye West, "Guess Who's Back" was summit between the East Coast, the South and the up-and-coming Midwest. During the making, Scarface was struck by how Jay laid down his enthused, vivid verse in one take. "I hate going in the studio with him," he said to HipHopDX, "because he's done with his shit before I sit down."
40. "Izzo (H.O.V.A.)" (2001)
One of Jay's biggest early commercial hits – it peaked at Number Eight on the Billboard Hot 100 – this Kanye West-produced track features an exquisitely used sample from the Jackson 5's soaring "I Want You Back." "I grew up in the Marcy Projects in Brooklyn, and my mom and pop had an extensive record collection," Jay told NPR's Terry Gross in 2010. "So Michael Jackson and Stevie Wonder and all those sounds and souls – Motown etc., etc. – filled the house. So I was very familiar with the song when Kanye brought me the sample. It was just such an interesting and fresh take on it that I immediately was drawn to it."
39. "Come and Get Me" (1999)
Jay spits barely concealed threats in a dangerous game of reality-rap chicken, jumping into a casually fluent flow that feels as if it were coasting across the top of each kick drum on a surfboard. Timbaland provided the ambitious beat: Low-slung funk punctuated by wah-wah guitar for its first minute; a cinematic break narrated by ringing church bells and an uneasy flute; and then a robo-digi-funk groove.
38. Jay-Z and Kanye West, "Gotta Have It" (2011)
If Watch the Throne was Jay and Kanye's attempt at tag-team rap, "Gotta Have It" is assuredly its crowning achievement. Produced by West and the Neptunes, the cut is built around three chopped-up James Brown samples and finds the rappers completing each other's sentences, butting in mid-flow if necessary. Like many tracks on the album, catchphrases and meme-worthy utterances obscure a more profound, deeper sentiment. "I wish I could give you this feeling/I'm playing on a million," Jay professes to the less fortunate, a shipwreck survivor rowing to shore knowing the lifeboat couldn't contain everyone. "Gotta Have It," like the entire album, may read as straight exuberance. But as Jay noted tothe New York Times' T magazine, "It's a lot of pain and a lot of hurt and a lot of things going on beyond, beneath that."
37. "Who You Wit II" (1997)
Roc-A-Fella co-founder Dame Dash was working on a soundtrack to a new comedy called Sprung when he asked producer David "Ski Beatz" Willis for original material. The next day, the producer began to flip smooth jazz group the Jeff Lorber Fusion's 1981 song "Night Love" (featuring a young Kenny G) into "Who You Wit." With an extra verse, re-released as "Who You Wit II," it would become one of the most cherished, punchline-heavy songs on Jay's second album In My Lifetime, Vol. 1. "'Who You Wit' leaves a legacy of true lyricism at its purest form," Ski tells Rolling Stone. "People gravitated to that song because it was so witty." "The arrangement had a lot of space and was somewhat minimalistic, [making] it easier for them to manipulate [the sample] the way they did," Lorber adds. "It was a little shocking to hear my song in a new context, but i think it has aged well and is still fun to listen to."
36. Jay-Z and Beanie Sigal feat. Scarface, "This Can't Be Life" (2000)
An early Roc-A-Fella beat from Kanye West relied on disembodied vocal samples crying out from soul music history, while Jay – then a notoriously callous rapper – delivers a touching reflection on the painful origins for his show business pursuits and passions. It's no slight to him to suggest Beanie Sigel and Scarface steal the show. The song's a powerful rendering of the nuances and complexities of pain, Beanie showing it through a lens of exhaustion ("I'm tired of trying to hide my pain behind the syrups and pills") and Scarface managing to envelop love, spirituality, community and loss on the head of a pin.
35. Beyoncé feat Jay-Z, "Crazy in Love" (2003)
The night before Beyoncé turned in her 2003 debut Dangerously in Love, she asked Jay-Z for a favor. He heard the hit potential in "Crazy in Love" immediately; how those Chi-Lites horns and producer Rich Harrison's go-go percussion could catapult the Destiny's Child singer to solo stardom. "He played the song and went crazy," Young Guru, Jay's personal engineer, said to MTV News. "Crazy in Love" would be the breakout moment for Bey, topping the Billboard Hot 100 for eight weeks – though a big asset ended up being the chemistry between the then-rumored couple. She oozes sex appeal, while he raps about chinchilla furs in a futile effort to keep his cool.
34. Jay-Z, Beanie Sigel and Memphis Bleek feat. Freeway, "1-900-Hustler" (1999)
The Bink!-produced "1-900-Hustler" was a high-concept rap record featuring four present-and-future Roc-A-Fella rappers sharing advice on how to hustle – an idea borrowed from Texas rap heros the Convicts' 1991 record "1-900-Dial-A-Crook." Wed to a fiery sample of Ten Wheel Drive's "Ain't Gonna Happen" (the rappers all apparently rapped over the part that Bink! meant for the chorus), the song's highlights are many: Jay charges $800 for a phone call asking for advice; Beanie Sigel sends a hustler to the "bullshit-ass elevator music" for talking about illegal work over the phone; Freeway spits his advice before concluding the best lesson would be just to rob the caller himself.
33. "Threat" (2003)
Jay-Z wanted his retirement album to show that he was leaving hip-hop in fighting shape. So all pressure was on new collaborator 9th Wonder of hot underground group Little Brother, who came on board to produce "Threat" after he tried booking DJ Premier. "Now you can argue this," 9th told Complex, "but what he was trying to tell me in so many words was, 'I want you to be like what Premo was to me on my other albums.' And I was like, 'Whoa, you're going too far now, Jay.'" But 9th pushed himself, as he flipped an R. Kelly sample, added piano stabs and cued silences to punctuate Hov's winding, heart-stopping wordplay.
32. "A Week Ago" feat. Too $hort (1998)
Vol. 2… Hard Knock Life exploded with splashy radio anthems, becoming Jay-Z's only album to be certified five times platinum. "A Week Ago," however, was the album's throwback to the rueful street tales that he built his reputation on. Bay Area trailblazer Too $hort wasn't supposed to be the only regional rap legend on the track – Jay asked Pimp C to appear, according to his UGK partner Bun B. The session fell through, but Jay linked up with UGK a year later for the far more famous "Big Pimpin'."
31. "Dear Summer" (2005)
Jay-Z's retirement was brief and full of wonderful interruptions like "Dear Summer," which appeared on Memphis Bleek's 534 album but did not include a verse from Bleek himself. Producer Just Blaze sets aside his trademark stadium-leveling sound to make a cooled-out beat based around a barely-tweaked excerpt from jazz-funker Weldon Irvine's "Morning Sunrise." Jay-Z originally debuted the lyrics to "Dear Summer" – a love song about the rapper's propensity for warm-weather hits – during a visit to New York's Hot 97. "The record is so crazy we was going to put it out the day after he went to radio, but Jay was like, 'Nah, chill,'" Just Blaze told MTV. "Doing that record was kinda like old times. It was nobody in the room but me, Guru [the engineer] and Jay. … Obviously, the artist bug is still there," Just Blaze added. "It's not like he needs to do the intro to Bleek's album. When you're an artist, you're always gonna be an artist even if that's not your main job anymore."
30. The Jaz feat. Jay-Z, "The Originators" (1990)
At the age of 21, Jay-Z was mostly paying dues, whether sleeping on Big Daddy Kane's tour bus for a chance to spit a verse or two in concert, or slinging drugs in Brooklyn and Trenton, New Jersey. Luckily, his Marcy Projects friend and mentor Jonathan "The Jaz" Burks enjoyed a label deal with EMI. "When Jaz scooped me up from the projects, I was young," he told Blaze magazine in 1998. "I was just his man, and he brought me along for the whole ride." Jay-Z landed cameos on both of the Jaz's albums, including the kitschy minor hit "Hawaiian Sophie." But it's the 1990 single "The Originators," which found the two joining forces on an Afrocentric-themed fast-rap fusillade that hints at Jay-Z's future mastery of a cool, dexterous verbal style. Over a funky James Brown loop, he works a stutter-step flow to punch out rhymes like "Stop fakin ya makin' it, son/I'm breakin' a-breakin' a-breakin' ya tongue/Don't get caught perpetratin' the cool ones."
29. Jay-Z and Kanye West, "New Day" (2011)
For Watch the Throne, an album teeming with unabashed bravado, "New Day" is jarring in its sentimentality. Over an Auto-Tuned sample of Nina Simone's "Feeling Good" and a laid-back beat by the Wu-Tang Clan's RZA, both Jay and Kanye address their unborn children. For both men, it was entirely speculative: Jay wouldn't become a father to Blue Ivy until the following year, but his pain and promise to never abandon his child, as his own father did when he was 11, finds him uncharacteristically vulnerable. "Promise to never leave him, even if his mama tweakin'/'Cause my dad left me and I promise to never repeat him/Never repeat him/Never repeat him." Parenting, Jay later told GQ, is one of life's great challenges that material wealth could never resolve. "Providing – that's not love," Jay said. "Being there – that's more important. We see that with all these rich socialites. They're crying out for attention; they're hurting for love."
28. "So Ghetto" (1999)
By the time of 1999's "So Ghetto," producer DJ Premier had shifted from the epicenter of hip-hop's sonic "now" to a respected traditionalist. At this point a formula was cleanly in place, but relative to the R&B-echoing pop sound of Timbaland elsewhere on this album, Premier's sound vibrated with hard-edged urgency. Over a guitar loop from Ennio Morricone's Le Ruffian soundtrack, punctuated with otherworldly sound effects from kaiju monster King Ghidorah, Jay's toughness is expressed not through aggression – his performance has that unbothered reserve that sold the best material of his peak – but in the brash lyrical details: "We tote guns to the Grammys, pop bottles on the White House lawn."
27. Memphis Bleek feat. Jay-Z, Twista, Missy Elliott, "Is That Your Chick (The Lost Verses)" (1999)
Jay-Z, Twista and Memphis Bleek show off their technical game, spitting dexterous bars with acrobatic precision over a Timbaland production that's like a musical obstacle course. The song's fiery effect comes directly from how effortlessly Jay and Bleek perform these intricate feats, a reflection of the song's subject matter – casual indifference as a response to the grand emotional drama unspooling before the song's unnamed target. Twista darts through the air with an exuberance and fluency that mainly conveys love for recognising the full mastery of human potential. Missy's taunting chorus is the only break from the testosterone-driven subliminal battle Jay waged across this larger-than-life canvas.
26. "Can't Knock the Hustle" feat. Mary J. Blige (1996)
Much as the Notorious B.I.G. had done with 1994's Ready to Die, Jay-Z's debut album Reasonable Doubt marked a marriage between the kind of dense lyricism that appealed to rap heads and the kind of bubbly, bouncy beats that appealed to club-goers. No other track underlined that ethos quite like opening track "Can't Knock the Hustle." The song finds him both rebuking neighbourhood snitches watching Jay-Z the street hustler and anticipating critics of Jay-Z the rapper's fomenting dominance. "I'm leanin' on any nigga intervening with the sound of my money machine," he blasts in a flurry of interior rhyme logic. Meanwhile, Mary J. Blige underlines Jay's words with a chorus inspired by Meli'sa Morgan's 1985 hit "Fool's Paradise." "I heard what Jay-Z was speaking about, which is not judging the way people go and make their money," Blige explained in the 2008 BBC documentary Classic Albums: Jay-Z, Reasonable Doubt. "It was something I could relate to because the culture we lived in was about survival, and never disrespecting other people's hustle."
25. Jermaine Dupri feat. Jay-Z, "Money Ain't a Thang" (1998)
A line from Jay's "Can't Knock the Hustle" gets new life thanks to producer Jermaine Dupri and a funky Steve Arrington sample. Jay dives into to the breezy, free-wheeling brags of the bling era in bars like "Said she loved my necklace, started relaxin'/Now, that's what the fuck I call a chain reaction" – a punchline that Remy Ma re-used for an even bigger hit, Terror Squad's Number One single "Lean Back." "I was going to the airport to pick him up, and on my way to the airport I was listening to Reasonable Doubt. On ["Can't Knock the Hustle"] he says, 'Deep in the south kicking up top game,' recalled the Atlanta-based Dupri to Complex. "It just seemed like that line jumped out to me. As soon as I heard that I was like, We're using that. So he got off the plane, he got in the car. And when I got to the studio at my house, I had the beat up already."
24. "Imaginary Player" (1997)
Bad Boy in-house producer Daven "Prestige" Vanderpool inverts "Imaginary Playmates," R&B duo Rene and Angela's 1981 hit about fantasy lovers, into this track comparing Jay's stacks to jealous rappers with "little to no dough/Sell a bunch of records and you still owe dough." All of Jay's trademarks at the time – the humor, the braggadocio, the quiet cockiness – are embodied on In My Lifetime, Vol. 1's slickest track. "Y'all want to take my flow, and run with it," he rhymes. "That's cool, I was the first one with it." "The original 'Imaginary Playmates' tag/hook and beat fit perfectly into their version beat-wise," Rene and Angela's Angela Winbush tells Rolling Stone. "A 13-year-old once asked me why was I singing ["Imaginary Player"] in my show and wrote so many lyrics to Jay-Z's song! I just laughed and said go ask your mother or grandmomma." Ma$e claimed to be the target of Jay's vicious broadsides, but whoever it's about, this is Exhibit A whenever you hear Jay's flow described as "effortless."
23. "Can I Get A…" feat. Amil, Ja Rule (1998)
A huge moment in many ways: A breakout moment for producer Irv Gotti, whose Murder Inc. label would dominate rap for the next few years; a successful tie-in with Rush Hour, the Number One movie in the country for two weeks; and even Jay-Z's first trip into the Top 20 for one of his own songs. However, it wasn't always intended for him. "'Can I Get A…'" was my record," Ja Rule told Rolling Stone in 2001. "Jay wanted to use the record, he used the record, and it was profitable and prosperous for both of us." In turn, the song launched Ja Rule's career and the video helped cement his image. "The video director [Steve Carr], he's a funny guy, a great guy. He's the one who actually told me to take my shirt off," Ja Rule told Complex. "It was the last scene of the video, and he was like, 'I see you in the back doing pushups and shit. So you wanna take your shirt off for this last scene and run one like that?' … He had a vision. He'd seen it early."
22. "Friend or Foe" (1996)
"Getting on a Primo beat at the time Jay-Z got on a Primo beat for the first time was the equivalent of driving a Ferrari or something like that," Elizabeth Mendez Berry told Zach O'Malley Greenburg for the 2011 biography Empire State of Mind. "It was a moment of arriving." Premier may have not dominated the Billboard charts like Puff Daddy and Dr. Dre, but he was the most respected among NYC hip-hop producers, and his three contributions to Reasonable Doubt were a sign of Jay's rising stock. Unlike "D'Evils" and its mordant tale of a friend's betrayal, Premier's beat for "Friend or Foe" was buoyant with Blaxploitation funk, and Jay-Z responded with a short, off-the-cuff verse that sounds strikingly humorous by comparison. "I need those keys/And a promise that you'll never/No matter the weather/Ever-ever-ever-ever-ever-ever come around here no mo'," he ends with a smirk as he repurposes a Chris Tucker line from the 1995 classic Friday.
21. "D'Evils" (1996)
Unlike some of the other tracks on Reasonable Doubt, "D'Evils" is clearly a work of fiction, one both inspired by Snoop Dogg's 1994 gem "Murder Was the Case" – Snoop's "Dear God, I wonder can you save me" forms part of producer DJ Premier's scratched-out chorus – as well as the Mafioso trend overtaking NYC rap. Over three increasingly bleak verses, Jay observes coldly how "none of my friends speak," then kidnaps the baby mother of his closest pal. He seduces her with sex and money and then, after extracting enough information to betray his homie, kills her in cold blood. "My soul is possessed by D'Evils in the form of diamonds and Lexuses," he raps. The horrorcore vibes of "D'Evils" serves as metaphor for Jay's years spent hustling in the streets. In Decoded, he writes, "The first defence of a lot of people who take the criminal route is that they had no choice, which is almost true: Most of us had choices, but the choices were bleak." He adds, "This reflects the way I actually thought: I ignored my God-given ability, never believing that someone from where I came from could make it out."
20. "Money, Cash, Hoes" feat. DMX (1999)
Kaseem "Swizz Beatz" Dean was just the teenage nephew of the founders of Ruff Ryders Entertainment when he got the chance to work on chart-topping albums by DMX in 1998. By the end of the year, artists outside the label wanted Swizz's simplistic but hard-hitting beats. And his first collaboration with Jay-Z was the result of the young producer just kidding around with the beat's outlandish riff. "The song started as a joke with me sliding my hand across a keyboard, just bugging," Swizz told Complex. But Jay took the beat seriously enough to elevate the track with suave wordplay like "Only wife of mines is a life of crime/And since life's a bitch in miniskirts and big chest/How can I not flirt with death?"
19. "Dirt Off Your Shoulder" (2004)
By this time, producer's Timbaland's rhythms were still so avant-garde, he jokingly asked Jay-Z in Fade to Black whether the rapper was "confused" by his beats. What came out of their Black Album sessions, though, was immediate enough to resonate for years. "I think when Tim played the track early on, it had like a brushing sound on it. I started messing with lyrics about brushing off haters," Jay said in The Hits Collection Vol. 1 liner notes. An actual radio takeover played out in the song's video. In reality, not only did "Dirt" become one of his biggest hits, but it even had Barack Obama following his lead during the 2008 Democratic primaries.
18. "Can I Live" (1996)
In 1996, it seemed as if Isaac Hayes' early Seventies masterworks were everywhere, whether powering the Platinum soundtrack to the movie Dead Presidents, or informing much of the electronic-oriented hip-hop experiments known as "trip-hop." On "Can I Live," Hayes' sensual reimagining of Burt Bacharach and Hal David's "The Look of Love" serves as an elegiac counterpoint for Jay-Z's anguished comparisons of a hustler's lust to a drug addict's paranoia. "The pain of a drug addict is visible," wrote Jay when he explained the "Can I Live" lyrics in his book Decoded. "The hustler has armor – money, ambition – that makes his pain less visible, less 'quick to see.' But just like a drug addict's 'brain on drugs' the hustler's brain is similarly fried, preparing for inevitable rainy days (precipitation), planning takeovers, stacking and climbing." As the penultimate Brooklyn hustler, Jay's stress over street politics manifests in fears of getting "toasted" by rivals, catching "amnesia" over the crimes he has committed and meditating "like a Buddhist" akin to Dr. Dre on N.W.A.'s "Express Yourself." "I'd rather die enormous than live dormant," he raps. It culminates in one of the most haunting choruses of the rapper's career: "Can I Live?"
17. Jay-Z and Kanye West, "Otis" (2011)
"Otis" began as a direct challenge from Kanye West's longtime collaborator No I.D, according to XXL. "I get the co-productions, but how you gon' do an album and you don't go to the machine and do one beat by yourself?" the producer told West upon arriving at New York's Mercer Hotel where he and Jay had set up a makeshift studio to record Watch the Throne. West bolted to his MPC, began chopping up a slow refrain from Otis Redding's "Try a Little Tenderness," and flipped an iconic soul song into something stabbing, brash and gruff. The song introduced the world to the term "luxury rap" and Jay opened it by declaring, "I invented swag." But for a onetime hustler who'd run with a broke crew who "wanted to pretend we weren't," flaunting his wealth was always a more nuanced proposition. "It's not, like, 'We're here! We're balling harder than everybody,'" Jay told GQ of his and Kanye's lyrics on "Otis" "When you're accustomed to wealth, you don't show it, right?" he'd later explain to Vanity Fair. "That's why the white kids in school could wear bummy sneakers; it's almost like, Don't show wealth – that's crass."
16. "I Just Wanna Love U (Give It 2 Me)" (2000)
"I [had] 'Parking Lot [Pimpin']' up and running [as the first single]," Jay-Z told MTV in 2000. "I was all ready to go with it but the next day I made this song and it was just the vibe. The vibe of everyone in the studio … the immediate reaction, people were singing it by the time the second hook came on." With Pharrell operating as a Curtis Mayfield for a hip-hop era of radio dominance, "I Just Wanna Love U (Give It 2 Me)" was a brighter, cheerier Jay than the rapper was previously known for – and became his biggest pop hit to that point. The Neptunes production had a slick bounce, its scraping percussion, skipping bass and trademark guitar accents a spare, understated canvas for Jay's in-the-moment lyrics of partying in a carefree context, singing along to Carl Thomas at karaoke and indulging in a new world of appreciation for designer labels – all helping usher in a new kind of jet-setting lifestyle music.
15. "4:44" (2017)
In the wake of Jay-Z being called out for his infidelities on wife Beyoncé's instant-classic Lemonade, he approached them head-on with the title track to his 13th album. "I went and made a piece of music that would box him in to telling that story," album producer No I.D told Rolling Stone. "I remember [Jay-Z] just looking at me, sighing. 'O.K., I'm going home.'" Exhibiting a weakness and vulnerability long lurking but never revealed in such a deliberate fashion, Jay rapped of his misdeeds, "And if my children knew/I don't even know what I would do/If they ain't look at me the same/I would probably die with all the shame." He'd awakened at 4:44 a.m. to write the song. "It's the title track because it's such a powerful song, and I just believe one of the best songs I've ever written," he told iHeartRadio.
14. "Intro/A Million and One Questions/Rhyme No More" (1997)
Two years before his debut album, Jay linked up with DJ Premier on Big Daddy Kane's 1994 posse cut "Show and Prove" and ever since, the Gang Starr producer has created some of the rapper's most indelible tracks. Primo speeds up Aaliyah's "One in a Million" and R&B singer Latimore's infectious piano groove on "Let Me Go" to anchor Jay's ruminations on intrusiveness ("A Million and One Questions") before flipping the song into the mellow arrogance of "Rhyme No More." "Back then, to edit it we had to splice the tape and put it together," Premier told Complexof the medley in 2011. "You mess up on a punch and you have to re-cut it. On Pro Tools, you just press undo. But Jay-Z trusts me. He'll just lay his vocals, and says, 'Do the Premier thing.'"
13. "Heart of the City (Ain't No Love)" (2001)
"Diamond D, Pete Rock, RZA and Primo were doing [soul samples] since a long time ago – we just helped bring that style back," Kanye West told Vibe in 2004. His beat for "Heart of the City (Ain't No Love)" uses a chunk of Bobby "Blue" Bland's plush 1974 funk ballad "Ain't No Love in the Heart of the City," which Jay dialogues with when he snaps, "Where's the love?" after the hook. The beat came from a pivotal period for the still-emerging West: The beat CD he gave Jay for The Blueprint not only had this, but the beat for the album's "Never Change,' the beat that became the basis for State Property's "Got Nowhere" and the beat that became Alicia Keys' "You Don't Know My Name.'" Jay's process for laying down the song's acid-tipped verses was simple and quick: "In the studio, the 'Fiesta (Remix)' video came on TV," West recalls, "and Jay walked into the booth, started recording, finished the entire song all the way to the outro, and came back in the studio. The video was still on."
12. "Takeover" (2001)
Jay-Z's third year headlining Hot 97's annual Summer Jam would have made headlines anyway: Besides Missy Elliott and Beanie Sigel performing snippets of signature tracks, Jay brought out none other than Michael Jackson to say hi. However the preview of "Takeover," a diss track aimed at the hardcore New York rap crew Mobb Deep and Jay's longtime foil Nas, had the longest-lasting effects in the hip-hop world. Jay's poison-pen takedown hovers over Kanye West's sinister beat, which uses a stew of samples from the Doors, KRS-One and David Bowie to create an ominous atmosphere for Jay's meticulous dissection of why, exactly, he's the superior man to Nas in particular. Jay even goes so far as to claim that his samples of Nas on two previous works weren't done as an homage; but as a corrective: "So yeah I sampled your voice, you was usin' it wrong/You made it a hot line, I made it a hot song," The Jay/Nas beef became one of rap's most famous, resulting in more back-and-forth potshots (including Nas' 2001 milestone "Ether") until a 2005 concert at Continental Airlines Arena (then the home of the partially Jay-owned New Jersey Nets). While the show had been dubbed "I Declare War," Jay had other intentions: "All that beef shit is done, we had our fun," Jay told the crowd. "Let's get this money." He later brought Nas on stage, where the two embraced and performed "Dead Presidents" – one of the Nas-sampling songs Jay referenced in 2001.
11. Freeway feat. Jay-Z, Beanie Sigel, "What We Do" (2003)
"Jay-Z was so impressed with [Freeway]," wrote Rolling Stone of the rapper in 2003, "he told listeners of Funkmaster Flex's Hot 97 radio show in New York that he'd match money with anyone willing to make a wager on Freeway's rapping skills should they be foolish enough to want to battle him. Of course, nobody was." Freeway joined the Roc-A-Fella roster after fellow Philadelphian Beanie Sigel. For his breakout single, Freeway's new boss set him up for success. The rapper's original plan was for Jay to repeat "Keep goin'," as heard about 30 seconds into "What We Do." Instead he got more than he bargained for, as Hov paused his pool game to record his endorsement of a verse. "He actually wasn't finished. He dapped me up and said, 'I'mma come back and finish the rest of the verse later,'" Freeway said to HipHopSince1987.
10. Jay-Z and Kanye West, "Niggas in Paris" (2011)
On its face, Watch the Throne's most ubiquitous stadium anthem, and the song Jay-Z and Kanye performed a record setting 12 times in a row during a single concert, is pure camp. Call it the platinum rappers' brass-balled toast to over-the-top opulence like, say, camping out for six days at the five-star Le Merurice hotel in Paris to create it. But amid West's goofy "hah?!," and all the Audemars and the Margiela jackets, this Top 10 single is really a deep sigh of relief. "If you escaped what I've escaped/You'd be in Paris getting fucked up too," Jay intones with palpable glee. "It's like, 'I'm shocked that we're here.' Still being amazed, still not being jaded," Jay would tell GQ of the inspiration behind the Hitboy-produced banger. "I've known so many people that didn't make it. Most people can look at a picture of the kids they grew up with and it's like, 'Oh yeah – Adam went away to Harvard.' This is a whole different conversation."
9. "Hard Knock Life (Ghetto Anthem)" (1998)
For Jay-Z's first single to break into the Top 15 of the pop charts, producer Mark "The 45 King" famously flipped an indelible tune from the Annie Broadway soundtrack – he copped the record from the Salvation Army for a quarter after seeing an ad on TV. He gave a dubplate to Kid Capri, who was DJing Puff Daddy's No Way Out Tour. "Fans were running up saying, 'How did you get the Annie song behind the drums?' It was mostly white people coming up to me," Capri told Grantland. "I knew from the reaction I was getting that it was really working." Eventually Jay asked too, and thus began this monster hit, a vivid, melancholy look at his rise from "from lukewarm to hot; sleepin' on futons and cots/to king size." "I wasn't worried about the clash between the hard lyrics and the image of redheaded Annie," Jay wrote in Decoded. "Instead, I found the mirror between the two stories – that Annie's story was mine, and mine was hers, and the song was the place where our experiences weren't contradictions, just different dimensions of the same reality."
8. "Nigga What, Nigga Who (Originator '99)" feat. Big Jaz (1999)
After Jay-Z became a star, he invited his old friend and mentor the Jaz – now credited as Big Jaz – to appear on a sequel to their 1990 rapidfire flow clinic "The Originator." "[W]e was using that fast style that everybody seems to be using now," Jay said in the liner notes to Vol. 2… Hard Knock Life. Where Jay and Jaz practiced their fast flows over relaxed, jazzy production in 1990, their 1998 reunion took place on a spacey, futuristic track by Timbaland. Timbo had already changed the sound of R&B with Aaliyah and backed Missy Elliott's playful, creative hip-hop, but this was a pivotal moment in his career, the first time an elite MC had a speedy flow to match the busy ticking of his hi-hat patterns.
7. "Public Service Announcement" (2003)
Jay-Z had to actually stop The Black Album from being pressed to include this anthemic, last-minute reintroduction. Throughout, he answers to a journalist who had just sat through an album listening session, only to ask how he could pair a Che Guevara T-shirt with a chain. "Che's failures were bloody and his contradictions frustrating," Jay-Z writes in Decoded. "But to have contradictions – especially when you're fighting for your life – is human, and to wear the Che shirt and the platinum and diamonds together is honest." Setting the stage is producer Just Blaze, with ominous keys and a spoken-word intro ("Fellow Americans…") fit for a revolutionary about to perform at Madison Square Garden.
6. "Brooklyn's Finest" feat. The Notorious B.I.G. (1996)
"Brooklyn's Finest" remains a magnificent document of two Brooklyn greats together in peak form. Jay-Z and the Notorious B.I.G. were developing a new group with Biggie's girlfriend Charli Baltimore called the Commission. "For the next year, we weren't only talking about plans for the Commission," Jay-Z told XXL in 1998. "He had so many plans for [Life After Death], with touring and relocating and moving around." Instead, Biggie was murdered in March of 1997. This song sounds like the opening chapter in a partnership that never reached fruition. Kicking off with Wayne "Pain in Da Ass" Hirschorn's interpolation of Al Pacino's over-the-top performance in Carlito's Way, Biggie and Jay trade ever more ridiculous crime boasts: Jay drops the immortal line, "Peep the style and the way the cops sweat us," while Biggie claims he'll "shoot your daughter in the calf muscle." The song's most famous moment comes when Biggie tries to answer 2Pac's spurious "Hit 'Em Up" claims of sleeping with his estranged wife Faith Evans: "If Fay have twins, she'd probably have two Pacs/Get it, 2Pac's?"
5. "U Don't Know" (2001)
Just Blaze's pairing of room-shaking bass and a sped-up sample of funk pioneer Bobby Byrd's 1970 scorcher "I'm Not to Blame" act as a momentous springboard for Jay's boasting about his various business successes – his drug-slinging days in "Hell, where you are welcome to sell," and the growth of his Roc-A-Fella empire into one that can "smarten up, open the market up" into unexpected avenues like clothing. Jay thunders "Motherfucker, I – will – not – lose" as the music drops out before the fourth verse. It's a stunning moment where his confidence explodes into triumphant catharsis.
4. "99 Problems" (2004)
Jay-Z paid Rick Rubin a visit to "recapture that feeling I had when I was a kid," as he explained in documentary Fade to Black. What came out of that session did have vintage heavy metal riffery reminiscent of Rubin's Eighties work with LL Cool J and Beastie Boys, but lyrically it was a blistering, modern-day critique, taking aim at those who demonise him as a black man and rapper. The hook, borrowed from Ice-T and Brother Marquis of 2 Live Crew – "I got 99 problems but a bitch ain't one" – was bait for talking heads, since verses play with the other meanings of the word. "[E]ven as I was recording it, I knew someone, somewhere would say 'Aha, there he goes talking about them hoes and bitches again!'" Jay writes in Decoded. The song became iconic enough that Barack Obama brought it to the 2013 White House Correspondents Dinner: In light of Jay and Bey's controversial visit to Cuba, he said, "I've got 99 problems and now Jay-Z is one," to hearty laughs.
3. "Big Pimpin'" feat. UGK (2000)
When the Mariah Carey-stamped single "Things That U Do" failed to pick up on the charts in its first two months as a single off Jay's Vol. 3, he and Dame Dash quickly moved to the Timbaland-produced exotica of "Big Pimpin'" – which successfully sold the world's second-oldest profession as a jet-setting, champagne-popping lifestyle. And an exuberant one at that, from the beat's flamboyant Best of Bellydance From Morocco, Egypt, Lebanon, Turkey origins (Timbaland was later sued for his sample of Baligh Hamdi's "Khusara Khusara") to Hype Williams' lavish video, shot at Carnival in Trindad (and, when Pimp C skipped that shoot, a similar-looking location stateside). Inspired by the Pretty Tony character from 1973 film The Mack, Jay's verse is him at his unaffected, bulletproof coldest. For UGK's Bun B and Pimp C, it was their first moment to show out in such a high profile spot. Bun's bars ("step up your vocab") proved as memorable as Jay's, and Pimp C's Big Gipp-inspired flow offered a raw, uncut coda.
2. "Dead Presidents II" (1996)
Released in February 1996, the original "Dead Presidents" found Jay-Z twisting lyrics about fake thugs "scared to throw your toast," and spouting claims about "representing infinity with presidencies," all in a deftly loquacious style that bore the hallmarks of peak Mafioso rap. But when his debut Reasonable Doubt dropped later that June, he offered two fresh verses that plumbed deeper subject matter. He alludes to the shooting of DeHaven Irby, a childhood friend who taught him the drug game ("On the uptown high block he got his side sprayed up") and recalls how he dodged a few deadly shots of his own ("I had near brushes, not to mention, three shots close range"). He weaves notes on his baller superiority ("Roc-A-Fella, don't get it corrected, this shit is perfected") with biographical asides, making for a poignant and superior sequel. Producer Ski Beatz' blend of Lonnie Liston Smith's "A Garden of Peace" with Nas' "The World Is Yours" laid the groundwork for future drama. "I just threw that sample in there to see if it worked because I liked Nas' voice," Ski told Complex in 2010. But when Nas turned down Jay's offer to re-do the chorus – AZ appeared in the "Dead Presidents" video instead – it led to one of the greatest rivalries in hip-hop history.
1. "Where I'm From" (1997)
Producer Ron "Amen-Ra" Lawrence was record-hunting in 1996 when he found soul singer Yvonne Fair's "Let Your Hair Down" and tried, as he tells Rolling Stone, "giving it a sinister soundtrack feel." The track, which Diddy originally passed on, was still in rough form – no sound effects, no extra percussion. But when Jay-Z heard what would become "Where I'm From," the rapper, inspired, immediately began recording his personal verses two bars at a time. "It gave me a vision to make the track sound more dramatic based on Jay's flow," Lawrence says.
The result is one of Jay's most candid and intimate tracks; part memoir, part cultural and socioeconomic critique, part distillation of his surroundings both past and present. "He painted a grim picture about Marcy Projects," Lawrence says. "It gave the listener a mental vision of what it was like for him growing up there in Brooklyn."
From the blunt, unforgiving song's opening line – "I'm from where the hammers rung /News cameras never come" – Jay describes a place where "life expectancy is so low, we making out wills at 18." It's the inverse of "Imaginary Player," where decadent luxury takes a backseat to day-by-day survival. "Where I'm From" also boasts some of Jay's most packed couplets: "Where how you get rid of guys who step out of line, your rep solidifies/ So tell me when I rap, you think I give a fuck who criticise?"