Grinspoon: Our Life in 10 Songs
Phil Jamieson and Pat Davern reflect on 10 songs that have defined the band's career.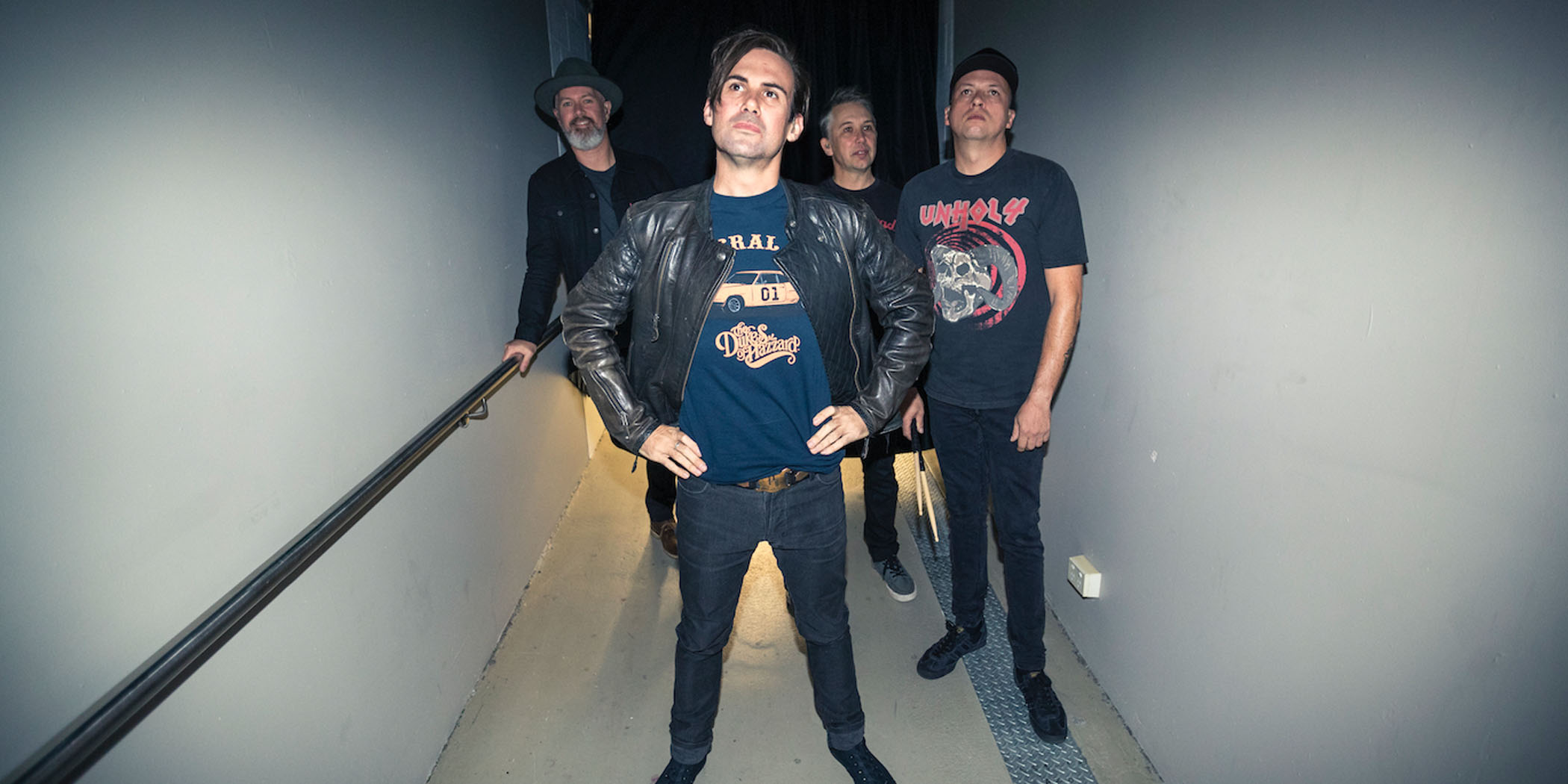 Grinspoon frontman Phil Jamieson and guitarist Pat Davern are sitting in the Sydney HQ of Universal Records, reminiscing about the first time the band toured America on the back of their 1997 debut album, Guide To Better Living. There was the night they played New York's legendary CBGBs, and were so drunk drummer Kristian Hopes fell offstage mid-set. "The whole gig imploded," cackles Davern. "Tim Rogers came to [that] show and was like, 'That was some of the best shit I've ever seen in my life!'"
Then there was the three-month U.S. tour supporting metal heavyweights Anthrax, Life of Agony and Vision of Disorder, in which the band's mode of transport was a cramped Chevy Suburban containing the quartet and all their gear. "We had a lot of disagreements," smiles Jamieson.
The reason for this trawl through time is sitting in a box in an adjacent office: the vinyl pressing of Guide To Better Living, released this month to mark its 20th anniversary (the album is also available as a 49-track CD, including bonus live versions, unreleased songs and rarities). Coinciding with the release is the band's first headlining tour since announcing their hiatus in 2013, which runs from June until September. To mark the occasion, here Jamieson and Davern nominate 10 of the most important songs in Grinspoon's career, which began in earnest when they were Unearthed in Lismore in 1995.
Grinspoon's 20th anniversary special edition of 'Guide To Better Living' is set to be released on June 23rd. To coincide with the release, the band will also embark on a national tour, starting June 23rd.
"More Than You Are"
Grinspoon EP, 1995
Phil Jamieson: I was 17 when I wrote this. I started writing it in Pat's back room, and that was the first song we ever really collaborated on, cos Pat wrote the middle-eight. I'm kind of a terrible finisher. I can get great opening lyrics and choruses, but I need glue, and Pat becomes the glue.
Pat Davern: It was amazing [recording our first EP]. Five songs in two days, recorded and mixed. We went to Brisbane, we were sleeping on the floor of the studio or the record company that signed us at the time.
Phil: I think I found some bourbon in the kitchen and that's why I don't remember [much] about that session! The song's about me in a lot of ways, but it's also about [every] kid in regional New South Wales or wherever. It's about me wanting to become more than I am. Challenging myself.
"DC X 3"
Guide To Better Living, 1997
Phil: I was out in Wollongbar, I was stoned, and I had to get to rehearsal. I got in my Kombi, drove towards Lismore, which is 15-20 minutes away, saw a dead cat on the side of the road, was pretty bummed that no one'd picked it up but go, 'Fuck, I'm late.' I drove past, [then realised] I'd forgotten my lyrics book and went, 'Fuck!' I turned the Kombi around, drove past the dead cat a second time and was like, this is fucking with me, someone get that cat off the road cos if I have to pass it a third time I'm going to be really upset! Got my lyric book… obviously dead cat three times. I got to the studio, Pat's going [sings riff], and it just wrote itself. While it seems a little frivolous, I fucking really like it.
Pat: We had a $15,000 budget for Guide To Better Living, and we stayed in Rocking Horse [Studios]. We were all living in the [studio's] house, and instead of recording in the studio we decided to run multicore cable into the house, so our bedrooms had amps in them.
"Just Ace"
Guide To Better Living (1997)
Pat: I was listening to a lot of Front End Loader at the time, and they were all about major melodies. And I was like, well, we don't really do anything with major melodies, so I was thinking about Front End Loader when I [wrote the guitar hook]. They'll probably hate that!
Phil: It's a love song written to a girl that I wasn't very nice to that I wanted to make amends [with]. It has a lovely sentiment.
"Ready 1"
Easy, 1999
Phil: "Ready 1" was written in San Clemente, Southern California. After Guide being so successful, I was desperate for a new song to be finished. I wanted a song to be ready. It was a crazy session. [Producer] Jonathan Burnside would come into the studio at 3 in the afternoon and then work until 4am. It wasn't working for me.
Pat: The mixing session was a little weird cos he wouldn't start until 6 at night, and he was [using] Pro Tools. I was like, what the fuck's he doing, we recorded all this stuff to tape. Why's he making it digital when we've done all this analog work?
Phil: I still love listening to Easy though. The guitar sounds are fucking monsters.
"Secrets"
Easy, 1999
Pat: We'd gotten back from the States, and I was living in a share house in Byron Bay, I'd been kicked out by my ex-girlfriend. And I was in this shitty bedroom and I had this huge amp in the corner with my guitar. I remember coming home really, really drunk, walking in and going, how low can this guitar go? [Sings riff] Fuck yeah! We don't play it much anymore, but the crew used to do this great stage production for it. They had these flamelights, and they used to rise up from behind the stage when the opening riff came in.
"Chemical Heart"
New Detention, 2002
Pat: Everyone was a little apprehensive about releasing it as the first single [off New Detention], but our manager was entirely confident that that was the way to go.
Phil: I thought it was a lovely song maybe to close the album; it didn't sound like something that was going to become our career-defining song, but that's what it became. [On playing it at the Big Day Out in 2002 as a tribute to Grinspoon fan Jessica Michalik, who died at the previous year's festival] Ken [West, BDO co-founder] wanted to do something really special, so her parents came, and I sung "Chemical Heart" for her, and [it took] on a life of its own, especially for a lot of the behind-the-scenes people.
Pat: The last photo of her that was taken at the festival, she was wearing a 'where the fuck are Grinspoon?' T-shirt, cos we weren't playing that year.
"Anyday Anyhow"
New Detention, 2002
Phil: I think I was 22, 23 when I wrote it, and I was having that kind of, "What am I? I know I'm in this band and it's great, but how do I challenge myself, how do I make myself better as a songwriter?" A lot of self reflecting and self worth things are going on. I really love the song, and it was a really pivotal moment for me as a writer because I grew a lot within that song.
Pat: It was the first song [written] for New Detention. Phil had this riff and I was like, fuck, this is happening! When we demoed it I was like, every song has to be as good as this moving forward.
Phil: Then Beat magazine reviewed it and they tore that song to shreds. [Laughs]
"1000 Miles"
New Detention (2002)
Phil: It's just fun to play. I was being a character in the song, I'm playing a character, this heathen redneck. I liked the idea of the opening line being [sings], "Well I got drunk and I got stoned!" I thought it was something that Lemmy might sing. It sounded badass. It still gets played to this day and the crowd love it.
"Better Off Alone"
Thrills, Kills & Sunday Pills, 2004
Pat: We hired a house on the Central Coast. Joe [Hansen, bass] had just found out that his wife was pregnant with their first child and we were writing that song.
Phil: It's about a relationship I went through that was quite destructive, and we were better off not being together. That's sad to say, but sometimes it's for the best. I had a lot of trouble with the middle eight lyrically, so I co-wrote it with [Unwritten Law vocalist] Scott Russo while I was in LA, just finishing off.
"Hard Act To Follow"
Thrills, Kills & Sunday Pills, 2004
Phil: I think I was living in Melbourne at the time. And the Melbourne scene is different to Sydney, and there are a lot of fancy pants, so I had to bring my A-game if I was going to be out in Melbourne. And it's about that.
Pat: We looked at a lot of engineers in the States [to record with]. We got on the phone to a few people.
Phil: [Producer] Howard Benson said, "I really like 'Hard Act to Follow', I think we should base the album around that as being the key single." I've never been pushed harder on a record. He'd make me do 20, maybe 40 vocal takes. He really kind of destroyed my love of recording. But the vocals on that record are great, he did do a really good job. I had no idea how much he cost, and then I asked about three years ago and was like, we spent that much money on a fucking record?! It was obscene, I think it was close to a quarter of a million dollars.