Glen Campbell: 20 Essential Songs
From his signature "Rhinestone Cowboy" to an unconventional Foo Fighters cover.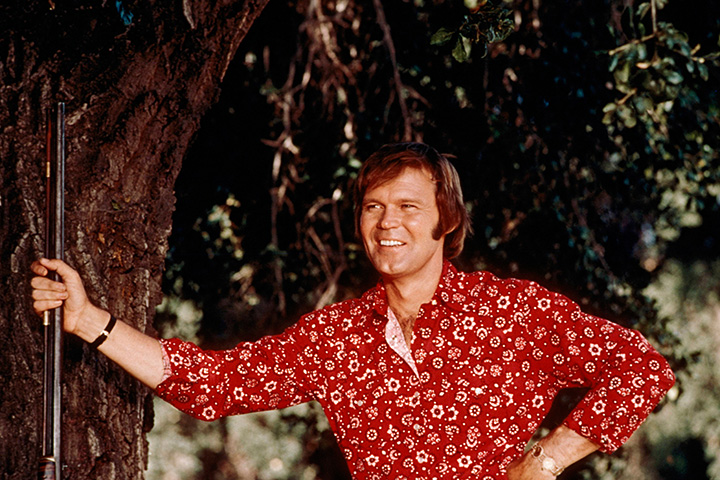 Glen Campbell had a way of inhabiting every song he recorded, both as a vocalist and an ace guitarist. Whether he was working as a session player, with L.A.'s exemplary Wrecking Crew, or crooning any number of Jimmy Webb-written hits, the Arkansas native always went all-in. In the process, he became one of music's most believable vocalists and a true crossover success, cultivating a pop and country audience with songs like "Rhinestone Cowboy," "By the Time I Get to Phoenix" and even instrumentals. From the controversial "Galveston" to the heart-wrenching "I'm Not Gonna Miss You," we look at Campbell's 20 essential tracks.
By David Menconi, Stephen L. Betts, Melinda Newman,Joseph Hudak and Robert Crawford.
"Country Boy (You Got Your Feet in L.A.)" (1975)
Released one month after "Rhinestone Cowboy" took Campbell to the top of two different charts — Billboard's Hot 100 and Hot Country Singles — in the same week, "Country Boy" helped extend the singer's winning streak. A Beverly Hillbillies-worthy tale of a redneck stuck in the big city, the song cemented Campbell's reputation as a singer who, like John Denver, spent most of the Seventies with a foot planted on either side of the country-pop divide.
"Galveston" (1969)
While Jimmy Webb and Glen Campbell are one of the most successful writing-singing teams ever, they haven't always been of like mind. For instance, there's this signature chart-topping hit released at the height of the Vietnam War — written and originally recorded (by Hawaiian pop star Don Ho) as an anti-war song. But Campbell tweaked a few lyrics to introduce ambiguity, underscored by surging strings and upbeat tempo, while performing the song in uniform in the video. Nevertheless, the line that jumps out is, "I am so afraid of dying." Four decades later, the rock band R.E.M. did a response song called "Houston."
"Guess I'm Dumb" (1965)
Before Campbell launched his solo career, he was a highly in-demand session guitarist, playing on songs for Frank Sinatra, Elvis Presley, the Monkees and, most notably, the Beach Boys. In 1965, to thank Campbell for filling in on tour after the Beach Boys' Brian Wilson retired from the road, Wilson gave him "Guess I'm Dumb," a song Wilson co-wrote with Russ Titleman. The soaring Roy Orbison-like track about unrequited love failed to chart and sounds unlike anything else Campbell recorded, but it remains a treasure among Wilson and Campbell devotees for its lush arrangement and Campbell's impressive vocal range.
"She's Gone, Gone, Gone" (1989)
The hit that keeps on hitting, "She's Gone, Gone, Gone" cracked the country charts three times over a 24 year period, starting with Lefty Frizzell's original version in 1965 and ending with Campbell's Top 10 smash — his final time charting that high — in 1989. In a gracious move to his bandmates, Campbell shouts encouragement to players like Reggie Young before their respective guitar solos, shining a light on those musicians who spend their careers working on the sidelines. Once a session player, always a session player.
"Gentle on My Mind" (1967)
Written by John Hartford and reputedly inspired by the Omar Sharif romantic epic Doctor Zhivago, "Gentle on My Mind" has been recorded more than 300 times by everybody from Frank Sinatra to the Band Perry. Remarkably, however, the definitive version started out as a demo recording with Campbell yelling out instructions between lines. An enterprising producer edited those out and the result is pure magic, a cascading rush of sentiment that's a perfect match for Campbell's voice at its most yearning. After winning four Grammys (two each for Campbell and Hartford), "Gentle" became the theme song for The Glen Campbell Goodtime Hour variety show. No one's gotten tired of it yet.
"Highwayman" (1979)
More than half a decade before Johnny Cash, Waylon Jennings, Willie Nelson and Kris Kristofferson famously turned this Jimmy Webb tune into the flagship song for their supergroup, Campbell recorded his own version in February 1978, releasing it late the following year on his final record of the Seventies. Although it never became a single, Campbell started recommending the song to Cash and company, whose eventual remake of "Highwayman" became a Grammy-winning hit during the mid-Eighties.
"By the Time I Get to Phoenix" (1967)
By early 1967, Campbell's career as a sideman had reached a peak. He'd played guitar on Frank Sinatra's "Strangers in the Night," toured with the Beach Boys and landed a spot with the Wrecking Crew, giving him all the session work he could handle. What he didn't have, though, was a genuine hit of his own. That changed when he took a stab at Jimmy Webb's "By the Time I Get to Phoenix" that same year, setting down his guitar and refocusing the spotlight on his croon instead.
"Times Like These" (2008)
Campbell interpreted this Foo Fighters anthem, off Dave Grohl and co.'s 2002 album One by One, for his 2008 LP of covers, Meet Glen Campbell. But while the Foos' original is powered by a breakneck guitar riff, Campbell and producers Julian Raymond and Howard Willing opt for sweeping strings, resulting in something that could have been cut during Campbell's Countrypolitan days. That doesn't mean it's schmaltzy, however — Campbell's vocal had bite, especially when he performed it live, including a defiant reading on The Tonight Show, backed by his kids and punk guitar hero Todd Youth.
"Wichita Lineman" (1968)
Picturing himself as a telephone repairman working on a power line high above Middle America, Jimmy Webb wrote this song specifically for Campbell's voice. The result is a gorgeous pairing of melancholy and melody, with Al De Lory's string arrangement nearly stealing the show. Campbell sings the tune's now-iconic refrain — "The Wichita lineman is still on the line" — in a voice that sweeps skyward during the final moments, almost as though the song is actually being delivered 40 feet above ground.
"Southern Nights" (1977)
Of all the tunes songwriter Jimmy Webb presented for Glen Campbell to record, this breezy slice of idyllic Southern life was one of the biggest and best. Yet, Webb didn't write it — New Orleans legend Allen Toussaint did. Inspired by memories from his childhood, Toussaint captured images that immediately sparked the same nostalgia in Campbell when he heard the song on an LP at Webb's suggestion. The 1977 pop-country Number One was also a major hit throughout Europe and a Top Ten in New Zealand, proving that "Southern" is less a specific location and more a state of mind.
"I Wanna Live" (1968)
"I wanna live 'til I get old / I wanna watch all of this grow," sings a 31 year-old Campbell on this sweeping, romantic song written by "Tobacco Road" songwriter John D. Loudermilk. "I Wanna Live" became Campbell's first Number One hit in 1968, but the Rhinestone Cowboy only began his legacy here, turning an initial brush with fame into one of the longest-running legacies in country music.
"Let It Be Me" (1968)
Almost 10 years after the Everly Brothers scored a hit with this harmony-heavy ballad, Campbell and Bobbie Gentry got a piece of the action too, turning "Let It be Me" into a conversation between two lovers. The pair pledge their mutual devotion over a Countrypolitan arrangement of flutes and syrupy strings, with Campbell's vocal run at the 1:10 mark — where he sings about Gentry's "sweet, sweet love" with surprising swagger — adding fuel to what might otherwise be fairly standard fire.
"Kentucky Means Paradise" (1962)
"Ah, listen to that sound," Campbell sighs at the beginning of this Merle Travis cover, while an acoustic guitar twangs its way through some bluesy runs in the background. Released on his debut album, "Kentucky Means Paradise" sinks Campbell's roots deep into bluegrass and country territory. The band is top-notch, too, with Campbell trading guitar licks with Elvis Presley's eventual right-hand man, James Burton.
"Ghost on the Canvas" (2011)
On the 2008 LP Meet Glen Campbell, the singer used the songs of Tom Petty, U2, Lou Reed and others to introduce himself to a new generation of fans. One of the songs on that record, "Sadly Beautiful" was penned by Paul Westerberg, lead singer of alt-rock band the Replacements. For Campbell's penultimate studio album, Ghost on the Canvas, Westerberg supplied "Any Trouble" and the title track. Written a few years before Campbell's Alzheimer's diagnosis, "Ghost" addresses life, death, spirituality and the mysteries embedded within all of those things, yet still comes off more comforting than haunting.
"Sunflower" (1977)
Although Jimmy Webb was the go-to source for some of Campbell's most enduring, recognizable hits, other familiar songwriters contributed to the Campbell canon, including Merle Travis ("Kentucky Means Paradise"), John Hartford ("Gentle on My Mind") and even Campbell himself ("Less of Me"). In 1977, as the follow-up to the Number One pop hit "Southern Nights," Campbell sang this effervescent tune from Neil Diamond, notching the last of eight chart-topping AC chart hits with it. Even playing with a broken guitar string, he whistles the impossibly cheery tune with abandon.
"Rhinestone Cowboy" (1975)
As a kid from Arkansas who now had offers coming over the phone for TV, films (including the John Wayne Western True Grit) and more, Campbell was a natural for this Larry Weiss-penned tune. He took the song's demo with him to Australia, learning it while he cruised the country's highways from gig to gig, thanks to an airline strike. A pop Number One, the biggest country hit of 1975, and the ACM and CMA Song of the Year, the only dark spot on its legacy was as the genesis of the 1984 bomb Rhinestone, starring Dolly Parton and Sylvester Stallone. In the end, it stands as Campbell's signature song.
"Burning Bridges" (1967)
His first hit as a solo artist, "Burning Bridges" finds Campbell crooning about lost love over a sad-eyed, slow-moving shuffle. A song about moving on, it helped set the stage for his transformation from sideman to singer, a move that was solidified when "By the Time I Get to Phoenix" climbed its way up the charts less than a year later.
"Ticket to Ride" (1965)
The Beatles' "Ticket to Ride" was six months old when Campbell tracked an instrumental version of the song for his fourth record, The Big Bad Rock Guitar of Glen Campbell. While not as big- or bad-sounding as the album title claims, "Ticket to Ride" does capture Campbell at the peak of his sideman abilities, showing off the guitar chops that landed him a spot in the Wrecking Crew. The only downside? The the song's premature ending, which fades out just as Campbell begins to rip into an improvised solo.
"A Better Place" (2011)
Few artists have faced their inevitable exit with such poignancy, grace and faith as Glen Campbell. In the tender "A Better Place," featured on 2012's Ghost on the Canvas, Campbell stares his Alzheimer's diagnosis in the face, singing, "Some days I'm so confused, Lord, my past gets in the way," before professing belief that a better place awaits after he slips off this mortal coil. The heartrending video features Queens of the Stone Age's Josh Homme, a long-time Campbell fan, as a bartender, who hands Campbell a scrapbook of his life so he can revisit his musical journey alongside contemporaries Johnny Cash and Merle Haggard.
"I'm Not Gonna Miss You" (2014)
When the singer and his family revealed his Alzheimer's diagnosis in 2011, they were already filming the documentary Glen Campbell: I'll Be Me and working on what then was thought to be the last piece of music he would record. (The newly announced album Adiós, cut in 2012, however, is his farewell album.) Co-written with producer Julian Raymond, this Oscar-nominated gem reunited the guitarist with many of his Wrecking Crew buddies, and wasn't as much for Campbell as it was for those cursing the disease that now cruelly distanced him from us all. This poignant gift to family at home and fans throughout the world was reassurance that grief is temporary, but love is eternal.