George Michael: 20 Essential Songs
The best of the pop icon's hits, duets and reinventions.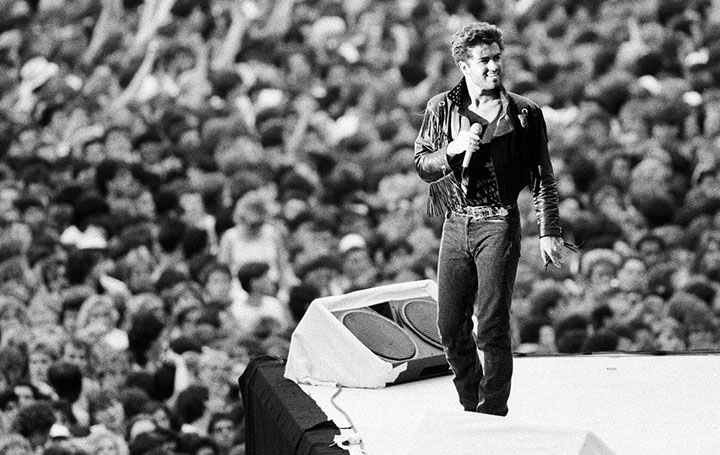 Following his early-Eighties breakthrough with Wham!, George Michael swiftly transitioned from teenage pretty boy to outspoken pop force. "I think it says something for the power of the music," he told Rolling Stone after the release of his smash 1987 solo debut, Faith, "that I've managed to change the perception of what I do to the degree that I have in this short a time. Because it's something that a lot of people thought wasn't possible." In the years that followed, the singer-songwriter would go on to collaborate with idols such as Aretha Franklin and Elton John, and confront social and sexual taboos in increasingly bold fashion on four Number One albums and a lengthy string of Top 10 singles. Here are 20 of the Michael's best, from Wham!'s breakthrough up through his final U.S. hit.
Wham!, "Wake Me Up Before You Go-Go" (1984)
Though they already had four monster hits and even a Top 20 single, "Megamix," in their native U.K., George Michael and Andrew Ridgely didn't make their United States breakthrough until this giddy, finger-snapping, jitterbugging chart-topper. Inspired by a note Ridgely left his mom – tired from a night of clubbing, he wrote "up up" in a drowsy stupor and appended "go go" as a joke – Michael made giddy bubblegum that fits right into America's post–Big Chill Motown-era nostalgia craze. "I think 'Go-Go' is undoubtedly the most remembered Wham! song because it is that much more stupid than anything else," Michael once said with a laugh.
"Careless Whisper" (1984)
Before Wham! disbanded, Michael began planting the seeds for his even-more thriving solo career with "Careless Whisper," a soulful, saxophone-laden ballad. Still, the song had a bit of Wham! in it, having been co-written by his bandmate Andrew Ridgeley when the pair were teenagers and before their duo took off. The track was a Number One hit internationally, thanks in large part to the deep pathos of the infidelity-themed lyrics. "I'm still a bit puzzled why it's made such an impression on people," Michael said in a 2009 interview. "Is it because so many people have cheated on their partners? Is that why they connect with it? I have no idea, but it's ironic that this song — which has come to define me in some way — should have been written right at the beginning of my career when I was still so young. I was only 17 and didn't really know much about anything – and certainly nothing much about relationships."
Wham!, "Everything She Wants" (1984)
Everything about "Everything She Wants" is subtle. A study in airy layers and silky funk, the third hit from Wham!'s debut, Make It Big, not only sealed the hat trick for George Michael as a superb soul singer, it showed that his knack for songwriting was no fluke. "Quite often he'll start a song with a verse or a chorus and nothing else. And he'll build that up day by day," Michael's engineer Chris Porter told Rolling Stone in 1986, adding that "Everything She Wants" started off as a humble scrap of a home demo: "He elaborated on it over about four days until it became a complete song." Michael's bedroom-pop process added a level of eerie intimacy to the slow-burn plea for domestic justice, which split the difference between New Romantic synth-glam and post-Thriller R&B in a way that felt frictionless – and quietly, confidently hinted at the melodic and emotional depths of his solo output to come.
Wham!, "Last Christmas" (1985)
It's rare for a modern pop hit to break into the Christmas standard canon, but Wham! – and later, Mariah Carey – did just that with holiday break-up anthem "Last Christmas." The bittersweet tune has become a seasonal classic and one of the biggest-selling singles in the U.K. not to actually reach Number One. Over the years, the song has been covered by a range of artists, including Jimmy Eat World, Hilary Duff, Ariana Grande, Taylor Swift, Avril Lavigne and Carly Rae Jepsen.
Wham!, "The Edge of Heaven" (1986)
Michael and Andrew Ridgeley announced they were disbanding in Wham! In the spring of 1986, with the upbeat Motown-style stomper "The Edge of Heaven" serving as their farewell single. Inspired by what Michael called a week of "wildly good sex," he set out to write a song that was "deliberately and overtly sexual, especially the first verse: 'You know I wouldn't hurt you – unless you wanted me to." Wham! performed the song at their farewell gig, on June 28th, 1986, which drew 72,000 to Wembley Stadium. 
"A Different Corner" (1986)
After the success of "Careless Whisper," Michael tested the waters for his solo career again in 1986 with the ethereal ballad "A Different Corner," which appeared on the "cool side" of Wham!'s third and final album, Music From the Edge of Heaven. It was a Number One hit in the U.K. – the first ever for an artist who wrote, produced, arranged and performed a song by him or herself – and it charted in the Top 10 in the U.S.; a little over a year later, he'd become a solo megastar. On a BBC One special, Michael would later tell an audience that the song was the "sound of a man whose heart'' been broken." "I was 19 and the best critique I ever heard of that song was from a friend of mine who said, 'It's beautiful, pathetic, but beautiful,'" he said.
Aretha Franklin and George Michael, "I Knew You Were Waiting (For Me)" (1987)
It's telling that one of the greatest soul twosomes of all time, Marvin Gaye and Tammi Terrell, show up in the video for "I Knew You Were Waiting (for Me)." The 1987 duet between George Michael and Aretha Franklin was Michael's third single since going solo, and it gave the Queen of Soul and her up-and-coming admirer a relatively blank canvas on which to let their voices meld. And meld they did, with Michael gracefully proving he had the guts, chops and humility to do right by the Do Right Woman herself. "I was nervous [about singing with Franklin]," he admitted in his biography Bare. "I knew that Aretha would get the melody and then take it all over the place, which sounds great, but the thing also needed tying down. … I just tried to stay in character, keep it simple. It was very understated in comparison to what she did." The song won Michael his first Grammy – and made it clear that he was, first and foremost, a soul singer aiming for the top tier.
"I Want Your Sex" (1987)
The public's first taste of the proudly risqué star that Michael would become, "I Want Your Sex" was actually conceived as an ode to monogamy. "The media has divided love and sex incredibly," Michael said in response to controversy generated by the first single from his debut LP, Faith. "The emphasis of the AIDS campaign has been on safe sex, but the campaign has missed relationships. It's missed emotion. It's missed monogamy. 'I Want Your Sex' is about attaching lust to love, not just to strangers." Rejected by many U.S. radio stations and banned from daytime airplay by the BBC, the breathy, infectious song nevertheless cracked the Top Five in both the U.S. and the U.K.
"Faith" (1987)
After the end of Wham! a year before, it was anyone's guess what would be next for Michael. At 24, he ended up releasing a classic album, named for one of his most memorable and enduring hits, "Faith." Written, produced and arranged by Michael himself, the song found him tackling classic rock & roll via a Bo Diddley–inspired beat and an Elvis Presley warble. The track was a landmark for the pop star, becoming the biggest-selling single of 1988.
"Father Figure" (1988)
Michael set out to write a midtempo dance track for this Faith single. But a fluke in the studio that muted the snare drum "changed the whole entire mood of the track," he said later. "Suddenly it just seemed really dreamy." He finished writing the song – a pledge to clean up his act for a loved one – in that vein. It became what Michael called "the most original-sounding thing on the album."
"One More Try" (1988)
Michael's rawest vocal performance on Faith comes in this ballad, which has the tentative pace of a gospel song penned by someone terrified of walking down a church's aisle. A Number One song on Billboard's Hot 100 and Hot Black Singles in the late spring of 1988, "One More Try" comes from the perspective of someone burned by an elder's love, but forever enticed by the heat emanating from its flame. Michael's carefully measured vocal performance, from his hesitant singing at the song's outset to the wounded wail he lets fly on its chorus, gives the listener an up-close perspective on the heart-rending trip.  
"Praying for Time" (1990)
If Faith was Michael's statement of liberation, 1990's Listen Without Prejudice Vol. 1 was his declaration of intent for the years to come. The lead single from that album, "Praying for Time," is a protest song disguised as a somber ballad. Its searching lyrics about inequality and diminishing hope for the future, and the way Michael's pleading performance grows from a resigned whisper to a despairing yawp, make it a protest that still rings true a quarter-century after its initial release.
"Freedom! '90" (1990)
Still a few years from 30, George Michael was trying to dodge nearly a decade of pop stardom like a monkey on his back at the time of "Freedom! '90." " I think there's something you should know/I think it's time I stopped the show," he sings. "There's something deep inside of me. There's someone I forgot to be." In turn, the music video for "Freedom! '90" literally set his past ablaze by burning the jukebox, leather jacket and guitar made famous by his "Faith" video. "At some point in your career, the situation between yourself and the camera reverses. For a certain number of years, you court it and you need it, but ultimately, it needs you more, and it's a bit like a relationship," he told The Los Angeles Times. "The minute that happens, it turns you off."
Elton John feat. George Michael, "Don't Let the Sun Go Down on Me" (1991)
Sixteen years after Elton John's original, solo version of "Don't Let the Sun Go Down on Me" was released, John joined Michael in concert for an arena-scale duet of the ballad. This wasn't the first time the pair sang the song together – they first joined forces at Live Aid in 1985, but their 1991 reunion led to a Number One hit in the U.S. and U.K. and a Grammy nomination. Proceeds from the song's immense sales went to charities for AIDS, education and children.
"Too Funky" (1992)
For the 1992 HIV/AIDS awareness compilation Red Hot + Dance, George Michael helped to assemble a formidable cast of performers and remixers including Crystal Waters, EMF and PM Dawn. But the standout jam was his own club monster "Too Funky," originally composed for the abandoned follow-up to Listen Without Prejudice, Vol. 1. Samples of Anne Bancroft's famous come-ons from The Graduate hint at the song's carnal objective, a simmering kind of lust that's made explicitly clear by Michael's practically panting delivery of "I'd like to see you naked maybe/I'd like to think that sometime, maybe tonight." With burbling synths borrowed from Jocelyn Brown's post-disco track "Somebody Else's Guy," a throbbing bass groove and endlessly looping house piano licks, "Too Funky" sets the mood just right for surrendering to the body's mysterious urges. Add in the fashion-heavy Thierry Mugler–directed video, and the delicate act of seduction starts to resemble something more like high art.
Queen feat. George Michael, "Somebody to Love" (1992)
The Freddie Mercury Concert for AIDS Awareness, held at Wembley Stadium in the spring of 1992, invited pop stars of all stripes – Axl Rose, Annie Lennox, David Bowie – to fill in for the deceased Queen frontman, who passed away from AIDS-related pneumonia the previous year. Michael took on one of Mercury's most bravura vocal performances and, backed by Queen's surviving members as well as the London Community Gospel Choir, he lived up to the "tribute" promise, his voice soaring where Mercury's did. His all-in performance lit up the Wembley crowd in a way that recalled the man of honor's show-stopping performance seven years prior. A masterful show that proved Michael's meticulous pop scholarship and formidable instrument.   
"Jesus to a Child" (1996)
Michael paid poignant tribute to his late lover Anselmo Feleppa, who had died from an AIDS-related brain hemorrhage several years earlier, with this slow-burning ballad. "Heaven sent/And Heaven stole/You smiled at me/Like Jesus to a child," Michael sings. The star found himself unable to write for more than a year after Feleppa's 1993 death but reportedly penned "Jesus to a Child" in a sudden burst of inspiration. From the time he came out as homosexual in 1998 up through his final performances, he would dedicate the song to Feleppa.
"Fastlove" (1996)
The years leading up to "Fastlove" were dark for Michael. In the Nineties, he weathered the death of his partner Anselmo Feleppa and an unsuccessful court battle with his label, Sony. This synth-y 1996 track is Michael's brutally honest inner monologue on the topic of one-night stands ("Made my way into the night/All that bullshit conversation/Baby can't you read the signs?") and became a fan favorite. It reached the Top Ten in the U.S. and Number One in the U.K.
"Outside" (1998)
Following his 1998 arrest for lewdness in a public lavatory, Michael responded in biting, unrepentant fashion with "Outside" – the lead single from his greatest hits collection Ladies & Gentlemen. "I think I'm done with the couch/I think I'm done with the hall/I think I'm done with the kitchen table, baby," he groans in a deep, slightly unsettling tone. Despite the legal ramifications of his arrest, he laughed off the incident and the idea of vanilla sex with this lush disco track about the illicit thrills of fucking in the great outdoors. Considering the prurient subject matter, the track – produced by Michael – actually sounds like vibe music for a glitzy cocktail party, dusted with elegant strings, wah-wah guitar and gently cooing backing vocals. It's a subversive bit of sleaze from a star who was clearly no longer bound by heteronormativity.
"Amazing" (2004)
Michael's final Top 10 single in the U.S. was a dancey soft-rock number about how love changed the singer's life, and it was based on his relationship with Kenny Goss, his partner from the mid-Nineties through 2009. He also drew inspiration from his days dancing at clubs in the London suburbs before he was famous and claimed that the song reminded him of his time as a pop idol. "'Amazing' reminds me of Wham! more than anything else I've done," he once said. "The work I've done over the last 12 years might have a certain intensity or depth, but nothing has had the energy of the earlier work. I think it's come with the relief of feeling good again."