Clowns: 5 Songs From a Punk Rock Upbringing
Bassist James Ahern talks us through the songs that shaped the band's punk sound.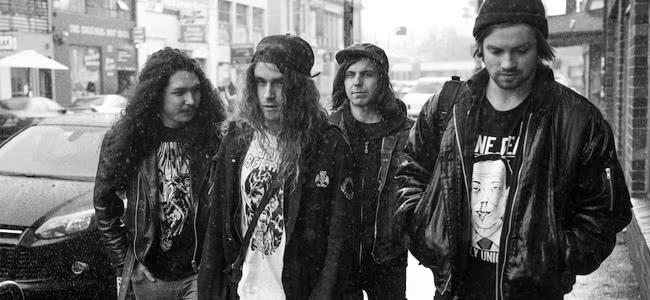 Keep it short, do it fast and back it up with a chaotic live show. Melbourne quartet Clowns remain champions of the old-school punk rock ethos, yet their latest album, Bad Blood, saw them stretch beyond their punk foundation, dabbling in everything from pop-focused party anthems to epic instrumental scores. An air of experimentation continued through to new track "Destroy the Evidence", which interjects flirts of post-hardcore antagonism alongside the air-punching punk rock frenzy.
"Destroy the Evidence" — which comes accompanied by a suitably chaotic tour video — showcases Clowns' influences stretch well-beyond the Black Flag, Angry Samoans et al. parameters. Keen to discover more about the formation of this ever-evolving punk rock cocktail, we caught to up with Clowns bassist James Ahern to discuss the pivotal songs from his own upbringing.
All words below by James Ahern.
Frenzal Rhomb, "Never Had So Much Fun"
"When I was 8 years old, all I cared about was footy, skateboarding and music. My best friend in school who, unlike me (the oldest sibling of two younger sisters), was the youngest sibling of two older skateboarding, punk-listening brothers, and I was mega jealous. Me and him would constantly be snagging their skateboarding VHSs, riding their homebuilt kickers and mini ramps, as well as pinching their CD's and cassettes to discover new bands to get psyched on. Being only seven or eight years old, everything was pretty new and exciting to listen too, but one band that really stood out from the flood of American skate punk that was around at the time was a band called Frenzal Rhomb. Not only did my friend have cool older brothers but at the time had Optus Vision on his TV, which was a service of cable TV around in 1999. He'd caught wind that Channel V at the time were going to be premiering the new Frenzal Rhomb video clip for their new single 'Never Had So Much Fun' at 4.00pm. School finished at 3:30pm and was about a 20-minute walk away so as soon as the bell when we raced out of our grade 2 class room, back to his house, poured two extremely strong orange cordials and jumped around the living room in front of the TV."
Misfits, "Die Die My Darling"
"At another friend's 10th birthday party in 2001 I remember being enthralled by his older brother's black long sleeve misfits shirt he was wearing. Gazing right at the giant skull on the front and the fake blood splatters running down the sleeves and thinking it looked pretty rad. He told me to go check them out because I'd probably dig them, and after a few mp3 downloads on my parents dial-up internet (which took a few days for each track to download) I was pretty well hooked. Never had I heard such raw, filthy recording accompanied with such melody and precision. It was equally parts harsh to listen to for a 10 year old, and equally parts sirenic. I also loved the theatrics and the lyrical content of it all, I was way too young to give a fuck about love, I didn't know what partying really was and I was definitely far too juvenile to know anything about politics and world issues. So songs about monsters, Martians and other horror film related stuff played by these guys who dressed like ghouls and pretended every night was Halloween was right up my alley. I still fucking love this band, as does everyone."
Metallica, "For Whom the Bell Tolls"
"At age 11 I really got into watching Beavis & Butthead. We'd just moved to a bigger house and when installing our new home phone my Dad had scored a deal which combined the home phone with Optus Vision for our TV – I was stoked. I'd stay up way late and watch Beavis & Butthead constantly, and as funny as it seems, I actually discovered a ton of sweet bands from watching that show, one of these bands being Metallica. I remember downloading as much Metallica as I could off of Napster, and now I look back I'm lucky that Lars didn't sue me. I got really obsessed, it made all the skate pop punk stuff I'd been pretty surrounded with at the time seem so insufficient. I'd write the Metallica logo all over school desks and books, I grew my blonde curly hair long to all my teachers dismay, I was wearing black t-shirts and I started opting for tight jeans over baggy jeans which was well and truly the style at the time for kids my age. For Whom The Bell Tolls was my favourite track, and still is. I still love cranking some old school Metallica but I am also glad I didn't get that giant tattoo I was planning on getting from age 13."
The Velvet Underground, "Heroin"
"At age 16 I started checking out some weirder shit. I'd come across The Velvet Underground a few times and although released nearly 40 years ago, it seemed new and exciting to me. I loved the noise, the improvisation and the piercing chaos of it all. The abrasive lyrical matter, which didn't need swear words or screaming in it to really come across as brutal and vicious, lines like 'Heroin, it's my wife and it's my life' just seemed so honest and to the point. It was refreshing to hear something like that which wasn't drenched in a metaphor or clever wording that I didn't understand. It was also kinda scary and frightening, which I liked. I loved the droning violins, the creepy organs, the clean guitars played so violently, the weird guitar tunings, all of it pretty much. They really were something else, probably one of the first punk bands, and something that really clicked for me on my musical upbringing."
Hard-Ons, "Girl in The Sweater"
"By 17 I was getting out of my suburban bubble and heading into the city and new, hip inner-city areas, checking out record stores and seeing what was happening around Melbourne. The old Missing Link basement on Bourke Street was an oasis of discovery for a kid from the suburbs. It was like a gateway into the world of underground music to which there was really no return from. Facebook, YouTube and BandCamp didn't really exist as forcibly as they do right now, so it was a funny time to be discovering new music. Arguably there were a few local bands I got into around this point which turned me into a life of being obsessed with underground punk and let's face it – it was going to happen sooner or later. But the Hard-Ons were probably the band I got obsessed with the hardest, and I still am obsessed with today. I remember being at Missing Link in-store shows and seeing their records on their shelves, their posters on the walls, bands wearing their t shirts who played there and thinking that was the coolest band name I'd ever heard. I bought, downloaded, collected and bootlegged as much of their stuff as I possibly could. 'Girl In The Sweater' was a track that when I heard I immediately thought, 'WHOA Australia has bands like this?!' Bands who combine, punk, metal, melody, have a rich and prominent history and dress and act like just a bunch of Aussie slackers. It was exactly what I wanted. And to this day they are my all-time favourite band."
—
Clowns head back out on the road next month for their "Destroy the Evidence" single tour, including shows in Brisbane, Sydney and Melbourne. Dates and details available here.