Chris Cornell: 15 Essential Songs
The singer's most memorable moments: Soundgarden's grunge classics, Audioslave's hits and his poetic solo material.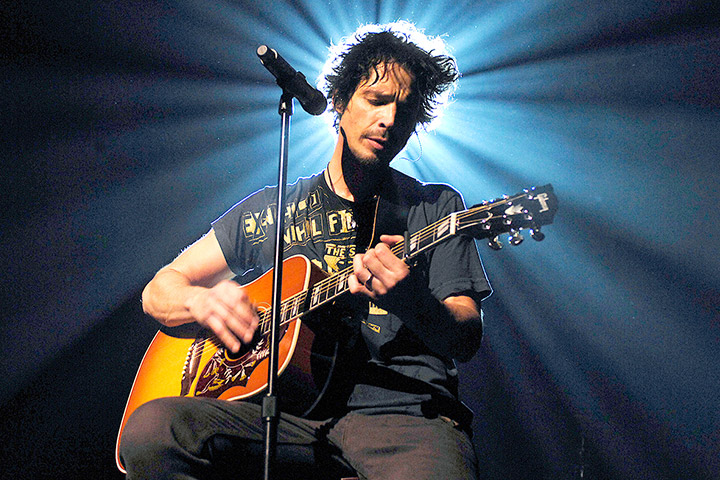 Chris Cornell was one of the signature voices of Nineties rock alongside peers Kurt Cobain, Eddie Vedder and Layne Staley – and that voice was the boldest and most virtuosic of them all. The Soundgarden and Audioslave frontman, who died Wednesday at 52, will forever be remembered for his soaring, feral wail, maybe the movement's clearest link back to larger-than-life Seventies forefathers like Led Zeppelin's Robert Plant. He was also an extremely versatile songwriter, who made effortless transitions between menacing metal and reflective folk, with detours into sleek electro-pop and epic soundtrack fare. Below are 15 songs that give a hint of the scope of his artistry.
By Christopher R. Weingarten, Jon Freeman, Hank Shteamer, Brittany Spanos, Maura Johnston and Jason Diamond.
Soundgarden, "Flower" (1989)
On the opening track to Soundgarden's 1990 debut LP Ultramega OK, Cornell's devilish delivery ­– guttural yet knowing, extending vowels like they're made of Play-Doh – is a complement to his withering lyrics, which tell the tale of a young woman whose fast-living lifestyle results in dying young. It's a fitting opening to Ultramega OK, an album where the band leavens its explorations of the world's seedier corners with cutting humor and hairpin-turn-filled heavy rock.
Temple of the Dog, "Hunger Strike" (1991)
Temple of the Dog songs "Hunger Strike" and "Wooden Jesus" were written by Cornell for Soundgarden well before Andrew Wood's passing, but, according to the singer, they didn't exactly sound right for a Soundgarden album. "'Hunger Strike' came about because of an existential crisis that Soundgarden faced at that moment," he told Rolling Stone last year before the group's reunion tour. "[It] is a statement that I'm staying true to what I'm doing regardless of what comes of it, but I will never change what I'm doing for the purposes of success or money." The song is a duet between Cornell and Eddie Vedder, a new voice in the scene who had traveled to Seattle to audition for Mookie Blaylock, the band who would soon be known as Pearl Jam. After Pearl Jam also reached international acclaim, the song was re-promoted and became a massive rock hit in 1992.
Temple of the Dog, "Say Hello 2 Heaven" (1991)
Andrew Wood, the witchily flamboyant frontman of the Seattle gutter-glam outfit Mother Love Bone, was a close friend of Cornell's – the two were roommates for a year and Wood's early project Malfunkshun had appeared alongside Soundgarden on the early Seattle-scene comp Deep Six. After Wood's 1990 death from a heroin overdose, Cornell channeled his grief into two songs, the grinding hymn "Reach Down" and the elegiac "Say Hello 2 Heaven." The writing, Cornell told David Fricke last year, "came so quickly that I barely remember the thought process. [The two tracks] didn't seem to make sense for Soundgarden. I remember thinking, 'Is this okay?'" Cornell gave the demos to Jeff Ament, the bassist in Mother Love Bone, who fell for the songs instantly, and who, along with Mother Love Bone guitarist Stone Gossard, worked with Cornell to flesh them out. In its finished form, "Say Hello 2 Heaven" is mournful and thick, with Cornell's voice slowly building to a searching yawp as the guitars gently weep around him. The song opens 1991's Temple of the Dog, a document of the supergroup-in-waiting that helped cement Seattle as the epicenter of what was then known as "modern rock." "It didn't feel like a morose project. It felt sort of celebratory," Cornell told Reflex in 1991.
Soundgarden, "Outshined" (1991)
After Soundgarden charted for the first time with 1989's Louder Than Love, Chris Cornell started getting introspective. Where was he and the band going next? That looking inward helped lead him to start writing songs differently for the band's third record. "I've never really been biographical in my lyrics," Cornell said while warming up for a show opening for Guns N' Roses at Madison Square Garden in 1992, "so when I wrote a line like 'I'm looking California and feeling Minnesota' from 'Outshined,' it just felt refreshing." The second single released off of Badmotorfinger would not only become a fan favourite, it would inspire the title to Feeling Minnesota, the 1996 Keanu Reeves drama .
Soundgarden, "Rusty Cage" (1992)
"I have a vivid memory of staring out the window, looking at the countryside, and feeling pent-up," Chris Cornell told Spin about driving somewhere in Europe and writing the lyrics to the song that would end up opening 1991's Badmotorfinger. When the band got back to Seattle, Cornell, who claimed to be listening to a lot of Tom Waits at the time, "wanted to create this hillbilly Black Sabbath crossover that I'd never heard before." The song itself, that Johnny Cash would go on to cover on 1996's Unchained, was "recorded with a wah-wah in the low position used as a filter," Kim Thayil told Guitar School in 1994. "It was Chris's idea; he wanted to get that weird tone that you can't really dial in on an amp."
Chris Cornell, "Seasons" (1992)
Cornell's moving, understated solo contribution to the Singles soundtrack grew out of a piece of fiction: a solo cassette made by Matt Dillon's Cliff Poncier after parting with his band, Citizen Dick. Cornell took it upon himself to actually write songs for the tape, one of which was this reflective folk ballad. "Holy shit, this is Chris Cornell, as Cliff Poncier, recording all of these songs, with lyrics, and total creative vision, and he has recorded the entire fake, solo cassette," director Cameron Crowe recalled of first hearing the EP that would come to be known simply as Poncier. "And it's fantastic. And 'Seasons' comes on. And you just can't help but go, 'Wow.' This is a guy who we've only known in Soundgarden. And of course he's incredibly creative, but who's heard him like this?"
Soundgarden "Spoonman" (1994)
The first Soundgarden single to chart on Billboard was an auspicious choice for a mainstream breakthough: a tricky 7/4 meter, clanking junkyard percussion and Cornell's dark, lonely lyrics somewhat inspired by a Seattle eccentric, Artis the Spoonman, who recorded a clack-tacular solo on the utensils. "It's more about the paradox of who he is and what people perceive him as," Cornell told Request in 1994. "He's a street musician, but when he's playing on the street, he is given a value and judged completely wrong by someone else. They think he's a street person, or he's doing this because he can't hold down a regular job. They put him a few pegs down on the social ladder because of how they perceive someone who dresses differently. The lyrics express the sentiment that I much more easily identify with someone like Artis than I would watch him play."
Soundgarden, "The Day I Tried to Live" (1994)
From a band that went through great pains to deny Led Zeppelin's influence on their music, here comes Chris Cornell's most operatic, vein-throbbing, lung-bursting vocal performance ever to soar on a Soundgarden single. "It's about trying to step out of being patterned and closed off and reclusive, which I've always had a problem with," Cornell told Rolling Stone in 1994. "It's about attempting to be normal and just go out and be around other people and hang out. I have a tendency to sometimes be pretty closed off and not see people for long periods of time and not call anyone.
"It's actually, in a way, a hopeful song. . … A lot of people misinterpreted that song as a suicide-note song. Taking the word 'live' too literally. 'The Day I Tried to Live' means more like the day I actually tried to open up myself and experience everything that's going on around me as opposed to blowing it all off and hiding in a cave."
Soundgarden, "Black Hole Sun" (1994)
"I wrote the song thinking the band wouldn't like it," Cornell told Rolling Stone about Soundgarden's most iconic song, "then it became the biggest hit of the summer." Cornell wrote Soundgarden's most iconic song in about 15 minutes, telling Rip magazine about its Magical Mystery Tour-esque lyrics: "It's just sort of a surreal dreamscape, a weird, play-with-the-title kind of song," and later clarifying to Entertainment Weekly, "I had misheard a news anchor, and I thought he said 'black hole sun,' but he said something else. … [A]fter that I thought, 'Well, he didn't say it, but I heard it,' and it created this image in my brain and I thought it would be an amazing song title. It was a thought-provoking phrase, and it became that song.
"'Black Hole Sun' wasn't safe as milk, but it wasn't glass in someone's eye either. It was the spoonful of sugar that helps the medicine go down," guitarist Kim Thayil told Billboard in 1996. "Now it's the 'Dream On' of our set."
Soundgarden, "Fell On Black Days" (1994)
Not as immediate as the other Superunknown singles, "Fell on Black Days" still packed a moody punch. On the bluesy, slow-burning rocker, Cornell confronted his history with depression. "It's a feeling that everyone gets," he told Melody Maker in 1994. "You're happy with your life, everything's going well, things are exciting – when all of a sudden you realize you're unhappy in the extreme, to the point of being really, really scared. There's no particular event you can pin the feeling down to, it's just that you realize one day that everything in your life is fucked!"
Soundgarden, "Pretty Noose" (1996)
The lead single from Soundgarden's 1996 album Down on the Upside, "Pretty Noose" announces itself with a menacing haze of detuned psychedelia. Guitarist Kim Thayil's vaguely exotic wah-wah riffs at the top set the stage for Cornell's feel-bad, impressionistic lyrics. He's describing a situation that's truly at odds with one's needs: "Pretty noose is pretty hate." In a 1996 interview with MTV, Cornell explained that he wrote the song about an "attractively packaged bad idea … something that seems great at first and then comes back to bite you."
Audioslave, "Cochise" (2002)
The supergroup Audioslave announced themselves with this furious track, the perfect marriage of Rage Against the Machine's driving alt-metal stomp and Cornell's piercing wail. Tom Morello, who was reading about the "fearless and resolute" Native American chief at the time, came up with the title. Of the song's angry refrain – "Go on and save yourself, and take it out on me" – Cornell said that it was an instance of "me yelling at me, looking in the mirror."
Audioslave, "Like a Stone" (2003)
"Like a Stone," the second Audioslave single, turned out to be the highest charting song of Cornell's career. The singer shows off his famous range with incredible passion and grit.
Chris Cornell, "You Know My Name" (2006)
By blaring through the theme to 2006's Casino Royale, Chris Cornell ushered in the gritty Daniel Craig era – and became the first man to sing a James Bond theme in nearly 20 years. (To put it in perspective, the last was Morton Harket of a-ha). Cornell was a fan of both Bond and Craig, but also loved the parallels to Bond themes of yore. "I'm a Paul McCartney fan, and I remembered how he had written and sung the Bond theme 'Live And Let Die,' Cornell told Songwriter Universe. "So it was thrill that I could do a Bond theme. … We recorded it at George Martin's studio in England; it was the perfect place and experience to make a James Bond record."
Chris Cornell, "Nothing Compares 2 U" (2016)
The final Cornell track to chart before his death serves not only as a gorgeous tribute to Prince, but a warm, unexpected epitaph to the singer himself. Cornell's virtuosic pipes bend past the melody on the intimate, raspy recording. "Prince's music is the soundtrack to the soulful and beautiful universe he created, and we have all been privileged to be part of that amazing world," wrote Cornell upon the song's release. "'Nothing Compares 2 U' … has a timeless relevance for me and practically everyone I know. Sadly, now his own lyrics in this song could not be more relevant than at this moment, and I sing them now in reverence as I pay tribute to this unequaled artist who has given all of our lives so much inspiration and made the world so much more interesting."