Blood Orange's Dev Hynes: 10 Great Collaborations
Revisit 'Freetown Sound' artist's work with everyone from Solange to Kylie Minogue.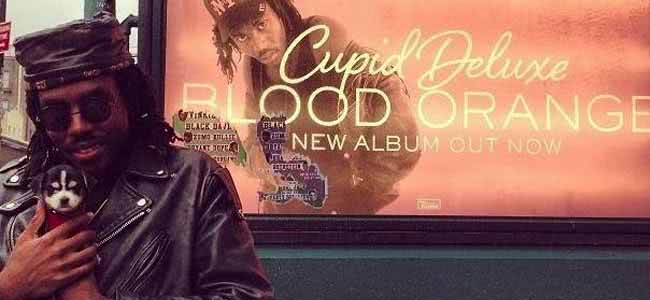 Last Wednesday, Dev Hynes released Freetown Sound, his third LP under the Blood Orange moniker. The album covers a lot of ground – 17 songs in less than an hour – and incorporates recordings from the streets and parks of New York City, samples of Ta-Nehisi Coates and poet Ashlee Haze, and contributions from a slew of guests, including Debbie Harry and Nelly Furtado. "I guess, aesthetically, the whole thing is continuous, and there's a lot of interludes and things," Hynes explained. "I was trying to do like a Paul's Boutique, Dust Brothers, Donuts, Dilla type of feel, where it's like this tape that has all these different elements in it, just kind of continuing."
Hynes' career can often seem similarly fluid, as he moves freely among his own projects and an ongoing series of diverse, consistently engaging collaborations. Though Freetown is his first full-length in three years, he has hardly been quiet during that time period. He scored Gia Coppola's poignant 2013 film Palo Alto and served as a writer or producer (or both) on several critically acclaimed projects for other artists, including FKA Twigs, Jessie Ware and Carly Rae Jepsen. Rolling Stone rounded up some of his most impressive team-ups so far.
Sky Ferreira, "Everything Is Embarrassing" (2012)
Hynes' work with Ferreira and Solange earned him a new wave of attention as a writer of sensuous, unabashedly retro pop songs. Here a brittle beat battles against a succulent swirl of bass and synth while Ferreira dissects a failed connection. The two artists later traded barbs about who the song belonged to, and Ferreira eventually addressed the situation on Twitter, writing, "I love @devhynes work & always have. Our 'feud' wouldn't have happened if journalist[s] didn't take things out of context & created something that didn't exist … I recorded the song because it's a good song. I think that's all that should matter."
Solange, "Losing You" (2012)
"We were so in sync," Hynes told Fader about his meeting with Solange. "We both sent each other YouTubes of the same S.O.S. Band song on the same day." He went on to help Solange with her True EP, and the lead single "Losing You" – funky, saccharine, slightly glum – drew rave reviews. Solange later expressed some chagrin about the discourse surrounding the track, tweeting, "I find it very disappointing when I am presented as the 'face' of my music, or a 'vocal muse' when I write or co-write every fucking song."
Laura Welsh, "Unravel" (2013)
"Unravel" bears all the hallmarks of a Hynes track. A piano lays out a few notes under pinprick guitar and multi-tracked vocals, and the lyrics hint at destructive romance: "Don't matter what you do wrong/I put your needs before mine." "I love his approach to making music," Welsh told Idolator. "I think it's better when there is no agenda when you're collaborating with somebody, and, especially writing, it's so important that you're relaxed … I think when you synch with someone musically, for me, that's where the best songs have come out as opposed to writing sessions where it feels kind of a bit cold or doesn't really flow well."
Mutya Keisha Siobhan, "Flatline" (2013)
Former members of the English pop unit Sugababes drafted Hynes to assist with their first single as a group. "Flatline" is one of the most breathless songs Hynes has worked on – fleet, savoury, no frills. According to an interview with Billboard, the track came together during MKS' very first session with Hynes. "On our first day, we knew we delivered the single," Keisha Buchanan explained.
FKA Twigs, "Hours" (2014)
On this LP1 deep cut, the usual elements of a Hynes song are warped by Twigs' left-field sensibilities – the tone of the backing vocals is uneasy, rather than soothing, and her voice hangs strangely in empty space. The presence of Arca, who is credited as one of the producers on the track, creates a compelling tension: While Hynes prefers light, pounding rhythms, the drums in "Hours" stop and start, and odd buzzing noises drift in and out.
Jessie Ware, "Want Your Feeling" (2014)
Writers of lush, romantic mini-epics such as Hynes are drawn to Ware like moths to the flame. Appropriately, he has a credit on "Want Your Feeling" – a track inspired by "Get Lucky," according to Ware – which revolves around a blocky beat and brief spasms of guitar. When the hook appears, Ware commands you to feel.
Kylie Minogue, "Crystallize" (2014)
Hynes was born in 1985; Minogue had her first hit in 1987. But her ears perked up when she heard the collaborations between Ariel Rechtshaid and Hynes. "I loved [the] work [Rechtshaid] did with Dev Hynes," she explained to Idolator, singling out Sky Ferreira, among others, for special praise. Minogue enlisted Hynes for "Crystallize," a chugging, effervescent non-album single from 2014.
Kindness, "Why Don't You Love Me" (2014)
"There are only four people in the world I want to talk to about music," Hynes declared to i-D. "Adam [Bainbridge] is definitely one of them." The two collaborated on "Why Don't You Love Me," which appeared on Kindness' Otherness album. The song is a minimal synth-pop throwback, with the alluring qualities of a demo recording.
Carly Rae Jepsen, "All That" (2015)
"All That" harks back to the lovelorn majesty of the Time guitarist Jesse Johnson's 1985 solo single "I Want My Girl," and it earned Jepsen attention from many who ignored her first album. Jepsen wrote the track with Hynes and Ariel Rechtshaid. "It was three people who have never really worked together in that capacity, and it was a fun, new sort of something that I don't think any of us could have made without the other person," she explained to Stereogum. "That's when it's the best."
"I've been rocking [Blood Orange's] Cupid Deluxe for a long time," she added. "I'm obsessed."
Le1f, "Change" (2015)
Hynes furnished "Change" with a viscous, urgent chorus. "I love how Dev has come through so many different styles, and I really appreciate his soft, aggressive blackness," Le1f said to The New York Times. "You definitely hear his message so clear, and it seems relentless, but he also doesn't give any of the angry-black-man tropes that make it easy for people to write it off in the way they do Kanye West."
—
Top Photo: Jason Nocito.