A Tribe Called Quest: 20 Essential Songs
R.I.P. Phife Dawg: Revisit pioneering New York rap crew's best tracks.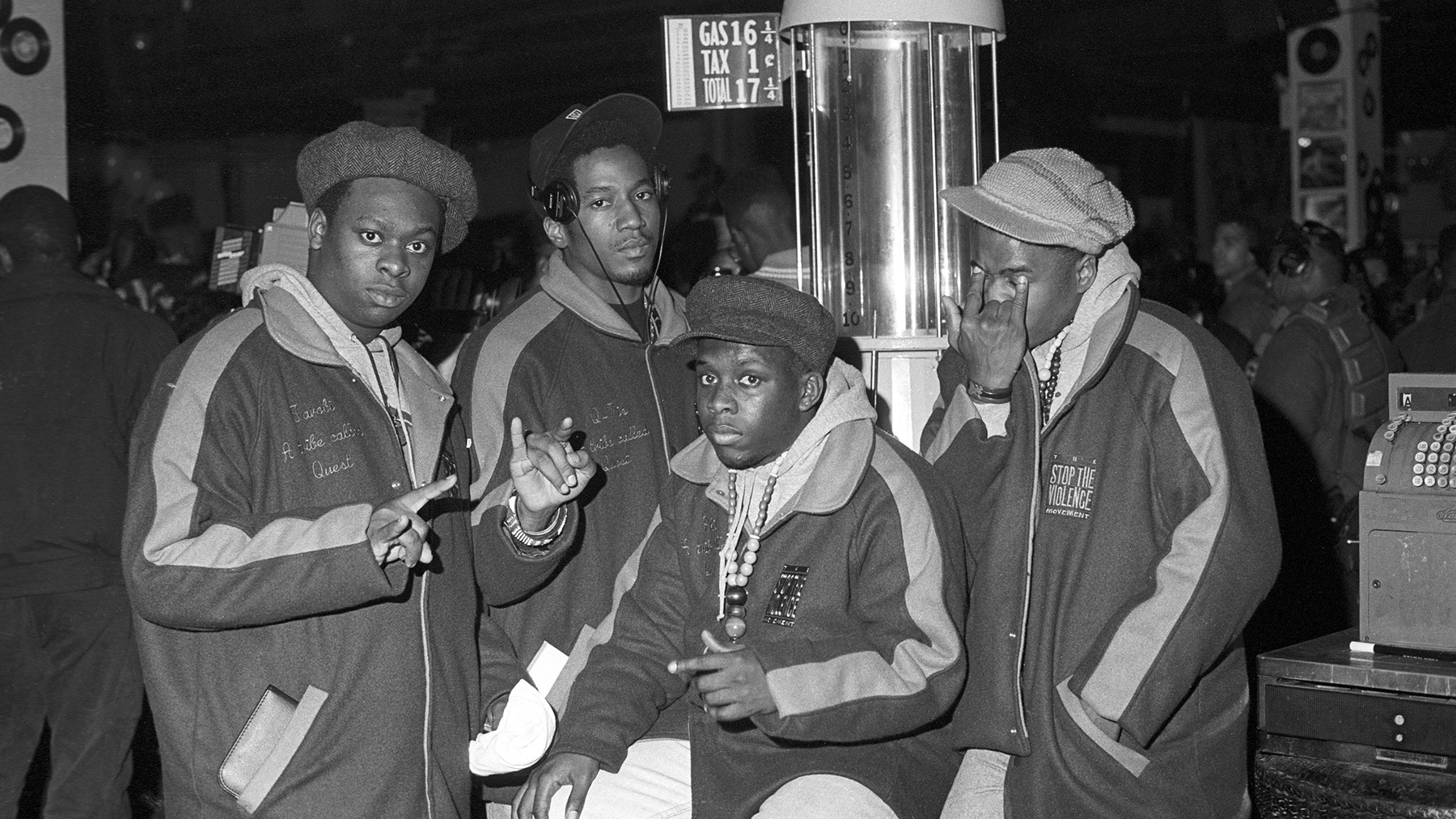 Through 10 years and a handful of critically adored albums, rappers A Tribe Called Quest went from spitting fly routines on Linden Boulevard in Queens to mapping out the electrically relaxed blueprint for wave after wave of abstract alterna-rap bohemians — laying the footprints for Digable Planets, the Fugees, Mos Def and Talib Kweli, the Black Eyed Peas, Lupe Fiasco and even superfan Kanye West. Together, Q-Tip, Phife Dawg, Jarobi and Ali Shaheed Muhammad cemented the link between jazz's grooves and hip-hop's future funk, provided a show-stealing scenario to launch their friend Busta Rhymes to fame and incubated a young producer named Jay Dee who would influence a generation of beatmakers on his own. A freewheeling trip of Lou Reed licks, tales of lost wallets, giddy scratching, Ron Carter bass assists and salty punchlines, their body of work was like nothing hip-hop had seen before, or has since. In remembrance of Phife Dawg, who passed away Tuesday at age 45, here are the pioneering rap group's 20 essential tracks.
De La Soul, "Buddy (Native Tongue Decision)" feat. Q-Tip, Phife Dawg, Jungle Brothers, Queen Latifah, Monie Love (1989)
While Q-Tip had been smoothly making the rounds on Jungle Brothers and De La Soul albums, this all-star posse cut marked the debut appearance of Phife Dawg, combining the talents of both A Tribe Called Quest MCs on one track for the first time. "We was in the studio and just wanted to invite some people on there," De La Soul's Dave told Brian Coleman in Check the Technique. "The closest people to what we was doing at the time was the Jungle Brothers and Tribe. And Latifah was a labelmate on Tommy Boy. It just became a family affair." The casual session end up giving shape to the Native Tongues crew, a loose group of hip-hop bohemians that would soon define the aesthetic of Nineties rap's experimental, Afrocentric wing.
Jungle Brothers, "Doin' Our Own Dang" feat. De La Soul, Monie Love, A Tribe Called Quest, Queen Latifah (1989)
Before Tribe dropped their debut album, every Q-Tip appearance on a Native Tongues track was an event, and his contribution to this partying posse cut was no exception. Tip doesn't jump on the beat like a hungry upstart. Instead, he eases in with his first line — a coolly contemplative "A tree is growing" — then gets faster and fancier as he rhymes. He doesn't dominate the track, because that's not what Native Tongues was all about, and in fact, he celebrates his crew rather than himself, ending on a gracious reference to his hosts: "Praise the Lord for the JBs." But not even the great Monie Love, who boogies into her verse ready for stardom, upstages him here.
"I Left My Wallet in El Segundo" (1990)
Though he dubbed himself "The Abstract," Q-Tip had a natural storyteller's gift for concrete lyrical detail from the jump. With a loping beat from the Chamber Brothers' "Funky" setting just the right lazy and comic tone, he precisely describes every aspect of an ill-fated road trip: the four-foot-high sombrero that Pedro wears, the '74 Dodge Dart, the meal of enchiladas and fruit punch, the wallet's contents of props numbers and jimmy hats, how to drive from the Belt Parkway to the Conduit. Not bad for a kid barely out of his teens rapping about an exotic-sounding place he learned about from its use as a frequent punch line on Sanford and Son.
"Bonita Applebum" (1990)
"This is the song that truly birthed the idea of neo-soul," Questlove told Rolling Stone US of People's Instinctive's second single. "It was the coolest love song hip-hop has ever offered us." On the 1990 track, Q-Tip blends the sultry guitars of soul-jazz group RAMP's "Daylight" with the vocals and sitar of Rotary Connection's "Memory Band" for a track that thumps hard enough for the guys but nods to the bedroom for the girls. "I was obsessed with it," Pharrell says in the ATCQ documentary Beats, Rhymes and Life. "I had never heard nothing like that in my whole life." The song exemplified the group's mellow side and turned Q-Tip into a Golden Era sex symbol. Who was Bonita? "Somebody who was refined," Black Thought says in the doc. "But had a fat ass."
"Can I Kick It (Spirit Mix)" (1990)
A Tribe Called Quest rode the smooth Herbie Flowers bass line on Lou Reed's 1972 hit "Walk on the Wild Side" to their biggest U.K. hit ever. While the song boosted their profile, it didn't help their bank accounts nearly as much. Said Phife at a London concert in 2011, "Lou Reed, instead of saying no altogether, he was like, 'Yeah, nice! Give me the motherfucking money.' Like Smokey in Friday." Phife later told Rolling Stone, "to this day, we haven't seen a dime from that song. Still, it helped put the group on the map, and the call-and-response chorus was so instantly indelible that it would end up being chanted everywhere from Jay Z's groundbreaking 1996 debut, Reasonable Doubt, to Robbie Williams' smash single "Rock DJ." The sample-crazed "Spirit Mix" used for the music video raised the funk level to delirious heights.
"If the Papes Come" feat. Afrika Baby Bam (1990)
The quintessential A Tribe Called Quest B-side, "If the Papes Come" was the non-LP companion to "Can I Kick It." Borrowing pieces of Slick Rick, Lou Donaldson and some spaced-out dialogue from Axis: Bold as Love by Jimi Hendrix, this track would have a life far beyond flipside status: Listen and imagine where hits like Digable Planets' "Rebirth of Slick (Cool Like Dat)" would be without it.
"Excursions" (1991)
The opening track of the jazz-flecked The Low End Theory was one of hip-hop's great statements of purpose, with the crew connecting musical dots between different eras of radical music. Q-Tip took a 6/8 hard-bop lick from Jazz Messengers bassist Mickey Bass and flipped it until it bounced along in hip-hop's funky 4/4. Tribe sample O.G. hip-hop pioneers the Last Poets "("time is running and passing, passing and running") the same way that avowed Tribe fan Kanye West would use Gil-Scott Heron at the end of My Beautiful Dark Twisted Fantasy. In Q-Tip's lyrics, rap is like the bebop that Q-Tip's dad listened to, Bobby Brown is amping like Michael, and the abstract poet is prominent like Shakespeare or Langston Hughes.
"There were a couple of other groups that were sampling jazz at that time," Ali Shaheed Muhammad told Nextbop.com. "Gang Starr, Pete Rock and C.L. Smooth, Main Source … but I think the way that we delivered it was in such a way that had not really been done." As Q-Tip told Brian Coleman in Check the Technique: "At the time, there were some things happening in hip-hop, sonically, that I wanted to expand on, especially with the bottom. … I would always explain how dynamic I wanted things to be by telling Bob [Power, engineer], 'I want this to be more at the bottom, at the low end.' I guess it was a lack of articulation but it got the job done. And that's where the title came from."
"Check the Rhime" (1991)
On the first single from ATCQ's seminal The Low End Theory, Q-Tip and Phife Dawg reminisce about their pre-fame days as teenagers spitting in ciphers on Linden Boulevard in the Jamaica neighbourhood of Queens. A slightly accelerated looped rhythm from Minnie Riperton's "Baby, This Love I Have" sets a casual, laid-back mood, with Phife spitting verses as if he were lounging in the afternoon sun, swatting away rivals like flies. "A special shout of peace goes out to all my pals, you see/And a middle finger goes to all you punk MCs," he raps. It's also an assertion of Phife's primacy as a rapper. Some doubted his talent after his halting verses on People's Instinctive Travels and the Paths of Rhythm, but here, he quickly proves himself Q-Tip's lyrical equal.
"Jazz (We've Got)" (1991)
The lovely cool-out vibes of "Jazz (We Got)" stem from a tantalising collaboration between ATCQ and Pete Rock that never came to fruition. One of the potential backing tracks was a Pete Rock arrangement of Jimmy McGriff's "Green Dolphin Street." "Pete had come up with that beat, but the song we were going to do never materialised," Q-Tip told Brian Coleman for the latter's 2005 book Rakim Told Me. "I already had the record he used, but I wanted to get his permission. He was like: 'Yeah, go ahead.'" Pete Rock isn't mentioned as a co-producer in the Low End Theory credits, but Q-Tip gives him a shout-out at the end of "Jazz." Meanwhile, a lyrical stray shot from Phife Dawg — "Strictly hardcore tracks, not a New Jack Swing" — raised the ire of Teddy Riley protégés Wreckx-n-Effect, best known at the time for the lame pop-rap hit "New Jack Swing" (and, later, the even worse "Rump Shaker"). Wreckx-n-Effect exacted revenge for Phife's diss by surrounding Q-Tip at a 1993 Naughty by Nature concert and punching him in the eye. The Zulu Nation and the Nation of Islam subsequently negotiated a truce between the two.
"Buggin' Out" (1991)
Those familiar with the video for "Jazz (We Got)" — see above — will recall that the song abruptly ends at the 3:30 mark. Phife Dawg then says, "Yo, check this out," and the black-and-white A-side shifts into the primary coloured B-side, "Buggin' Out." "Microphone check, one-two, what is this?" rhymes the five-foot assassin with the ruffneck business over a live-and-direct Ron Carter bass line. Phife's second "Buggin' Out" verse is even better as he reveals how being in overcrowded New York can get overwhelming "like a migraine pounding," despairs about riding on the train "with no dough" and admits that sometimes he just wants to be alone. "I had a twin brother that died at birth so I was a lonely child sometimes, but that loneliness helped me out a lot," Phife told The Source in 1993. "I'd be in the bathroom showering when I was mad young, and the rhymes would just be coming."
"Scenario" feat. Leaders of the New School (1992)
This was the song that kickstarted a brief yet glorious era of rah-rah fast rap: Tribe and Leaders of the New School chanting "so what's so what's so what's the scenario" at the top of their lungs, and then blasting us with one killer verse after another. Phife Dawg was the leadoff batter who sparked the session, and his line "bust a nut inside your eye/To show you where I come from" was so visceral that cable networks eventually censored it from broadcasts of the ensemble's classic video. "My days of paying dues are over/Acknowledge me as in there," he rhymes. Ya goddamn right he's in there.
"Scenario (7 M.C.'s Remix)" feat. Kid Hood, Leaders of the New School (1992)
For the B-side of their iconic single, A Tribe Called Quest refitted "Scenario" with a new beat, new lyrics and the same all-star cast. One addition was the debut recording of roughneck MC Kid Hood, whose "pump slugs in your face and dump that ass in the river" style stood in stark contrast to the electrically relaxed Tribe and the cheeky Leaders, but whose gift for rhymes was unquestionable. Days after recording the track, he was shot and killed in Harlem, leaving the "Scenario" remix the lone recorded appearance of this promising MC. "When I first met him, he was rhymin'" Q-Tip told The Source. "He didn't say hello or nothin', he just started rhymin'. … He really seemed like he was sold on coming out and working hard. The day we taped, he went in the studio, took his shirt off, and went in the booth. He did it in one take." Though Kid Hood wouldn't live to make another song, his voice would live on: His "I'm a bad, bad man" quip was sampled extensively on Notorious B.I.G.'s Ready to Die.
"Hot Sex" (1992)
As hard as Tribe comes. The first track after The Low End Theory (surfacing originally on the Boomerang soundtrack) ditched bassy semi-acoustic jazz-funk for slamming, stripped down electronics, with a beat that's as nasty as the title suggests, built off a looped sample of Lou Donaldson's "Who's Making Love." Phife and Tip step to suckers with all the nasty swagger they can summon: "I'm not Lawn Doctor so just step off with the ho," Phife spits, while Tip boasts that "the poems that I create are for hookers and the crooks," donning a creepy mask in the video to hide the shiner that Wreckx-n-Effect had just given him for seeming to diss New Jack Swing on "Jazz (We've Got)."
"Award Tour" (1993)
The first single on Midnight Marauders is pure celebration, finding Tribe and their buddy Trugoy from De La Soul in a glorious Native Tongues victory lap, from Brooklyn and Queens to London, Tokyo and beyond. Phife Dawg just about bursts out of the speakers — "[sliding] in the place/Buddy, buddy, buddy, all up in your face" — sounding live and loveable even when he's telling the listener to call him "Dyna-Mutt." "Award Tour" is a high point in the career of a man with a track record longer than a DC-20 aircraft.
"Sucka Nigga" (1993)
With one verse and one chorus, Q-Tip offers one of rap's deeper looks at the most controversial and volatile word in the English language. "The suckas are those who front. Niggas who be trying to rhyme all hard. I lived that shit, man. That's something I vowed never to rhyme about," he told Vibe. "We've taken a word that the white man put on us in a derogatory sense and put love in it. But yet — and still — he can't use it. I know it stems from a bad background, but I'm just representing the street. All the kids in the street know where that shit comes from."
"Electric Relaxation" (1994)
One of A Tribe Called Quest's best-loved songs perfectly encapsulates Q-Tip and Phife Dawg's comparable strengths as MCs. Q-Tip is the street poet funky enough to drop lines like "I wanna pound the poon-tang until it stinks," yet he also sensitively notes the anguish of unrequited sexual attraction ("I couldn't drop dimes 'cause you couldn't relate"). Phife Dawg is the corner dude whose command of urban pop ephemera like BBD's failed 1993 single "Above the Rim" and BET Video LP host Madelyne Woods is only matched by his raunchy punch lines ("Let me save the little man from inside the bowl"). Underlining their back-and-forth flows is an inimitably slowed-down loop of Ronnie Foster's "Mystic Brew" and a mumbled Q-Tip chorus that, in the pre-Internet days, had heads struggling to figure out what he says: "Relax yourself, girl … what?"
"Oh My God" feat. Busta Rhymes (1994)
A bass line reconfigured from Lee Morgan's "Absolutions" darts underneath a busily horn-stuffed track constructed from Kool & the Gang's "Who's Gonna Take the Weight?" and Busta busts out the title on the chorus like he can't believe he's had to wait so long. But the MCs hold centre stage. Tip sums himself up in six words – "I'm a black intellect but unrefined" – and Phife flirts memorably with Dawn Robinson if she happens to be listening. It's not easy to listen to Phife boast "When's the last time you heard a funky diabetic?" now that the disease has taken his life. But that line also sounds fiercer and more defiant than ever.
"1nce Again" (1996)
Q-Tip was one of the earliest champions of J Dilla's muted, punchy, sample-distending production. He became enamoured with it shortly after P-Funk keyboardist Amp Fiddler introduced him to the producer at a '94 Michigan Lollapalooza tour stop. Tip invited the young beat constructer, then known professionally as Jay Dee, to join the Ummah production squad. The first single from ATCQ's fourth album, "1nce Again," is one of the first major tastes of his sound: rap as a woozy, chopped funhouse mirror. Smarter critics got it, but pulling a dark, moody There's a Riot Goin' On move after the giddy smash of "Award Tour" felt anticlimactic; having R&B singer Tammy Lucas handle the hook was anathema to true-school heads; and ATCQ documentary director Michael Rapaport even calls the track "the beginning of the end." Still, there was very little out there like this at the time, and "1nce Again" predicted some of the most critically adored beatmaking of the next decade.
"Stressed Out" feat. Faith Evans (1996)
The highlight of the "Baby Phife Version" of ATCQ's moody and downbeat "Stressed Out" is Phife Dawg's closing verse. (The album version of "Stressed Out" doesn't include Phife, and instead focuses on Q-Tip trading mics with his cousin, newcomer Consequence. Consequence's outsized presence on ATCQ's 1996 album didn't sit well with Phife, and tension lingered between the two during recording sessions.) Phife often plays the ruffneck counterpart to Q-Tip's wise-beyond-his-years sage, but here he sounds like the mature one. He kicks a ragamuffin flow, noting how he takes medication for diabetes, and praises his loving wife, Deisha Taylor, and how "she cures me from stress." His brief words about his marriage — "Lay my head on her breast/Sugar dumpling knows best" — are among the most positive you'll hear about monogamous relationships in the hip-hop canon. Years later, Deisha was a kidney donor for her husband in 2008, and their relationship was chronicled in the documentary Beats, Rhymes and Life: The Travels of a Tribe Called Quest.
"Find a Way" (1998)
"We pretty much knew before the recording of The Love Movement that this was it. You better get your wind up 'cause this is the last dance," said Phife Dawg of the band's maligned fifth and final album. "It's weird to me that it would be called The Love Movement because we really were not loving that album, we were not loving putting out that album, we didn't even love each other at that time, so to speak. It should have been called The Last Movement." Still, the group managed one last great single before calling it quits. Over a Dilla-fried Ummah production, the group explored the complications that occur when you leave the friend zone.