50 Best Songs of the Nineties
From Britney Spears and Ace of Base to Beck and Nirvana.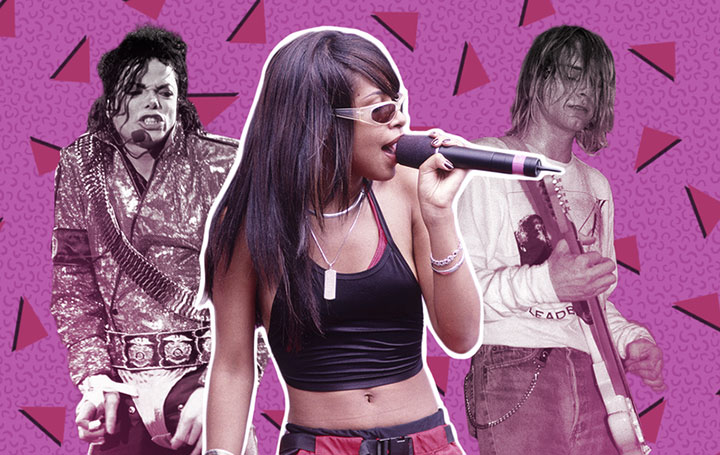 The Nineties music boom was a gold rush for singles – everywhere you went on the radio, you heard a high-speed collision of different beats. Every style of music out there was booming, from grunge to gangsta rap, from dancehall to disco, from riot-grrrl punk to midriff mall-pop, with a thousand different electronica schools and nearly as many Wu-Tang solo records. Whatever kind of noise was ringing your bells, the Nineties held more of it than any fan could absorb. There's no way one list could sum up such a bountiful decade – hell, you could run through two or three hundred great tunes from summer '94 alone. But these 50 crucial songs capture glorious moments from all over the Nineties music explosion – hits, obscurities, cult classics, dance-floor jams, guitar ragers, karaoke standards. Here we are now. Entertain us.
50. Fuzzy, "Flashlight" (1994)
Out of nowhere and soon to return, quasi-grunge kids from Boston with exactly one perfect song in them: a sad girl singing barely comprehensible words about a flashlight and feeling her way around in the dark. It went totally unheard except by the lucky few who might have caught it on MTV's 120 Minutes during one of its late-night favor-dumps. How many other magnificent quasi-grunge tunes are out there buried on forgotten major-label albums from the post-Nirvana gold rush, waiting to be discovered? There can't be many this great. But happy hunting.
49. Britney Spears, "Sometimes" (1999)
Britney's second hit – in other words, her first comeback hit. Nobody really expected the "…Baby, One More Time" girl to last all the way to the spring of 1999, but "Sometimes" was the Total Request Live jam that proved this girl was here to stay and the prototype for a new breed of pop star. Welcome to the next century.
48. The Offspring, "Self Esteem" (1994)
Just another bunch of Orange County hardcore dudes going megaplatinum with a ditty about masochism. "I may be dumb, but I'm not a dweeb" remains relevant, unless of course you do happen to be a dumb dweeb, in which case you're probably the guy in this song.
47. Selena, "Fotos y Recuerdos" (1994)
The Tejano queen reinvents the Pretenders' "Back on the Chain Gang," translated into Spanish – and it went Top Five on the Billboard Latin charts the week she died.
46. Silver Jews, "Random Rules" (1998)
If hell has a honky-tonk lounge, this is the song on the jukebox at closing time, with David Berman crooning his fractured barstool philosophy.
45. Lil Kim With Lil Cease, "Crush on You (Remix)" (1997)
The quintessential Bad Boy hit – a strangely melancholic synth loop, Lil Cease catching Biggie's keys and the uncrushable bravado of the Queen Bee, Kim herself, showing off her collection of wigs and matching furs. "Shall I proceed?" "Yes, indeed!"
44. Stereolab, "Cybele's Reverie" (1996)
Voulez vous coucher avec le revolution? These European vintage-keyboard aesthetes made album after album of lush agitprop trance-prog – this song was their summit.
43. Supergrass, "Alright" (1995)
Picking just one song from the Clueless soundtrack? That's almost as difficult as searching for meaning in a Pauly Shore movie.
42. Ace of Base, "The Sign" (1994)
The world's biggest Swedish reggae band gets mystical with a hit that couldn't have possibly involved a native English speaker. ("Life is demanding/Without understanding" – so true.) It was a very Swedish reggae kind of decade.
41. Sophie B. Hawkins, "Damn I Wish I Was Your Lover" (1992)
A boho sex priestess wails about an unrequited crush. The word "damn" never hurt so bad.
40. Big Pun Feat. Joe, "Still Not a Player" (1998)
Uptown, baby. The late great Bronx MC and the R&B smoothie meet over lovers-rock piano to woo "highly intelligent bachelorettes" with a pan-cultural party chant ("boricua, morena") and some dirty talk. R.I.P., Pun – he wasn't a player, he just crushed a lot.
39. Sebadoh, "Brand New Love" (1992)
Punk wolf boys take a bold step to humanhood with a folk-to-feedback ballad about opening your bitter little world to scary new feelings and smiling back at that girl across the room.
38. Geto Boys, "Mind Playing Tricks on Me" (1991)
The scariest gangsta tale ever, ending with Willie D pounding his bloody fists on the concrete over a chilly jazz-fusion loop.
37. New Radicals, "You Get What You Give" (1998)
The purest one-hit wonder imaginable – one gloriously grandiose prom anthem, complete with bucket hat and mall-riot video and insults to Beck, Hanson, Courtney Love and Marilyn Manson. And then goodbye. The New Radicals guy got nominated for an Oscar in 2015 for Begin Again, but tragically failed to rock the bucket hat on the red carpet.
36. Portishead, "Glory Box" (1994)
Elegant trip-hop melancholy, with Beth Gibbons drowning her sorrows to that timeless Seventies sample of cheeba-zonked Isaac Hayes funk – a sample brought back to the radio in 2015 by the not-born-yet Alessia Cara.
35. Sheryl Crow, "If It Makes You Happy" (1996)
Sheryl, you had us all at the line about scraping the mold off the bread – the ultimate Nineties vision of rock & roll stoner torpor.
34. En Vogue, "Don't Let Go (Love)" (1996)
The funky divas' steamiest slow jam, on the topic of lovemakin', heartbreakin' and soul shakin'. Best moment: "If I could wear your clothes… I'd pretend I was you… and looooose controoool!"
33. Helium, "XXX" (1994)
Guitar hero Mary Timony (later of Wild Flag and Ex Hex) croons a sweet little ballad about how if you hassle her on the street, you're gonna pay with your life, because her guitar will kill you. Then her guitar actually does just that, while Timony sings her hilariously deadpan kiss-off lines: "My heart is a cab…your love is a fad…and you're a draaag!"
32. Foxy Brown With Jay Z, "I'll Be" (1996)
Foxy: "I'm 2 live, nasty as I wanna be." Jay: "Don't shake your sassy ass in front of me." Jigga had just arrived on the scene with Reasonable Doubt, and this hit with his teen protégée was just one of the ways he proved his mastery. Who would have guessed he'd remain on top for decades to come?
31. Underworld, "Born Slippy .Nuxx" (1996)
A blast of techno sensory bombardment, exploding into mass popularity after it appeared in Trainspotting with that "lager lager lager lager" chant. Although guessing by the sound of it, lager might be one of the few substances not involved in making this record.
30. Sir Mix-A-Lot, "Baby Got Back" (1992)
Butt of course. Everybody in the English-speaking world can quote a few lines from this pro-ass manifesto.
29. Fiona Apple, "Paper Bag" (1999)
She thought he was a man, but he was just a little boy.
28. Weezer, "Pink Triangle" (1996)
Years before the word "overshare" was invent-ed (most of us first heard it in the Kirsten Dunst flick Bring It On), Rivers Cuomo brought the concept to a new level with this love song, the very definition of straight-dude dumbitude. He was as good as Nirvana in his mind, but Nirvana in his mind's no good.
27. Daft Punk, "Around the World" (1997)
A pair of French techno robots take the Chic "Good Times" bass line on a monorail trip to the spheres, with the filter-house sound that launched countless imitators.
26. Natalie Imbruglia, "Torn" (1998)
There is all other karaoke, and then there is "Torn" karaoke. (When it comes to karaoke, 1998 remains the greatest summer of all time.) "Torn" is still an epic tear-jerker – although when you consider Australian singer Natalie Imbruglia's celebrity beaus, you realize that girlfriend definitely doesn't need your shoulder to cry on.
25. Harvey Danger, "Flagpole Sitta" (1998)
There is all other karaoke, and then there is "Flagpole Sitta" karaoke. "I wanna publish zines and rage against machines" sums up an era; "I don't even own a TV" is the kind of thing hipsters stopped saying as soon as the Nineties ended.
24. Aaliyah, "Are You That Somebody" (1998)
One of Timbaland's most extreme avant-garde statements, yet Aaliyah turns it into bona fide pop with her cool-as-ice vocals.
23. Oasis, "Wonderwall" (1995)
Noel Gallagher later admitted he had no idea what a wonderwall was. Neither did anyone else. It didn't matter then and it doesn't now – this song turns any room into an out-of-tune pub singalong.
22. Mobb Deep, "Shook Ones Pt. II" (1995)
A hip-hop "Gimme Shelter," with the Queensbridge duo of Prodigy and Havoc reporting from the urban combat zone where a moment of fear – or any other feeling – will get you killed, because there ain't no such thing as halfway crooks. Mobb Deep were the hardest of all the mid-Nineties East Coast crews, and their definitive hit hasn't gotten any less chilling as the years have passed.
21. Smashing Pumpkins, "1979" (1995)
Billy Corgan's ode to the pangs of a generic suburban Midwestern adolescent summer, with a hook built around James Iha's guitar shimmer – the song not even Corgan-phobes could deny. Also known as "the one so good Pavement covered it." Faster than the speed of sound, faster than we thought we'd go.
20. Beck, "Loser" (1993)
The poet of his generation – the Nineties had tons of those. (The poet-per-generation ratio has never reached such dangerous density.) Beck shows up with a blues lick, a beatbox, a leaf blower and a video where he violates George Lucas' copyrights. Praise the gods and pass the Cheez Whiz.
19. Whitney Houston Feat. Faith Evans and Kelly Price, "Heartbreak Hotel" (1998)
Whitney kisses off a trifling man-type person, her voice building from careless whispers to smoldering high notes, sweet revenge all the way. At the time, it sounded like the start of a whole new chapter for a whole new Whitney. But sadly, this turned out to be where the story ended.
18. Garbage, "Queer" (1995)
Shirley Manson's eerie torch vocals meet alt-rock superproducer Butch Vig's deluxe studio effects, whispering, "You can touch me if you want/But you can't stop." Her voice gets under your skin and stays there. Scary.
17. Beastie Boys, "Sure Shot" (1994)
The Beasties flex their checked heads, with Adam Yauch's shout-out "to all the mothers and the sisters and the wives and friends." Because you can't, you won't and you don't stop.
16. Sleater-Kinney, "Get Up" (1999)
The Portland punk goddesses nail that moment where you feel lost and isolated, but you refuse to go quietly, with guitars that sound like a bucket of stars dumped into the universe.
15. Outkast, "Rosa Parks" (1998)
This Dirty-South booty chant was the funky-bus jam of the decade, plus the harmonica solo of the decade. (Sorry, Blues Traveler!) This was where the rest of the country first got a taste of what Big Boi and André were brewing down in the dirty-dirty ATLien nation. It was also where we learned the word "crunk." And it still sounds insane.
14. R.E.M. "Nightswimming" (1992)
Prediction nobody would have made on New Year's Eve 1989: "R.E.M.'s best album is still ahead of them – in fact, they're about to roll off four stone-cold classics in a row. And Michael Stipe will slow-dance with Natalie Merchant at the inauguration of our next president. Yes, a Democrat. Just one beer with dinner, Officer – why do you ask?" A bittersweet piano reverie about skinny-dipping in the Georgia pines, with Stipe trying to hold on to these memories before they fade away and get replaced by everyday.
13. Ol' Dirty Bastard, "Brooklyn Zoo" (1995)
The Wu Universe was designed for album-length true mathematics, but this was their truest and funniest shot at the radio, with ODB, a.k.a. Big Baby Jesus, doing his shimmy all over the RZA's broken piano keys. Proof that Wu-Tang really is for the children.
12. The Breeders, "Cannonball" (1993)
Kim Deal emerges from the wreckage of alt-rock heroes the Pixies with her twin sister, Kelley, on guitar and a freewheeling, shaggyheaded, bighearted mess of a song. "Cannonball" was one of the weirdest radio hits of the Nineties – or any decade before it.
11. Hole, "Doll Parts" (1994)
Courtney Love's finest moment. You know how some nights your mom puts on this song, then goes out to the driveway to cry alone in the car? Someday you will ache like she aches.
10. TLC, "No Scrubs" (1999)
Oh, yes, son, she's talking to you. The crazy-sexy-cool Atlanta trio close out the decade they owned with a hilarious rant that takes on street harassment, though it doesn't stop there. Burn on, Left Eye.
9. Liz Phair, "Fuck and Run" (1993)
Believe it or not, we thought we had problems in 1993. Phair testifies about disposable dudes in a plain voice that goes right to your heart, with a plot that unfortunately never gets outdated. Same old story: Boys only want love if it's torture.
8. Pulp, "Common People" (1995)
Jarvis Cocker has more soul and swagger exhaling a puff of smoke than most singers have in their entire catalogs. A Brit-pop masterpiece full of sex, sarcasm and despair. But mostly sex.
7. Missy "Misdemeanor" Elliott, "The Rain (Supa Dupa Fly)" (1997)
Introducing Missy and Timbaland, the duo who stole the decade. Together they warp a Seventies R&B sample into a long, sweaty Southern night, with crickets chirping and storm clouds rolling in. Oh, Missy, try to maintain.
6. Pavement, "Gold Soundz" (1994)
All the boyish heart-on-sleeve urgency of Pet Sounds packed into three minutes. Stephen Malkmus and his slack-ass crew don't waste a second of this song – every guitar twang, every breathy mumble fits into a note-perfect emotional surge. Almost like they care or something.
5. Dr. Dre and Snoop Dogg, "Nuthin' but a 'G' Thang" (1992)
The N.W.A. producer, a whole career already behind him, comes back mightier than ever, with a lot of help from the new kid on the block. This groove makes any car bounce up and down, with a bass line realer than "Real Deal" Holyfield.
4. Bikini Kill, "Rebel Girl" (1993)
Three riot grrrls (led by ferocious singer Kathleen Hanna) and their token boy guitar player go into a recording studio with Joan Jett and come out with a seven-inch single that keeps every radical promise punk rock ever made. "Rebel Girl" is an anthem for the neighbourhood girl with the revolution in her hips. Rock & roll that had political and emotional muscle? How bizarre.
3. Notorious B.I.G. With Mase and Puff Daddy, "Mo Money Mo Problems" (1997)
The late, great Notorious B.I.G. has more soul and swagger just clearing his throat before his verse than most rappers have in their entire catalogs. This classic became an accidental epitaph, hitting Number One right after his death – yet making him sound impossibly alive. Burning question: Did Mase ever get to see his name on a blimp?
2. Blackstreet, "No Diggity" (1996)
A utopian celebration of all that is rump-shaking about American music, with Virginia-via-Harlem beatmaster Teddy Riley mixing a groove out of doo-wop, Dr. Dre, old-school R&B harmonies, a piano rumble and a sample of acoustic blues guitar from Bill Withers. We're all living in the future this song envisioned, and all the luckier for it.
1. Nirvana, "Smells Like Teen Spirit" (1991)
The song that blew up the world. The song that defied all rules about how music worked and how much raw emotion you could cram into four cheap chords and a crummy guitar solo. The song that kicked the future in the teeth. The song that shattered all your complacency about settling for the politics of the inevitable. "Smells Like Teen Spirit" was Kurt Cobain's challenge to the audience – and after all these years, the challenge still stands.