22 Terrible Songs by Great Artists
Great mistakes from Dylan, Elvis, Zep, the Who and more.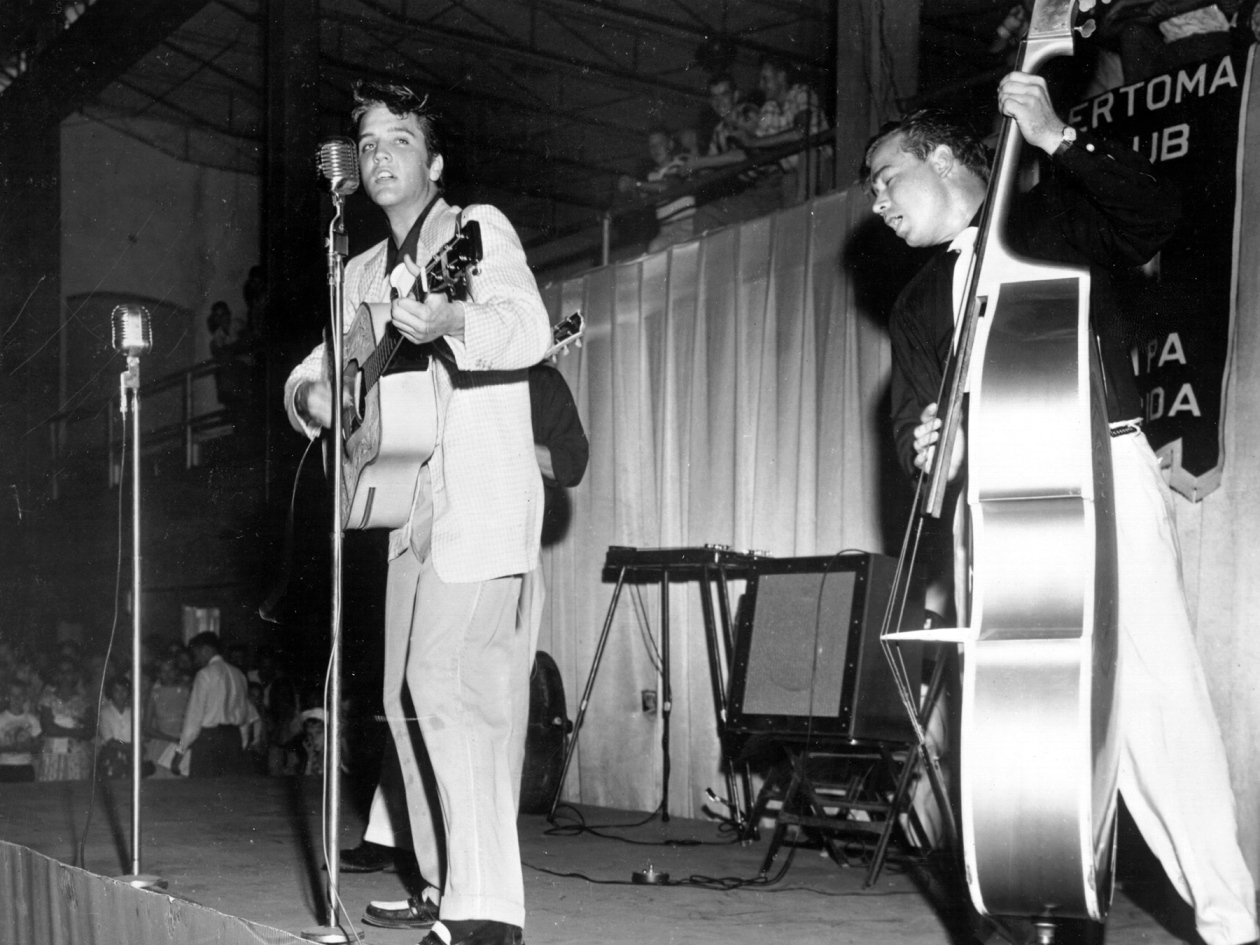 As much as we love our favourite artists, it's hard to say that any of them are perfect. Here are 22 iconic artists who have been briefly lured by drugs, laziness, novelty, over-production, poor judgement or, in the case of Brian Wilson, rap music.
By Richard Gehr, Andy Greene, Keith Harris, Maura Johnston, Jason Newman and Christopher R. Weingarten.
Elvis Presley, "Confidence" (1967)
Picking the worst song Elvis recorded for his wretched Sixties flicks is a little like picking your least favorite terminal disease. But where the exceptionally strong-stomached can at least find some camp pleasure in goofy junk like "Yoga Is as Yoga Does" or "He's Your Uncle Not Your Dad," this worthless rewrite of "High Hopes" from 1967's Clambake is about as fun as a tetanus shot – and less memorable. The lamest of the 42 songs that Sid Tepper and Roy C. Bennett wrote for the King, it's dragged even further down by its grating kiddie chorus, a cartoonish backing track and Elvis himself, who sings as though contractually obligated to convey no human emotion.
David Bowie, "The Laughing Gnome" (1967)
The laughing gas is cranked up to 11 throughout this novelty number featuring the helium-esque, sped-up vocals of producer Gus Dudgeon and a giddy 19-year-old icon-to-be. Featuring a bassoon line Bowie would later employ in "Speed of Life" and elsewhere, the track is punctuated by a punishing barrage of gnomic wordplay and displays a dedication to chart life by any means necessary. (It reached Number Six upon its re-release in 1973.) Bowie threatened, but did not deliver, a "Velvet Underground-influenced" live version in 1990. "I should have done more for gnomes," he later told NME. "I really could have produced a new sensibility for the garden gnome in Britain."
Chuck Berry, "My Ding-a-Ling" (1972)
The only Number One hit that the greatest rock & roller of all time ever scored was a limp dick joke. Originally cut as a negligible novelty number by New Orleans music great Dave Bartholomew in 1952, Berry first overhauled the song as "My Tambourine" in 1968, then soon afterward introduced concert audiences to this naughty rewrite. As though the sing-along hit (recorded at the Lanchester Arts Festival in Coventry) wasn't already too long, there's an overly engorged 11-and-a-half-minute version on The London Chuck Berry Sessions – proof, once and for all, that a bigger ding-a-ling is not always a better one.
Neil Young, "There's a World" (1972)
Neil Young's career reached its commercial zenith in 1972 with the release of Harvest. Songs like "Heart of Gold," "Old Man" and "The Needle and the Damage Done" remain the most famous compositions of his 50-year career and still get a lot of radio play. The album remains remarkably strong with the very notable exception of "There's a World." For some reason, Young though that the London Symphony Orchestra would mesh with his songs. The result was like a chocolate-covered cheeseburger. "A Man Needs a Maid" was somehow brilliant enough to survive the symphonic assault, but it totally sinks "There's a World." From the opening timpani notes to the saccharine harp sounds, it's just an overwrought, three-minute mess. This is the one everyone skips when they play Harvest, even if they don't all admit it.
Led Zeppelin, "Tea for One" (1976)
"'Tea for One' was the only time I think we've ever gotten close to repeating the mood of another of our numbers," Jimmy Page told Trouser Press in 1977, proving himself as much a master of understatement as he is of the guitar. The closing track to Presence is a faded photocopy of Zep's former triumph, "Since I've Been Loving You" sapped of all rhythmic and vocal intensity. "I ended up sitting there thinking, 'I've got this guitar solo to do,'" Page notes in that same interview, and his playing here does indeed have the quality of an afterthought. The titular "tea" must be marijuana, because Robert Plant's wan moan sure ain't the work of a guy who's recently ingested anything caffeinated.
The Grateful Dead, "France" (1978)
Jerry Garcia's Spanish-tinged acoustic guitar can't rescue this yacht-rock tune the band never saw fit to perform onstage. Asked by David Gans to name any "spectacular failures of judgment" in the songwriting department, Bob Weir admitted that "France" qualified, explaining, "I didn't actually write that one – it just sort of happened. But it sure as hell didn't happen right."
The Who, "Did You Steal My Money" (1981)
The Who were not in a great spot when they began work on 1981's Face Dances. They'd lost drummer Keith Moon three years earlier, and Kenny Jones had the impossible task of taking his place behind the kit. Pete Townshend was using extremely heavy drugs and the group was quickly melting down as a result. Somehow or another, they managed a few great songs like "You Better You Bet" and "Another Tricky Day," but the album has hugely embarrassing duds like "Did You Steal My Money." (Notice the lack of a question mark.) If cocaine could write music, it might sound something like this: jittery, paranoid, accusatory and ultimately insane. Over and over, Roger Daltrey and Pete Townshend accuse some outsider of robbing them blind when they "cold turkey-ed on the sofa." It ends with this unforgettable couplet: "Did you pinch my brasso/Nick my gelt, you asshole." The group called it quits one year later.
Paul Simon, "Cars Are Cars" (1983)
After spending two years on the road with Art Garfunkel in the early 1980s, Paul Simon faced enormous pressure to finally record the follow-up to the duo's 1970 masterpiece Bridge Over Troubled Water. They began work on an LP provisionally titled Think Too Much and even laid down some harmonies before Simon realised it just wasn't going to work. "These new songs are too much about my life," he said in 1984, "about Carrie [Fisher] – to have anybody else sing them." He erased Garfunkel's vocal parts and renamed the album Hearts and Bones. And while many of the songs are certainly about his short-lived marriage to Carrie Fischer, that is most certainly not the case with "Cars Are Cars." It's a stunningly inept song that repeats the line "cars are cars all over the world" ad nauseam, ultimately making the point that humans are different all over the world. Beyond the fact that's not even true (cars are far from uniform all over world), it's the single worst thing he's done in his long career. Garfunkel should thank him for taking his voice and name off that one. Instead, they barely spoke for the next decade.
Aerosmith, "My Fist, Your Face" (1985)
1985's Done With Mirrors came at a time of transition for Aerosmith – the Toxic Twins had just reunited after years of being split, and the band had returned to a rock landscape heavily influenced by MTV and its finicky, image-heavy ways. Mirrors, produced by Van Halen knob-twiddler Ted Templeman, sounds like a toe being dipped too gingerly in a pool, with "My Fist, Your Face" being one of those tracks that disappoints because of the way everything just doesn't click. The churn recalls earlier Aerosmith tracks like "Sick as a Dog"; Tyler's surrealistic lyrics bring to mind the paranoia of "Bright Light Fright" while directly referencing triumphs like "Back in the Saddle." But the band sounds tentative and Tyler's goofy come-ons induce groans.
The Clash, "We Are the Clash" (1985)
The politics are confused ("Right wing, left wing/I want something"), the tinny guitars and doltish backing vocals echo distantly like they were recorded in a tube station, and the title – well, that's just an outright lie. Joe Strummer's stubborn, misguided determination to soldier on after booting Mick Jones did result in one genuine late-career classic, "This Is England," but this exercise in feigned solidarity doth protest two much – neither manager Bernard Rhodes (the track's co-writer) nor the hired guns punking stodgily behind Strummer were the Clash, and Joe sings like he knows it. No wonder he later disavowed the Jones-less Cut the Crap, admitting, "I just went, 'Well fuck this,' and fucked off to the mountains of Spain to sit sobbing under a palm tree, while Bernie had to deliver a record."
Bob Dylan, "Driftin' Too Far From Shore" (1986)
Bob Dylan's career hit a lot of low points in the 1980s, but the lowest was probably the release of 1986's Knocked Out Loaded. The title basically says to the world, "Here's some shit I slapped together while drunk." It's packed with cover songs and tunes he co-wrote with the likes of Tom Petty, Sam Shepard and Carole Bayer Sager. But he wrote "Driftin' Too Far From Shore" all by himself, even though it shares a title with a 1920s folk song by Charles Moody that was covered by Hank Williams. "Dylan wrote [that] song from scratch right in front of me," says drummer Anton Fig. "Somehow my snare got erased and they replaced it with a heavy sample of an electric backbeat." That sample loops through the entire song. "I had no connection to any kind of inspiration," Dylan wrote about this time period in his 2004 memoir Chronicles. "My own songs had become strangers to me. It wasn't my moment of history anymore. Try as I might, the engines wouldn't start."
Joni Mitchell, "Dancin' Clown" (1988)
"I feel these times are just pathetic," Joni Mitchell told Rolling Stone regarding her mood while recording 1988's Chalk Mark in a Rain Storm. So give Mitchell the benefit of the doubt and pretend those wheezing synths and cheesy electronic drum sounds are only ironic commentary on everything Eighties. That might demystify the presence of Billy Idol, who yelps and howls on the track, part of an ill-conceived Joni-and-guests album. In addition to less-annoying guest Tom Petty, the song's cast also includes "last-word Suzie," a "high yellow" love interest who evokes "the swoosh of jungle blades/And the crackle of northern ice."
Dee Dee King, "German Kid" (1989)
In 1989, Dee Dee Ramone was the strongest songwriter in the Ramones — that year's Brain Drain opened with his classic "I Believe in Miracles." But empowered by Schoolly D's "Gucci Time," he left the band to focus on his unlikely dream of becoming the nearly-40-year-old white rapper Dee Dee King. While his "Funky Man" video is somewhat of a viral curiosity, the worst song on his lone LP, Standing in the Spotlight, is a brokenly melodic tribute to his "half American, half German" heritage with Deborah Harry on the hook. In "German Kid," Dee Dee raps auf Deutsch — one of the least funky languages available — about being half German. This fact is nowhere near as interesting as he thinks, and certainly not something to boast about when your band had a weird Nazi fixation.
Guns N' Roses, "My World" (1991)
The closer to Guns N' Roses 1991 Use Your Illusion diptych came from an innocent place: "I'd been listening to a lot of industrial music and all of a sudden I said, 'Hey man, let's do something. Let's see what happens. Let's just make it short and sweet and see what we come up with,'" Rose told Musician in 1992. But wait, there's more: "A friend of mine had stuck some mushrooms in my tea and I didn't know it." That "socio-psychotic state of bliss" heavily informed this paranoid, pulsing track. In hindsight, "My World" is useful in that it predicted the electronic-heavy direction Rose would take on the long-laboured-over Chinese Democracy, but Rose's later experiments in that area of pop would be much more satisfying.
Brian Wilson, "Smart Girls" (1991)
Yes, "Smart Girls" features the rap stylings of Brian Wilson, the Beach Boys songwriter and studio genius. In 1991, the man who put a theremin in a Number One song and inspired Sgt. Pepper's was now dropping Barney Rubble-style science: "My name is Brian and I'm the man/I write hit songs with the wave of my hand." He can actually be forgiven for this lapse of judgment however: "Smart Girls" is from from Sweet Insanity, an album that was never technically released; it was the final year of his fog under psychologist Eugene Landy; and Wilson later said he was "just kidding" with the tune. But bootlegs and the internet have still made it possible for us to look back at the time one of the world's greatest studio auteurs rhymed, "I'm no different from the rest/I love hips and legs and breasts."
Bruce Springsteen, "Real Man" (1992)
Bruce Springsteen released Human Touch in March of 1992, but judging by the production, he failed to get the memo that the 1980s were over. The drums and the synths scream 1984, and six months after Nirvana dropped Nevermind this wasn't going to fly. The worst song on the album is "Real Man," a trite song about taking your girl to see a Rambo movie in the theatre and feeling strong in her loving presence. "In the early 1990s I wrote happy songs," Springsteen said when he was inducted into the Rock and Roll Hall of Fame in 1999. "It didn't work. The public didn't like it." It seems like even Springsteen himself didn't like "Real Man." He regularly plays crazily obscure songs in his shows, but he hasn't touched "Real Man" since the summer of 1992 for anything but a sound check.
Pearl Jam, "Hey Foxymophandlemama, That's Me" (1994)
While notable for being the band's first on-record collaboration with former Red Hot Chili Peppers drummer Jack Irons, the claustrophobic closing track to Pearl Jam's Vitalogy also sticks out because of its harrowing weirdness. "I had taped something off the TV when I was maybe 17 or something and I think it was people who had mental problems who were being let out of the hospitals early because the states were taking away funding for mental hospitals," Vedder told visitors to a Lycos chat in 2000. "So they were setting these folks out without the necessary care but it was still very intriguing the way their mind worked and what they would say and we experimented and tried to incorporate it into what to date is our most emotional and moving song." Emoji had yet to be developed in 2000, so whether or not Vedder was saying that with a grin has been lost to the bygone portal's archives.
Run-D.M.C. feat. Sugar Ray, "Here We Go 2001" (2001)
Run-D.M.C.'s much-anticipated comeback record, 2001's Crown Royal, was a fiasco. The record clearly wanted to ride the Woodstock '99 wave of rap-rock (it features guest spots from Fred Durst, Kid Rock and Everlast) but D.M.C., deep into classic rock bands like the Rolling Stones and Neil Young, publicly insisted, "I didn't even want to be a part of this album." In turn, he barely appears on it. One of the album's low-lights is "Here We Go 2001," a remake of their incredible 1985 single with special guest Sugar Ray. A song that originally showed their powerful teamwork was now mostly a Run venture ("now have a Limp Bizkit and a piece of Korn") and features a completely incongruous chorus where Mark McGrath croons like he stumbled into an Incubus song.
Metallica, "My World" (2003)
Born in part from Metallica's turn-of-the-millennium tumult, St. Anger was, according to super-producer Bob Rock, supposed to sound like "a band jamming together in a garage for the first time, and the band just happened to be Metallica." But "My World" is the rare Metallica track that's notable because it sounds utterly generic, especially when James Hetfield's genre-defining vocal contorts itself into an awkward rap-metal squat. "It's my world, you can't have it," Hetfield growls as his bandmates lurch through nü-metal-by-the-numbers sludge – and that's before the galloping breakdown, which only drives home just how much this joyless, petulant track sticks out from the rest of Metallica's catalog.
Nas, "Who Killed It" (2006)
Nas had an admirable idea on 2006's "Who Killed It": Examine hip-hop's descent from social justice soundtrack to champagne-and-jewels grandiosity from the point of view of a detective trying to solve a crime. But on the will.i.am-produced Hip Hop Is Dead track, Nas' bizarre attempt to mimic Edward G. Robinson and James Cagney for an entire song ends up sounding more like Chief Wiggum on his first case in the Sedgwick Avenue division. "[Cagney's] one of my favourite characters of all time, ever," Nas told Rolling Stone U.S. in 2014. "So I would play around and talk like him in the studio just for fun. We didn't plan on doing it as a song, but we just did." Look here, see. Gimmicks don't always hit their mark, see.
Jay Z, "Young Forever" (2009)
Jay Z enlisted Kanye West and G.O.O.D. Music bench rider Mr Hudson to flip Alphaville's syrupy 1984 hit "Forever Young" for another one of his countless odes to immortality and legacy-cementing. Jay's never shied away from sentimentality – see the heartfelt Black Album closer "My 1st Song" –­­ but "Young Forever," the last song (sequentially and otherwise) on 2010's The Blueprint 3, highlights the rapper's occasional tendency to mistake the saccharine for the profound. Asked what he liked about Hudson and other new musicians brought into the S. Carter dynasty, Jay told the Associated Press in 2009, "That new energy and what they had right there is raw and untapped." And nothing says "raw and untapped" like sampling some treacly, 25-year-old synth-pop song.
Tom Petty & the Heartbreakers, "Don't Pull Me Over" (2010)
Tom Petty & the Heartbreakers' 2010 LP Mojo is the group's deepest dive into the blues-rock they all grew up loving, but 11 songs in they take a very bizarre and unexpected detour into reggae. Sixty-year-old white millionaires don't have a great track record in this genre, especially when they're complaining about the potential of police mistreatment. "What I've got to do won't hurt anyone," Petty sings. "Where I've got to go won't hurt anyone/Don't pull me over, I've got mouths to feed. Don't pull me over, should be legalized." We get it. You like to smoke weed, even when you're driving. But if they pull you over, they're going to ask for an autograph and let you go. This song, however, deserves to be dragged into the station for questioning. "It doesn't fit on the record," Petty's daughter Adria wrote on The Huffington Post while introducing her video for the track, "but in a way it is the standout moment on the record. It is the comic relief."