20 Songs That Defined the Early Seventies
The sounds that were inescapable during the first half of the socially progressive decade, including Elton John, Marvin Gaye and more.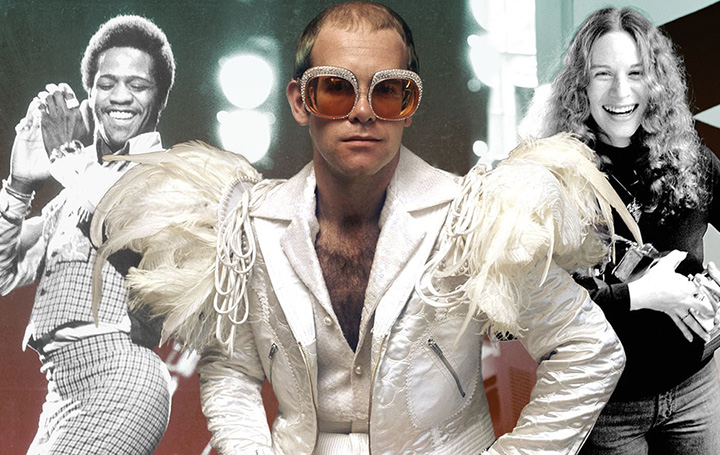 Pondering pop history from a generation or two away, it's easy to forget what things actually sounded like from inside the zeitgeist. As Western culture worked itself into a complicated cultural froth, the early Seventies reflected those complexities in its hit parade with music that was evocative, entertaining and, for better or worse, unavoidable. Which is to say that the tunes on this list constitute much of the DNA of anyone alive at the time. Radio still mattered more than TV, and our seemingly endless culture wars were only beginning. New constituencies were arising and pop had even started reflecting on its own history. It was the best of times, it was the – oh, you know. And so, to the best of our recollections, here's the greatest music you couldn't avoid hearing in the early Seventies.
By Keith Harris and Richard Gehr.
James Brown, "Get Up (I Feel Like Being a) Sex Machine" (1970)
The Seventies was quite possibly the Western world's sexiest decade. The post-birth control and pre-AIDS window of opportunity saw the Sixties' utopian fantasies elaborated into hitherto unimagined new possibilities. James Brown got in on the libidinous free-for-all early with a landmark single that promoted his, er, endurance and vitality with a simple euphoric groove. His young, hungry and economical new band, the J.B.'s, featured brothers Bootsy and Catfish Collins on bass and guitar, respectively, and Jabo Starks on drums. Bobby Byrd plays hype man in this magically off-the-cuff rearrangement of the horn-heavy James Brown Orchestra's "Give It Up or Turnit a Loose."
Jackson 5, "I'll Be There" (1970)
When the Jacksons followed their 1969 debut "I Want You Back" with the equally high-energy delights "ABC" and "The Love You Save," their ebullience seemed boundless, a new font of Motown optimism for a new decade. But it was the brothers' first ballad that would become the label's all-time best-seller, retaining that title for more than a decade. No preteen has ever sung as credibly about eternal devotion as Michael Jackson, his performance beginning with a calm childlike sweetness that he ruptures boldly with an adult rasp. And when he erupts into a climactic shout of "Just look over your shoulders, honey" that echoes the Four Tops "Reach Out (I'll Be There)," he's glancing back at the past to suggest greatness to come.
George Harrison, "My Sweet Lord" (1970)
After the Beatles anointed the first half of 1970 with the sweetly spiritual "Let It Be," George Harrison aimed for the heavens in December with "My Sweet Lord." Harrison combined the Hare Krishna mantra, the Christian hymn "Oh Happy Day," some impeccably bluesy slide guitar, Phil Spector's wall of sound and the Chiffons' "He's So Fine" (at least according to a United States District Court), into an amazing one-size-fits-all example of maximalist pop perfection. Or as John Lennon opined in a Rolling Stone interview: "Every time I put the radio on, it's 'oh my Lord' – I'm beginning to think there must be a God!"
Derek and the Dominoes, "Layla" (1970)
For much of the Sixties, guitar hero Eric Clapton hopped from supergroup to supergroup, but he inaugurated a new decade by rediscovering the blues and assembling a tight, fierce band that matched his commitment. Clapton's then-unrequited desire for Patti Boyd (the wife of his buddy George Harrison) elicited the most passionate performance of his career.
Grateful Dead, "Uncle John's Band" (1970)
The drift in popularity from AM to FM radio during the Seventies eroded the mass audience upon which pop hits depended. Hippies and fellow travelers could increasingly be found glued to free-form FM stations, and no underground hit glowed quite as mysteriously as the opening track on Workingman's Dead, a sepia-tinted declaration of the Grateful Dead's newly expert vocal harmonising. The suggestion to "come hear Uncle John's Band," according to lyricist Robert Hunter, is nothing less than "the coaxing and cajoling of the forces of generational unity." When the single was dropped from the airwaves for cursing "Goddamn, well I declare/Have you seen the like?" it only confirmed every subterranean's conspiracy theories.
Lynn Anderson, "Rose Garden" (1970)
In the Seventies, country music burst into the mainstream like never before, and women were at the forefront – you couldn't help but overhear how Loretta Lynn's "Coal Miner's Daughter" and Dolly Parton's "Jolene" were redefining Nashville. But the biggest country crossover hit of its day, written by the country-soul great Joe South, came along at a time when, as Lynn Anderson herself put it, "people were trying to recover from the Vietnam years," and it perfectly captured the spirit of the time, an optimistic anthem that also served as a splash of cold water to the face.
Janis Joplin, "Me and Bobby McGee" (1971)
Several singers had previously taken a crack at Kris Kristofferson's wistful tale of itinerant lovers – everyone from Kenny Rogers to Bill Haley – but none ripped into it with as much abandon as Janis Joplin. On the strength of Joplin's scratching, soaring coda alone, the recording would have been a classic even if she hadn't died before its release. But her untimely end gave the line "Freedom's just another word for nothing left to lose" a sense of finality, allowing it to serve as an epitaph not just for the wildest of all hippie blues women but for the Sixties itself.
Led Zeppelin, "Stairway to Heaven" (1971)
FM radio in the Seventies celebrated music of great length, great breadth and great depth – even if sometimes maybe the audience had to be just a little bit stoned to find it deep. And no band commanded those airwaves quite like Led Zeppelin. "Stairway" is long – eight minutes and two seconds. "Stairway" is broad – as the song builds, the pastoral mysticism of Zeppelin's Ren Faire folk side evolves into the thunderously dexterous bludgeon that made them metal heroes. For sure, Zeppelin could and did get heavier and wilder than "Stairway." But they never got Zeppelin-er.
Carole King, "It's Too Late" (1971)
As a teen, Carole King was already writing classic hits like "Will You Still Love Me Tomorrow" at New York's storied Brill Building, but her own recording career only really started after she relocated to Laurel Canyon at the end of the Sixties. Toni Stern's lyrics (based on a recently ended relationship with James Taylor) express an adult perspective on breaking up that avoids blame or bitterness. King's wise and weary vocal can make you forget she hadn't yet turned 30, and the way Curtis Amy's soprano sax solo peters out before the final chorus underlines the song's message of how love can just unexpectedly vanish.
Rolling Stones, "Brown Sugar" (1971)
The Stones typically met the utopianism of the Sixties with either a wink or a snarl, but finally they entered a decade just as gruff and nasty as they were. Ostensibly a party jam, "Brown Sugar" traces rock & roll – and by extension the wealth and fame and sexual conquest of the Rolling Stones themselves – to slavery and its plunder of black lives and black culture… and yet refuses to be apologetic about it. "Brown Sugar" is Walter Benjamin's aphorism about every document of culture also being a document of barbarism.
Sly and the Family Stone, "Family Affair" (1971)
Sly Stone's final chart-topping single, the most successful of his career, was a dark, spare masterpiece of submarine R&B. The track's ingredients consisted of sister Cynthia Rose singing the title line through cupped hands, Bobby Womack on sinister wah-wah guitar, and Sly on everything else – most notably the Maestro Rhythm King MRK-2 drum machine, his "funk box." Womack suggests that Stone's uniquely distanced vocal resulted from a microphone placed beside his head as he lay spaced out on a piano. The song's enigmatic lyrics insinuate everything from a Woodstock hangover to fear of the Black Panthers. But as Sly told Rolling Stone upon its release: "Song's about a family affair, whether it's a result of a genetic process or a situation in the environment."
Al Green, "Let's Stay Together" (1972)
As soul music evolved in the Seventies, the dancing in the street of the civil rights era gave way to the sound of making out behind closed doors. No singer combined down-home grit with boudoir suavity as effortlessly and audaciously as Al Green. He follows a heartfelt "You'd never do that to me" with a confidently spoken aside "Would you baby?" as though he's improvising the whole song on the spot over a beat roughed up just enough by the Hi Rhythm section and an arrangement polished just enough by producer Willie Mitchell.
The Staple Singers, "I'll Take You There" (1972)
"I'll Take You There"'s one verse, two chords and nearly five minutes of gospel-soul magnificence made communally uplifting black church music safe for white listeners. Its Muscle Shoals arrangement, meanwhile, tapped deeply, if perhaps a little too nonchalantly, into early Jamaican reggae. The lyrics were written by Stax co-owner Al Bell but its rhythmic structure was imported wholesale from the Harry J Allstars' 1969 reggae hit "The Liquidator," with future Wailers Carlton (drums) and Aston "Family Man" Barrett (bass) supplying the riddim that rocksteady singer Alton Ellis claimed was itself lifted from his "Girl I've Got a Date." Mavis Staples' glorious contralto, a virtuosic instrument of shouting and cajoling, released the song from its complicated origins. "People thought 'I'll Take You There' was the Devil's music," she later said, "because people were dancing to it."
Elton John, "Rocket Man" (1972)
"Your Song," "Levon," "Tiny Dancer," "Daniel," "Honky Cat," "Crocodile Rock" – Elton John owned the early Seventies and most of the rest of the decade, but "Rocket Man" was his most ambitious mega-hit. Inspired by Tom Rapp's similarly titled tune with acid-folk outfit Pearls Before Swine, lyricist Bernie Taupin imagined an astronaut bummed out by the banality of his profession. (David Bowie's "Space Oddity" seemed almost histrionic in comparison.) Onstage, John would use the tune as a launching pad for ever-changing jams that would extend from New Orleans piano polyrhythms to New Age noodling.
Stevie Wonder, "Superstition" (1972)
"Fingertips Pt. 2." became Stevie Wonder's first Number One hit when the soul wunderkind was just 13 years old, but despite a dynamic string of Sixties singles, he didn't top the charts again for nearly a decade. This clavinet-driven workout established the one-time child star as the adult genius who would dominate the decade: As with Marvin Gaye's "What's Going On," "Superstition" was the sound of a Motown artist taking control of his career. And Stevie's hit was just as political in its own subtle way as Marvin's, channeling the mood of skepticism prevailing in the U.S. at the time.
Helen Reddy, "I Am Woman" (1972)
Helen Reddy delivered her catchy feminist anthem "I Am Woman" with cunning restraint. As a performer, Reddy was more than familiar with male imbecility. She'd been "down there on the floor" and this song, whose strong, invincible hook came to her in a dream, was payback – a collective roar often foolishly mistaken for egotistic bravada. "I was able to connect with all kinds of women," Reddy would write. "[W]omen who had been initially turned off by some of the more strident feminist voices; or women who believed they were already liberated."
Todd Rundgren, "Hello It's Me" (1972)
If only all adult contemporary music was as entertaining, and as irritating, as Todd Rundgren's first original song. "Seeing you," sings Rundgren in this more than slightly narcissistic boy-objectifies-girl breakup vignette before correcting himself: "or seeing anything as much as I do you." Written when he was still a teenaged Nazz member, "Hello It's Me" was inspired musically by a Jimmy Smith organ intro to a recording of "When Johnny Comes Marching Home," with an ill-fated high-school romance supplying the one-sided phone conversation's content. Re-recorded for his ambitious solo album Something/Anything, Rundgren elevated the blandness of the breakup to high pop realism.
Hot Butter, "Popcorn" (1972)
The world's first primarily electronic pop hit – and kernel of a future fractal universe of synthetic sonic materials – was composed by Gershon Kingsley. The German-American composer discovered the melody while noodling on a Bach improvisation and released it on 1969's Music to Moog By. "'Pop' is for pop music," Kingsley later declared, "and 'corn' is for kitsch." His percolating earworm didn't take off until Hot Butter, featuring First Moog Quartet member Stan Free, covered it in 1972. It took off in a Paris disco and went on to inspire renditions by Aphex Twin, Muse and Crazy Frog.
Marvin Gaye, "Let's Get It On" (1973)
"What's Going On" was a stirring anthem of political consciousness, marking a new stage in Marvin Gaye's career as an R&B auteur. This sexy romp was stirring in a much different way, but it was making a statement as well: Hot sex is something "all sensitive people" need. The Seventies would be a steamy decade, after all, and no one explored the artistry of seduction with such a versatile sense of humor and hedonistic commitment as Gaye.
The Sweet, "The Ballroom Blitz" (1973)
The Sweet's trajectory from prefab pop to punk-rock precursors peaked with glam-rock's catchiest hit. This oddly touching bit of hard-charging autobiography – with an arrangement flagrantly borrowed from Bobby Comstock's 1963 British beat-group favorite "Let's Stomp" – chronicles an attack of bottle-tossing audience members during a January 1973 gig in Kilmarnock, Scotland. "The Ballroom Blitz" found its way to the U.S. two years later, setting the scene for the Ramones' equally catchy and militaristic 1976 debut, "Blitzkrieg Bop."