The 100 Greatest West Coast Hip-Hop Songs of All Time
From N.W.A to Tyler, the Creator, from mobb music to hyphy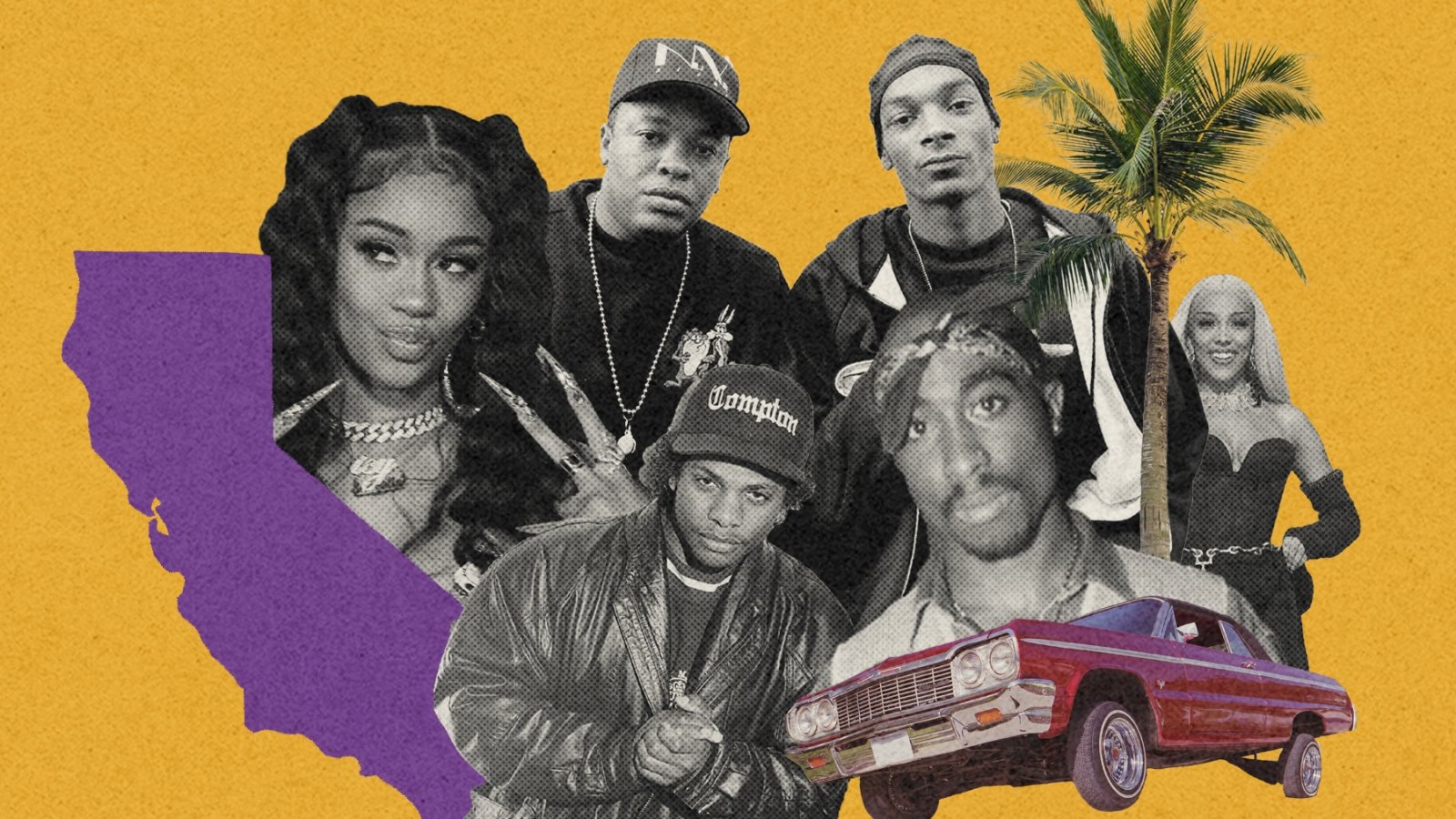 HIP-HOP WAS BORN in the Bronx in the summer of 1973. To celebrate the music's 50th anniversary, "Rolling Stone" will be publishing a series of features, historical pieces, op-eds, and lists throughout this year.
Our story of West Coast hip-hop music begins in 1981. That's when producer, songwriter, and industry veteran Duffy Hooks III formed Rappers Rapp Disco Co. in Los Angeles. The label's first release was "The Gigolo Rapp," a nine-minute party platter that featured Disco Daddy and Captain Rapp rocking over an interpolation of Rick James' "Give It to Me." That same year, Oakland entrepreneur and soul singer Mickey "Mo" Moore released "Super Rat," by Motorcycle Mike and the Rat Trap Band on Hodisk Records. However, the tale could start much earlier. There's plenty of evidence that rap developed long before the Sugarhill Gang's "Rapper's Delight" brought New York hip-hop to the world. "From the nasty tales of Stagolee to H. Rap Brown in the Sixties, most of rap is nothing more than straight-up Black bravado," wrote Ice-T in his book The Ice Opinion. "Rapping is just something you pick up in the ghetto."
In four-plus decades, the West Coast scene has blossomed with musical variety, not only in Los Angeles and the Bay Area but also Sacramento, Phoenix, Seattle, and other cities across the region. From the electro era to mobb music, turntablism, hyphy, and more, it has produced so many standout artists, micro-scenes, one-hit wonders, and multi-genre fusions that it proved impossible to fit them all into a single, 100-song list. We could dedicate half of the list to the N.W.A family tree alone, a lineage that stretches from the World Class Wreckin' Cru to Kendrick Lamar. We could have stuffed it with 2Pac, Dr. Dre, and Snoop Dogg hits. Instead, we chose to go broad, sticking to one main artist's song apiece, with few exceptions. Even then, we struggled to include everyone who matters. Inevitably, some did not make the cut.
The list was compiled by our editors and a team of critics headed up by Bay Area writer and longtime RS contributor Mosi Reeves. After compiling the initial list, we thought it would be nice to get an insider's opinion. Our expert eyeballer for the 100 Greatest West Coast Hip-Hop Songs is Mike Cox of the L.A. production duo Mike & Keys. They have worked with many of the artists who appear here, including Dr. Dre, Nipsey Hustle, Dom Kennedy, Xzibit, and Saweetie. "West Coast hip-hop is the inspiration that me and my partner Keys used to make Nipsey's album Victory Lap, because we were inspired by Dr. Dre, Snoop Dogg, N.W.A," says Mike. "We were inspired by them using funk samples with hip-hop drums."
Mike says that when Nipsey Hussle began work on the Grammy-nominated Victory Lap, he connected with numerous OG producers, including the late Digital Underground figurehead Shock G, Dr. Dre, and DJ Quik as well as engineers who worked on those sessions. "It's like going and sitting with your senseis that did it before you and getting the blessing. We did that with all the West Coast legends," he says.
However, Mike wonders what West Coast hip-hop means now in the age of the internet. "The internet made it possible for anybody to put their music up and think they're a professional," he says. "It's made music more of a gumbo effect.… When you have everything accessible to you, you're kinda all over the place." Yet that's part of the history, too. As the region evolves and acclimates to changing tastes in the music industry, our 100 Greatest West Coast Hip-Hop Songs stands as a snapshot of the scene's important landmarks. It's made with the knowledge that the future may well uncover a different portrait.
Hear this playlist on Spotify.
From Rolling Stone US