10 Insanely Great Guns N' Roses Songs Only Hardcore Fans Know
Hear B sides, alternate versions and other crucial rarities from resurgent hard-rock gods.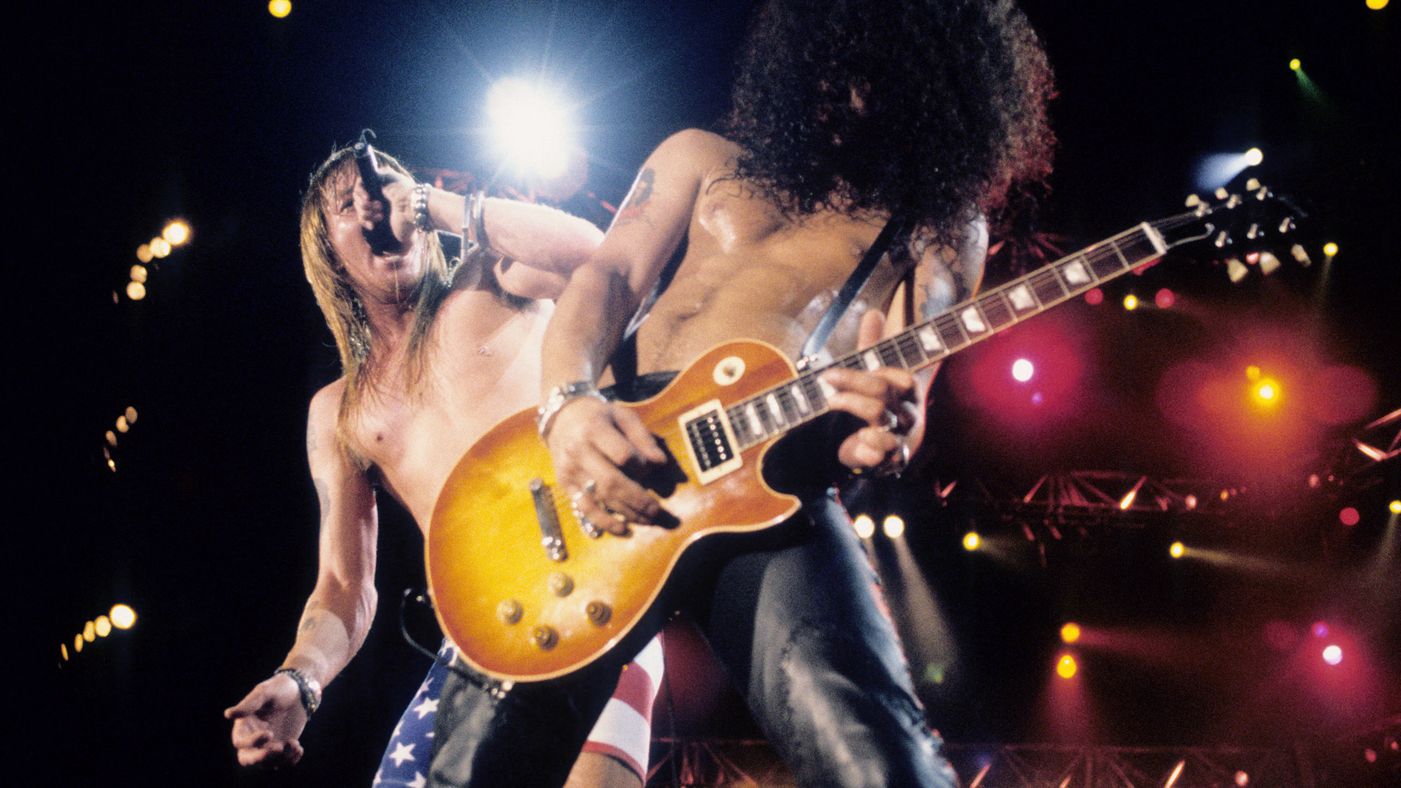 When classic-era Guns N' Roses members Axl Rose, Slash and Duff McKagan kicked off a massive stadium tour with an explosive L.A. gig last week – their first together in decades – it marked the reunion of some of hard rock's best (and most dangerous) hit makers. Even in the band's earliest days in 1985, they were writing anthemic rockers ("Welcome to the Jungle"), heartfelt ballads ("Don't Cry") and multi-part epics ("Rocket Queen"). They've put out five albums and an EP since first terrifying rock radio and MTV with 1987's vicious Appetite for Destruction hits, but along the way, several would-be great songs have fallen by the wayside, languishing on demo tapes, floating around on concert bootlegs and occupying the grooves of long-forgotten B sides. For every regrettable "One in a Million," "Don't Damn Me" and "My World" that made it onto one of their records, there exists a soaring "Goodnight Tonight," poppy "Just Another Sunday" and ripping "Shadow of Your Love" that could have been a smash. Here, Rolling Stone collects the best of the rest.
"Goodnight Tonight"
A sharp contrast to Appetite for Destruction'scaustic ragers, the joyful, boogie-ing rave-up "Goodnight Tonight" dates back to 1986 and finds Axl and Co. at their most blissful. The speedy, messy song is playful, catchy and heavy — a rare combo that Guns N' Roses excelled at. Live renditions of the song were so rare that there is only one performance, and neither a demo nor an officially recorded version has ever made the rounds. However, Izzy Stradlin has kept the mysterious song alive by playing it at his shows with the Ju Ju Hounds after he left the group.
"You're Crazy" (Alternate Acoustic Version)
The freight-train-charging "You're Crazy" that appeared on Appetite for Destruction was not how the band originally envisioned it. The song began life as funkier, acoustic number conceived in an apartment. Although that version would show up as the penultimate ditty on the band's GN'R Lies EP, it wasn't the only time they'd recorded it that way. A slightly faster-paced, brighter-sounding acoustic take on the track appeared as a B side to U.K. editions of the "Welcome to the Jungle" single in 1988, the same year that Lies came out. It's notable for more percussion, Axl Rose's strange, mouth-screeching rasp solo, a bluesier guitar solo and the total absence of one word that appears all over both more familiar versions contains: "fuckin'." "I think I prefer the slower [acoustic] version," Slash once said. "Every time we play it in that slower style, something weird happens, something magical. We've never done it the same way twice."
"Too Much Too Soon"
Sometime around the early Nineties, Guns N' Roses demoed a number of potential songs spanning various styles with a drum machine when they were prepping to record the Use Your Illusion albums. One of the more curious and catchy numbers to leak from the sessions is a scratchy boogie-woogie rocker called "Too Much Too Soon." The title is a clear reference to one of Duff McKagan's biggest influences — Johnny Thunders, who both recorded a meandering forgettable acoustic tune with the same title and played on the New York Dolls' much-more-rocking Too Much Too Soon album — but the song's jumpy, punky guitar riff, hip-hop handclaps and walking bass make it a fascinating GN'R anomaly.
"It Tastes Good, Don't It"
"It Tastes Good, Don't It" was one of GN'R's early attempts at fusing rap with rock, and it came at a time when hip-hop was sneaking into the mainstream. Rose had been a fan of the genre, and Dr. Dre has said that seeing Axl Rose sport an N.W.A hat was validating for him. The band's late-Eighties attempt at rap, pre-dating Use Your Illusion's bizarre "My World," was childish ("If you fuck with me/I'll fuck your mother," Rose spits, before going into much more detail), but it had a strong hook. The group played the rapid, rambunctious track only a handful of times, and it once placed in the middle of "Rocket Queen." The band debuted the song when they were opening for Iron Maiden — a contentious trek for both bands — and Rose ended up blowing out his voice while trying to perform it, which made them cancel the rest of their dates with the band.
"Shadow of Your Love"
Guns N' Roses began — literally — with "Shadow of Your Love," a hyper-charged holdover from Axl Rose and Izzy Stradlin's days with hard rockers Hollywood Rose. Tracii Guns, a.k.a. the "guns" in Guns N' Roses, even played a guitar solo on the original Hollywood Rose demo. "The first song we played in rehearsal was 'Shadow of Your Love,' and Axl showed up late," Steven Adler once said. "We were playing the song, and right in the middle of the song, Axl showed up and he grabbed the microphone and was running up and down the walls screaming. … We knew right then what we had." In the summer of 1986, they played the tune in a studio when auditioning eventual Appetite for Destruction producer Mike Clink, and decided he "captured the essence of Guns N' Roses," according to Slash. For reasons unknown, the ripping track came out only as a B side — and with fake crowd noise added, at that.
"Just Another Sunday"
Guns N' Roses released 30 songs across both of the two Use Your Illusion volumes, but the sessions for the project stretched well over 18 months, and plenty of tunes wound up on the cutting room floor. One of the most intriguing ones to surface in the bootleg world is "Just Another Sunday," which finds Axl pleading with a lost love for another chance. "I touch your eyes and it shades my life blue," he sings. "There's something I need to say before it's too late/But I won't hold you back, while I'm begging you to stay." The rough, unfinished track would have been one of the poppiest songs on Use Your Illusion, which is likely why they chucked it. Had they taken more time with it, however, it could have been a classic.
"Bring It Back Home"
Guns N' Roses' affection for Aerosmith and Nazareth is hard to miss in this bluesy demo from around the Use Your Illusion sessions. With a chunky, Rocks-style riff and Rose relying on his lower register, "Bring It Back Home" doesn't as much charge out of the gate as stomp. It's greasy, gritty and full of street-strutting attitude — which makes you wonder how the overly slick UYI albums might have sounded had Guns continued down this path. In fact, it's the more natural progression from Appetite. Even Rose's delivery, as he spits out lines about a "dog in heat" and how his "baby gives it up for free," has more in common with the rhythm of "Nightrain" and Nazareth's "Hair of the Dog" (which GN'R covered on "The Spaghetti Incident?") than anything on UYI. Tying it all together are two signature Rose ad libs — a growling, elastic "oooh" to kick things off and, as a coda, a maniacal funhouse laugh. The only thing funny about "Bring It Back Home," however, is how a track this promising never saw the light of day.
"Crash Diet"
West Arkeen was a close friend of Guns N' Roses and received co-writing credit on "It's So Easy," "The Garden" and "Yesterdays." He also helped them pen "Car Crash Diet" during the Use Your Illusion sessions. The song is a dark, metallic number with a soaring, chilling chorus. Much like "That Smell" by Lynyrd Skynyrd, it's a cautionary tale about the dangers of the rock & roll lifestyle. "Drink 'n drive white lightning faster," Rose sings. "Taking your last ride/Better be so careful or you'll be dead before your time/Drinking and drive white lightning, baby." Sadly, Arkeen died in 1997 from an accidental drug overdose.
"November Rain" (Acoustic Demo)
Axl Rose began tinkering around with "November Rain" back in 1983, two years before Guns N' Roses even formed. For a long time it was just a rough sketch of a song he would play on the piano, but shortly before work formally began on Appetite for Destruction in 1986, the group laid down a long version that Rose ultimately felt wasn't up to his standards. He knew he had something special and he wanted it to be perfect. A handful of stripped-down versions were attempted in the early Use Your Illusion sessions, including this one that features just Axl and an acoustic guitar. It lacks the majesty of the finished version (not to mention the Slash guitar solo), but is somehow even more gut-wrenching.
"Catcher in the Rye" (Brian May Demo)
One of Chinese Democracy's inarguable high points, "Catcher in the Rye" contains every Axl Rose hallmark: swirling production, Taupin-esque lyrics ("On an ordinary day/Not in an ordinary way/All at once the song I heard/ No longer wouldn't play") and outrageous girth (runtime: nearly six minutes). But it's a shame he second-guessed the demo version he cut, which was buoyed by an ebullient solo from Brian May. The Queen guitar ace provided a soothing counterpoint to Rose's mercurial energy — it wasn't the first time the two collaborated, having played together at the Freddie Mercury tribute concert in 1992 — but the head Gun ultimately chose to excise May's contribution. During an online message-board chat in 2008, he said the final solo (played by Ron "Bumblefoot" Thal) was nonetheless inspired by May. "It's entirely constructed from edits based around one specific note Brian hit in a throwaway take," Rose wrote. "And though Brian seems to have warmed a bit to it, at least publicly, he was unfortunately none too pleased at the time with our handiwork. I remember looking at Brian standing to my left and him staring at the big studio speakers a bit aghast saying, 'But that's not what I played.'"