10 Great Forgotten Notorious B.I.G. Verses
Biggie passed away 20 years ago today. Celebrate his legacy with these slept-on tracks.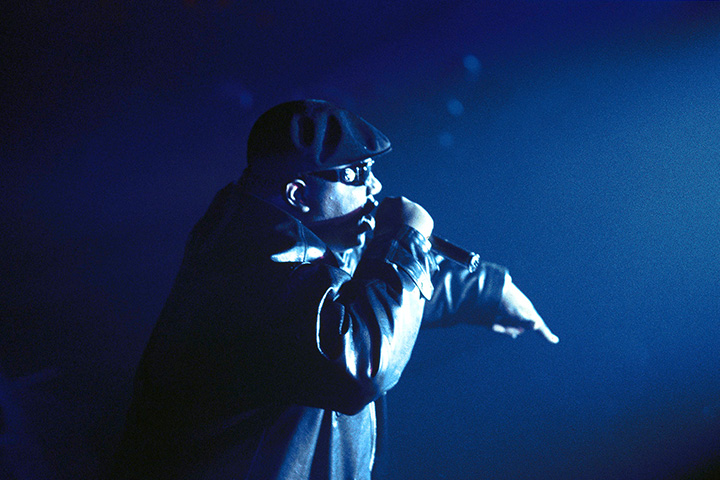 They don't make rappers like the Notorious B.I.G. anymore. During his tragically short career, Christopher Wallace combined an unerring sense of rhythm and flow with winning charisma and a knack for complex lyrical arrangements. He could bring a hardcore and technical aesthetic to songs like "Hypnotize" without turning off pop fans; he could woo the ladies and still spit as hard as any thug on the block. His unique blend of talent makes his still-unsolved 1997 murder at the age of 24 all the more tragic. As Canibus later rapped on "Second Round K.O.," "The greatest rapper of all died on March 9th."
During his too-brief life, Biggie seemed to prefer quality over quantity. His oeuvre mostly consists of his two epochal albums and a smattering of cameos. But unless you're a Biggie fanatic, this collection of ten obscure verses from the once and future king of New York may surprise you.
Mary J. Blige, "Real Love (Hip-Hop Mix)" (1993)
"Look up in the sky, it's a bird it's a plane/Nope, it's Mary J., ain't a damn thing changed," declares Biggie on this remix to a New Jill Swing classic, courtesy of Daddy-O of Stetsasonic and Puff Daddy. This pre-Ready to Die salvo isn't totally a forgotten verse – it got plenty of club play back in 1993, and was eventually included on her gold-certified What's the 411? The Remixes. But it's a vivid glimpse at the Brooklyn rapper's early party-rocking style.
Neneh Cherry, "Buddy X (Falcon & Fabian Remix)" (1993)
This odd pairing with the avant-pop artist best known for "Buffalo Stance" was made when Biggie Smalls was still unknown outside of New York industry circles. "He was not really at all blown up," Cherry reminisced during an interview with Complex magazine. "We went and picked him up in Bed-Stuy … he was standing on the stoop wearing head-to-toe camouflage with one of his homeboys." Though he was a novice at the time, Biggie dropped one of his vintage sweet-and-sour bumrushes: "Butt naked/You know you love it when I lick it."
Toni Braxton, "How Many Ways (Bad Boy Remix)" (1994)
Sharing the spotlight with Puff Daddy, the Notorious B.I.G. only gets to speak a few words during his brief time on the mic on this track is dominated by Toni Braxton. But he does get to dub himself "Remix president, landslide election," alluding to his earlier triumphs Super Cat's "Dolly My Baby (Bad Boy Extended Mix)" and Blige's "Real Love (Remix)."
Crustified Dibbs, "Cunt Renaissance" (1994)
Way back in the day, media provocateur R.A. the Rugged Man was known as Crustified Dibbs, was signed to Jive Records and snagged a cameo from the Notorious B.I.G. for his horrorcore-styled debut album, Night of the Bloody Apes. The album was never released, but thanks to the magic of the Internet, most rap fans of a certain vintage have this on their hard drives somewhere. Biggie's Blowfly-esque opening bars that allude to the O'Jays' "Ain't No Woman (Like The One I Got)" – "Ain't no dick like the one I got/B.I.G. rip the twat in basements of weed spots" – is worth the price of an online search alone.
Eddie F & the Untouchables, "Let's Get It On" (1994)
This single from underrated Heavy D & the Boyz producer Eddie F's Let Get It On (The Album) is one of the few times 2Pac and the Notorious B.I.G. appeared in the studio together. The onetime friends traded bars alongside Grand Puba, Heavy D and Spunk Bigga over a bubbly sample of Barry White's "You're the One I Need." Biggie closes it out with a tongue-twisting verse: "B-I-G top notch with the glock, check your pockets and your sockets."
Da Brat, "Da B Side" (1995)
Originally recorded for the Will Smith-Martin Lawrence cop flick Bad Boys, Da Brat and Jermaine Dupri's "Da B Side" sounds like an addendum to Biggie's own "One More Chance." Biggie tempers his flow over a jiggy beat that blends the Gap Band's "Outstanding" and Kool & the Gang's "Too Hot," and he brags how he's "king of the street."
Notorious B.I.G., "Real Niggaz" (1995)
Shortly after the release of Ready to Die, Bad Boy issued a "West Side Story" sampler cassette coordinated by Arista Records A&R Jason "JC" Ricks and blended by L.A. mixer DJ Jam (who also did work with Snoop Dogg and Dr. Dre). The "Real Niggaz" verses found Biggie freestyling over popular G-funk tracks like Above the Law's "Black Superman" and Dr. Dre and Snoop Dogg's "Deep Cover." The first verse includes some vivid storytelling about getting "the fuck out the hood": "Your baby mama screamin', 'your daughter 12 months/Can't live life slinging rocks and smoking blunts.'"
Red Hot Lover Tone, "4 My Peeps" (1995)
Samuel "Tone" Barnes is famed for his work with Trackmasterz, one of the dominant production crews of the Nineties. His heavily promoted 1995 album #1 Player was a sales disappointment, but it yielded a dream-team cipher between M.O.P., Organized Konfusion and Biggie, the latter who introduces himself as "The black bastard from Bed-Rock/Guaranteed to make your head rock."
Pudgee Tha Phat Bastard, "Think Big" (1995)
Early Nineties Queens rapper Pudgee Tha Phat Bastard got some bad breaks, whether it was cycling through bad record deals; seeing his 1993 album Give 'Em The Finger flop; or watching Joe Fatal allegedly steal his rhymes for Main Source's classic "Live at the Barbecue." Due to sample clearance issues, his widely bootlegged 1995 "Think Big" session with the Notorious B.I.G. and Lord Tariq never got an official release. It found Biggie at his most gloriously boisterous as he rapped, "Big poppa throwing niggas off of cliffs/Smoking spliffs, disappear with my bitch/In a Mitsubishi Eclipse."
R. Kelly, "(You To Be) Be Happy" (1995)
R. Kelly frequently appeared in Biggie's work. Kelly's sampled voice from "Your Body's Calling" formed the hook on "Unbelievable," a standout cut from Ready to Die. For his 1995 self-titled album, Biggie wrote some personal verses that appeared to reference his failing marriage with Faith Evans. "I made you, why would I play you?" In his 2014 autobiography Soulacoaster, Kelly praised Biggie's talent. "Biggie was a lyrical genius, he was a musical painter with words," he wrote.