Released in 1980, Cold Chisel's 'East' wasn't just another album in the career of a fast-rising pub-rock outfit, it was a revelation.
If ever there was a story about the quintessential Australian album, it's the story of Cold Chisel's East. Released in June of 1980, it's an electrifying snapshot of an unbridled group of musicians at their peak; unaware of what was to come, but bolstered by the confidence that it would be something special.
The origins of Cold Chisel are well-known. Having formed as Orange in Adelaide's northern suburbs in the early 70s, the outfit quickly became a staple of South Australia's live stages.
Before long, their influence spilled outwards, with the group finding themselves before voracious crowds in capital cities around the country, with Sydney seeming to serve as an unofficial epicentre of their popularity.
While their 1978 self-titled debut served as a solid introduction to the group, their popularity soared with the following year's Breakfast At Sweethearts.
Peaking at number four on the Australian Kent Music Report and showcasing Don Walker's impeccable songwriting talents alongside Jimmy Barnes' skills as an animalistic frontman, the record was the group at their prime. However, their best was yet to come.
At the end of the 70s, Cold Chisel were progressing as furiously as their live shows. By the time Breakfast At Sweethearts had hit the shelves, the group were already looking ahead to what was next.
"We were evolving fast and we were well beyond Breakfast At Sweethearts," Walker recalls of the immediate period following the album's release. "There wasn't much looking back."
In fact, within months of its release, Cold Chisel had enlisted the talents of Mark Opitz; a soon-to-be iconic producer who already had records by AC/DC and The Angels on his resumé. Teaming up with Opitz in October of 1979, the group cut "Choir Girl", the first single from their forthcoming third album.
"We were evolving fast and we were well beyond Breakfast At Sweethearts. There wasn't much looking back."
"We had done our preliminary recording with Mark six months before we did the main recording to see how we and Mark felt about each other," Walker says of East's pre-production.
"The six months going into the recording, we were feeling pretty good about it. The big change was that everybody in the band was writing and [feeling] inspired by that."
These days, East is considered to be the pinnacle of success for Cold Chisel, and appears to tick every box required to be labelled a "hit" album.
Although every artist secretly seeks that almost mythical success that eludes most others, East wasn't written with commercial triumph in mind; rather, it was simply intended to capture the group at their peak.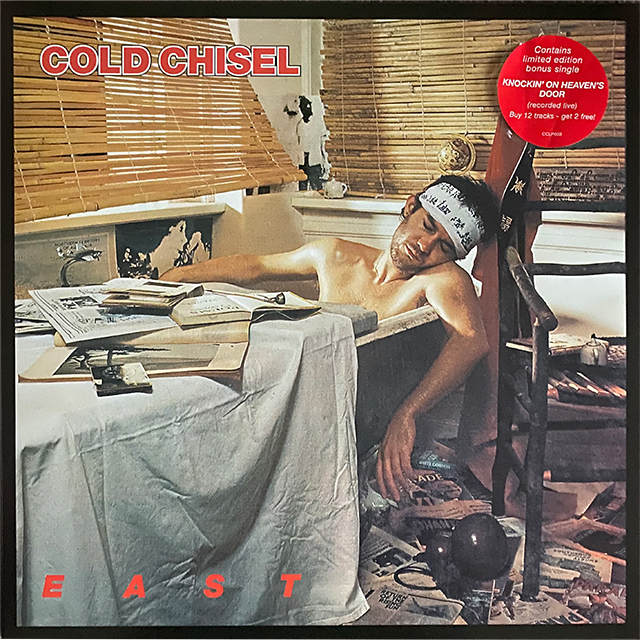 "I always wanted to have hits and I wanted to write them, right from the beginning," Walker admits. "But I wanted to have hits with the kind of songs that I wanted to write, not the kind of songs that were on the radio.
"I think in the year or 18 months heading into East, there was a lot of momentum building around what the band was doing in our live shows and the numbers of people who were coming to see us. There was enough of a good feeling coming out of that."
While Cold Chisel's shows were indeed wild affairs, the constant touring before energetic crowds had managed to ensure their status as a live band would carry over to the studio as well. While August of 1979 saw the group perform 23 shows across the country in just 31 days, the six months that ended the 70s featured close to 80 live performances between time spent rehearsing and recording.
"We weren't too worried about commercial radio at that stage. We came from a long period of nobody taking any notice of what we were doing whatsoever into a year or two of being hip. It's overrated, being hip, it's a thing that waxes and wanes. But the first time it happens, it's pretty exhilarating. We had an internal agenda that wasn't connected to external appreciation.
"We knew what we were doing, what we wanted to nail, and were sort of measuring ourselves against our ideal, both musically and in everything else. I think for people outside the band looking on, that was kind of unfolding for them."
"We came from a long period of nobody taking any notice of what we're doing whatsoever into a year or two of being hip."
Though Don Walker is often labelled as the sole songwriter for Cold Chisel's songs, and indeed, most of their early work was penned largely by him, the biggest difference for the group going into East was the communal nature that songwriting became.
While Walker wrote tracks such as "Choir Girl", "Cheap Wine", "Ita", and album opener "Standing on the Outside", the talents of the rest of the band saw their share of limelight.
Barnes' rockabilly influences shone through thanks to "Rising Sun", Ian Moss contributed with "Never Before", bassist Phill Small offered up third single "My Baby", and drummer Steve Prestwich added "Best Kept Lies".
"There were some things written beforehand," Walker recalls of the songwriting process. "For the first time, we took ten days off the road, went down to the south coast [of New South Wales], and stayed at a house down there, and had a 'writing holiday'. That was supposed to be a getaway to write some songs together.
"What actually happened on that trip had very little to do with writing. There are many stories, but I think, for the other guys, they realised that they can fuckin' write. 'I've got this great band, and we can all rock.' I think that was the revelation of that trip and for that time for the rest of the band."
While the songwriting process for East came during a period of rapid change for the band, the era was especially revolutionary for Barnes, who in November of 1979, met future wife Jane Mahoney while in Canberra. Though a relationship soon formed, the group's life on the road proved too much, and Mahoney temporarily followed her family to Tokyo, inspiring the story behind "Rising Sun".
"I know Steve wrote "Best Kept Lies" in the back seat of a bus while we were heading down [to the coast], barely conscious," Walker continues. "Everybody in their personal life was going through rapid changes as well. Jim had written before in writing music for lyrics of mine, and Ian had done the same. But this was different.
"These guys were realising 'I could take something that happened to me and write a song about it. It's not all Don.' That's very inspiring for that to run through the whole band."
"These guys were realising 'I could take something that happened to me and write a song about it. It's not all Don.' That's very inspiring for that to run through the whole band."
Undoubtedly though, one of the biggest elements to the album's eventual success came by way of producer Mark Opitz who is cited by Walker as a "fucking huge influence" to the record's eventual sound.
"Mark was the right man for Cold Chisel," Barnes wrote in 2012's Sophisto-Punk: The Story of Mark Opitz & Oz Rock. "We recorded "Choir Girl" and suddenly the band sounded like we did live. I don't think Cold Chisel would be the same band it is without Mark Opitz."
"We had a producer who allowed us to do what we do best — he wanted to capture what we did live on record, as opposed to changing the beast," Barnes added. "It was really enjoyable for us and very creative. A major turning point in our lives."
"Mark Opitz was great for Cold Chisel," echoed Moss in Sophisto-Punk. "Rather than run and rule things, he let the band be the band. He would pick up on the positive and get us to focus on that, and stay away from the negative."
"He brought a lot of ideas into the studio, a lot of ideas on song arrangement and how to compress songs arrangements into a very tight, commercial template," Walker tells Rolling Stone.
"Everybody on the whole planet bought a Sony Walkman. This album sounded fabulous on a Walkman."
"The sound of the record was very much Mark piloting what was then a new studio – Paradise Studios in Woolloomooloo – and the new equipment they had brought into the studio.
"Somehow, I'm not an engineering or technical person, but somehow the sound that Mark got intentionally or by accident very much suited FM radio which was taking over at the time, firstly. And secondly, Sony Walkmans, which had come in in 1980. Everybody on the whole planet bought a Sony Walkman. This album sounded fabulous on a Walkman."
Indeed, the album sounded fabulous everywhere, with its release in early June of 1980 taking the Australian rock world by storm.
"Cold Chisel's third album was immediate star time: Gold in a week, Double Platinum in three months, resident in the Top Ten for half a year," summarised Rolling Stone Senior Editor David Fricke in his liner notes for the album's 2011 reissue.
"It was the kind of overnight success best appreciated by a band that had formed seven years earlier in Adelaide and taken the hard road to rock justice, via low bread, cramped-van rides and wartime pub gigs."
While "Choir Girl" and "Cheap Wine" preceded the record's release, the best was yet to be discovered by the Australian public, who devoured the intense showcase of pub-rock, bolstered by the impeccable songwriting skills of each of the band members. Truly, East was something special.
"East has something quite different, quite unique in Australian music," wrote Ed St John for Rolling Stone Australia upon the album's release.
"In taking the diverse influences of Otis Redding, Elvis Presley, Sam Cooke, The Who, The Faces and The Shadows and applying this sensibility to an Australian context, Cold Chisel have done something remarkable. With East, Cold Chisel have soul."
The record rocketed up the charts, hitting number two on the Australian Kent Music Report, spending six months in the top ten, and eventually becoming the best-selling Australian album for the year. Cold Chisel would even go on to win a record seven nods at the infamous 1980 Countdown Music Awards in 1980, despite Molly Meldrum's apparent insistence that Air Supply should have taken out the Most Outstanding Achievement Award.
"We knew that it was a great record," Walker explains. "Mark was doing some of the mixing after some of us had taken off to various holidays overseas. He was sending me mixes in New York via courier on cassette, which was the way things were done at the time.
"I was listening to them on my Walkman, and stuff just sounded great. But we knew that even before he started mixing. The way that we were playing, the band was supremely match-fit at that time. The band could play anything. Everybody was writing this stuff; we were all heavily involved, and we weren't just being session musicians for somebody else's ideas.
"We expected it to do that much better than the previous record because we were all unquestionably on the up escalator. It just felt like over the previous year, every month the crowds were bigger. It was getting more and more successful quite rapidly."
"We knew it was a great record, and we expected it to do that much better than the previous record because we were all unquestionably on the up escalator."
This rapid influx of success even saw East become the sole record by the band to hit the charts in the US, albeit at the relatively low position of 171 in the Billboard 200. By 1981, the group even found themselves heading to North America for their sole tour of the country, serving as a support for acts such as Cheap Trick, Heart, Joe Walsh, and the Marshall Tucker Band.
While an international edition of East (which inexplicably replaced "Four Walls" and "Ita" with "Khe Sanh") was released and somewhat helped the US audience pay attention to the group, it wasn't quite as effective as the band would've liked.
"They didn't stand up and take notice much," Walker recalls of America's response to East. "I think it was the only album that was released in America. The version that was released in America was reconfigured to include some earlier songs, so 'Khe Sanh' was on it, for example.
"They screwed up the mastering [of the American version] in LA and we went over there, did an American tour which lasted five and a half weeks, and never went back. Nevertheless, there were a couple of isolated pockets where we had hits. I'm thinking North Carolina and in New York."
While the group's debut trip to the northern hemisphere wasn't as successful as they would have liked, it didn't deter the group from continuing to expand their horizons. Well-received trips to the UK and Europe followed in the early 80s, though their attempts to conquer the US market began and ended with East.
"If we had the fortitude to go back and keep doing what we were doing, I'm certain that we could have done very well there," Walker recalls. "By the time we got into 1981, we were past the stage, internally, for being able to do that."
"It's difficult for other bands to emulate Cold Chisel, because it's a very technically accomplished band."
By the end of 1981 however, Cold Chisel had reconvened on Australian soil, captured their live performance by way of their Swingshift album, and once again teamed up with Opitz to hit the studio for their follow-up record. Titled Circus Animals, the album gave the group their first-ever chart-topping release when it appeared in 1982, though its influence was nowhere near as profound or groundbreaking as its predecessor.
Despite its popularity amongst the Australian music-loving public, and especially in areas of Adelaide and Sydney which could be considered true 'Chisel Country', Walker admits he doesn't really see much of the group's influence in the new generation of Aussie artists.
"I think even by the end of that year in 1980, younger fans were turning to the next generation off of influences," Walker explains. "So, East was definitely a [huge moment] for us, but I don't know that it was hugely influential on other bands.
"It's difficult for other bands to emulate Cold Chisel, because it's a very technically accomplished band. It's much easier for musicians to emulate… It's difficult to emulate Led Zeppelin. It's easy to emulate The Velvet Underground, let me put it that way.
The truth is, it's impossible to truly quantify just how influential East was, or just how many record collections around the world cherish a copy of this slice of pub-rock perfection near their turntable.
As Cold Chisel themselves noted ahead of the record's anniversary, it's even unknown just how many times the record has gone Platinum in Australia, with East being sold across two different record companies, and a number of different formats all before records of proper sales were kept.
However, if there's one thing that is true, it's the words penned by David Fricke close to a decade ago that truly sums up the impact that East has had: "For Australians, East is a cornerstone of rock history and the national identity."
Cold Chisel have celebrated the 40th anniversary of East with a special vinyl reissue, available now via their website.